The best burgers are stuffed with gooey cheese! These Blackstone blackened blue cheese stuffed burgers are everything that is perfect about grilling. The ground beef is seasoned with Black & Bleu seasoning to intensify the flavor, and the melted blue cheese oozes out with every mouthwatering bite. Load the burgers up with some crispy bacon and slather on the garlic-charged Donkey sauce.
You will want to make these burgers on your Blackstone griddle every night! Or add it to your burger rotation along with these Blackstone smash burger sliders and serve them up with these air fryer Jojo wedges or these grilled potato wedges.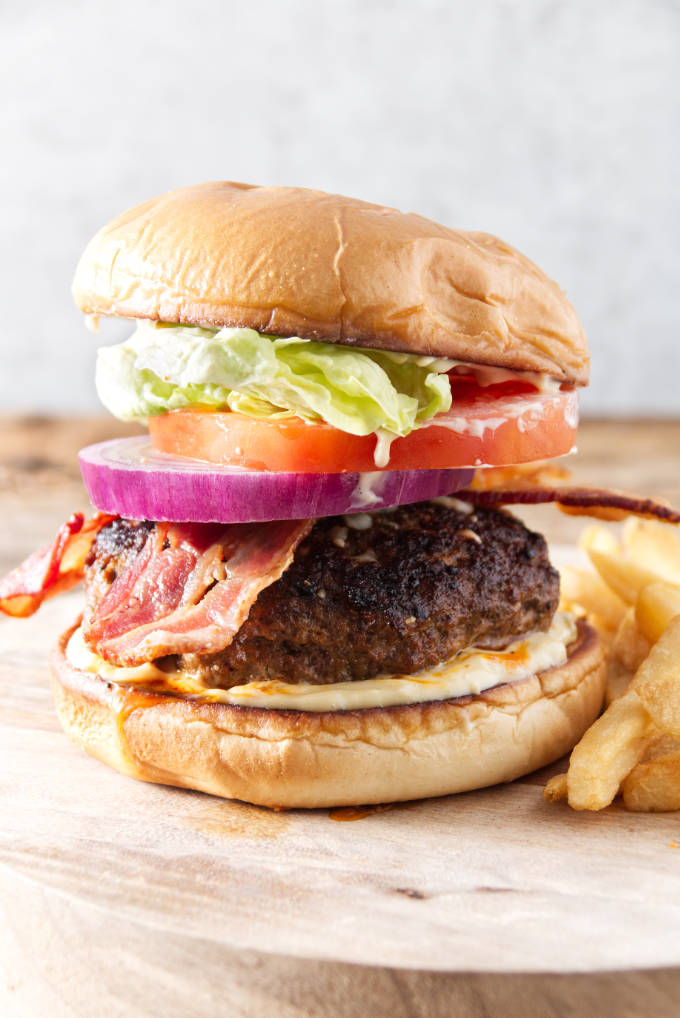 Here is Why This Recipe Works
If you still need convincing, here are some reasons we think you will love these Blackstone blue cheese stuffed burgers!
Blue cheese stuffed burger patties. These patties are really bursting with flavor! The saltiness and subtle sweetness of the blue cheese pair perfectly with the beef.

A healthy slathering of Donkey sauce brings an infusion of garlic goodness. It really is the perfect burger sauce!

These burgers have a wonderful charred crust from cooking on a ripping hot Blackstone griddle.

The blackening seasoning is infused with blue cheese flavor for an awesome flavor and color.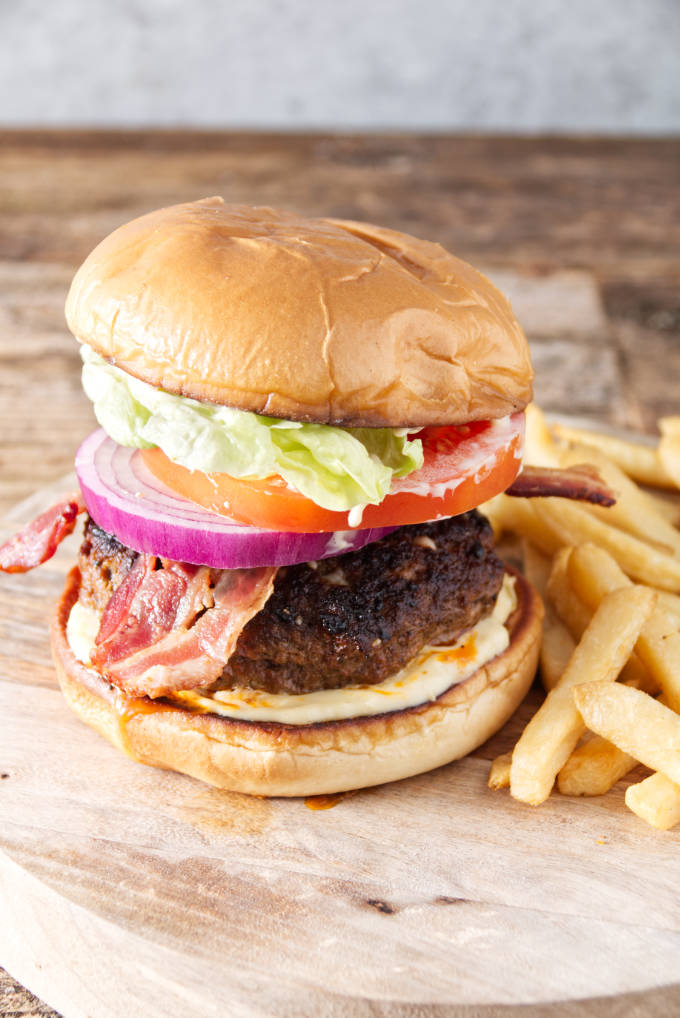 Ingredients
Ground beef. Use 80/20 ground chuck for the best burgers. It is loaded with flavor and is super juicy. For extra points, use this Wagyu ground beef.

Brioche buns. The sweetness of brioche is perfect with the tangy sweetness from the blue cheese. But you do you, use your favorite buns!

Bacon. Make it extra crispy for some texture on your burger.

Tomato. An essential on any masterpiece. Use a beefsteak tomato. They hold up well and are the perfect size to accompany this giant burger.

Lettuce. Iceberg lettuce gives the perfect crunch.

Blue cheese. This is what makes the burger special. Use a blue cheese wedge and crumble it yourself. The pre-crumbled stuff doesn't melt as well.

Black & Bleu Seasoning. Spiceology makes some awesome seasonings, and this one is packed full of extra blue cheese flavor.

Donkey sauce. You are going to love this stuff! It is an extra delicious garlic aioli, easy to make, and a perfect level up for your burgers!

Butter. This will help the buns to toast up perfectly.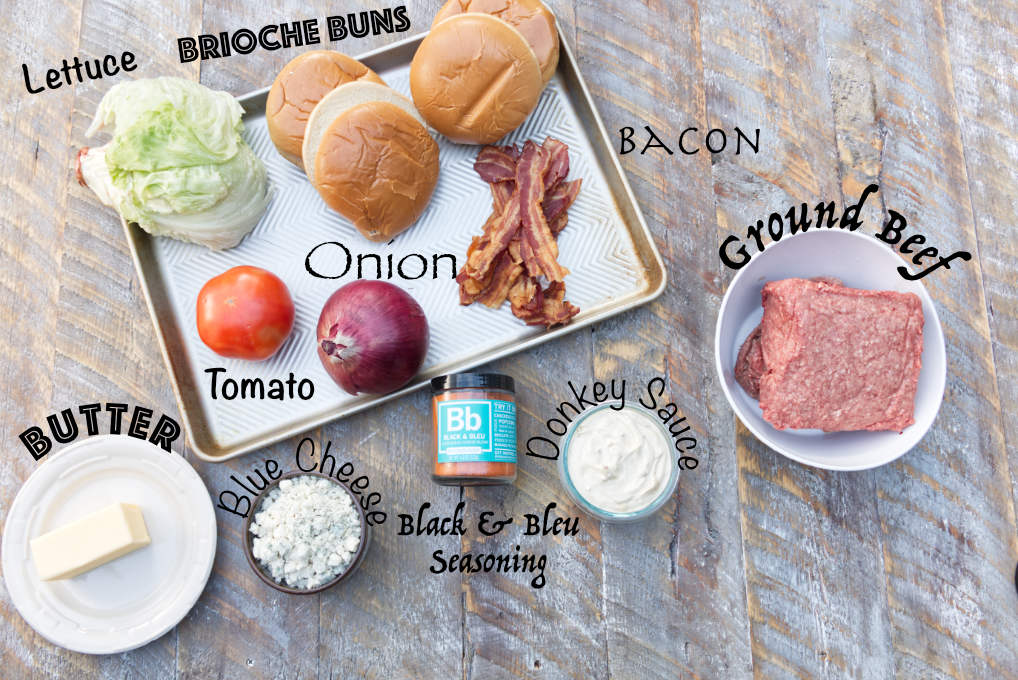 How To Make These Blackstone Stuffed Burgers
Preheat your Blackstone to high heat and lightly oil the surface. In a large bowl, season your ground beef. Be sure to mix the beef just enough to incorporate the seasoning. Over mixing the beef could make it tougher. We want to retain the structure of the beef, otherwise, it becomes compact and tough.

Form the seasoned ground beef into eight balls. Use parchment paper to press the patties flat. The patties should be about 3/4″ thick.

On four of the patties, pile on some of the crumbled blue cheese and lay another patty over the top. Press the edges of the patties together to seal the edges, trapping the blue cheese in the middle. You will form a total of four stuffed patties.

Place the patties on the hot Blackstone griddle. Cook them for about 5 minutes or until a crust forms.

Flip the patties and cook for another 3-5 minutes, or until the patties have a crust on both sides and are completely cooked.

While the burgers are cooking, place a pat of butter on an unused portion of the Blackstone. Once the butter melts, throw on the burger buns to toast them.

Right before you remove the blue cheese stuffed burgers from the Blackstone, place some crumbled blue cheese on top of each patty. Cover the burgers with a melting dome and turn off the Blackstone. The residual heat will melt the blue cheese.

Build your burgers with your favorite toppings. I used fresh iceberg lettuce, a slice of tomato, crispy bacon, a slice of onion, and some Donkey sauce.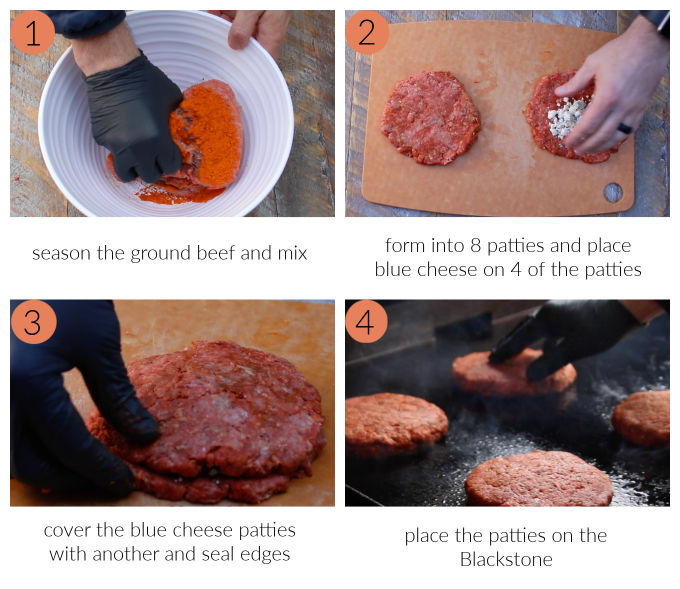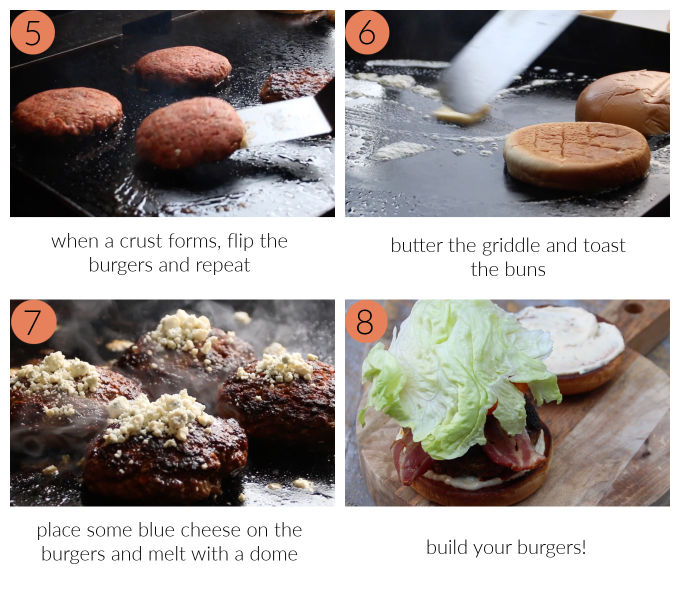 Tips for Success
Don't overmix the seasoning into the ground beef. Only mix the meat as much as you need to incorporate the seasoning. Overmixing the beef will cause it to become compact and chewy.

Use a cheese melting dome to melt the blue cheese to perfection.

Slightly smash the stuffed burgers on the Blackstone griddle to help it develop a flavor-enhancing crust on both sides. Lightly press so that you don't squeeze all of the blue cheese out from the middle of the burger.

Toast the buns before slathering them with the sauce. This will prevent them from getting soggy and will help provide the structure needed so that your burger doesn't fall apart.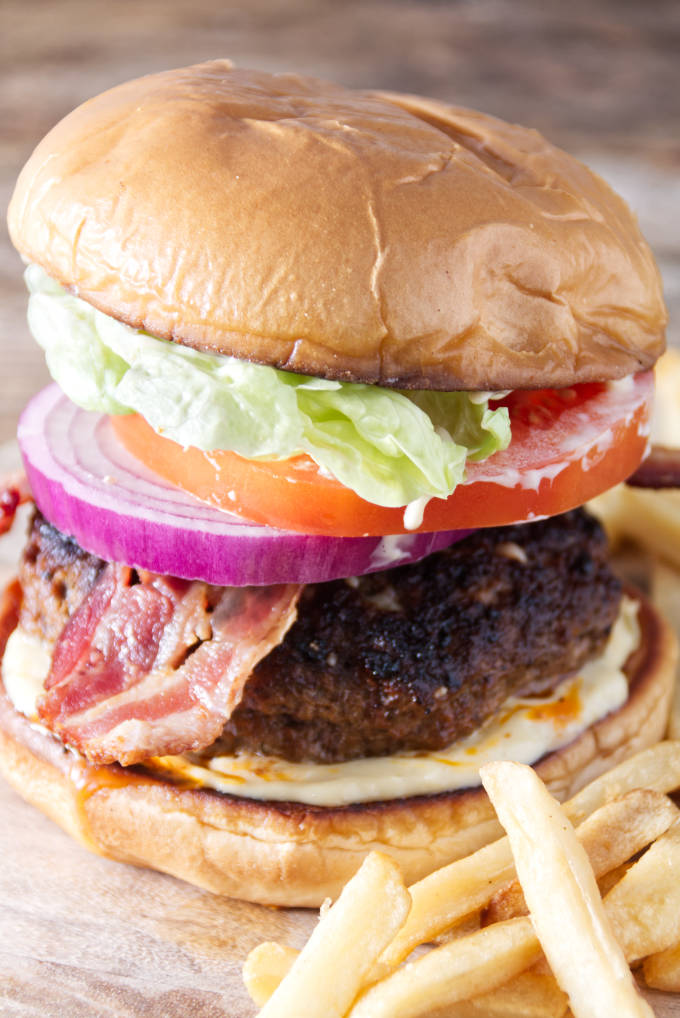 Tools and Equipment
If you click on some of the following affiliate links and buy something, we might get a small commission. You don't pay any extra, but it will help us keep the lights on and our bellies full!
Frequently Asked Questions
What if you don't have Spiceology Black & Bleu Seasoning?
You can use any seasoning you like! Substitute the Black & Blue Seasoning with this Cajun seasoning blend instead. It is also a blackening seasoning with a bit more spice added but without the extra boost of blue cheese flavor.
How do you get a crust on your burger patties?
Gently press down on the burgers while they are cooking on the hot Blackstone. This will give the burgers a crust. Be careful not to push too hard so that you might cause the blue cheese to run out of the burger patties.
How do you keep stuffed burgers from falling apart?
Sandwich the cheese on top of one burger patty and lay another burger patty on top. Work your fingers around the perimeter of the burger patties and gently press down on the edges to create a seal. Take some extra time to ensure they are completely sealed and that you do not have any gaps. This will help to keep all of the blue cheese inside of the stuffed burgers when they are cooking on the Blackstone.
How do you get juicy burgers?
Don't overwork the meat! Only work with the meat enough to mix the seasoning in and seal the edges of the stuffed burgers. Less is more!
What Else Is Cooking?
These air fryer salmon patties are a great alternative to beef burger patties. Pile them high on some burger buns for a delicious salmon burger!
For you blue cheese fanatics out there, this blue cheese butter is amazing! Melt it on top of a beautifully grilled steak or on some vegetables for a boost of flavor and funk!
If you have a Blackstone, you have to cook up a huge batch of fried rice. Try out this chicken fried rice or shrimp fried rice. The Blackstone gives the fried rice that perfect crispiness that is usually exclusive to Hibachi restaurants.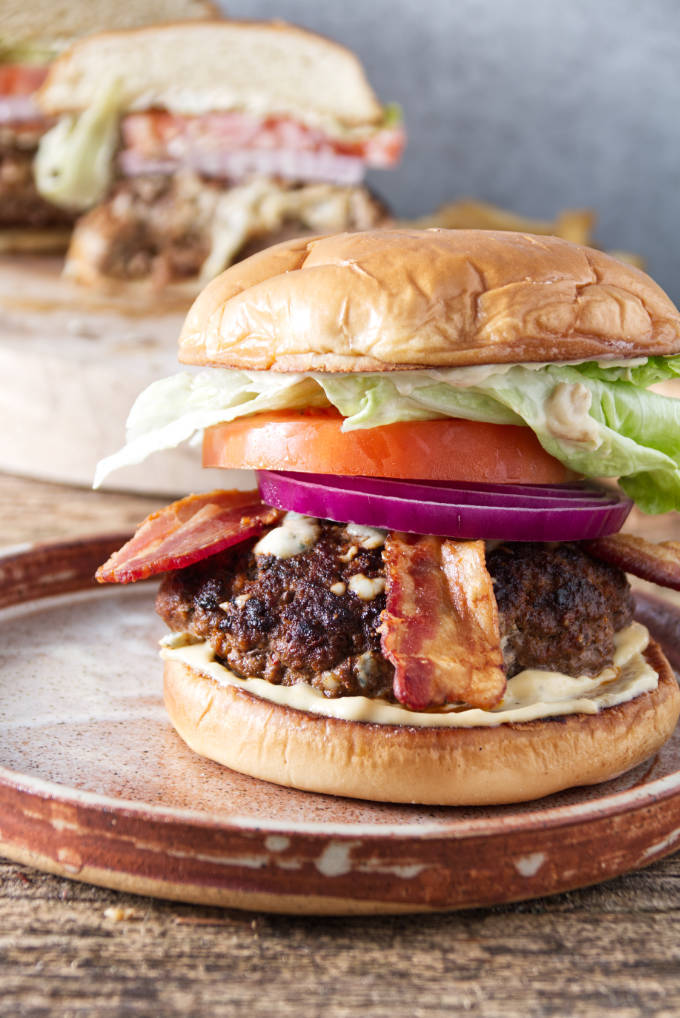 Tell Me What You Think!
Did you try out this recipe? Please leave a comment below and let me know how you liked it. Also, snap a picture and post it to your favorite social platform. Be sure to tag me at @alicensetogrill and let me know how you liked it!
CONNECT WITH A LICENSE TO GRILL!
Be sure to follow us on our social media accounts.
Facebook * Instagram * Pinterest * YouTube * Twitter
Did you make this recipe? Tell us about it in the comments below!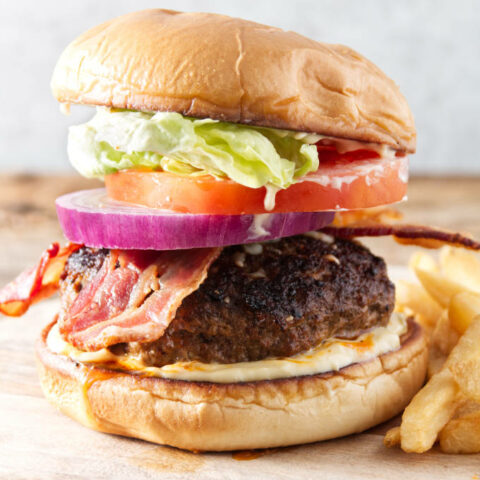 Blackstone Blackened Blue Cheese Stuffed Burgers
Who doesn't love stuffed burgers? The blue cheese oozes out as soon as you bite into this Blackstone blackened stuffed burger. The burgers are seasoned with blue-cheese-flavored blackening seasoning for extra flavor. The Donkey sauce is packed with garlic and brings in some umami goodness. Top it off with some crispy bacon for an ultimate burger experience!
Ingredients
2 pounds ground beef (80/20 blend, premium chuck)
12 ounces blue cheese
4 tablespoons Black & Bleu Seasoning
8 slices bacon, cooked crispy
1/4 cup unsalted butter
4 brioche hamburger buns
1/4 cup Donkey sauce
1/4 head of iceberg lettuce
1 tomato, sliced
1 sweet onion, finely sliced
Instructions
Preheat the Blackstone to medium-high heat and oil the cooktop
In a large mixing bowl, season the ground beef with Black & Bleu Seasoning and mix it into the meat (see notes).
Divide the ground beef into eight equal portions and roll them into balls. Use your turner or purger press to flatten the balls into patties, about 4 inches wide. On 4 of the patties, place 2 ounces of blue cheese in the middle. Cover with a second patty and gently press the edges to seal and lock the blue cheese inside to form a stuffed patty.
Place the stuffed patties on the Blackstone and season with salt and pepper. Cook the patties for about 5 minutes or until a crust forms on the patty. Flip the burger and cook on the other side for another 3-5 minutes until a crust forms.
Place the remainder of the blue cheese on top of the patties. Cover it with a cheese melting dome or a piece of foil to melt the cheese, about 30 seconds to 1 minute.
While the burgers cook, place the butter on the other side of the Blackstone. Separate the buns and place them in the butter on the griddle. Toast them for about 3-5 minutes until they are golden brown.
Assemble the burgers. Smear the Donkey Sauce on each bun. Lay the patties down and layer with onions, tomato, iceberg lettuce, and bacon. Or mix it up and add your favorite toppings. Enjoy!




Notes
Mix the seasoning into the ground beef as little as possible. The more you work the beef, the more compact and dense it becomes. This will lead to tough or chewy burgers.
Use a cheese melting dome to melt the blue cheese and a high-quality turner to flip your burgers like a pro.
I generally use ground chuck for my burgers. The chuck has just the right amount of fat for juicy burgers and it is packed full of flavor.
I recommend using the Black & Bleu Seasoning by Spiceology. It is a blackening seasoning and has added blue cheese flavor, perfect for an awesome blue cheese stuffed burger! If you do not have this seasoning, you can use this blackening seasoning recipe for great results as well.
Recommended Products
As an Amazon Associate and member of other affiliate programs, I earn from qualifying purchases.
Nutrition Information:
Yield:

6
Serving Size:

1
Amount Per Serving:
Calories:

977
Total Fat:

65g
Saturated Fat:

33g
Trans Fat:

1g
Unsaturated Fat:

26g
Cholesterol:

285mg
Sodium:

2075mg
Carbohydrates:

31g
Fiber:

2g
Sugar:

9g
Protein:

64g
Nutrition information is a guideline only, is calculated automatically by third party software, and absolute accuracy is not guaranteed.