Zingy, fresh, and vibrant, this mint cilantro chimichurri has become one of my all-time favorite sauce recipes. Not only does it add brightness to meat-based dishes, but it'll lift and balance grilled veggies, pasta salads, and anything else that needs a helping hand. Now, I don't like to brag, but when a bowl of this stuff hits the buffet table at one of my gatherings, it's usually drizzled over everyone's plate within minutes!
Although this sauce packs a flavorful punch, what I love most about this recipe is just how straightforward it is. As the ingredients are simply thrown into a food processor and lightly pulsed, this delicious sauce is ready in mere minutes.
Incorporating classic herbs like mint, parsley, oregano, and cilantro, this herby Argentinian staple promises to complement any main dish without overwhelming it. You'll want to bookmark this recipe or pin it for later, as you'll be revisiting it again and again on grill night. Trust me, it is that good!
Cook up this Traeger smoked tri-tip and pour some of the mint cilantro chimichurri over the top. Use the chimichurri as a delicious sauce for a leftover Traeger smoked tri-tip sandwich!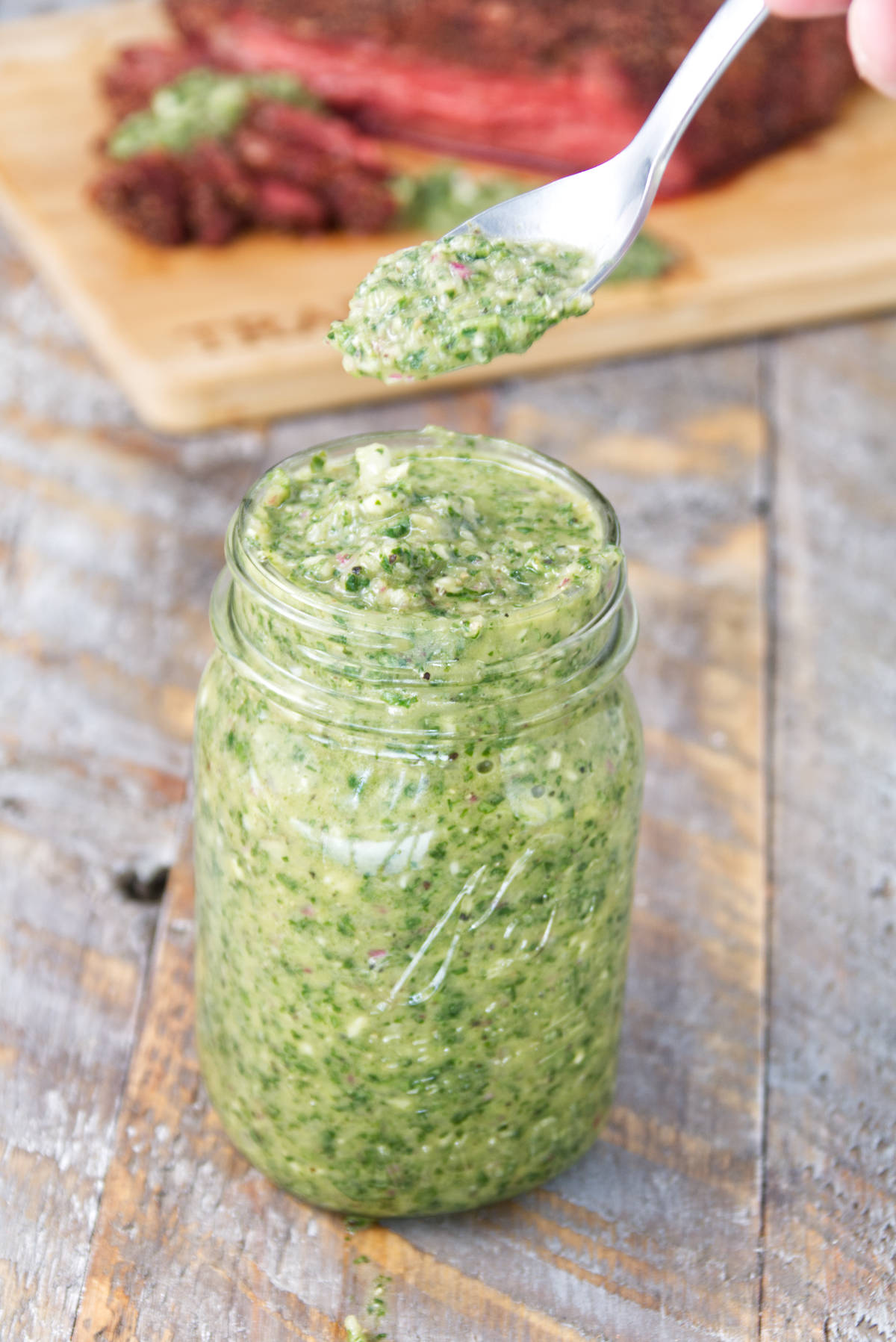 Why This Recipe Works
Using a food processor keeps prep time down and makes clean-up a breeze.

Using sweet red onions gives the recipe an incredible crunch without adding any unpleasant bitterness.

Not over-processing the herbs gives this recipe texture and prevents the sauce from becoming paste-like.

You can easily adjust the oil quantities to achieve your ideal consistency.

It's a low-effort way to add zing to your favorite BBQ dishes!

Add more oil and vinegar to create a vinaigrette to use on salads.
Ingredients
Here is a list of ingredients that you'll need to make this recipe. Scroll down to the printable recipe card for all the details.
Garlic cloves. A flavor powerhouse that grounds the sauce.

Fresh mint. Gives the chimichurri a sweet and refreshing profile that makes it the perfect match for steak and lamb.

Fresh parsley. Parsley balances the mint with its bright and slightly bitter taste.

Cilantro. Gives the recipe a fresh and zingy flavor.

Fresh oregano. Blends beautifully with the fresh mint to give your chimichurri a bold and earthy base.

Red onion. Red onions are generally mild with a bit of a kick and taste delicious raw.

Olive oil. Helps to blend and emulsify the sauce while adding a light pepperiness. Use extra virgin olive oil for the best flavor in your chimichurri sauce.

Red wine vinegar. Crucial for that signature tang.

Kosher salt. Enhances the flavor of your chimichurri without conflicting the focus.

Fresh ground black pepper. Adds depth and a hint of spice.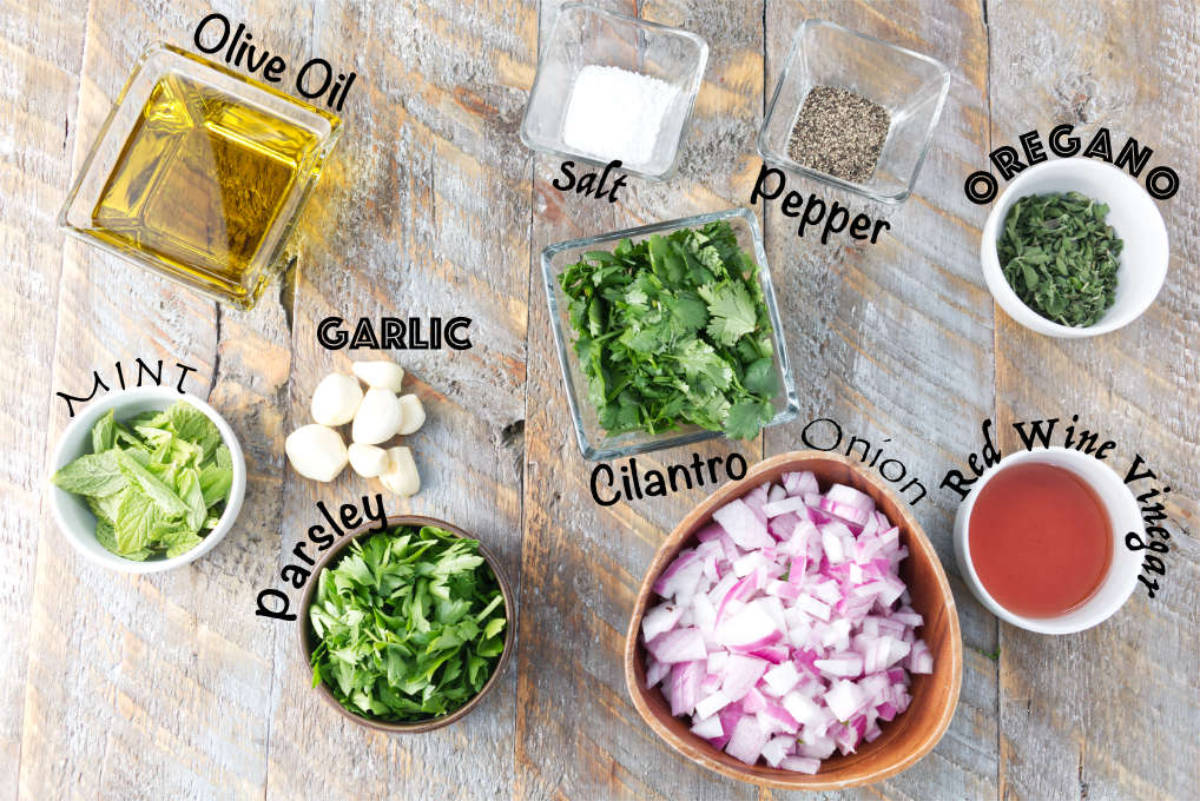 How To Make It
Follow these easy directions for a delicious chimichurri sauce. For the full details, scroll down to the printable recipe card for the step-by-step instructions.
Combine all the ingredients with half of the olive oil.

Blitz the ingredients until the mixture is mostly incorporated but retains a touch of texture.

Add the rest of the olive oil and pulse briefly.

Transfer the chimichurri to a storage container.

Allow the chimichurri to rest before serving.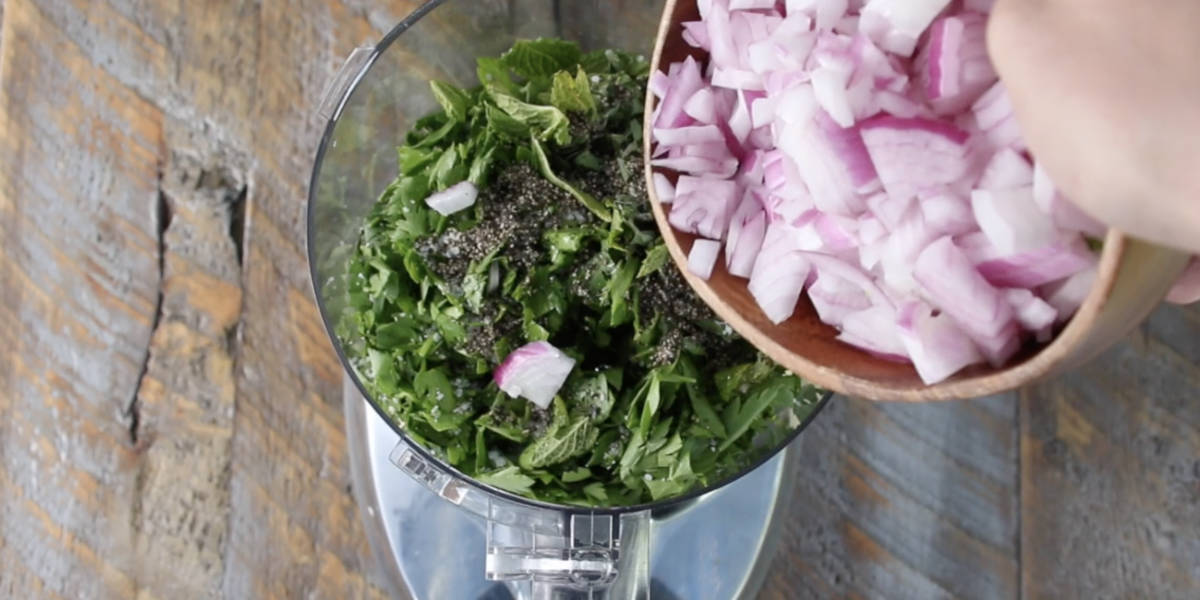 Combine the ingredients in a food processor.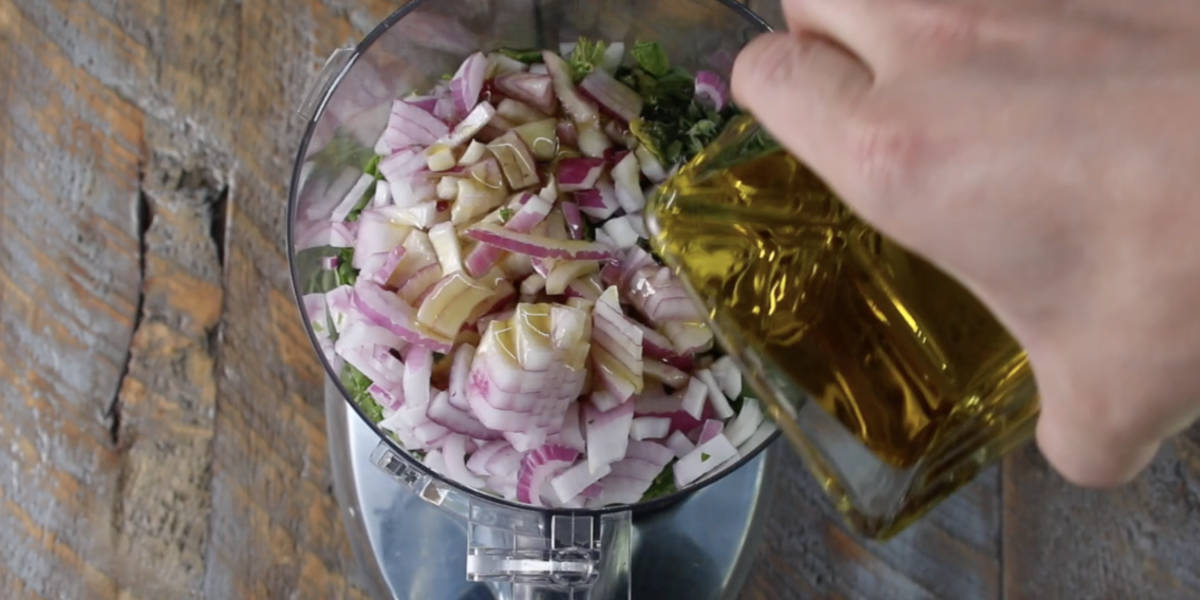 Add half of the olive oil and reserve the rest for later.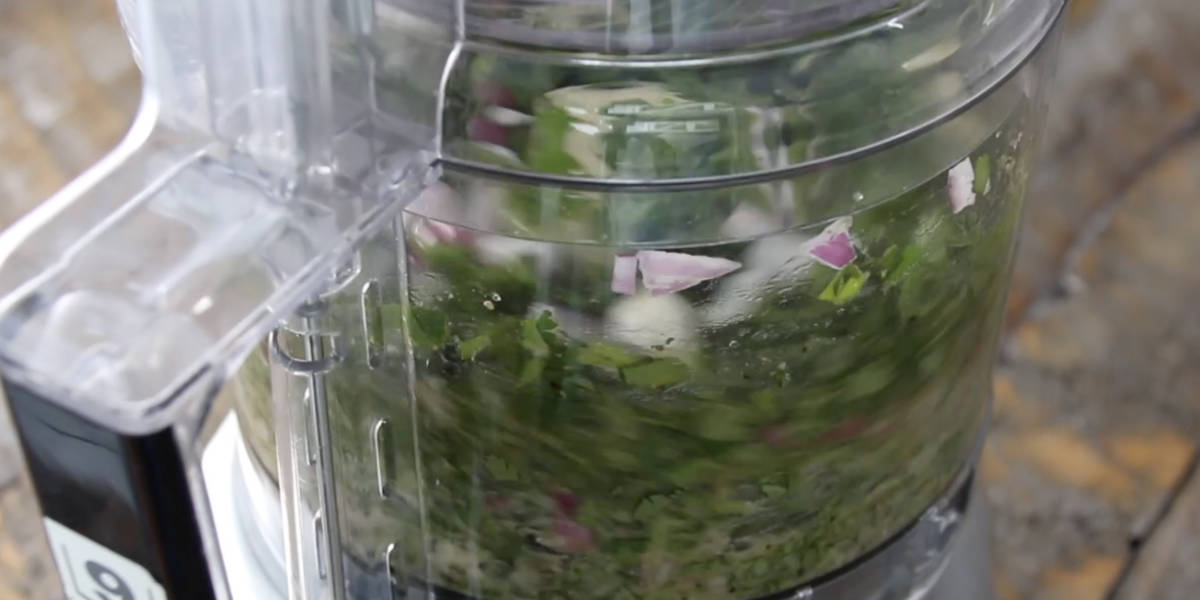 Pulse the food processor to combine the ingredients. Do not pulse or blend for too long. If you mix for too long, the mint cilantro chimichurri will become paste-like.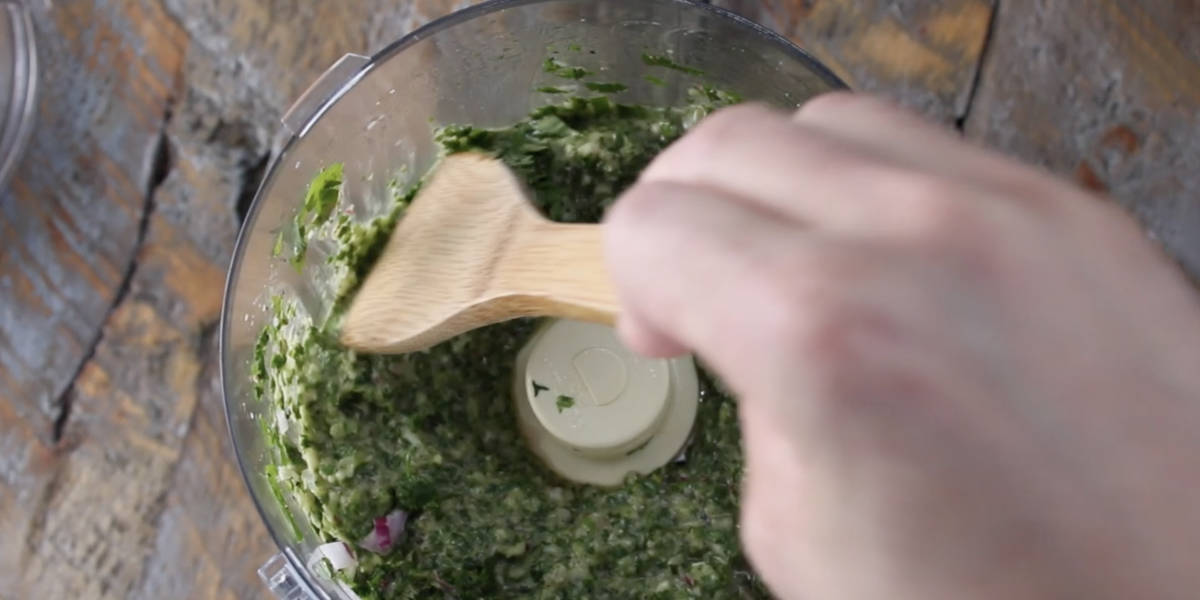 Scrape down the edges of the food processor.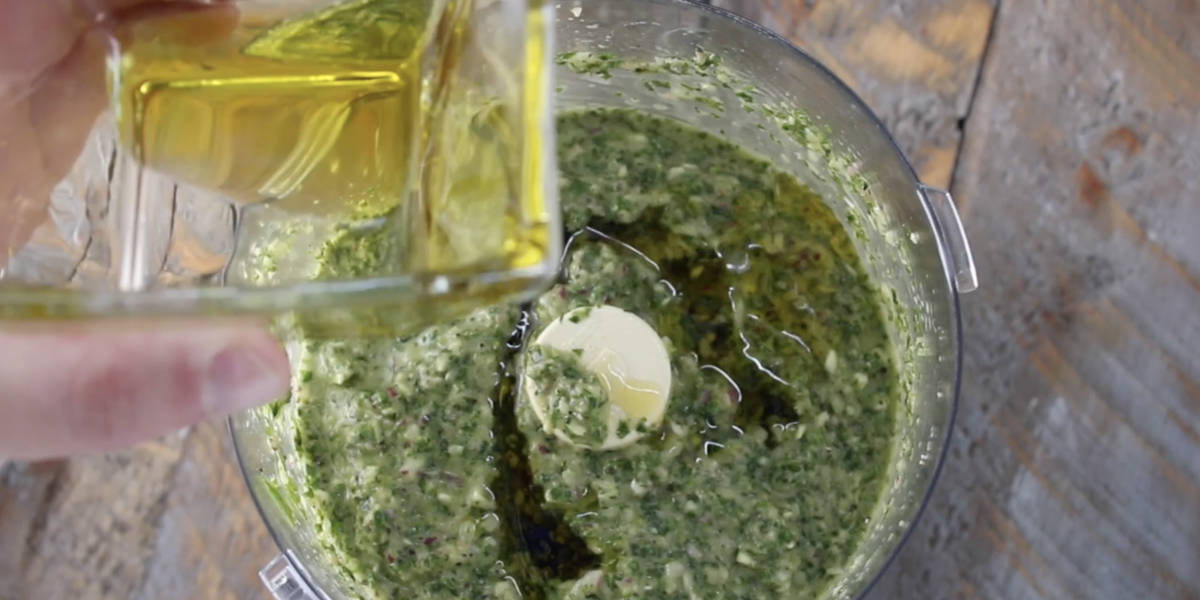 Add the remainder of the olive oil and pulse to combine. You can adjust the amount of olive oil to achieve the desired consistency.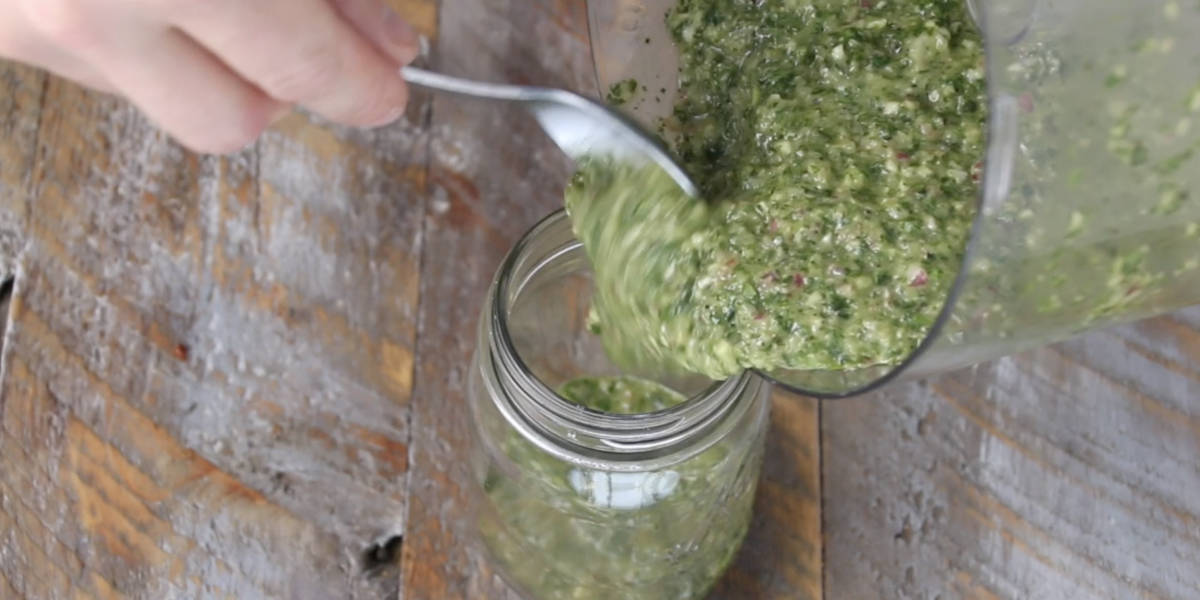 Transfer the mint cilantro chimichurri to an airtight container and store it in the fridge for 3-4 weeks.
Tips For Success
Don't over-process the chimichurri. It should still have small but noticeable bits of fresh herbs poking out, so don't go nuts with the food processor if you want to retain that incredible dynamic texture.

Let the herbs, onions, garlic, and salt sit in the vinegar for a few minutes before blitzing. This helps blend the flavors and prevents any single aromatic from dominating the sauce.

Don't be afraid to dial up the spice levels slightly. If you prefer spicy sauces, add fresh red chilis or a sprinkle of chili flakes to the mix.

Don't pinch pennies when it comes to olive oil. High-quality extra virgin olive oil can make all the difference to the flavor of this recipe, so don't be tempted to grab a cheap oil.

Know what parts of the herb to include. When prepping your herbs, use a few tender stems but focus on the leaves. Just be careful with parsley, as the stems can be extremely bitter.

Don't forget to stream the oil in slowly. You want to take your time when adding the oil to prevent your sauce from separating. Never underestimate the power of pulsing!

You can switch up the garlic levels to match your taste. This recipe calls for 6 cloves, but you can add a couple or remove some, depending on your preference.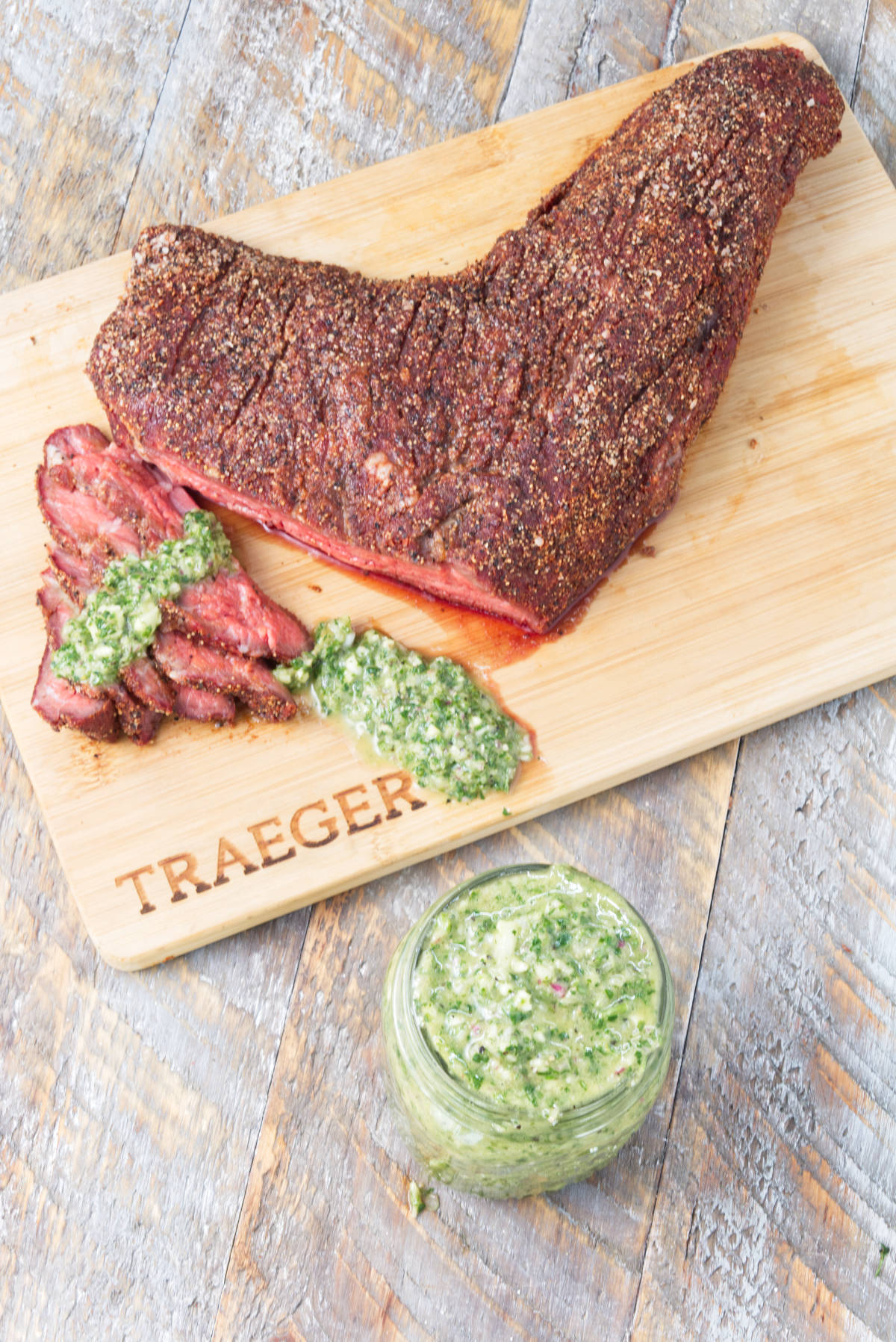 FAQ
What does mint cilantro chimichurri taste like?
Chimichurri is an Argentinian sauce that tastes bright, herby, and tangy.
What should you serve with this recipe?
This sauce works perfectly with red meats like lamb and beef, but it's also stunning with pork chops, poached salmon, or grilled vegetables.
Do you serve mint cilantro chimichurri hot or cold?
It's technically served at room temperature but works well straight out of the fridge as a salad dressing or naturally warmed up by your favorite BBQ meats!
Can you make mint cilantro chimichurri ahead of time?
You can make your chimichurri ahead of time and store it in the fridge for 2-3 weeks. Making it ahead of time allows the flavors to marinate and become more vibrant. Be sure to take it out of the fridge an hour before serving to bring it to room temperature.
How do you counteract bitterness in chimichurri?
Test your parsley to check that it's not bitter, and always mix your oil in at low speed. If something goes wrong and your sauce is unreasonably bitter, counteract this with a bit of sugar or honey.
Can you freeze chimichurri?
Absolutely! You can make the chimichurri ahead of time and store it in ice cubes. Once they freeze, transfer them to an airtight container and store them in the freezer for up to 3-4 months.
🛠Tools and Equipment
If you click on some of the following affiliate links and buy something, we might get a small commission. You don't pay any extra, but it will help us keep the lights on and our bellies full!
Other Recipes You Will Love
These grilled potato wedges are the perfect complement to your BBQ. Dip them in the mint cilantro chimichurri for a flavor explosion.
A delicious steak is exactly what this chimichurri is screaming for! Grill up this reverse-seared Traeger tomahawk ribeye steak and pour on the mint cilantro chimichurri. Or try this Traeger smoked tri-tip. It is packed with flavor, juicy, and tender.
You have to try these air fryer fried pickles. They are much healthier than deep-fried pickle chips, but they definitely don't lack flavor or crunch! They are coated in a crispy exterior and paired with a creamy and spicy dipping sauce. Or dunk them in the herbaceous mint cilantro chimichurri for a fun twist.
Wrap Up
Whether you're gearing up for a blow-out summer BBQ or are searching for ways to jazz up your next steak dinner, this mint cilantro chimichurri promises to take any dish to the next level.
Zesty, herbaceous, and packed with several vitamin-rich and heart-healthy ingredients, this is a delicious sauce that you pull out at your next fiesta without a hint of guilt.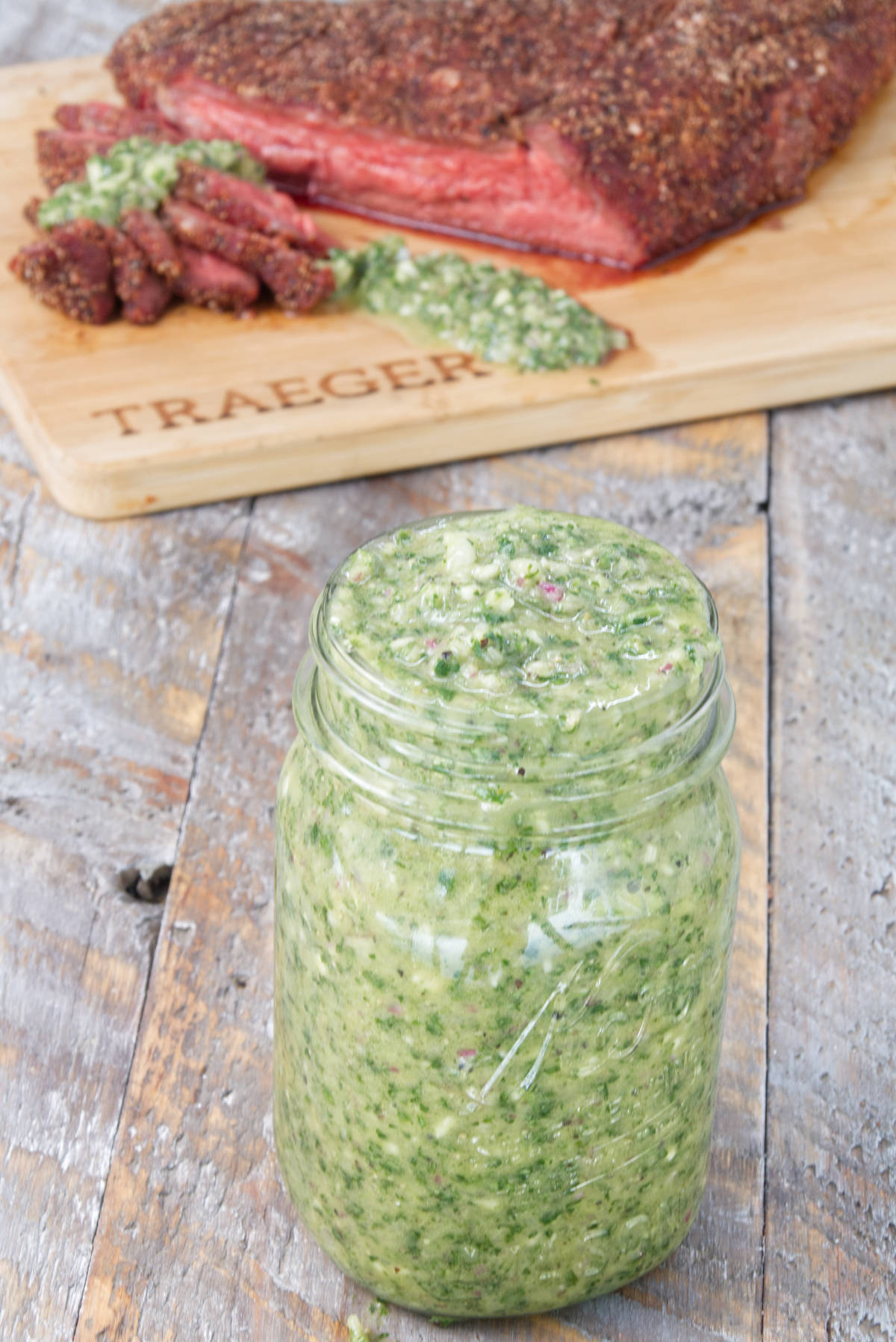 💬Tell Me What You Think!
Did you try out this recipe? Please leave a comment below and let me know how you liked it. Also, snap a picture and post it to your favorite social platform. Be sure to tag me at @alicensetogrill and let me know how you liked it!
CONNECT WITH A LICENSE TO GRILL!
Be sure to follow us on our social media accounts.
Facebook * Instagram * Pinterest * YouTube * Twitter
Did you make this recipe? Tell us about it in the comments below!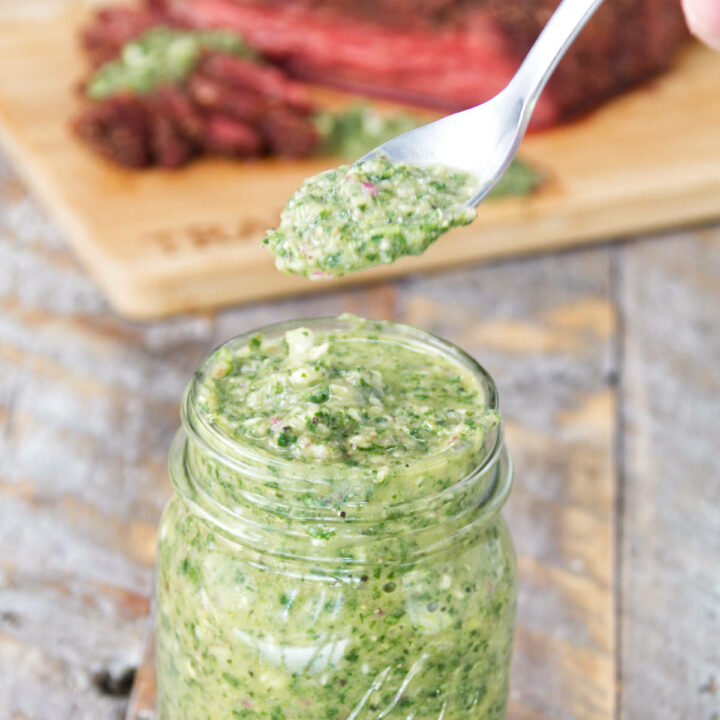 Mint Cilantro Chimichurri
The zingy, fresh, and vibrant mint cilantro chimichurri is perfect for those summer BBQ days! It brings a punch of brightness and herbaceous flavor to your meat-based dishes like tomahawk steak or tri-tip. Add it to your grilled veggies, pasta salads, or anything else that needs a helping hand for a boost of flavor.
Incorporating fresh herbs like mint, cilantro, parsley, and oregano makes this chimichurri a must have during your next grilling session.
Ingredients
6 garlic cloves
1/2 cup fresh mint
1 cup fresh parsley
1 cup cilantro
2 tablespoons fresh oregano
1 small red onion, diced
1 cup olive oil
1/4 cup red wine vinegar
2 teaspoons Kosher salt
2 teaspoons fresh ground black pepper
Instructions
In a food processor or blender, combine all of the ingredients, but only add half of the olive oil.
Pulse the food processor or blender until the chimichurri is mostly incorporated but still has texture. We don't want this to turn into a paste.
Add the rest of the olive oil and quickly pulse the food processor one last time. You can adjust the amount of olive oil added to your preference.
Transfer the chimichurri to a mason jar or airtight container.
Allow the chimichurri to rest for 10-20 minutes before serving. Or store the chimichurri in fridge for future use.
Notes
Feel free to adjust the amount of olive oil to your preference during the second addition. Adding more oil will thin it out and make it runnier.
You can substitute dried oregano for fresh oregano. Use 1 teaspoon of dried oregano for every tablespoon of fresh oregano in the recipe.
Don't over-process the chimichurri. We want there to still be some small, but noticeable, pieces of fresh herbs in the chimichurri.
The mint adds a slightly sweet and refreshing profile to the chimichurri making it perfect for things like steak or lamb.
Recommended Products
As an Amazon Associate and member of other affiliate programs, I earn from qualifying purchases.
Nutrition Information:
Yield:

16
Serving Size:

1
Amount Per Serving:
Calories:

126
Total Fat:

14g
Saturated Fat:

2g
Trans Fat:

0g
Unsaturated Fat:

11g
Cholesterol:

0mg
Sodium:

161mg
Carbohydrates:

1g
Fiber:

0g
Sugar:

0g
Protein:

0g
Nutrition information is a guideline only, is calculated automatically by third party software, and absolute accuracy is not guaranteed.