Smoked Jalapeño Popper Mac and Cheese
on Jan 25, 2020, Updated Sep 21, 2023
There is something about a creamy macaroni and cheese that hits the spot and calls my name for multiple servings. I can't help myself and I am also terrible at lying so I won't even try to hide the fact that I ate over half of this dish (some of it was the next day, so give me a break!). This smoked jalapeño popper mac and cheese tastes EXACTLY like a jalapeño popper. With all that bacon, mozzarella, white cheddar, pepper jack, and cream cheese, you will be drowning in deliciousness! For a unique spin on the recipe, I decided to throw this absurd creation into the Traeger for some smoke flavor because… well because I can! Put on your stretchy pants, grab your favorite beer (we are carb-loading today), and get ready for the best smoked mac and cheese ever, jalapeño popper style!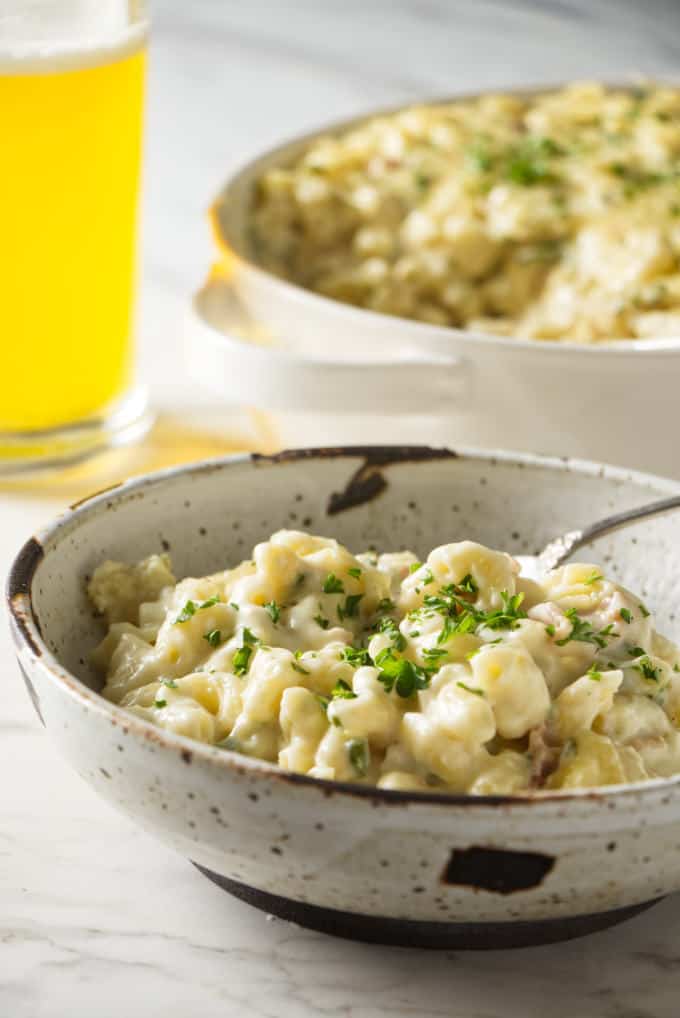 How to smoke mac and cheese
The ooey-gooey nature of mac and cheese makes it a perfect candidate for smoking. The cheese and noodles absorb smoke extremely well! If you want even more intense smoke flavor to absorb in the mac and cheese, add a layer of bread crumbs on top. Porous foods absorb smoke super well and the bread crumbs will leave a layer of smoke flavor that can be mixed into the mac and cheese.
When smoking your mac and cheese, I would recommend using a shallow bowl. This will expose more surface area of food to the smoke and allow for a more intense smoke flavor. For added simplicity, you can make the roux cheese sauce in a large, shallow skillet. Then you won't need to transfer the mac and cheese to another bowl. I would suggest using a 15″ cast iron skillet.
Set smoker to 225°F and add your favorite wood or pellets
Place the mac and cheese in a shallow bowl
Smoke 1-2 hours depending on how much flavor you want
If you are using a kamado or charcoal grill, you will want to maintain a low temperature when smoking. If it gets too hot you will risk burning and drying out the mac and cheese. This recipe is especially creamy and cheesy so you shouldn't run that risk!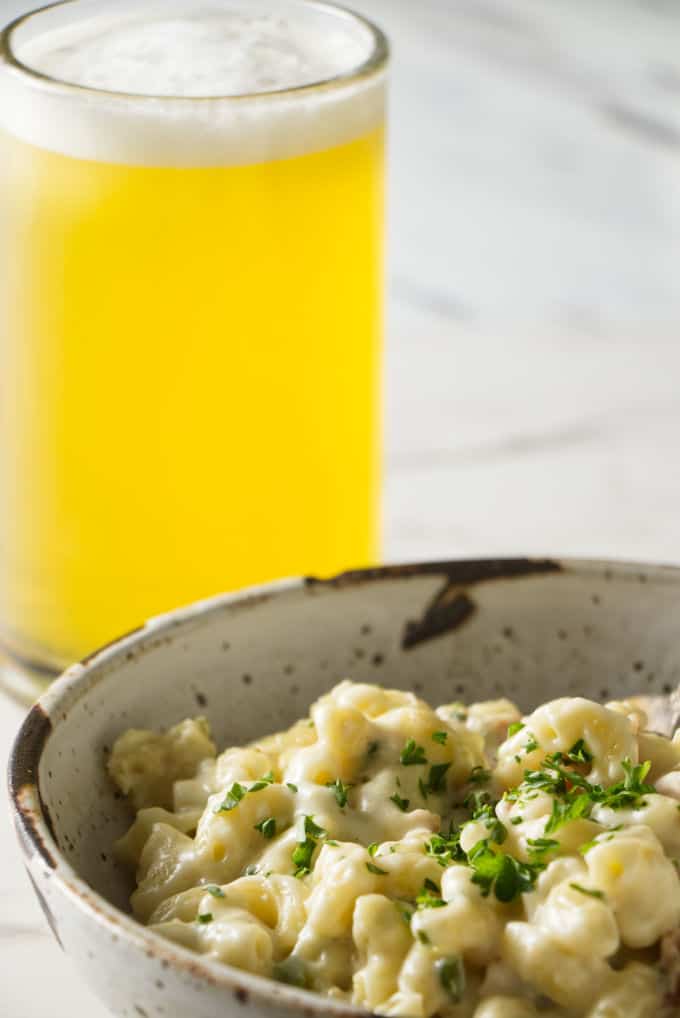 Let's talk cheese!
How to make a creamy mac and cheese
Not all cheeses are created equal! Some melt very well and give the creamy texture we want in the sauce. Here are some tips to get your mac and cheese extra creamy!
Use heavy cream or half-and-half
Include creamier cheeses – cream cheese, double cream brie cheese, American cheese
Experiment and substitute milk with sour cream for an extra tang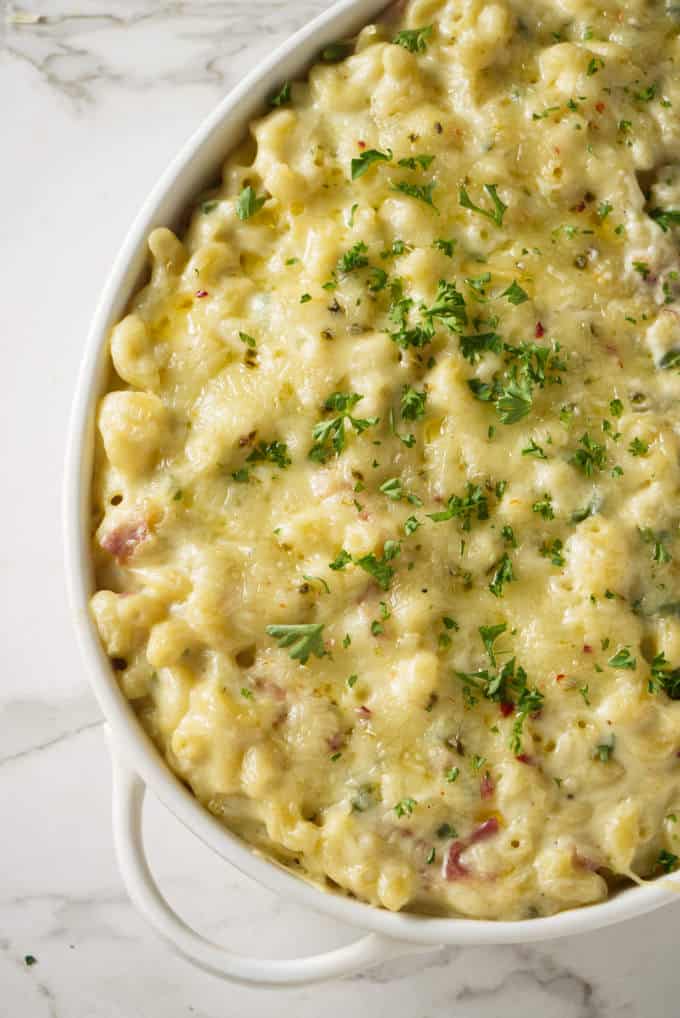 Flavorful cheese crust
Hard cheeses won't melt well, but they still have their place in macaroni and cheese. You can add hard cheeses on top of the mac and cheese to provide an oomph of flavor and a crust on top. These are some of my favorite cheeses for that crust:
Parmigiano-Reggiano or parmesan
Mimolette
Aged gouda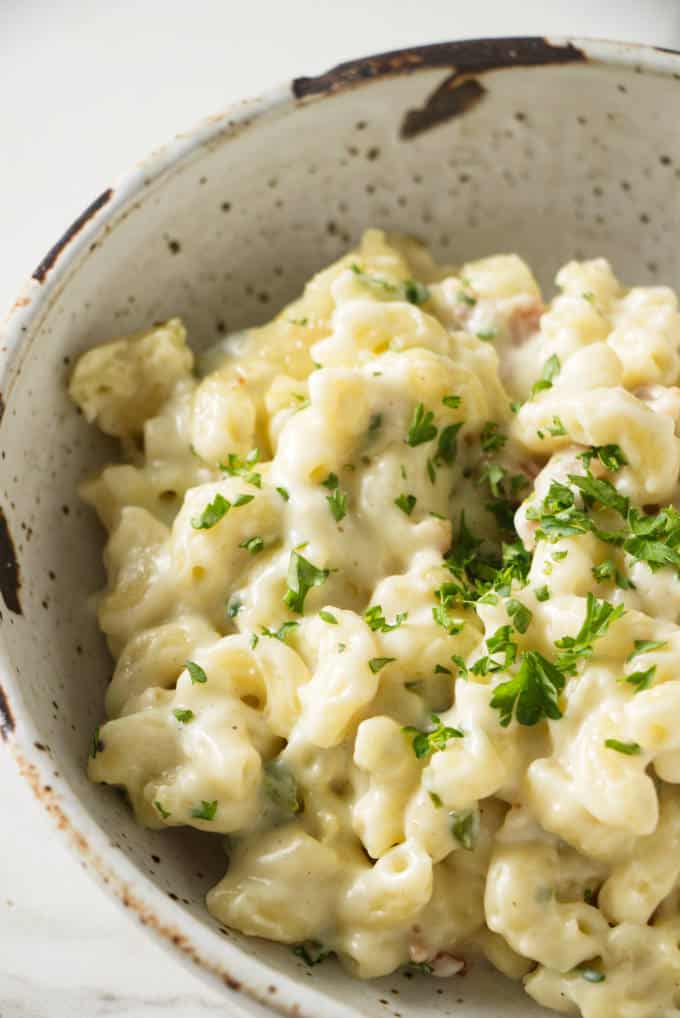 Other recipes to go with the mac and cheese
This Traeger smoked turkey breast is incredibly delicious and perfect with this creamy side. Plus, since you already have the Traeger out to cook the turkey breast, it will be easy to smoke the mac and cheese while the turkey is resting.
Pulled pork and mac and cheese, does it get any better than that! Bonus points if you want to add some pulled pork on top of the mac and cheese! This pulled smoked pork butt is super flavorful and basically falls apart when you take it off the grill.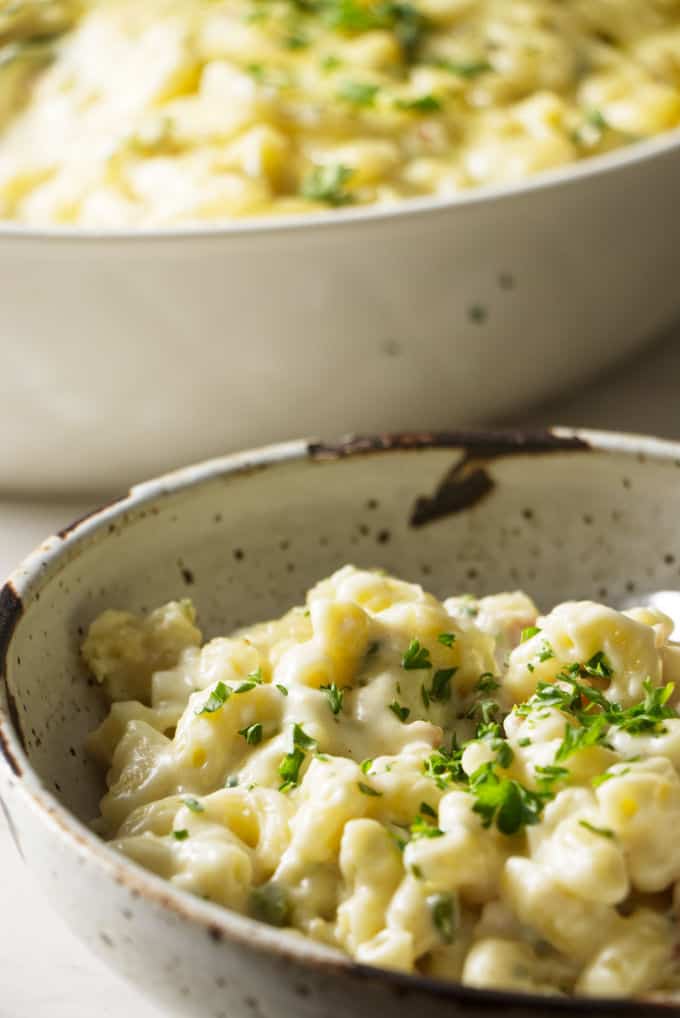 Now it is your turn!
Did you give this smoked Jalapeño popper mac and cheese a try? If so, leave me a comment and let me know how it turned out!
CONNECT WITH A LICENSE TO GRILL!
Be sure to follow us on our social media accounts.
Did you make this recipe? Tell us about it in the comments below!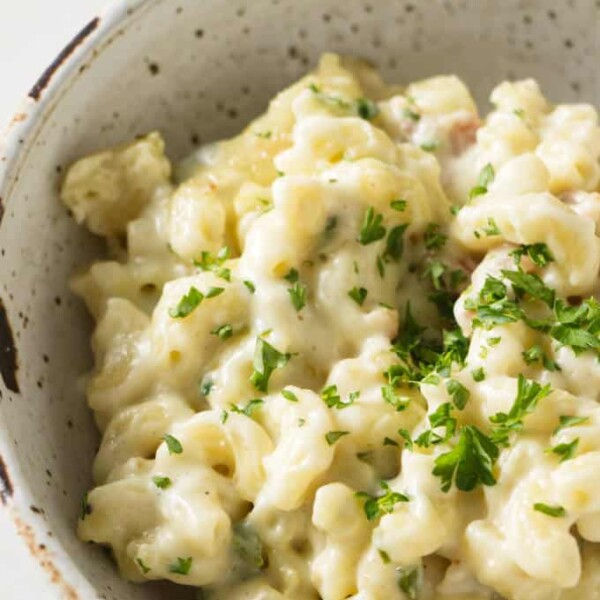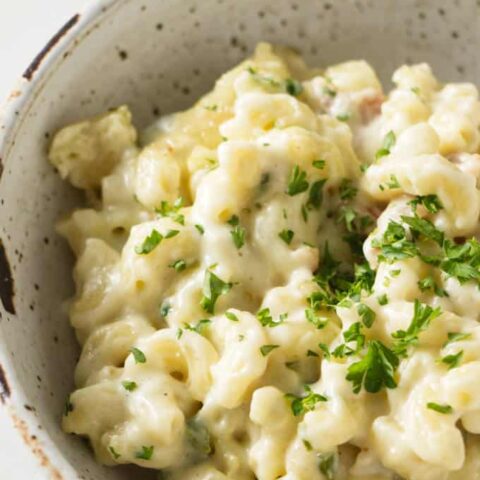 Smoked Jalapeño Popper Mac and Cheese
Total Time:
1 hour
10 minutes
This might be the cheesiest and gooiest macaroni and cheese I have ever had! It is loaded with over 2 pounds of cheese and the jalapeños and bacon make it taste just like a jalapeño popper. Add it to the smoker for an hour or two and you get some incredible smokiness soaked up into the mac and cheese. ENJOY!
Ingredients
One 16oz box macaroni pasta
1/2 cup butter
4 fresh jalapeños, seeds and ribs removed, diced
3 cloves garlic, minced
5 tablespoons all-purpose flour
2 cups half-and-half
1 cup whole milk
4 oz cream cheese, softened to room temperature and cubed
3 cups shredded mozzarella cheese
3 cups shredded white cheddar
1 tsp salt
1/2 tsp black pepper
1/2 tsp ground cumin
16 slices cooked and crumbled bacon
1 cup pepper jack cheese for the top
Instructions
Preheat your smoker to 225°F using your favorite hardwood.
Boil a pot of water for the macaroni and cook the noodles to al dente. This should take about 6-7 minutes.
Heat a large skillet over medium heat and the butter and melt completely
Add the jalapeños and simmer for 2 minutes.
Add the garlic and simmer for about 1 minute.
Next, add the flour and spices and whisk until a paste forms.
Slowly and carefully add the whole milk and whisk being sure that the milk doesn't curdle.
Add the half-and-half and continue to whisk.
Melt in the cream cheese and stir until combined completely. Then add the mozzarella and white cheddar and stir until smooth and creamy.
Mix in the crumbled bacon pieces and stir in thoroughly.
Transfer the macaroni and cheese into a shallow baking dish and place it in the smoker at 225°F for 1 hour. You may smoke for longer if you wish to have more of a smoke flavor.
Notes
Smoking the dish at too high of a temperature will make the mac & cheese dry, keep it at about 225°F
If you want a more intense smoke flavor, you can keep the mac & cheese in there for up to 2 hours
Nutrition Information:
Yield:

10
Serving Size:

1
Amount Per Serving:
Calories:

576
Total Fat:

42g
Saturated Fat:

25g
Trans Fat:

1g
Unsaturated Fat:

14g
Cholesterol:

124mg
Sodium:

894mg
Carbohydrates:

25g
Fiber:

1g
Sugar:

5g
Protein:

25g
Nutrition information is a guideline only, is calculated automatically by third party software, and absolute accuracy is not guaranteed.