If you've always wanted to bring the campfire experience to your backyard, I have just the solution with this delicious Traeger s'mores dip. This dip is packed with gooey marshmallows, rich melted chocolate, and plenty of sugary goodness. This one-pot wonder promises to be a hit at your next party.
With its silky-smooth chocolate layer, uber-melty marshmallows, and unmistakable Graham cracker crunch, this recipe is the perfect excuse to enjoy s'mores all year round. Hassle-free, quick to prepare, and perfect for feeding large groups, this recipe brings all the joy of traditional s'mores without the flames, pesky mosquito bites, and dreaded over-roasting.
Trust me when I say that you'll be revisiting this recipe regularly, so be sure to bookmark this page or pin it for later so you can enjoy these scrumptious treats whenever you please!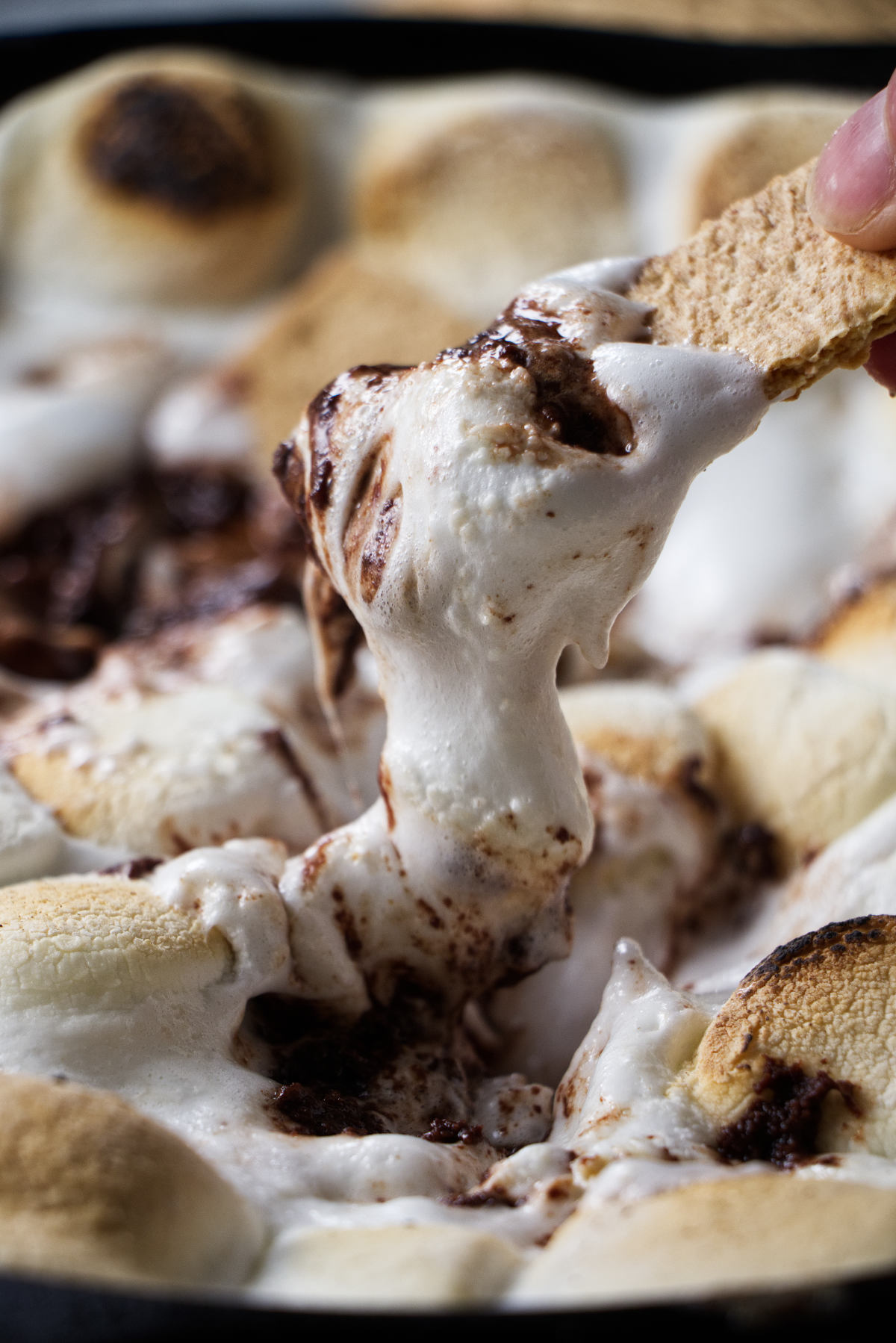 Why This Recipe Works
It's mess-free as everything's mixed and cooked in one skillet.

Using butter and heavy cream lends the chocolate a delicious creaminess and fudginess that you just can't beat.

The Traeger cooks all the ingredients quickly so you can enjoy the fruits of your labor within minutes.

It requires few ingredients, making this recipe ideal for those on a budget.

You aren't limited to using cookies for dipping. You can use everything from chips, pretzels, and apple slices to switch things up!

The cast-iron skillet in this recipe retains heat well, allowing the chocolate to melt evenly.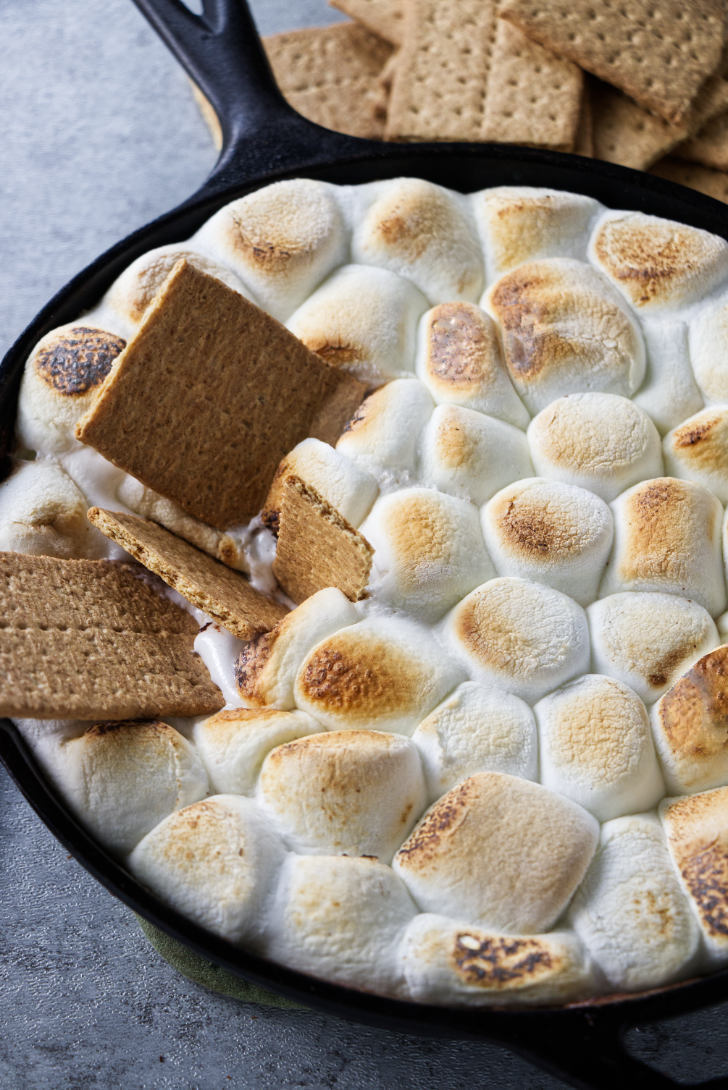 Ingredients
Below you'll find a list of ingredients that you need to bring this recipe to life. Scroll down to the printable recipe card for all the details.
Butter. Unsalted butter works particularly well with the chocolate and gives the dip an almost fudgy flavor.

Milk chocolate. You can use any chocolate in this recipe, but semi-sweet chocolate is the best option as it melts well and tastes neither bitter nor overly sweet.

Heavy cream. The heavy cream produces a rich and creamy s'mores dip.

Marshmallows. Use normal-sized marshmallows for an even cook across the top of your Traeger s'mores dip.

Graham crackers. Graham crackers will hold their structure while you're dipping. They're also plain and relatively mild, so they won't distract from the main event!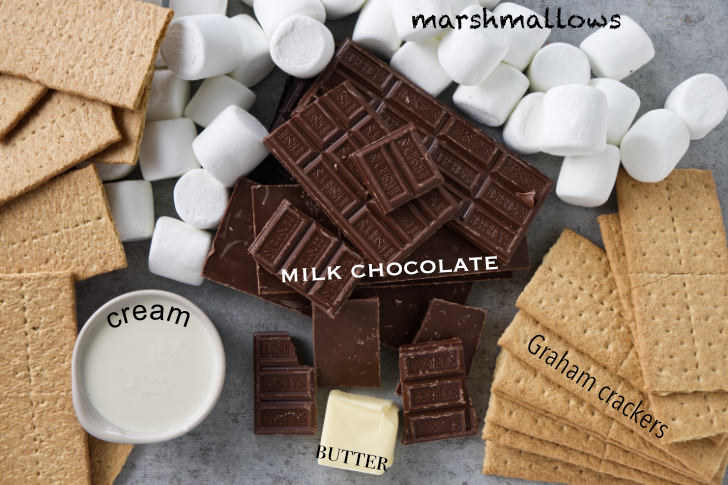 How To Make It
For detailed step-by-step instructions for this recipe, scroll down to the printable recipe card.
Preheat the Traeger pellet grill.

Place a skillet on the hot grill and melt the butter.

Add the chocolate and cream, then remove the skillet from the heat.
The cream will make the chocolate mixture stay dippable even after the dip cools.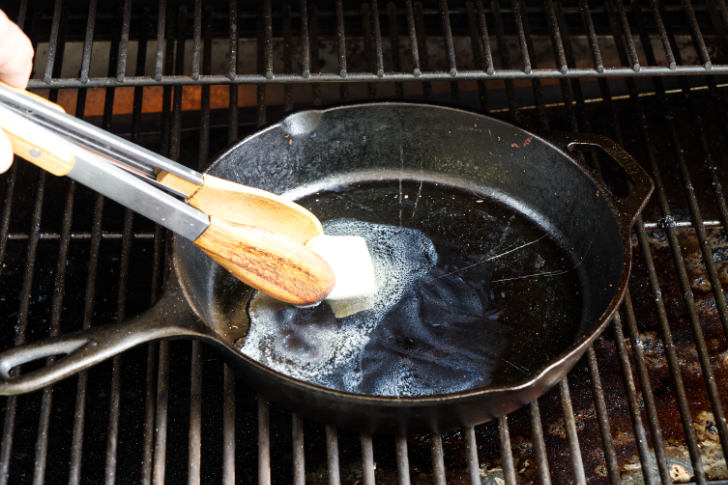 Melt the butter in a skillet.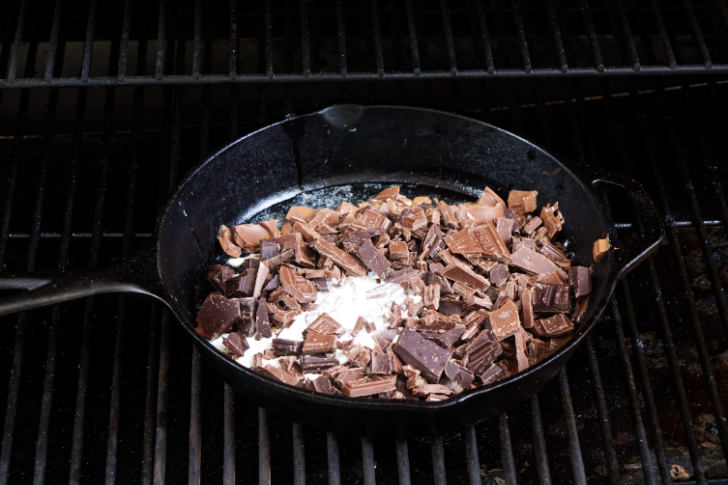 Add the chocolate and cream, then take it off the heat, so it melts slowly.
Place the skillet back on the heat and stir the chocolate mixture until incorporated.

Top the skillet with marshmallows and allow them to melt.

Serve the dip with Graham crackers or Oreo cookies.
If you stir the melted marshmallows into the chocolate mixture, it will taste like the nugget in the middle of a candy bar.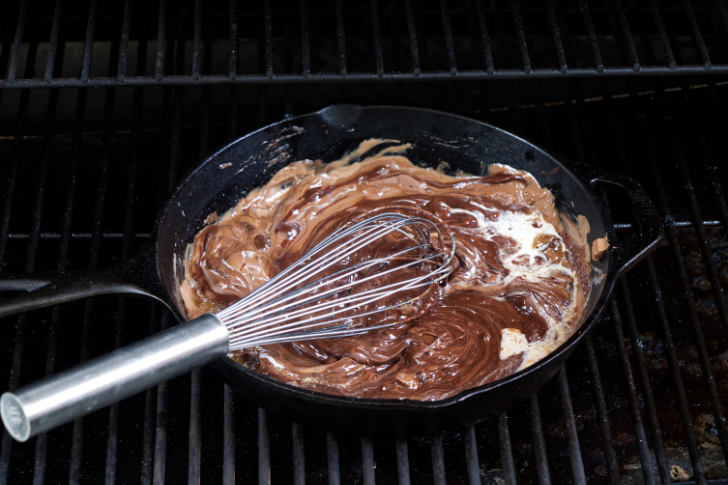 Stir the cream and melted chocolate until it is smooth.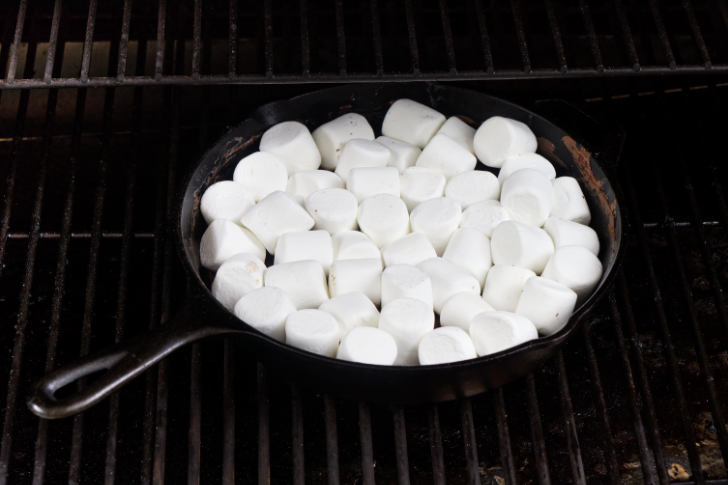 Top with marshmallows and cook until they melt.
Tips For Success
Use chocolate bars if you can. They tend to melt smoother and creamier than chocolate chips, but you can use anything from your local store as long as it's high-quality. Oh – just make sure your bars are chopped up before melting!

Don't burn your chocolate! Melting your chocolate low and slow is the key to success with this recipe. Chocolate burns easily, so don't be tempted to crank up the heat and always remove your skillet from the heat while the chocolate melts.

Don't be afraid to substitute with mini marshmallows. If you can't find large marshmallows, feel free to use mini marshmallows in their place. They'll still melt easily but won't puff up as much as their larger counterparts.

Watch your marshmallows carefully. This recipe is ready in a flash, so you'll want to keep a close eye on your marshmallows throughout the entire cooking process. Seriously, they can go from perfectly brown to burnt super quickly.

Cut your marshmallows in half. This prevents your marshmallows from puffing up too much and spilling over the side of the skillet.

Stir the melted marshmallows at the end. You can eat this dip as-is, but I love stirring the marshmallows into the chocolate to create an uber-gooey dip that tastes just like the nugget filling in a candy bar.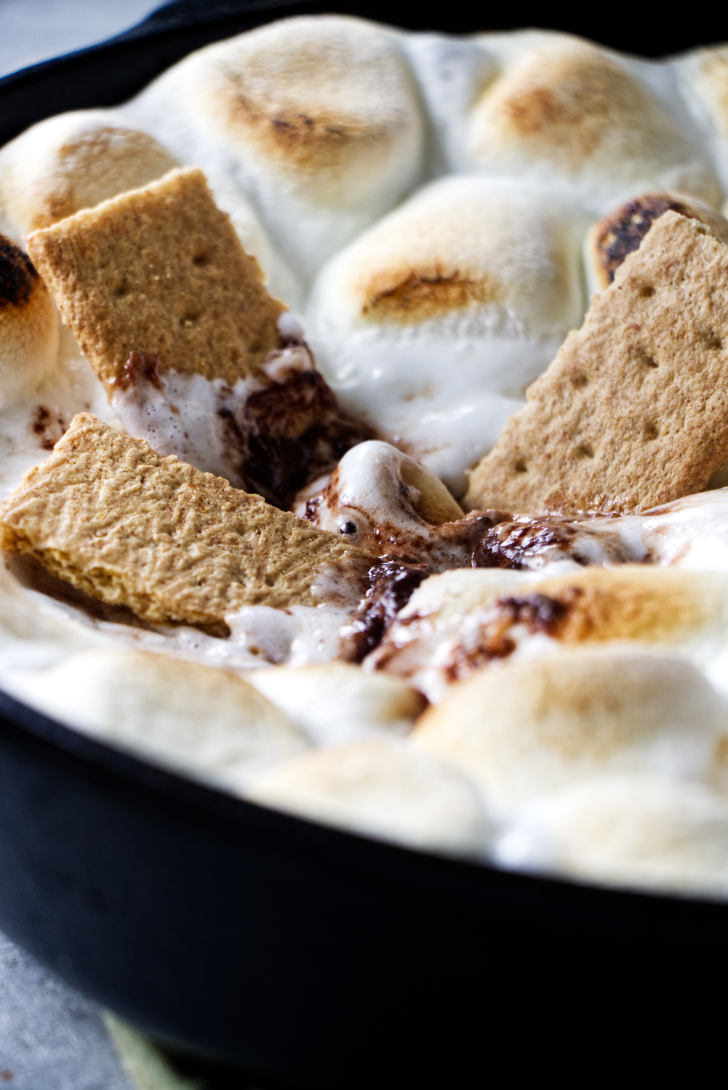 FAQ
Who invented S'mores?
In case you didn't know, S'mores were invented back in 1927 by Loretta Scott Crew, who first made them for Girl Scouts by a campfire. No one's ever disputed this story, so we'll take it as gospel!
How long do I cook a Traeger s'mores dip for?
This recipe takes between 8 and 15 minutes to cook entirely. The total cook time depends entirely on how golden-brown you want those marshmallows to be.
What should I serve with Traeger s'mores dip?
I love serving this recipe with Graham crackers or Oreo cookies, but you can pair this dessert with apple slices, vanilla wafers, gingersnaps, strawberries, or any other chopped fruit that takes your fancy.
Can I use different types of chocolate with s'mores dip?
You can easily switch things up with peanut butter chocolate chips or bars of white chocolate. Just be aware that these variations may melt slightly more quickly (or slowly!) than the milk chocolate used in the basic recipe.
🛠Tools and Equipment
If you click on some of the following affiliate links and buy something, we might get a small commission. You don't pay any extra, but it will help us keep the lights on and our bellies full!
This 10-1/4" Lodge cast iron skillet is perfect for this Traeger smoked s'mores dip. It is affordable and rugged and can build up a wonderful seasoning over time.

The goliath of S'moresegers, this Timberline 1300 smoker is the most luxurious of ways to smoke your food. It is made of extra-thick steel and is robust enough to last you many years.

An essential for all outdoor or indoor cooks, get yourself some high-quality silicone spatulas to handle the ooey-gooey mess of this Traeger s'mores dip.
What Else Is Cooking?
Wrap Up
Whether you're looking for a hefty dose of campfire nostalgia or are simply on the hunt for your next showstopping party dessert, this Traeger S'mores Dip will blow you away. Providing comfort in winter and adding a kick to classic summer BBQs, this super-sweet treat promises to be love at first bite.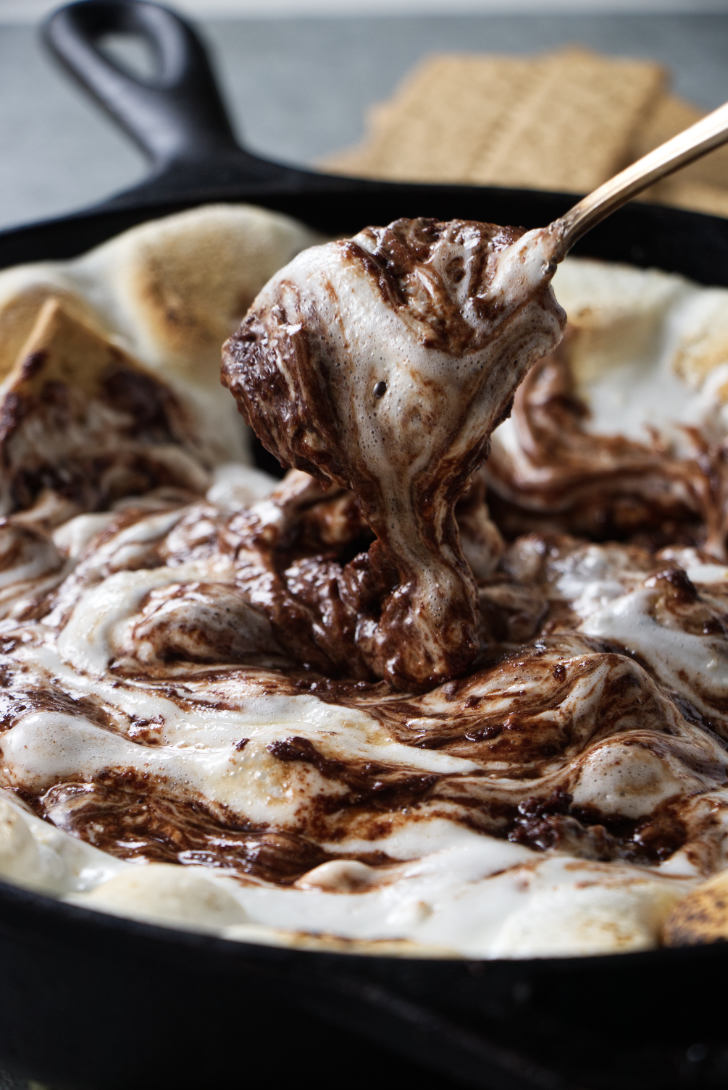 💬Tell Me What You Think!
Did you try out this recipe? Please leave a comment below and let me know how you liked it. Also, snap a picture and post it to your favorite social platform. Be sure to tag me at @alicensetogrill and let me know how you liked it!
CONNECT WITH A LICENSE TO GRILL!
Be sure to follow us on our social media accounts.
Facebook * Instagram * Pinterest * YouTube * Twitter
Did you make this recipe? Tell us about it in the comments below!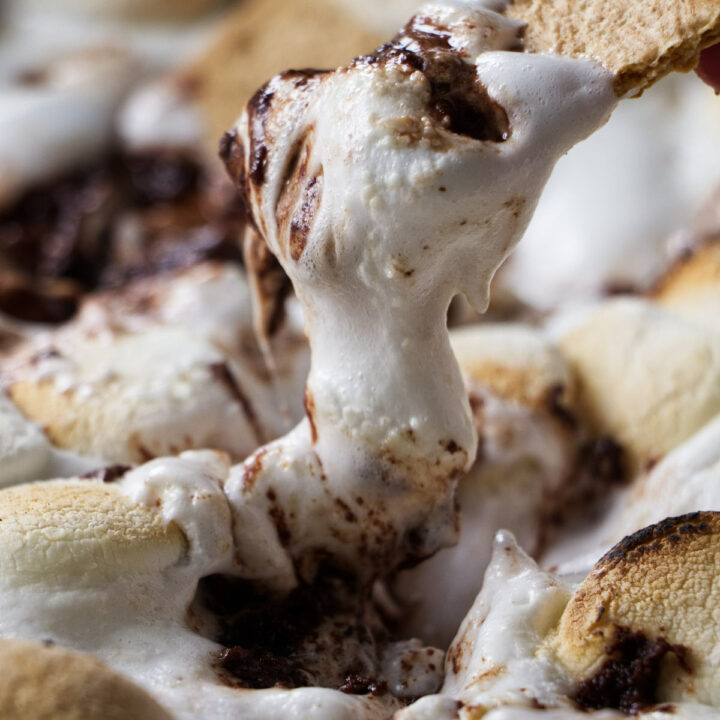 Traeger S'mores Dip
This smoked Traeger s'mores dip is loaded with rich, melted chocolate and gooey marshmallows. Grab some Graham crackers or Oreo cookies and dive in.
Adding cream to the melted chocolate keeps the chocolate dip even more dippable and smooth even as it cools down. If you stir everything together, it tastes like a chocolate nugget candy bar.
Ingredients
2 tablespoons butter
16 ounces milk chocolate, finely chopped (or 2 cups of milk chocolate chips)
1/4 cup heavy cream
1 package marshmallows
2 sleeves of Graham crackers
Instructions
Pre heat the Pellet grill to 425°F.
When the grill is hot, place a 10-inch skillet on the hot grill. Swirl the butter around the skillet until it melts.
Add the chocolate and cream then remove the skillet from the heat and let it sit undisturbed for 2 to 3 minutes.
Return the pan to the heat and stir the chocolate mixture until well combined.
Top with the marshmallows (we used the whole bag). Close the grill lid and let cook for 8 to 10 minutes until the marshmallows melt. If you want the marshmallows to turn golden brown cook for 12 to 15 minutes.
Serve with Graham crackers or Oreo cookies to scoop into the hot dip.
You can also stir the melted marshmallows into the chocolate to make an ooey, gooey dip that tastes like the nugget filling in a candy bar.
Notes
Chocolate bars will melt a little smoother and creamier than chocolate chips but either one will work.
If you use chocolate bars, make sure they are chopped so the chocolate melts quickly and evenly.
Remove the skillet from the heat while the chocolate melts. This will allow the chocolate to melt slowly and prevent it from burning before it melts. Once it melts, stir it with the cream before adding the marshmallows.
If you use an 8-inch skillet, reduce the chocolate to 12 ounces (or 1-1/2 cups of chocolate chips), and reduce the cream to 3 tablespoons.
Nutrition Information:
Yield:

10
Serving Size:

1
Amount Per Serving:
Calories:

298
Total Fat:

18g
Saturated Fat:

11g
Trans Fat:

0g
Unsaturated Fat:

5g
Cholesterol:

23mg
Sodium:

70mg
Carbohydrates:

30g
Fiber:

2g
Sugar:

25g
Protein:

4g
Nutrition information is a guideline only, is calculated automatically by third party software, and absolute accuracy is not guaranteed.