An air fryer baked sweet potato is easy to make and you don't have to turn your large oven on for a small job. The air fryer cooks the sweet potatoes perfectly and you will save a little time and electricity in the process. That's a win in my book!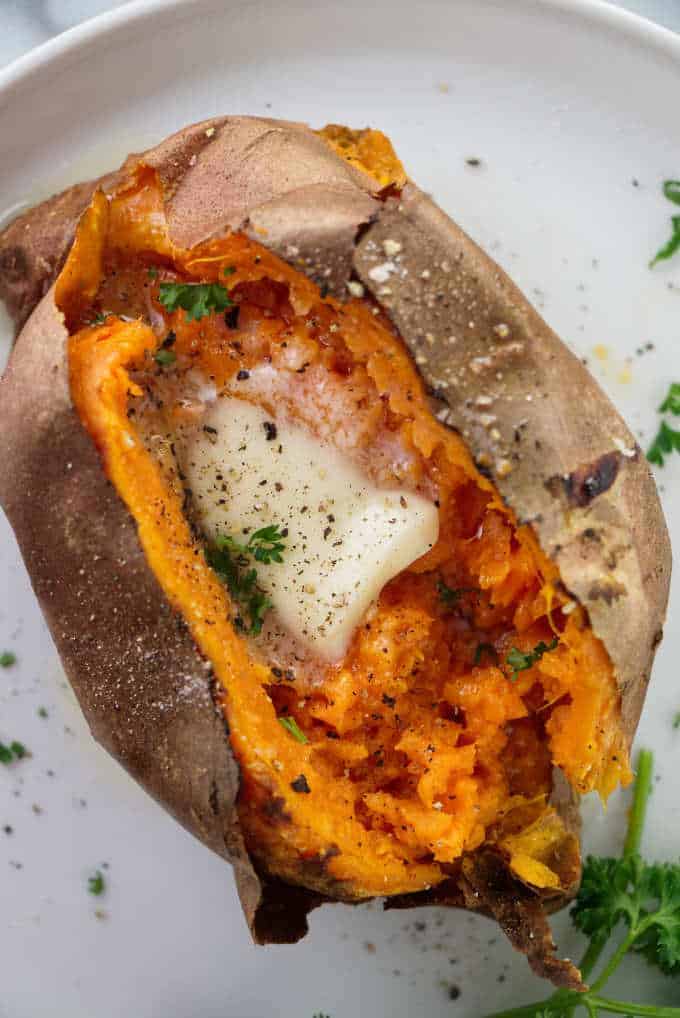 Baked sweet potatoes make an excellent side dish but you can also serve them as a main course. I topped sweet potatoes with some pulled smoked pork butt that I mixed up with Kansas City-style BBQ sauce. It made a filling dinner that I served along with a hearty salad. You can see how it looked if you scroll down to the photo below.
Another option is to pile some instant pot black beans on top of the sweet potato and top it with some crema sauce. That would make a great side dish OR a main meal depending on your hunger level.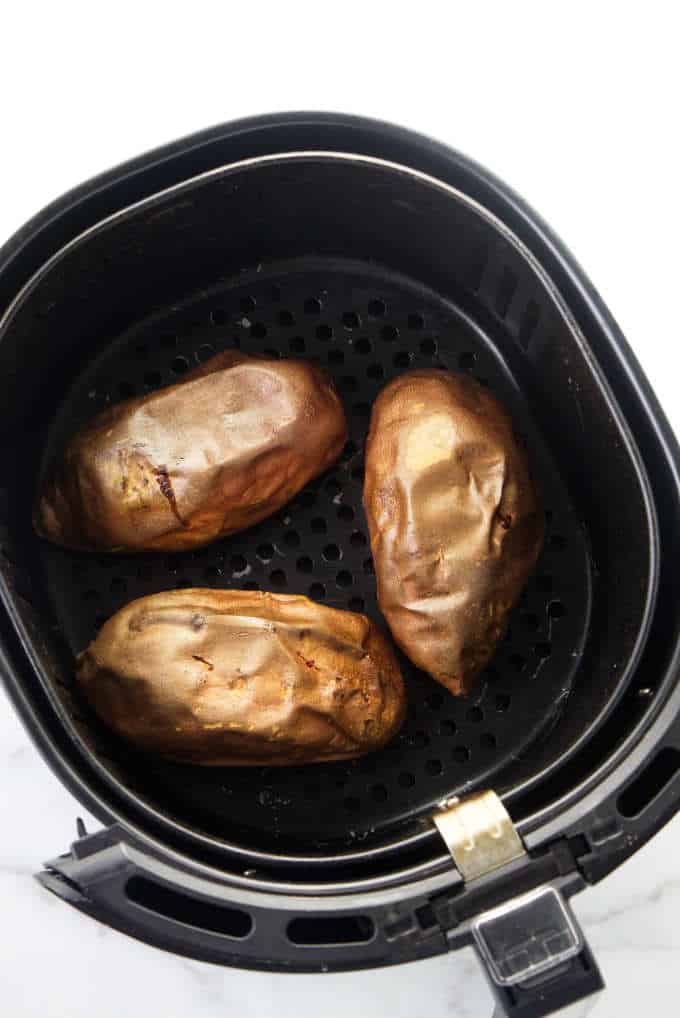 What you need for this air fryer baked sweet potato:
This recipe couldn't be any easier and you only need a couple of ingredients.
Sweet potatoes. Four medium-sized potatoes or two to three larger ones.
Olive oil. Or use canola oil or coconut oil.
You could sprinkle them with some salt just like we did in our air fryer baked potato recipe. I like the skin of my sweet potato when it is crispy and slightly salted, it reminds me of snacking on some chips!
Sweet potato or yam?
You may find that your grocery store has yams. Most of the time, these orange-colored yams are actually orange-fleshed sweet potatoes. Yams have a very rough skin that somewhat resembles tree bark. So go ahead, grab one of those "yams" from your grocery store!
How to make air fryer baked sweet potatoes
Sweet potatoes are one of the best foods to cook in an air fryer (along with chicken wings and crispy potato wedges). They are a perfect size for the air fryer and they free your oven up for bigger jobs.
Scrub the taters clean. Nobody likes to eat dirt!
Stab a couple of holes in the skin with a fork or knife.
Rub oil all over the sweet potatoes and stick them in the hot air fryer.
Bake them until they are tender.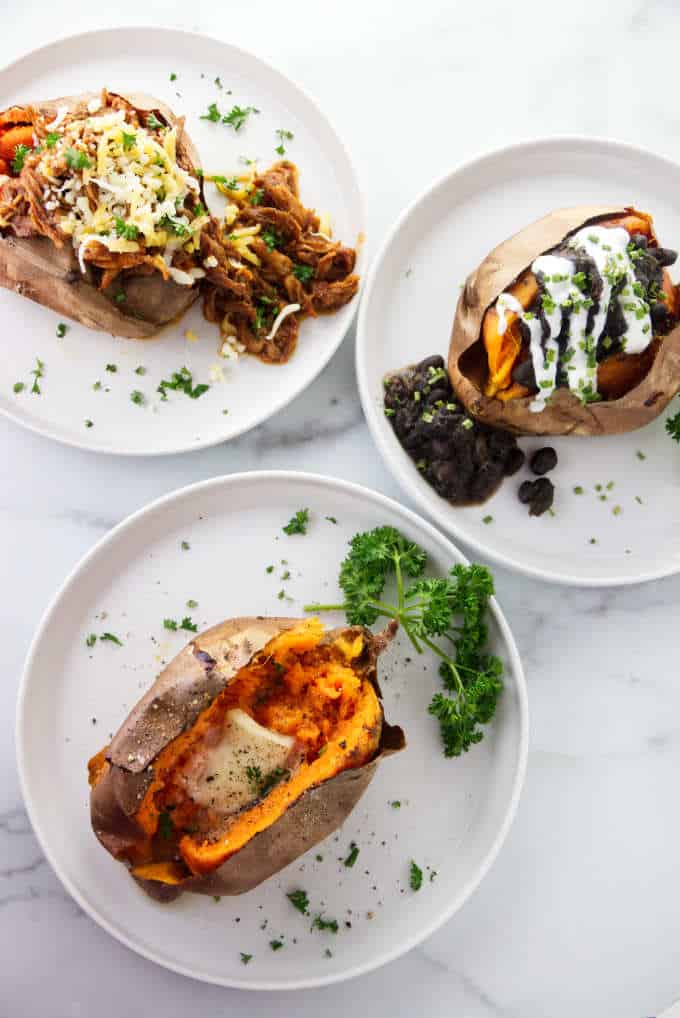 Tips for perfectly baked sweet potatoes.
Poke a few holes in the skin. The skin will trap steam inside the sweet potato. If enough steam gets trapped then the pressure will build up and your sweet potato will explode. Exploding sweet potatoes don't happen very often but it isn't a risk worth taking.
Check the sweet potatoes halfway through the baking time. If you notice the potatoes getting too dark, then flip them over so they don't burn on one side.
Don't over-crowd the air fryer. Keep all the sweet potatoes in a single layer and don't stack them on top of each other. Most air fryers will hold 4 medium sweet potatoes without crowding. If your potatoes are larger then you might only be able to fit 2 or 3.
You will know the sweet potatoes are done when they are soft and tender. Stab a fork in the center of the potatoes. If it goes in with very little resistance then you know it is done. You could also give them squeeze with your hand but protect your hand with a towel because the taters will be hot.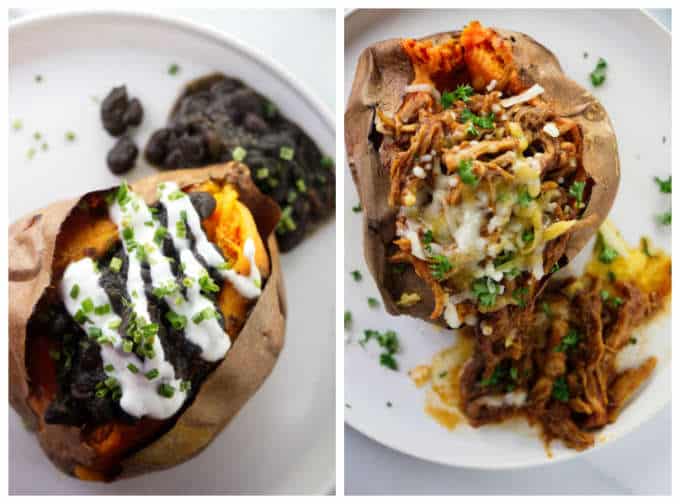 Frequently asked questions:
Do I have to pre-heat the air fryer? It depends on what you plan to cook. Some recipes like these chocolate chip oatmeal cookies need the air fryer pre-heated. You do not have to preheat the air fryer for this recipe. Of course, it won't hurt if you do
Can I make these sweet potatoes without oil? Yes, you can skip the oil if you want. The oil will help the sweet potatoes get a nice crisp, shiny crust but it is not required. I think baked potatoes are so much better when the skin is crispy and slightly salted.
Can I use aluminum foil in the air fryer? Yes, you can use aluminum foil in the air fryer. If you wrap the sweet potatoes in aluminum foil then they will steam under the foil and make the skin soft and delicate. If you like the skin crispy then don't wrap them but if you want the skin soft then go ahead and use the aluminum foil.
Can you eat the skin on sweet potatoes? Absolutely! The skin is perfectly fine to eat and it is full of nutrition and fiber.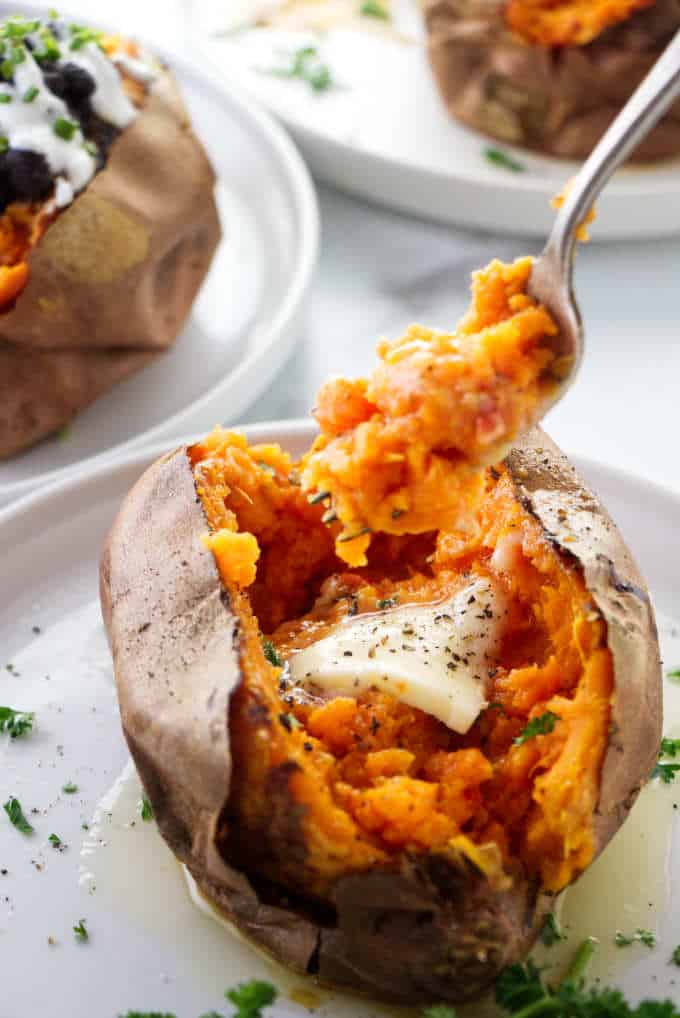 Toppings for sweet potatoes.
You can top these golden tubers with plain ole salt, pepper, and butter or you can go crazy and load them up. Here are some suggestions.
Chili. Try loading them with our smoked brisket chili.
Sour cream, bacon, and chives.
BACON and cheese! I loaded mine up with some smoked gouda and crispy bacon and that was incredible!
Marinara sauce and your favorite pizza toppings.
Salsa, guacamole, and corn chips.
Grilled onions and peppers.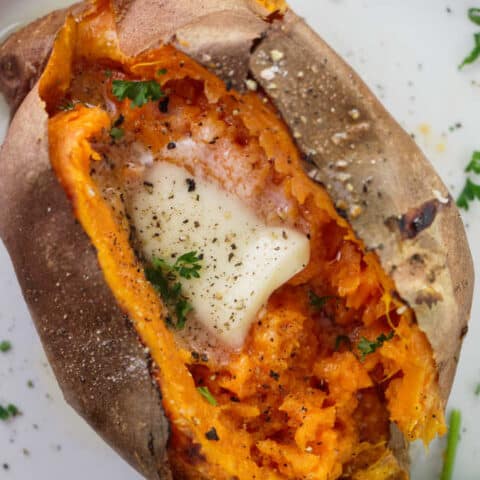 Air Fryer Baked Sweet Potato
Yield:
3 to 4 sweet potatoes
Ingredients
3 to 4 medium sweet potatoes
1 tablespoon olive oil
Instructions
Scrub the dirt off the sweet potatoes and prick a hole in the skin with a fork or knife.
Rub olive oil all over the potatoes.
Place them in the air fryer and set the temperature to 400°F. Bake for 30 minutes.
Check the potatoes after 15 to 20 minutes. If they start to get too brown on top, flip them over.
Potatoes are done if they feel soft when you squeeze them or they are fork-tender.
Cook larger sweet potatoes for an additional 10 to 20 minutes.
Notes
Don't overcrowd the air fryer basket and don't stack the sweet potatoes on top of each other. If you have a small basket you might only be able to fit 2 potatoes in it at a time.
The cooking time will vary depending on the size of your potatoes. Start checking them after 25 to 30 minutes. If they are fork-tender they are done.
Nutrition Information
Yield

4
Serving Size

1
Amount Per Serving
Calories

132
Total Fat

4g
Saturated Fat

1g
Trans Fat

0g
Unsaturated Fat

3g
Cholesterol

0mg
Sodium

41mg
Carbohydrates

24g
Fiber

4g
Sugar

7g
Protein

2g
Nutrition information is a guideline only, is calculated automatically by third party software, and absolute accuracy is not guaranteed.
Tell me what you think!
Did you try out this recipe? If so, snap a picture and post it to your favorite social platform. Be sure to tag @savorthebest and let us know how you liked it!
CONNECT WITH SAVOR THE BEST!
Be sure to follow Savor the Best on their social media accounts.
Facebook * Instagram * Pinterest * Twitter * Youtube
Did you make this recipe? We would love to hear from you. Drop us a comment below.