If you're looking to dial up your next chili night or a backyard BBQ, then you're bound to adore this Traeger smoked cornbread. This recipe is a delicious way to change up traditional cornbread, as the pellet grill offers a pleasant smokiness while the cheese gives the dish a remarkable depth of flavor. When you throw in a moist, bouncy center and a crispy, golden crust, it's easy to see why this Southern delight has become one of my all-time favorite recipes.
The secret to this all-American dish is to use buttermilk, butter, and a touch of sugar for a rich yet balanced dish that screams comfort food. This bread also manages to do it all on the texture front; it's soft without being cakey and crumbly without falling apart in your hands. In my opinion, it's an unsung hero, fit for any BBQ occasion.
The recipe requires minimal mixing and just a few staple ingredients, so it's a total breeze to put together. Trust me when I say that you'll want to bookmark this recipe and save it for later, as the entire family will be clamoring for this smoked Traeger cornbread for years to come. It's just that good!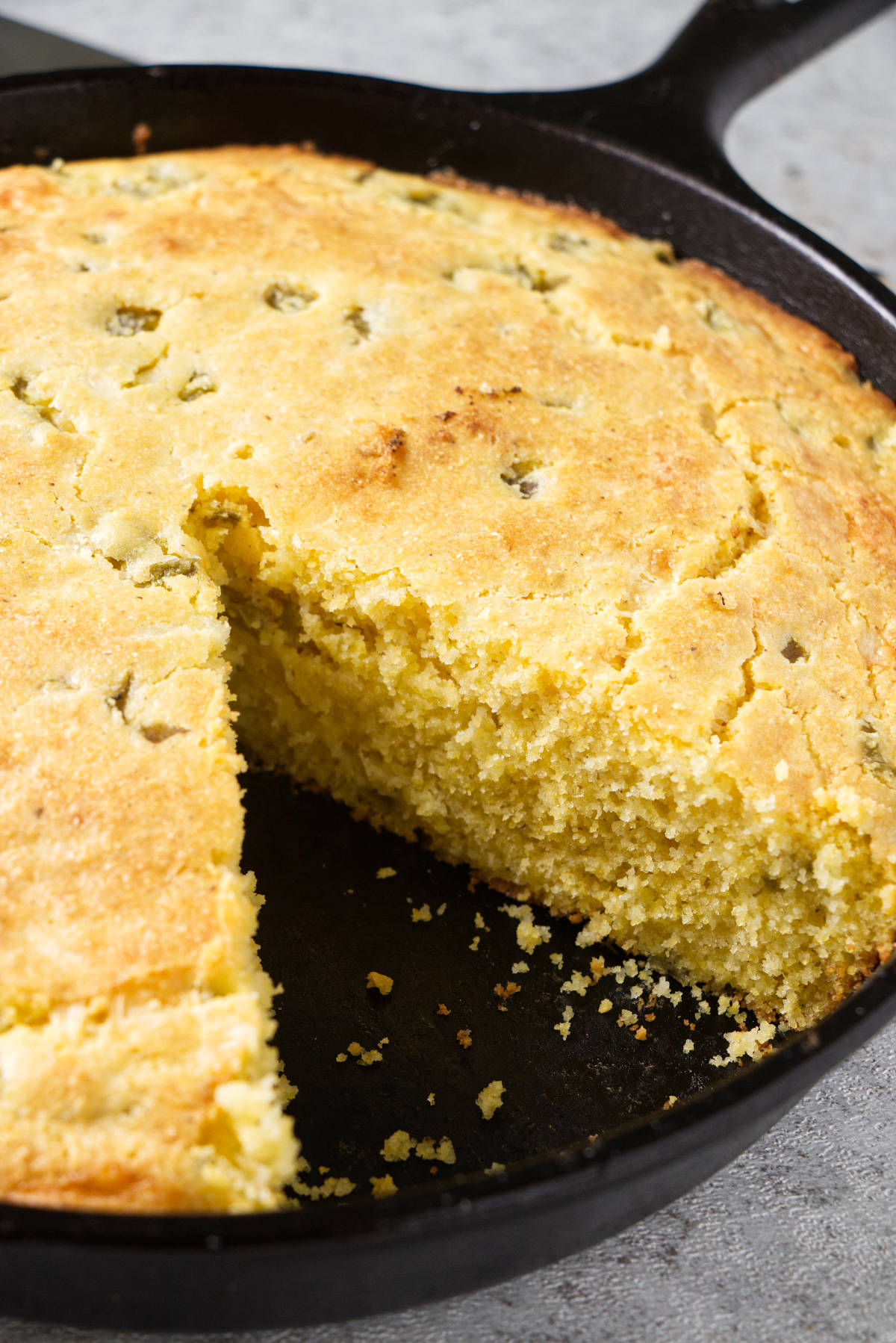 Why This Recipe Works
A glorious balance of cornmeal and all-purpose flour gives this bread plenty of structure.

The combination of buttermilk and butter keeps things moist and flaky while adding depth and richness to the bread.

The sugar adds a wonderful hint of sweetness.

The Traeger gives this smoked cornbread a slightly smoky, rustic flavor.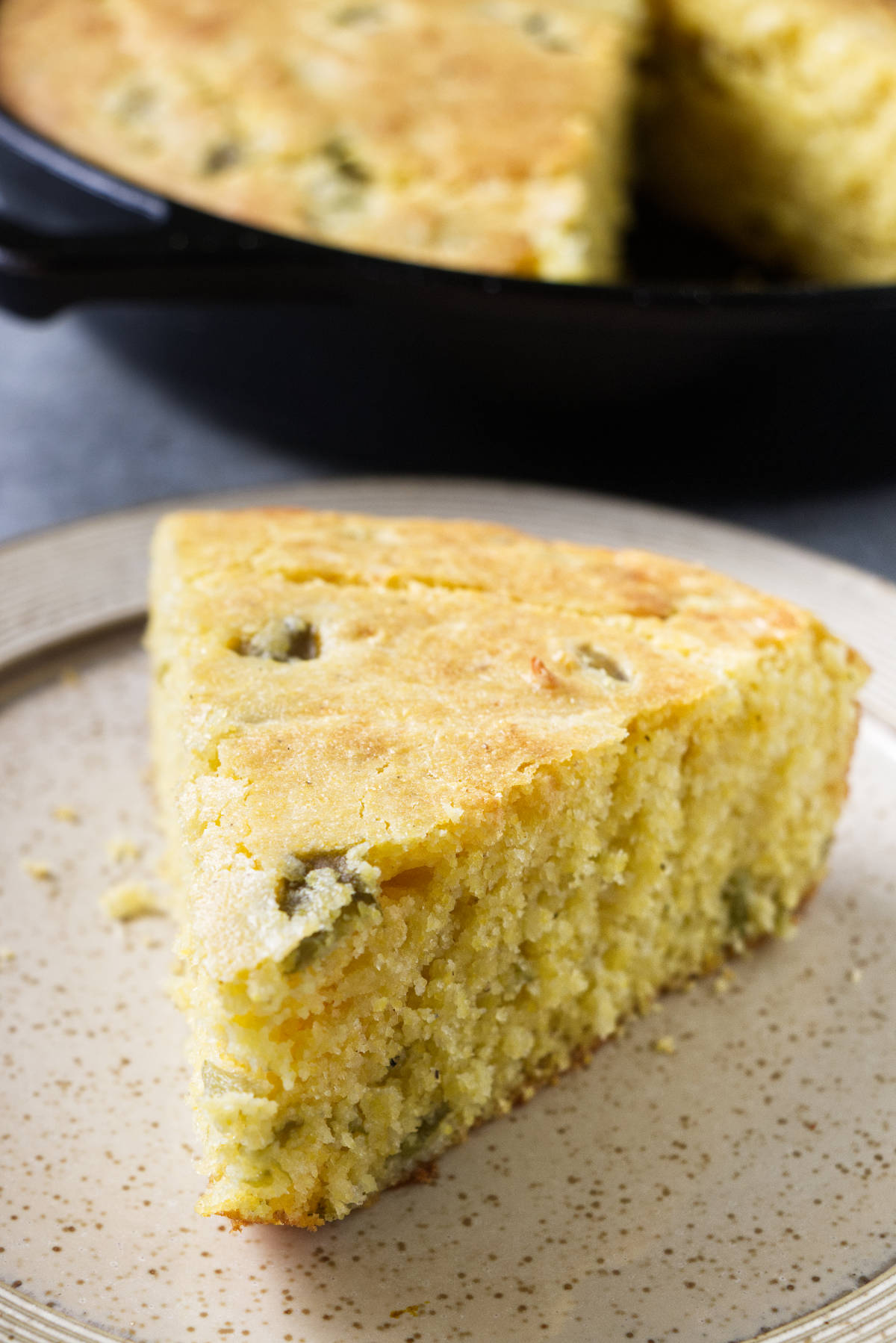 Ingredients
Here is a list of ingredients that you need to make this recipe. Scroll down to the printable recipe card for all the details.
Fine ground cornmeal. Crucial for getting the signature texture and sweetness of cornbread.

All-purpose flour. Allows your bread to rise and gives it that signature spongy consistency.

Sugar. Offers a hint of sweetness that beautifully balances the bread.

Baking powder. Helps your dough rise.

Baking soda. Ditto!

Salt. A small pinch adds complexity and enhances other flavors.

Buttermilk. Keeps things moist and adds tanginess.

Butter. Makes the bread flaky, moist, and super-rich.

Eggs. A must-have for moisture, structure, and integrity.
Optional add-ins
Diced green chiles. If you fancy dialing up the heat.

Grated cheese. Great for flavor and perfect for pairing with Mexican dishes.

Fresh or frozen corn kernels. For texture and a little sweetness.

Cooked crumbled bacon. Makes the bread uber-savory and works well with maple syrup for an indulgent result.

Optional spices.
How To Make It

For step-by-step instructions for this recipe, scroll down to the printable recipe card.
Preheat the Traeger and grease a cast-iron skillet.

Combine the dry ingredients in a mixing bowl and add any optional mix-ins to the flour.

Combine the wet ingredients in a separate bowl.

Add the dry ingredients to the wet mixture and fold together until just combined.

Scoop the batter into the skillet and place it on the Traeger.

Cook until golden brown on top.

Allow it to cool before slicing.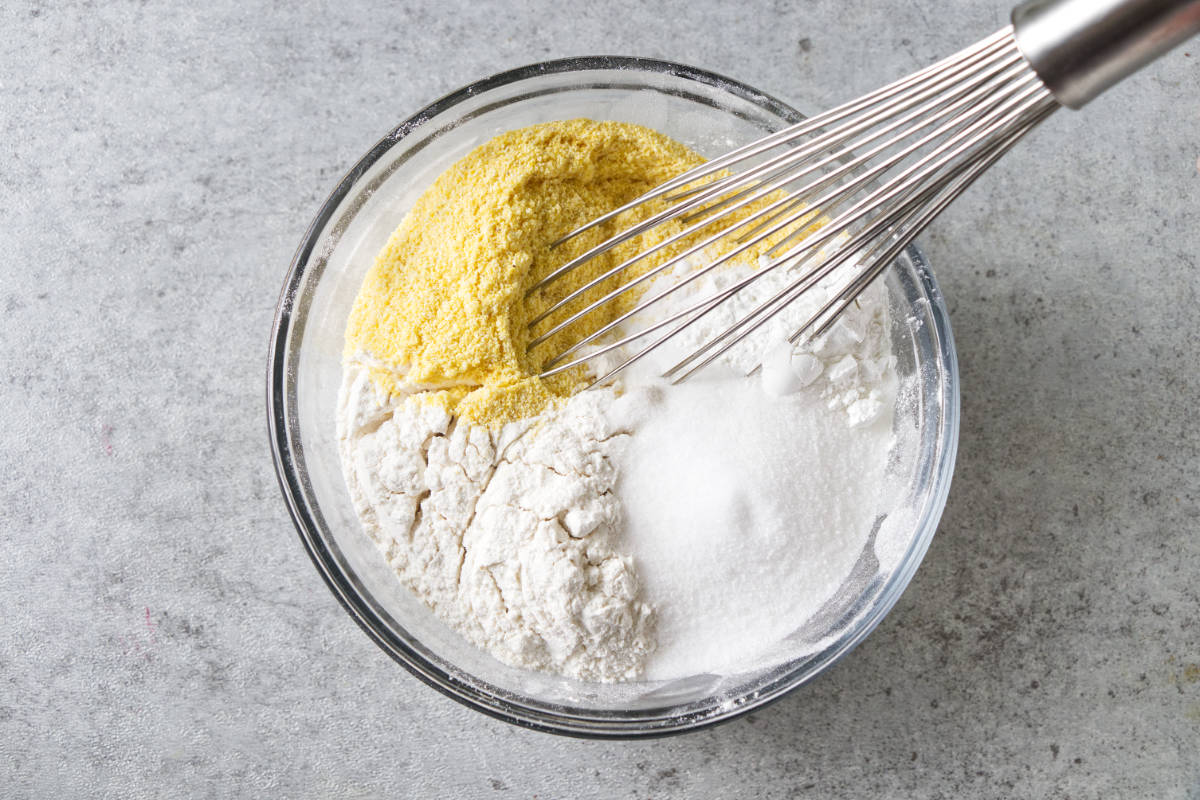 Combine the dry ingredients and whisk to get out any lumps. If you want to add any additional spices, add them here. See the notes in the recipe card for suggestions.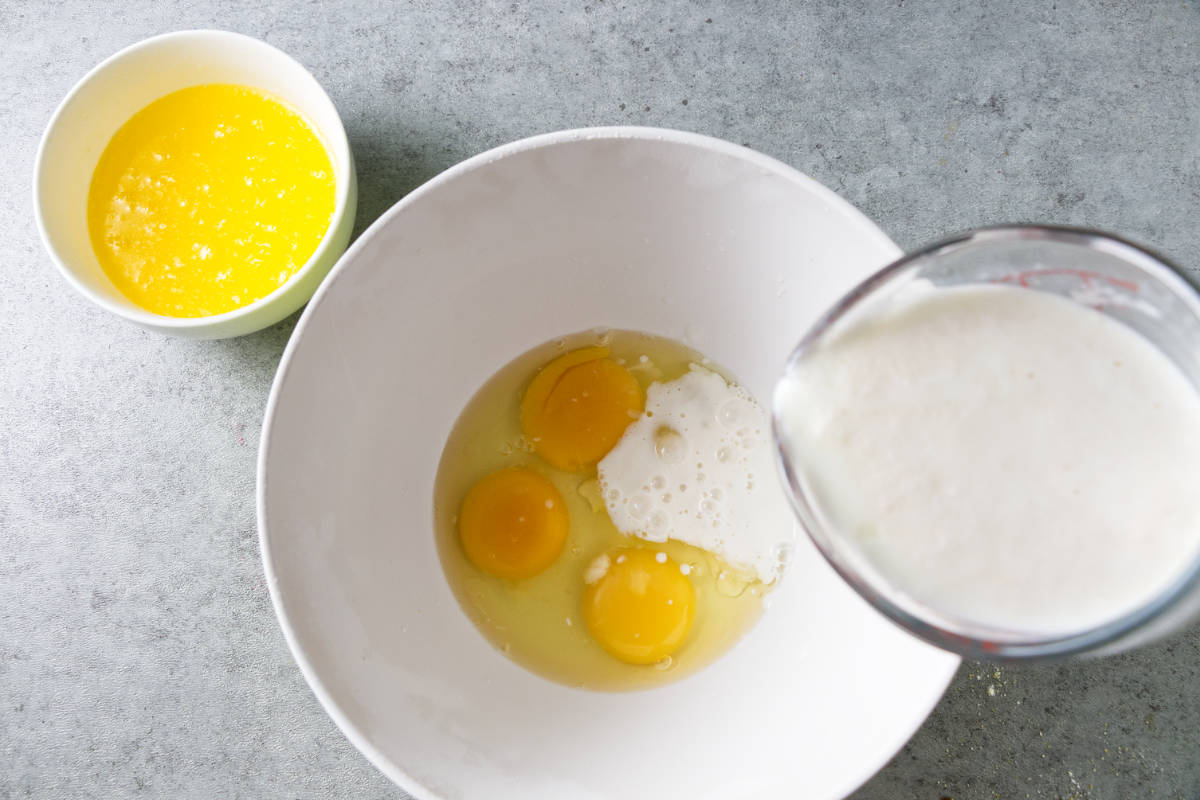 Whisk the eggs, buttermilk, and melted butter in a separate bowl. Make sure the eggs and buttermilk are at room temperature.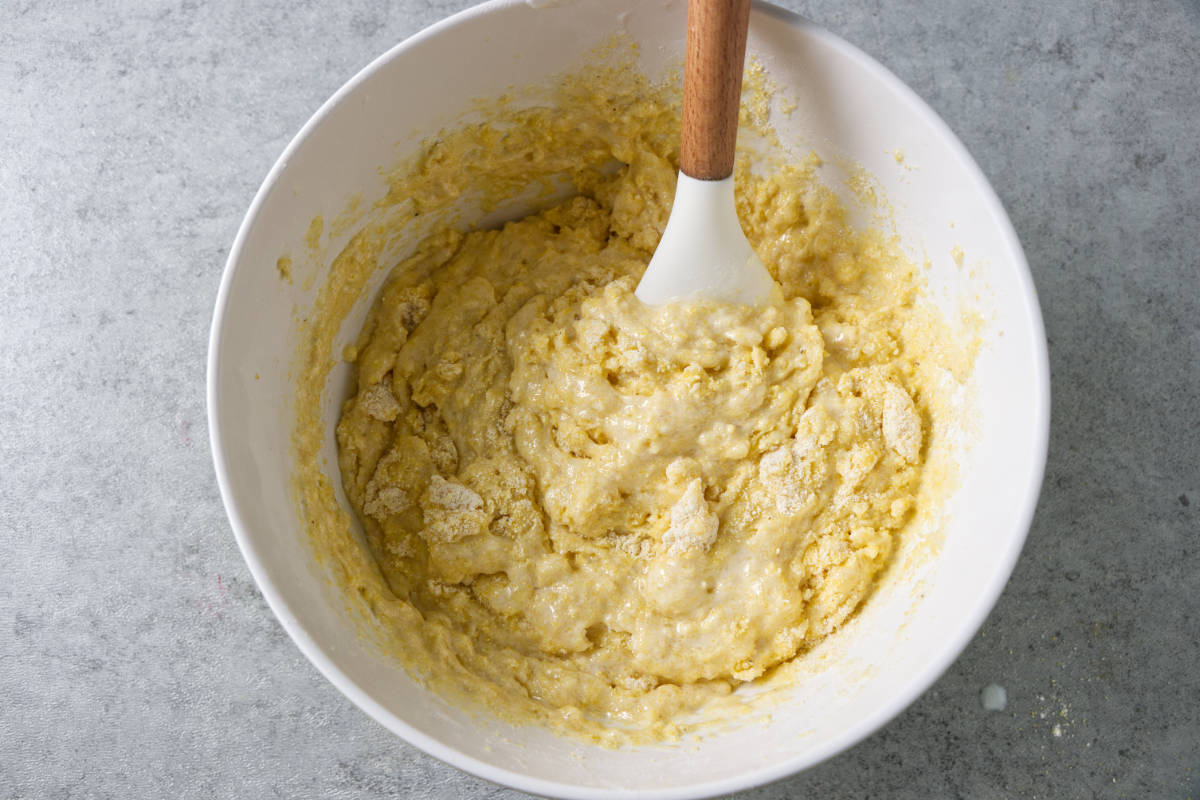 Fold the dry ingredients into the liquid ingredients. Don't stir too much, it is ok if the mixture is lumpy.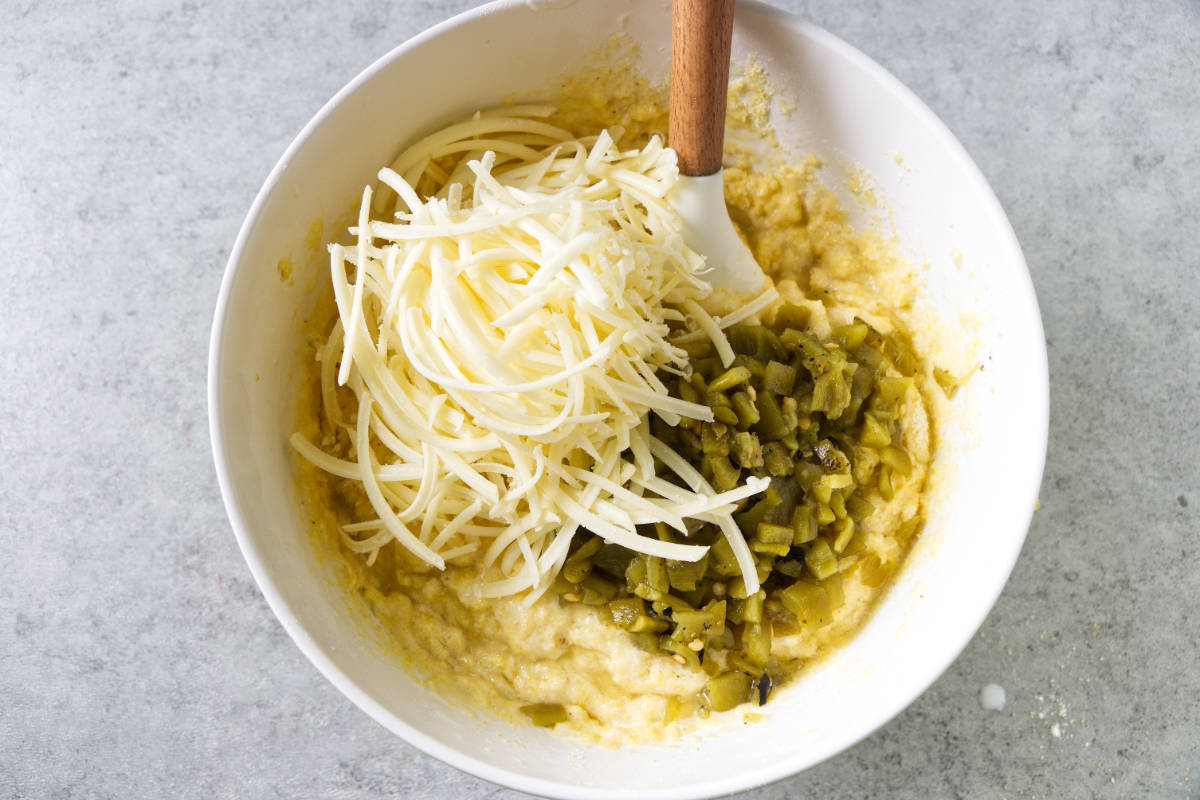 Fold in any of the optional add-ins. We added cheese and green chiles in this photo. Check out the recipe card for more options.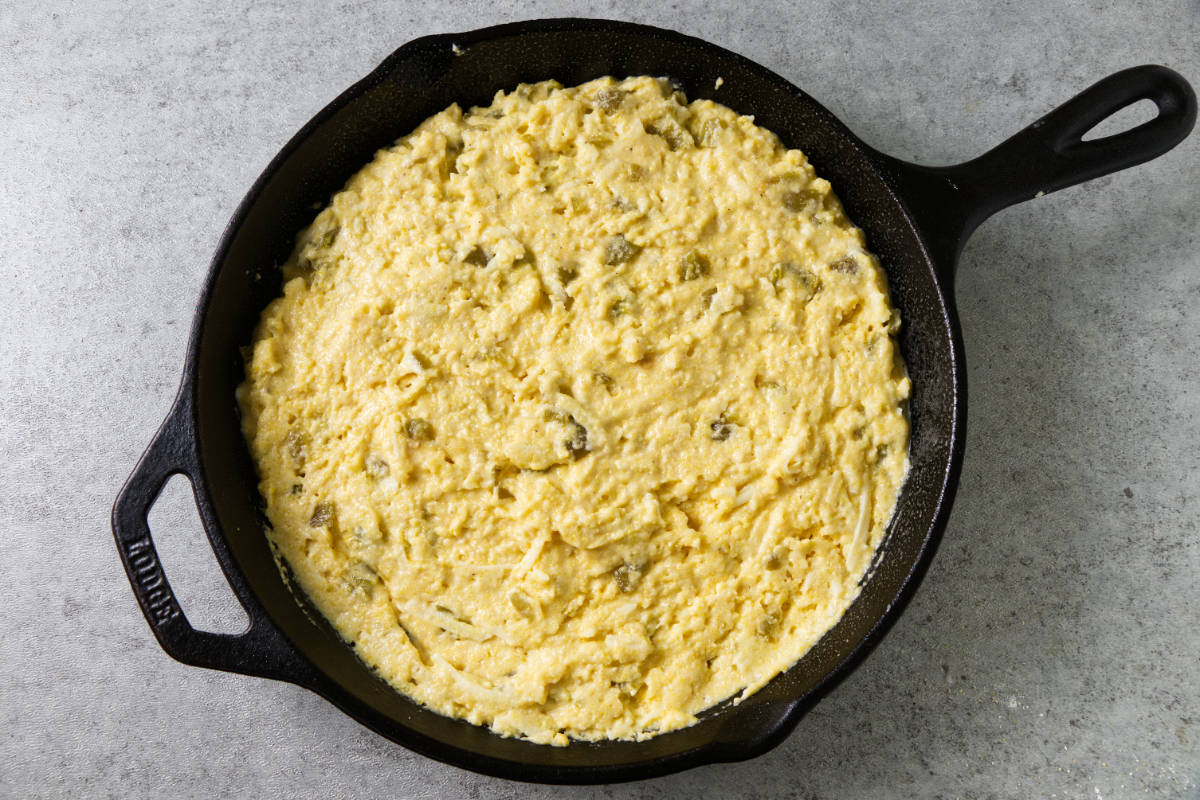 Spread the cornbread batter in a cast-iron skillet or baking dish, then place it directly on the Traeger grill grates until it is smoked to perfection.
Tips For Success
Leave the grill alone! If you can, avoid the temptation to open the grill until at least 22 minutes into the baking time. Opening the lid too often will extend the bake time considerably.

Use an instant-read thermometer. This allows you to check the internal temperature of your bread quickly, giving you an even bake and peace of mind. It also helps avoid overbaking!

Grab the right cornmeal. It may seem arbitrary, but choosing the right cornmeal is crucial to getting this dish right. You'll want to use fine ground cornmeal that's free of flour and leavening agents for best results.

Be careful when measuring the flour. Don't just hope for the best by scooping things out of the bag with a measuring cup. Measure your ingredients with a digital scale to avoid the overly doughy consistency that comes with using too much flour!

Don't underestimate the cast-iron skillet. This thing is the MVP when it comes to achieving a perfect, crispy crust.

Sniff your cornmeal. It sounds strange, but you'll want to check if your cornmeal is rancid before using it. Rancid cornmeal will smell musty, while fresh cornmeal is naturally sweet. If you've bought your cornmeal from the store recently, this probably won't be an issue.

Don't overmix. Having a few lumps is a good thing, as they'll give your bread a slightly craggy appearance which makes it look oh-so-rustic. Lumps also keep your cornbread bread moist while baking in the Traeger.

Get the grease in your skillet nice and hot before adding the batter. This helps you get the golden crust that characterizes Southern cornbread.

Let your batter rest for 10-15 minutes before baking. The leavening agents will start working their magic, and the cornmeal will absorb the other flavors better.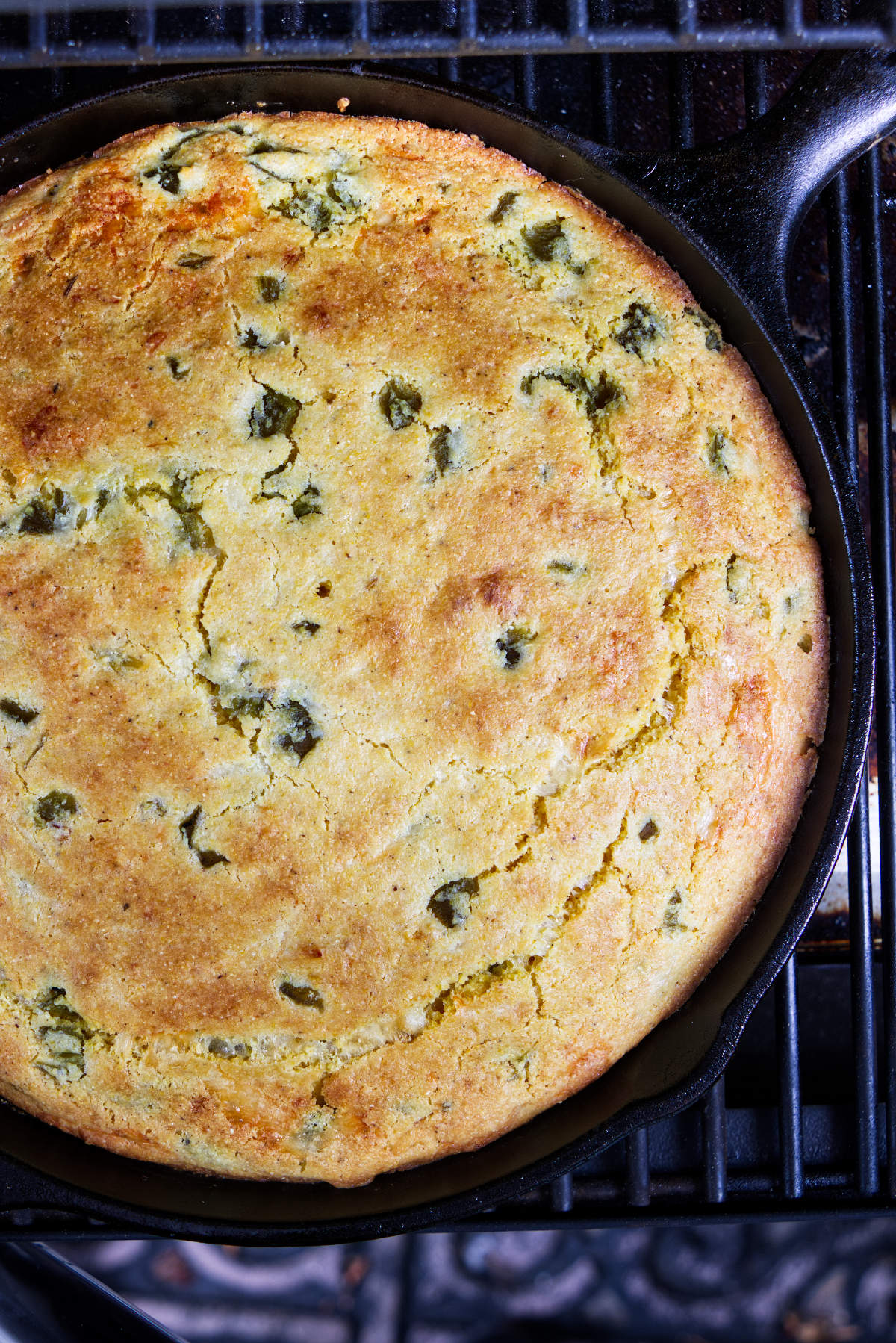 FAQ
What is cornmeal?
In basic terms, it's dried field corn that has been ground to a coarse, medium, or fine consistency!
Why is my cornbread crumbly?
Your cornmeal should be slightly crumbly, but if it's falling apart in your hands, then something has gone wrong. Overly crumbly cornbread usually happens when you use too much cornmeal and skimp on the flour. Your bread needs enough gluten to hold itself together, so pay close attention to how much of each ingredient you're using.
What should I serve with cornbread?
You can pair cornbread with several things, but it's popular with chili, BBQ meats, vegetables, pot pie, and mashed potatoes. I mean it when I say that virtually anything goes when it comes to this delicious side dish!
How do you keep cornbread moist?
Don't overmix, and don't skimp on the buttermilk. If you're wondering how to prevent cornbread from drying out once it's cooked, reheat it before eating and place a paper towel over your cornbread to help it reabsorb any precious moisture.
Should cornbread batter be thick or thin?
It shouldn't be loose and should be pourable – think pancake batter!
Can I make this Traeger smoked cornbread gluten-free?
It won't taste the same, but you can make this cornbread recipe gluten-free by switching out the all-purpose flour for a 1:1 gluten-free blend or using a combination of ground cornmeal and corn flour.
Can I freeze this Traeger cornbread?
This recipe freezes exceptionally well when it's cooled to room temperature, wrapped in plastic, and placed in the freezer. Then, when you want to eat it again, simply leave it to thaw on a wire rack for a couple of hours.
🛠Tools and Equipment
If you click on some of the following affiliate links and buy something, we might get a small commission. You don't pay any extra, but it will help us keep the lights on and our bellies full!
Try These Recipes Also
This Traeger smoked cornbread is screaming for a delicious chili to go along with it. This Trager smoked brisket chili is so delicious. There is a special ingredient that makes this chili a serious contender for the best chili you have ever had!
These Traeger smoked beef short ribs are called dino ribs for a reason! They are monstrous, packed full of beefy flavor, and super tender. If you cannot find short ribs, these Traeger smoked beef back ribs are also killer!
Wrap Up
Whether it's the height of summer or the dead of winter, this perfect Traeger Cornbread never fails to bring the house down. Easy to make and perfect for adapting to taste preferences with optional add-ins, this is a dish that'll please even the fussiest eaters.
💬Tell Me What You Think!
Did you try out this recipe? Please leave a comment below and let me know how you liked it. Also, snap a picture and post it to your favorite social platform. Be sure to tag me at @alicensetogrill and let me know how you liked it!
CONNECT WITH A LICENSE TO GRILL!
Be sure to follow us on our social media accounts.
Facebook * Instagram * Pinterest * YouTube * Twitter
Did you make this recipe? Tell us about it in the comments below!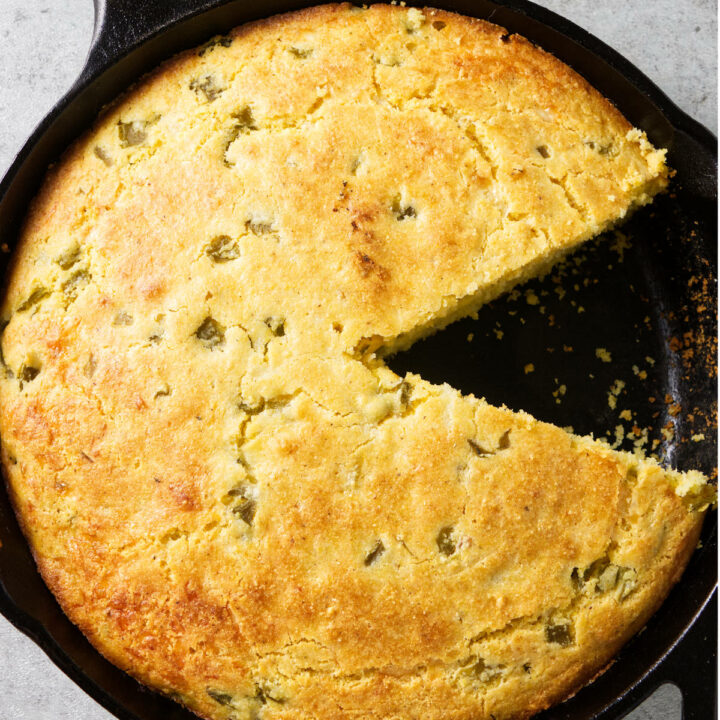 Traeger Smoked Cornbread
This smoky Traeger cornbread is a delicious way to change up traditional cornbread. The pellet grill adds a touch of smoke, and the cheese adds a savory depth of flavor.
This recipe is adaptable to your own taste preferences. You can add different herbs or spices for variety, or switch out the cheese and through in bacon or green chiles.
This is a savory cornbread, but we added a pinch of sugar which enhances the corn flavor and does not make the bread taste sweet. If you don't like sugar in your cornbread, you can leave it out.
Ingredients
1-1/2 cups fine ground cornmeal
1-1/4 cups all purpose flour (150 grams)
2 tablespoons sugar
1-1/2 tablespoons baking powder
1/4 teaspoon baking soda
1-1/4 teaspoons salt
1 cup buttermilk
1/2 cup butter, melted
3 eggs
Optional add-ins
1 can (7 ounces) diced green chiles
1-1/2 cups grated cheese
1 cup fresh or frozen corn kernels
1/2 cup cooked crumbled bacon
optional spices (see notes)
Instructions
Preheat the Traeger to 375°F and grease a 10-inch cast-iron skillet.
Combine the dry ingredients in a mixing bowl (cornmeal, flour, sugar, baking powder, baking soda, and salt). If you want to add any optional herbs and spices, add them to the flour mixture (see suggestions in the notes for herbs and spices).
In a separate bowl, combine the buttermilk, melted butter, and eggs.
Add the dry ingredients to the buttermilk mixture and fold the mixture together a few times with a wide spatula. Add any of the optional add-ins at this time and continue to gently fold the batter until just combined. It's ok if there are a few lumps.
Scoop the batter into the greased skillet and place it directly on the grill grates. Close the door to the grill and let the cornbread bake for 25 to 30 minutes. The bread should be golden brown on top, and a toothpick inserted in the center should come out clean.
Let the cornbread cool for 15 to 20 minutes before slicing.
Notes
Optional herbs and spices
2 teaspoons garlic powder
2 teaspoons onion powder
1 teaspoon dried oregano
3/4 teaspoon chile powder
2 tablespoons Spiceology Chile Margarita Mexican Rub
Try not to open the grill lid for the first 22 minutes of the baking time. If you open the lid frequently, the temperature will drop and the baking time will need to be extended.
When you open the grill to check on the cornbread, only leave the lid open long enough to do a quick toothpick test then close the lid.
If you have an instant-read thermometer, the cornbread will be done when the internal temperature reaches 200°F.
The nutritional count does not include any add-ins.
Recommended Products
As an Amazon Associate and member of other affiliate programs, I earn from qualifying purchases.
Nutrition Information:
Yield:

10
Serving Size:

1
Amount Per Serving:
Calories:

394
Total Fat:

12g
Saturated Fat:

7g
Trans Fat:

0g
Unsaturated Fat:

5g
Cholesterol:

81mg
Sodium:

1320mg
Carbohydrates:

61g
Fiber:

3g
Sugar:

4g
Protein:

10g
Nutrition information is a guideline only, is calculated automatically by third party software, and absolute accuracy is not guaranteed.