Smoked Bacon Wrapped Asparagus
on Jan 16, 2023, Updated Sep 21, 2023
If you're looking for a salty and savory side dish that's ready in minutes and suitable for the whole family, you'll adore these smoked bacon wrapped asparagus stalks.
Best of all, you can prepare your bacon wrapped asparagus spears in advance and pop them on the Traeger to smoke right before dinner! Talk about making your week easier.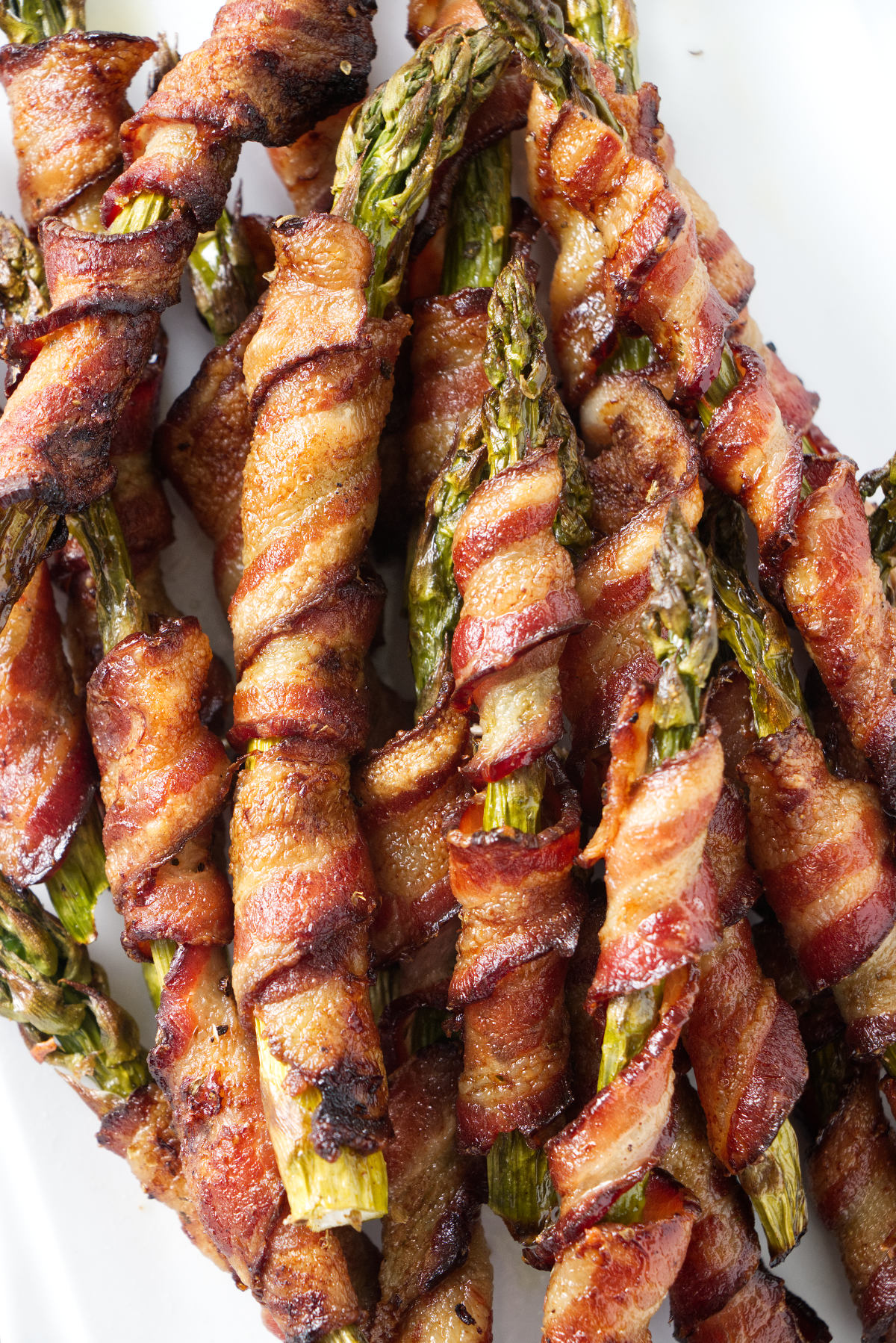 These delicious and tender asparagus spears are packed full of vitamin C and antioxidants, which almost make up for the delicious bacon on the health front!
I love serving these stalks with Traeger smoked beef back ribs, but you can easily serve them with air fryer tuna steaks for a surf and turf vibe! Whatever you eat them with, they're bound to improve your recipe binder in a flash.
Whether you're looking to add a hint of salt and crunchiness to your next dinner party or need a last-minute addition to a weeknight dinner, I've got you covered. Seriously, you'll be pulling out this simple recipe for months to come (yup, you'll even be keeping this one in your back pocket for the holiday season!).
💪 Why This Recipe Works
It's made with crispy bacon for an indulgent bite.

The asparagus comes out perfectly tender every time (but also has a delightful crunch).

It requires just a handful of ingredients, making it an ideal side dish for beginner grillers.

It's suitable for paleo, gluten-free, keto, and carnivore diets.

You can prep the stalks ahead of time to easily throw them on the grill for guests when it is time to eat (more time for schmoozing!).
🍽 Ingredients
Asparagus. The star of the show! Choose bright green spears that look smooth and feel firm. It's a good idea to pick up medium or thick stalks as these are more likely to hold the wrapped bacon. Oh, and make sure they're trimmed at the base!

Olive oil. I like using virgin olive oil for a mild flavor and a hit of healthy fat. However, if you don't have it on hand, avocado oil works well, as it has a high smoke point and can withstand the heat of the Traeger.

Salt. Don't use too much salt since the bacon has plenty of sodium. So, just a sprinkle will do!

Pepper. Adds a hint of spice to your asparagus.

Seasoning rub (optional). You don't need to use a seasoning blend, but I love throwing on Greek Freak, Black and Bleu, Rosemary Dijon, or Pizza Pie blends for greater depth of flavor.

Thinly sliced bacon. I like using center-cut bacon as it wraps nicely and is probably the most aesthetic option (thanks to those glorious fatty bits!). But realistically, any thin-cut bacon that crisps up well and won't go soggy under the grill will work perfectly.
👨‍🍳 How To Make It
Preheat the Traeger.

Drizzle your washed asparagus with olive oil and toss it to coat.

Sprinkle the seasonings, salt, and pepper on the asparagus.

Wrap the asparagus in bacon.

Place the asparagus spears directly on the grill and close the lid.

Smoke the spears until the bacon is crispy. The time you need will depend on the thickness of your bacon and asparagus spears.

Optional: brush the bacon with BBQ sauce, sprinkle on some brown sugar, or drizzle them with honey. The options for putting your spin on it are limitless!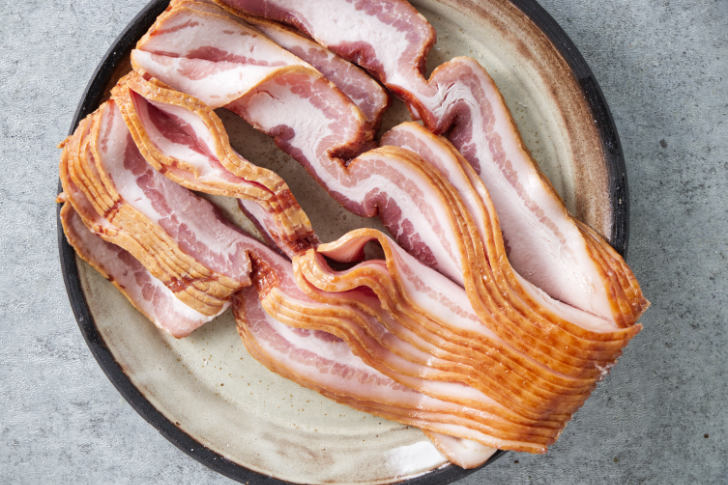 Transfer the bacon to a plate and let it come to room temperature. It will be easier to wrap.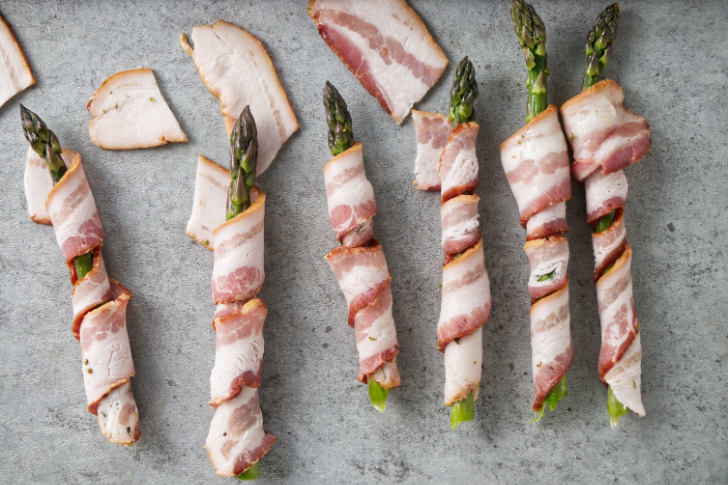 Lightly oil and season the asparagus, and wrap each spear in the bacon.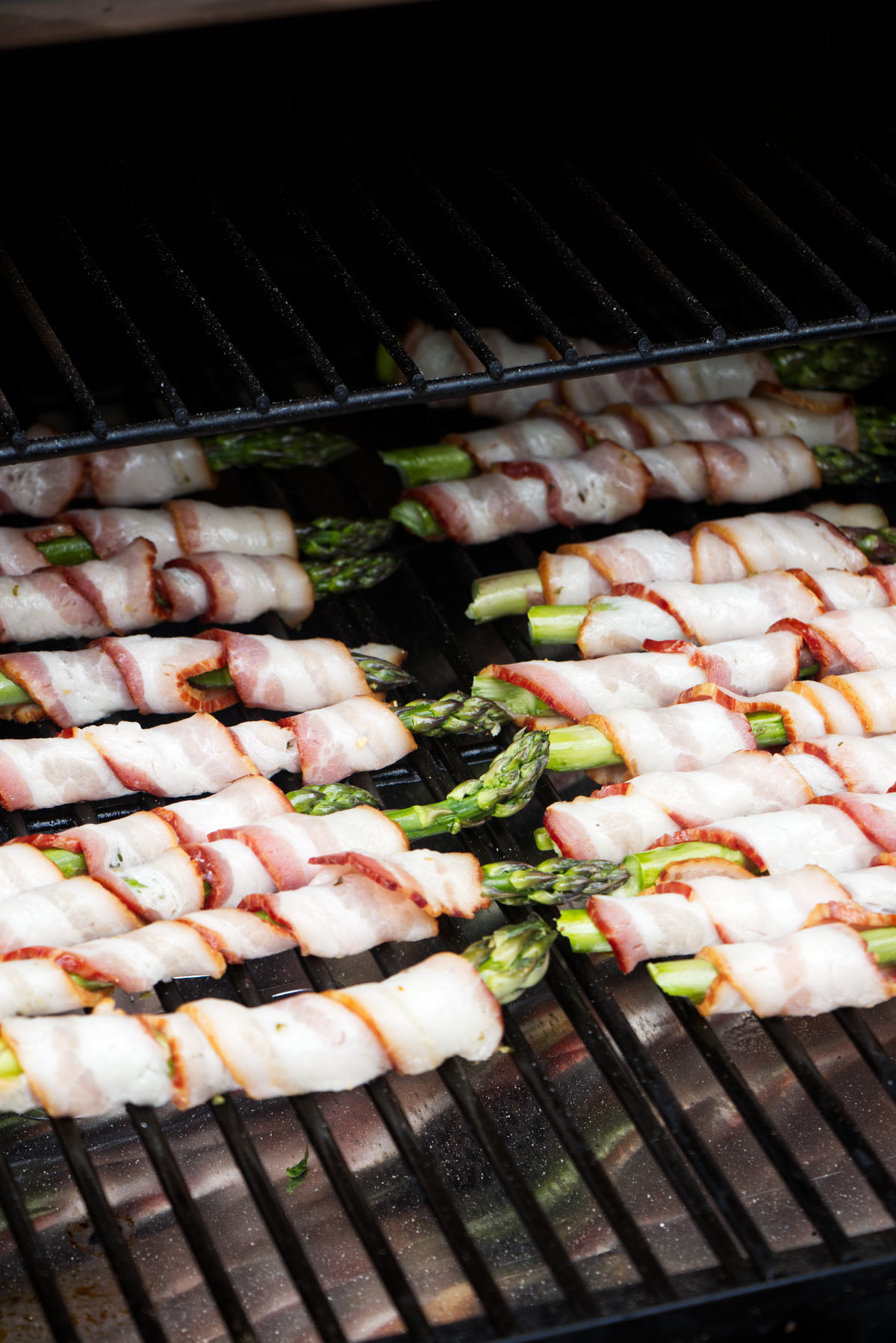 Smoke the bacon wrapped asparagus on the Traeger grill grates.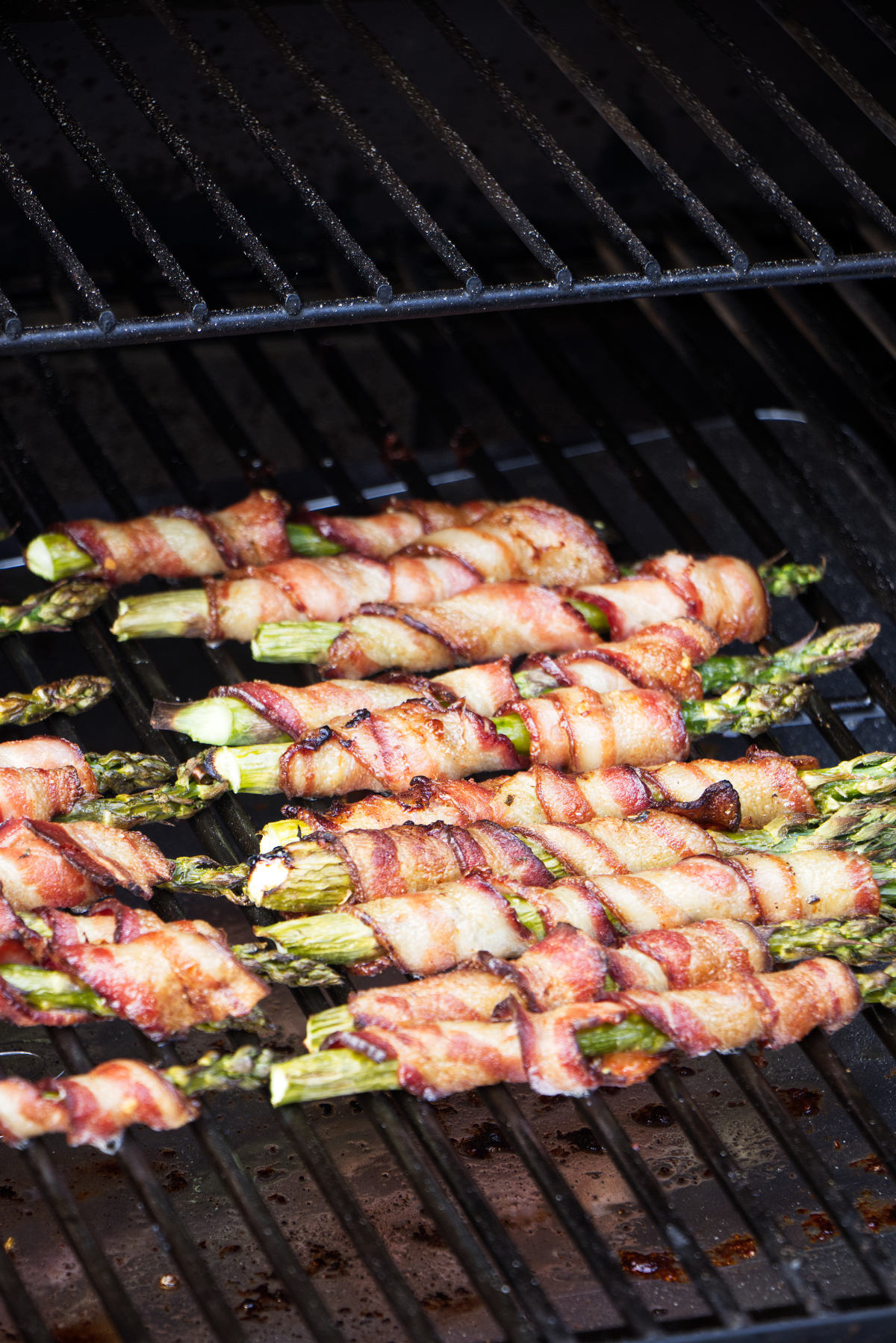 Remove the asparagus from the Traeger once the bacon is browned and crispy.
😉 Tips For Success
If you're looking for something slightly different, you can sprinkle your asparagus with a small amount of brown sugar for a lightly caramelized finish. Honey works well too! Or brush the bacon with BBQ sauce and let it caramelize on the Traeger.

I recommend using medium-sized stalks for this recipe, but if you can only find small ones, it's a great idea to wrap them into bundles. Three or four stalks wrapped together with a single strip of bacon should keep things together nicely.

Always trim the ends of the asparagus and wash the stalks before cooking. This removes the woody ends (which aren't pleasant as they're stringy and difficult to chew!) and gets rid of any grit before the wrapping process.

Don't be afraid to flip the asparagus spears halfway through if you want to ensure an even cook.

Make sure you don't overdo the oil. The bacon is loaded with fat, and things can quickly get greasy. A splash of oil to coat the spears (and get the bacon to stick!) is more than enough.

Try to avoid overlapping your bacon strips if you can. You'll want amazing crispiness to your bacon, and overlapping the strips might cause it to go limp and soggy. Leave plenty of space as you're wrapping to let air get to the spears and give you that perfect crunchy result.

Watch your spears carefully. The cook time on these bad boys is minimal, so you'll want to keep an eye on your bacon to prevent it from burning.
❓ FAQ
How long do I cook my smoked bacon wrapped asparagus?
How long you cook your asparagus depends on the thickness of your bacon. It can take anywhere from 12 to 20 minutes to get perfectly crispy bacon and tender stalks. But you can use a fork to double-check your asparagus before taking them off the grill.
Is smoked bacon wrapped asparagus keto-friendly?
Not only is this smoke bacon wrapped asparagus keto-friendly, but it's suitable for gluten-free eaters and Whole30 followers too.
Do you soak asparagus in water before cooking?
You don't need to soak your asparagus, but I always suggest washing your stalks before cooking to remove grit.
Why is my asparagus soggy?
If your asparagus goes soggy under the grill, you've probably overcooked it. It shouldn't be too much of a problem in the Traeger, but you should try and use thick stalks if you can and monitor the asparagus as it cooks!
Do you have to boil asparagus before baking?
There's no need to boil your asparagus before baking – just put it straight on the Traeger.
🎁 Wrap Up
Whether you're on the hunt for an indulgent keto side dish or want to jazz up your holiday table, this smoked bacon wrapped asparagus recipe has got your back. Just try and prepare more than you think you'll need, as these tender stalks will be snatched up in no time!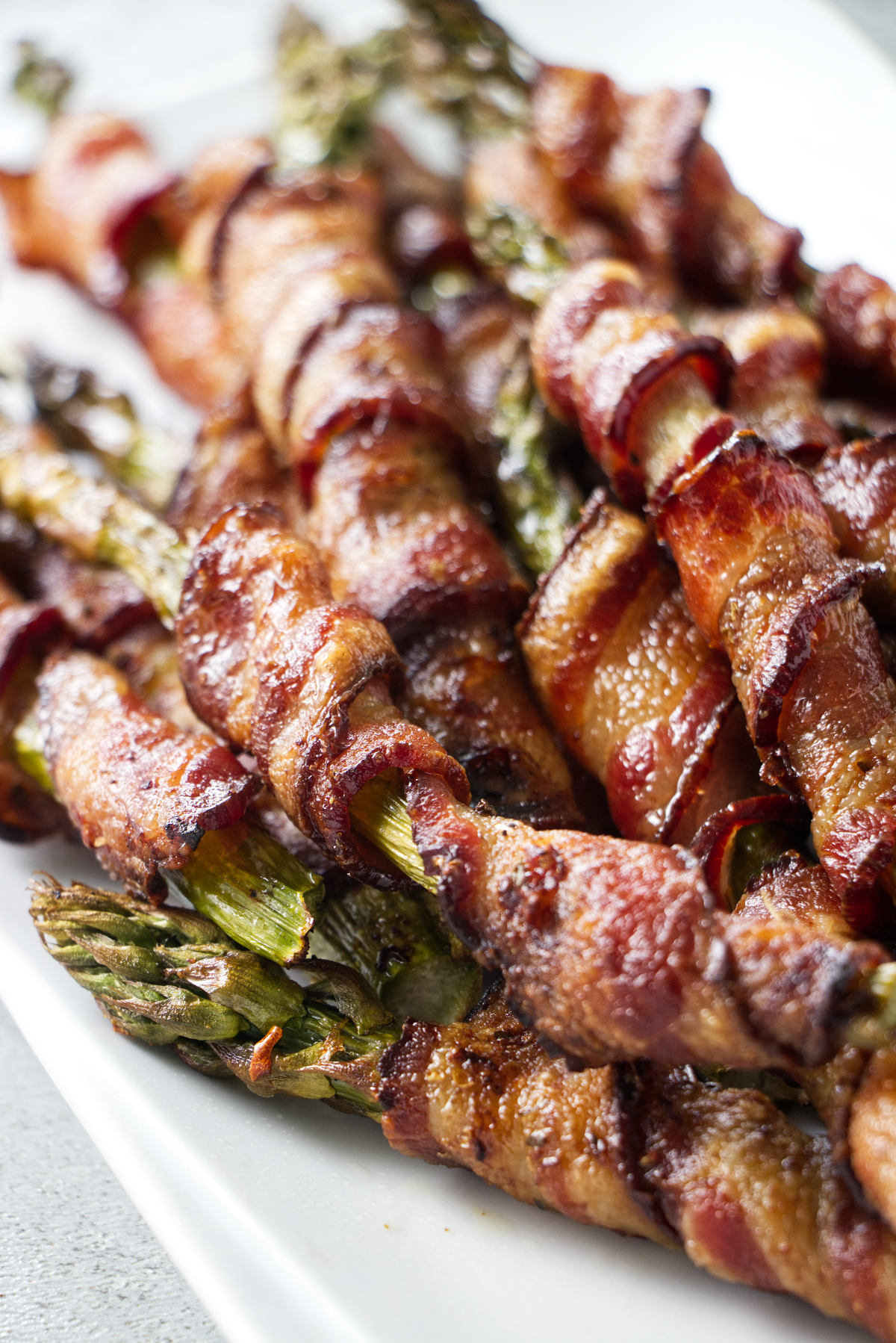 🛠 Tools and Equipment
If you click on some of the following affiliate links and buy something, we might get a small commission. You don't pay any extra, but it will help us keep the lights on and our bellies full!
🤤 Check Out These Recipes
💬 Tell Me What You Think!
Did you try out this recipe? Please leave a comment below and let me know how you liked it. Also, snap a picture and post it to your favorite social platform. Be sure to tag me at @alicensetogrill and let me know how you liked it!
CONNECT WITH A LICENSE TO GRILL!
Be sure to follow us on our social media accounts.
Did you make this recipe? Tell us about it in the comments below!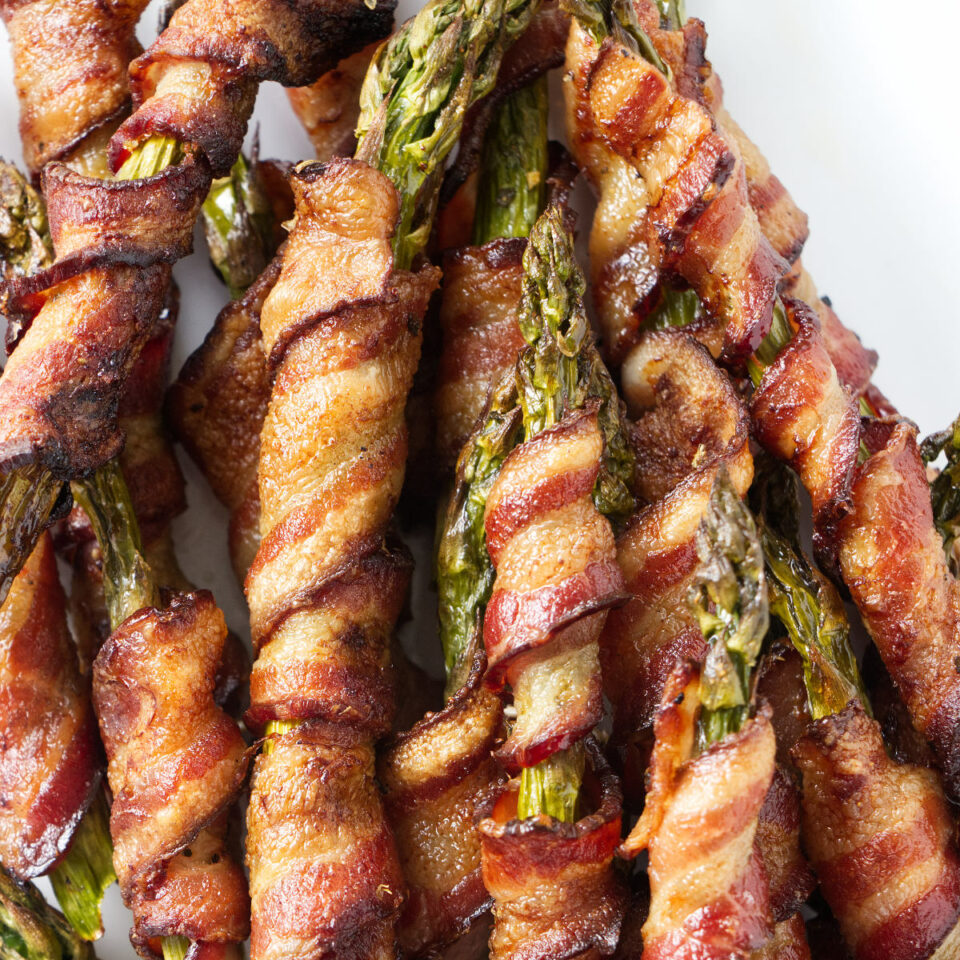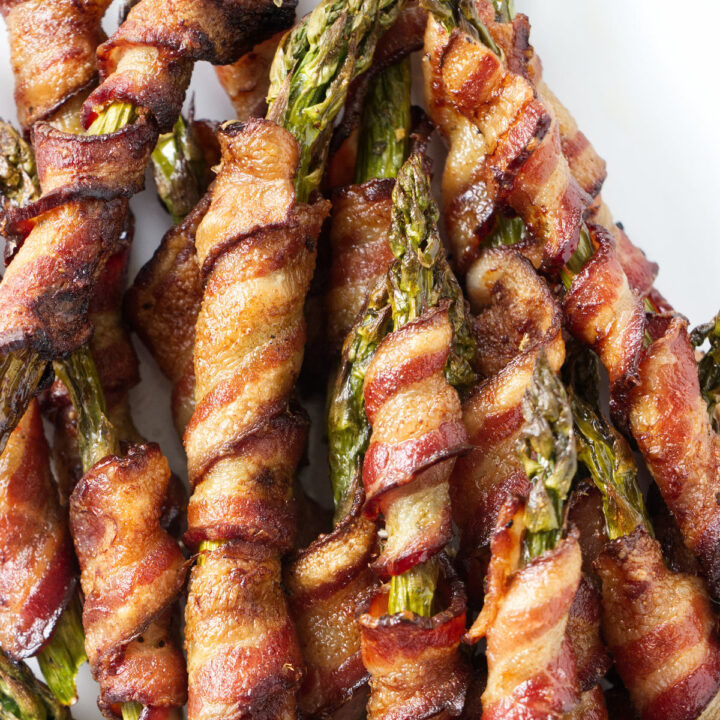 Smoked Bacon Wrapped Asparagus
Bacon-wrapped asparagus is a delicious and easy way to make asparagus even better! These little bundles of joy are easy to make and only require a few ingredients.
This recipe works best with thick stalks of asparagus and thin strips of bacon. If you use thick-cut bacon, the asparagus will be overcooked by the time the bacon is crispy.
Ingredients
1 bunch asparagus, ends trimmed
2 tablespoons olive oil
½ teaspoon salt
½ teaspoon pepper
Optional: 2 teaspoons seasoning rub (see notes)
1 pound thin sliced bacon
Instructions
Pre heat the Traeger grill to 450°F.
Drizzle the asparagus with olive oil and toss them until well coated.
Sprinkle the salt, pepper, and optional seasoning on the asparagus.
Wrap each stalk of asparagus in a strip of bacon. If the asparagus stalks are thin, bundle three or four stalks together and wrap a strip of bacon around each bundle.
Place the asparagus directly on the grill grates and close the lid.
Roast for 12 to 20 minutes or until the bacon is crispy. The time will vary based on the thickness of your bacon.
Notes
If you want the asparagus to be crisp as well as the bacon, pre-cook the bacon for 7 minutes (directly on the grill). After the bacon cooks for 7 minutes, it will still be pliable, and you can wrap it around the asparagus and cook the spears until the bacon is crisp. 
Optional seasoning blends 
or use your favorite seasoning blend
Recommended Products
As an Amazon Associate and member of other affiliate programs, I earn from qualifying purchases.
Nutrition Information:
Yield:

6
Serving Size:

1
Amount Per Serving:
Calories:

395
Total Fat:

31g
Saturated Fat:

10g
Trans Fat:

0g
Unsaturated Fat:

20g
Cholesterol:

75mg
Sodium:

1956mg
Carbohydrates:

2g
Fiber:

0g
Sugar:

0g
Protein:

26g
Nutrition information is a guideline only, is calculated automatically by third party software, and absolute accuracy is not guaranteed.