When the sun starts peeking out during those spring and summer months, I always make a beeline for this air fryer peach cobbler. It's fresh, bright, and packed with delightful caramel flavors that you just can't beat! And did I mention that it's ready in minutes, doesn't require chilling, and is easy enough for first-timers? Talk about a hole-in-one!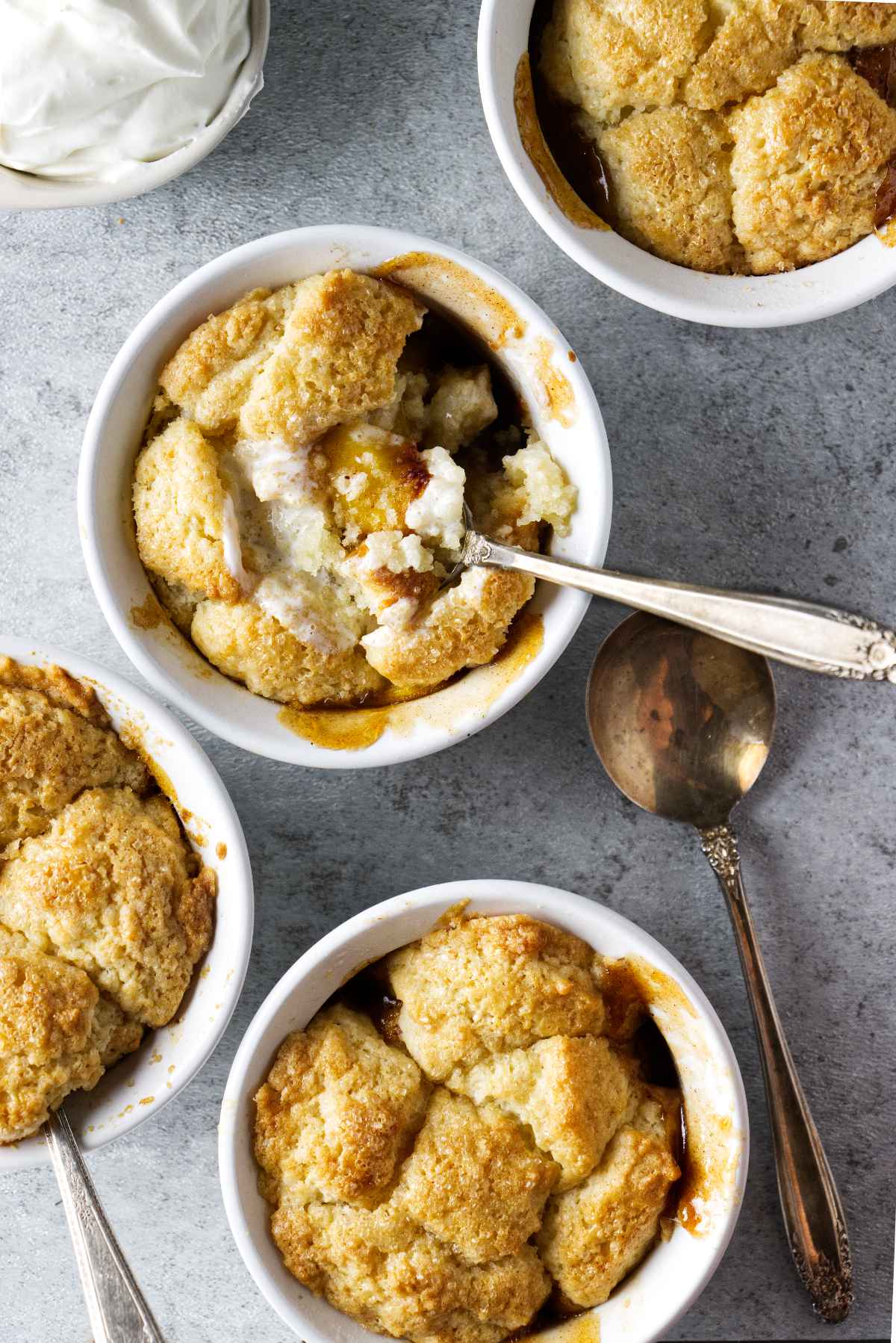 I love that you get sweetness and warmth from the cinnamon and nutmeg, but it's the fresh sliced peaches that just melt in your mouth. Throw in the perfectly fluffy and crumbly biscuit topping, and you'll see why this is a total crowd-pleaser at dinner parties!
And if you're creating a smorgasbord of delicious desserts, you'll want to check out these awesome air fryer desserts!
❤️ Why This Recipe Works
It's filled with basic and easy-to-find ingredients for those last-minute dessert cravings.

This recipe is ideal for summer BBQs as it's fresh, simple, and suits all palates!

The slightly crispy and crumbly texture is a crowd-pleaser. Plus, who doesn't love that caramelized cobbler filling?!

It can be customized with berries and apples or jazzed up with a scoop of ice cream or two!

It's so simple to make since you don't need to chill anything or wait around for it to set. The perfect sweet treat for beginner bakers!

The air fryer crisps up the biscuit topping way better than any oven could.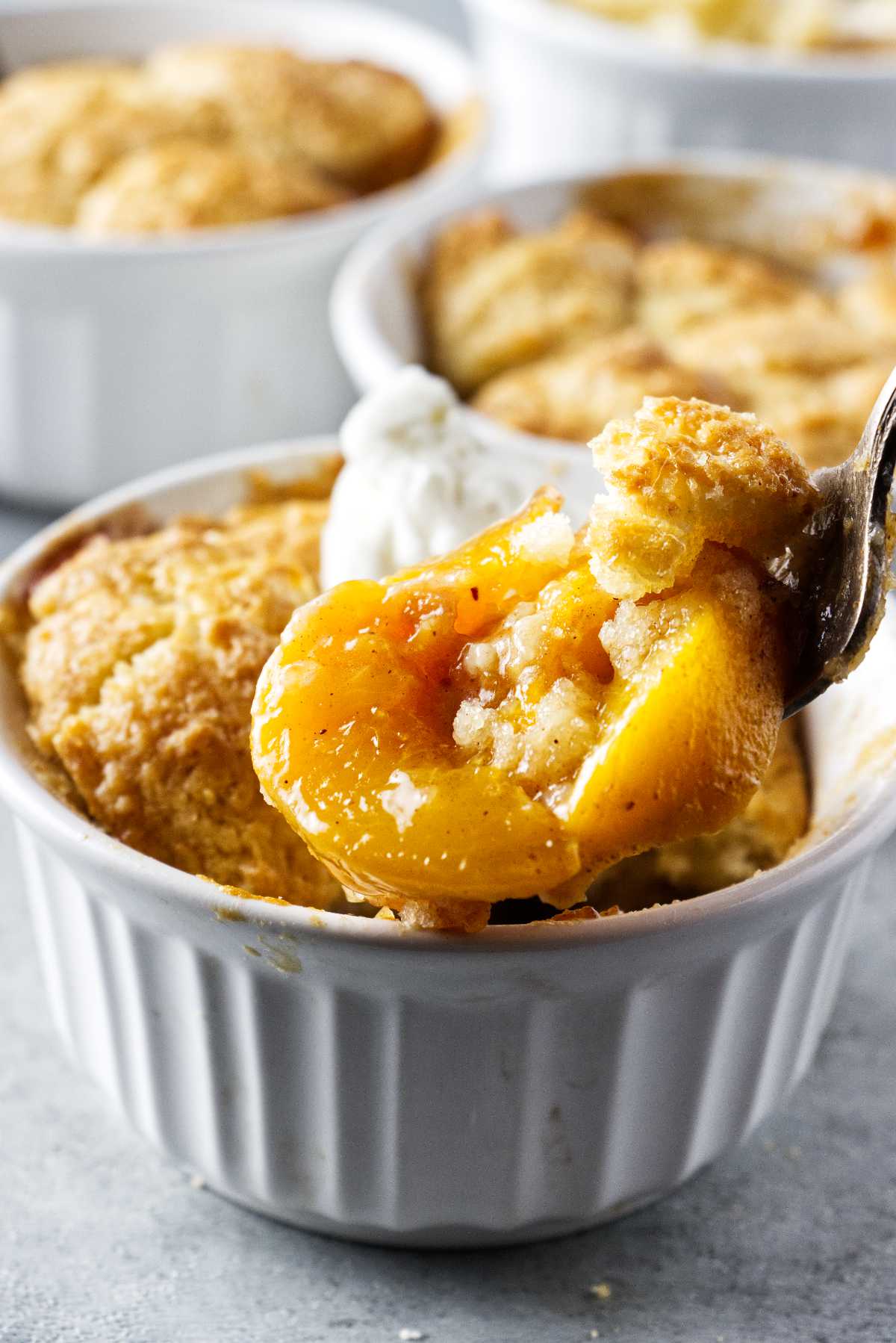 🗒️ Ingredients
For the peach cobbler filling
Sliced peaches. You can use fresh, canned, or frozen peaches. Canned are probably the easiest to use since they're sweet and just need to be drained. Frozen peaches should be thawed first. If you're using fresh, just make sure you peel them first.

Brown sugar. Brown sugar is a great option as it gives a wonderful caramel flavor and color.

Cornstarch. To help thicken up the filling.

Cinnamon. Offers a gorgeous warmth to the dish with just a hint of spice.

Nutmeg. Nutmeg gives everything a subtle sweetness that enhances the flavors of the peaches and sugar.

Salt. Just a pinch for balance!

Almond extract. Almond extract is known for its rich taste and gives the cobbler an almost buttery taste.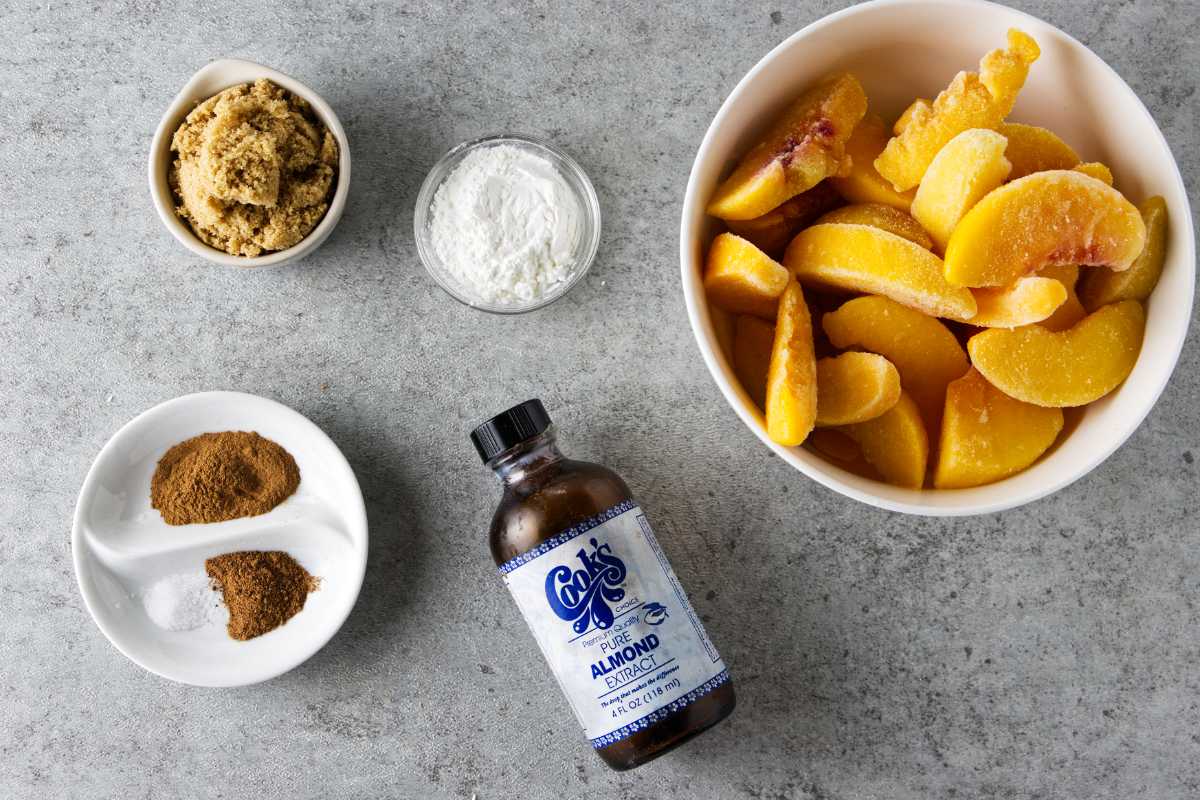 For the biscuit cobbler topping
All-purpose flour. This is used for the bulk of the biscuit batter and creates an amazing crumbly and almost cakey texture.

Granulated sugar. Granulated sugar crystallizes beautifully when baked and isn't quite as sweet as other options.

Baking powder. This helps the batter rise to perfection. Just don't use baking soda by accident!

Salted butter. The key to a buttery biscuit base. The salt also brings out the rest of the biscuit flavors and enhances the cobbler!

Heavy cream. This gives the biscuit topping a perfectly soft and fluffy texture.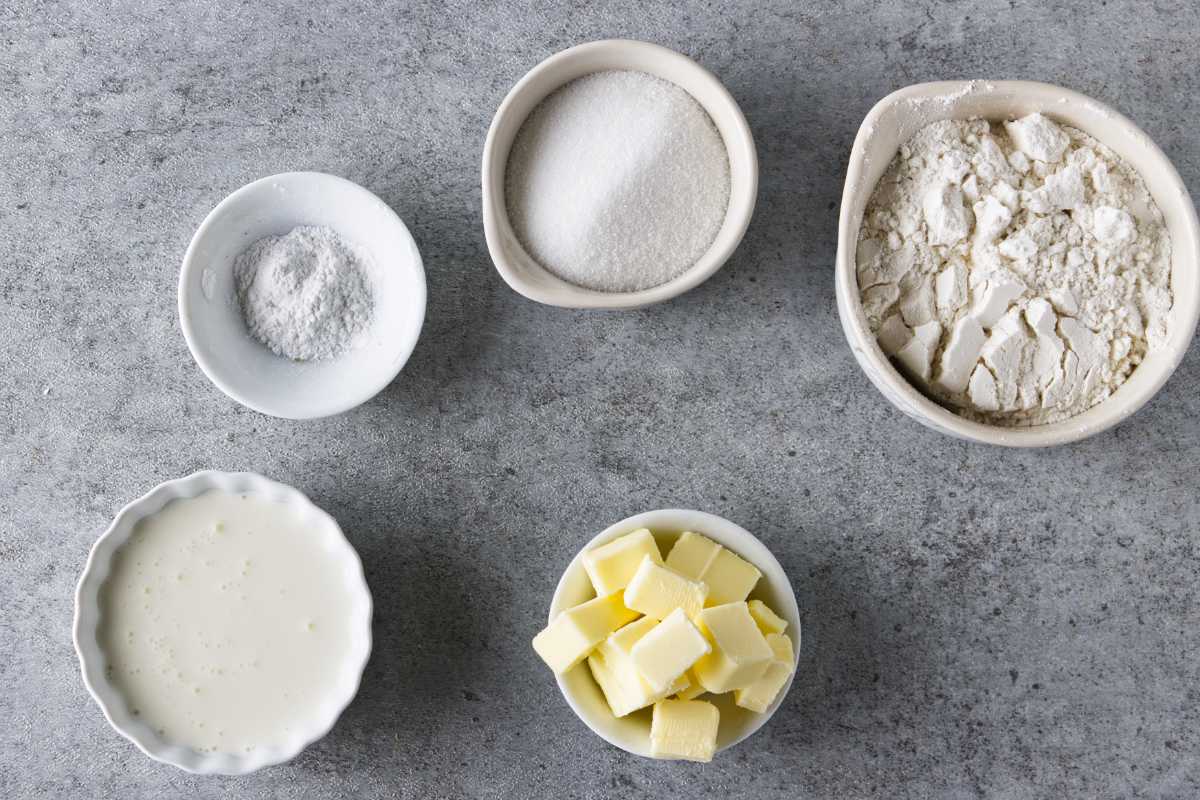 👨‍🍳 How To Make It
The filling
Grease your ramekins.

Combine the filling ingredients in a medium-sized bowl and make sure the cornstarch is evenly distributed throughout the sugar.

Add the peach slices and almond extract.

Toss until the peaches are coated in the sugar mixture.

Set aside.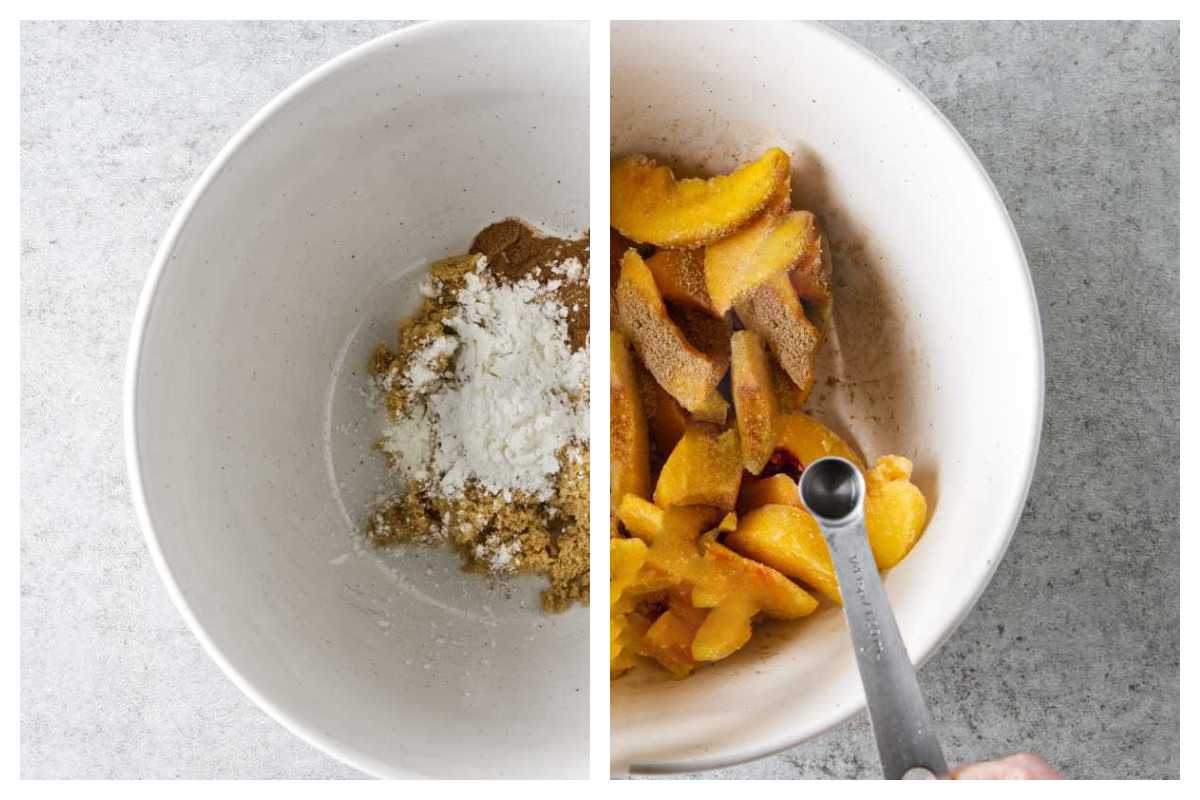 Mix the cobbler filling ingredients with the peaches.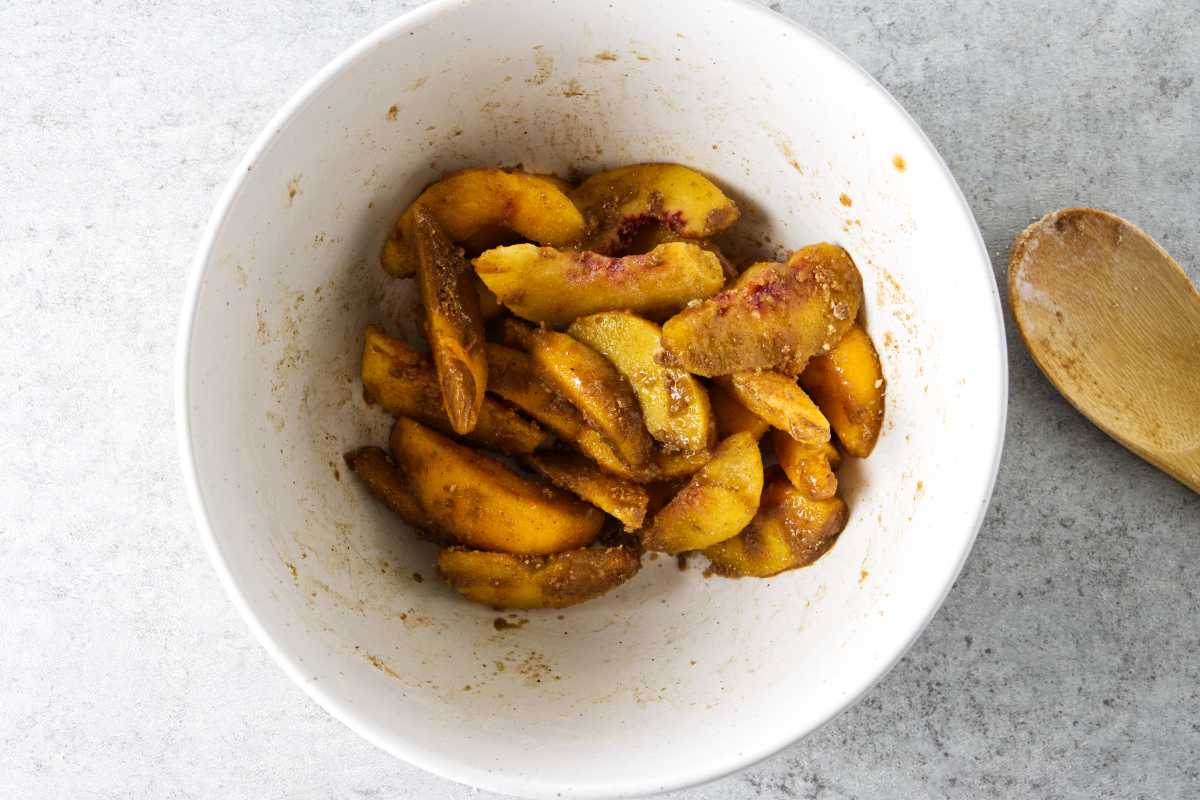 Toss the peaches until they are well coated with the seasoning and sugar.
The biscuit cobbler topping
Combine the dry ingredients in a bowl and whisk to combine.

Slice the butter into cubes, add to the dry ingredients, and rub into the flour mixture.

Stir in the heavy cream until the mixture starts to clump.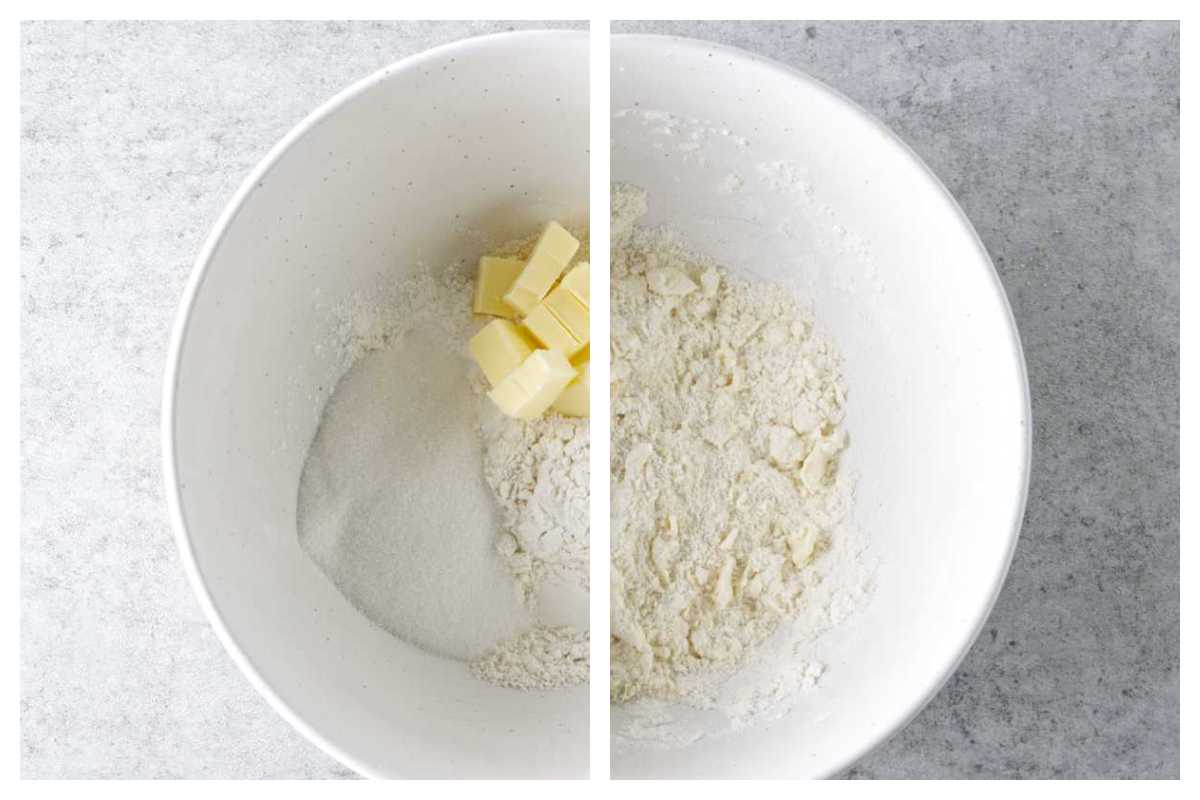 Combine the dry ingredients for the biscuit topping with the butter and mix until buttery clumps of dough form.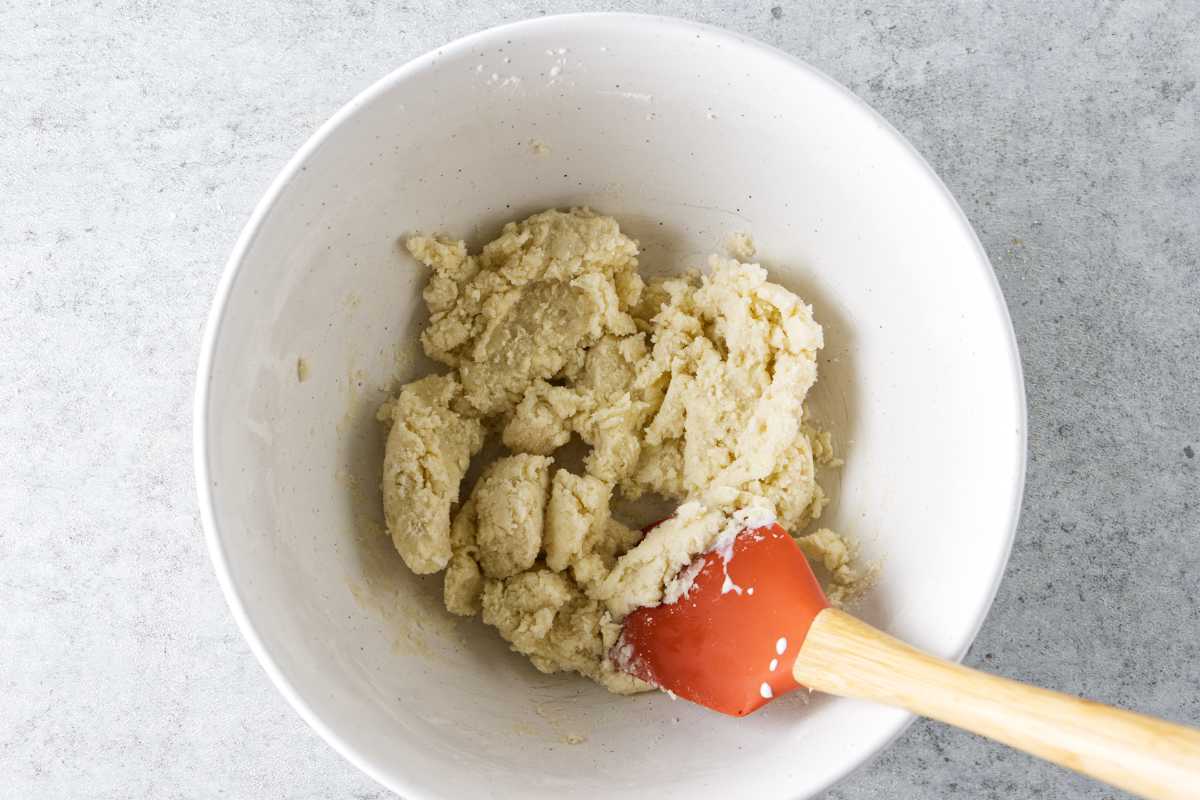 Add in the cream and mix until the dough forms into a large clump.
Cook the cobblers
Spoon the peach filling into the baking dishes and put them into the air fryer.

Cook the peach filling.

Drop clumps of the biscuit dough onto the peach filling and return them to the air fryer until golden brown.

Serve and enjoy!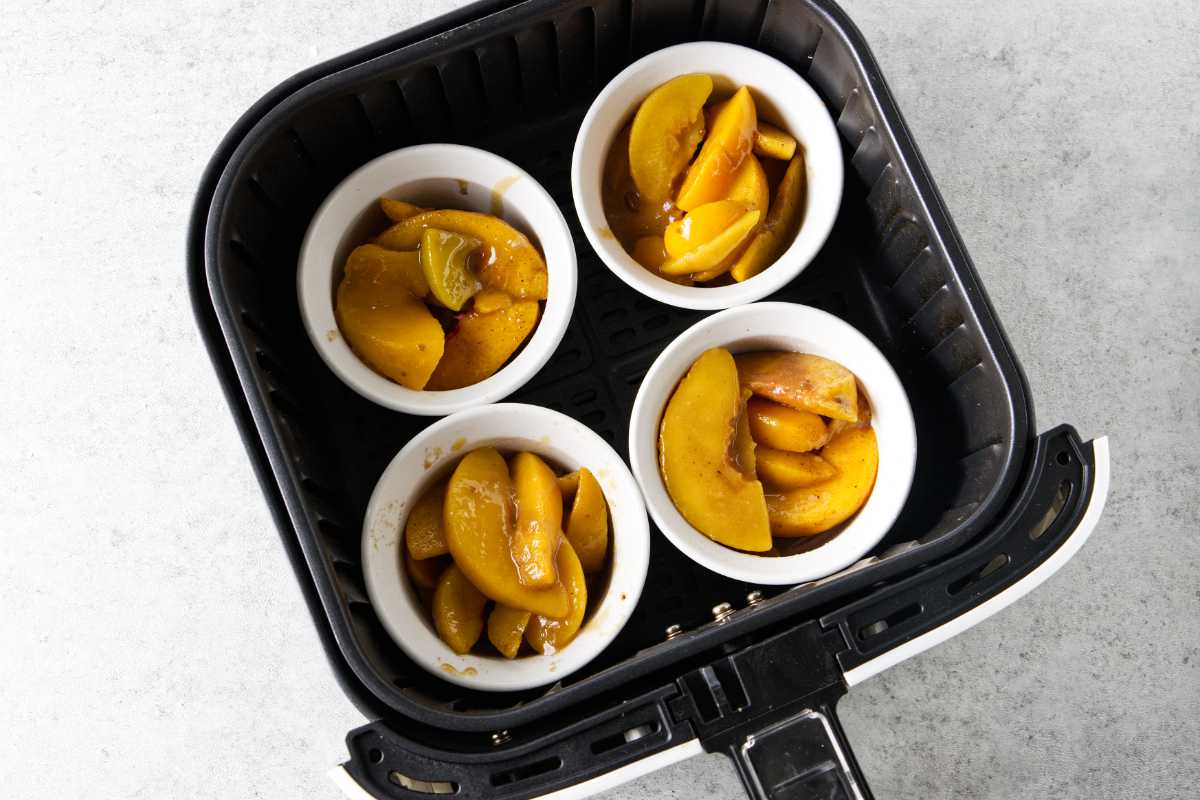 Fill the ramekins with the cobbler filling and cook in the air fryer.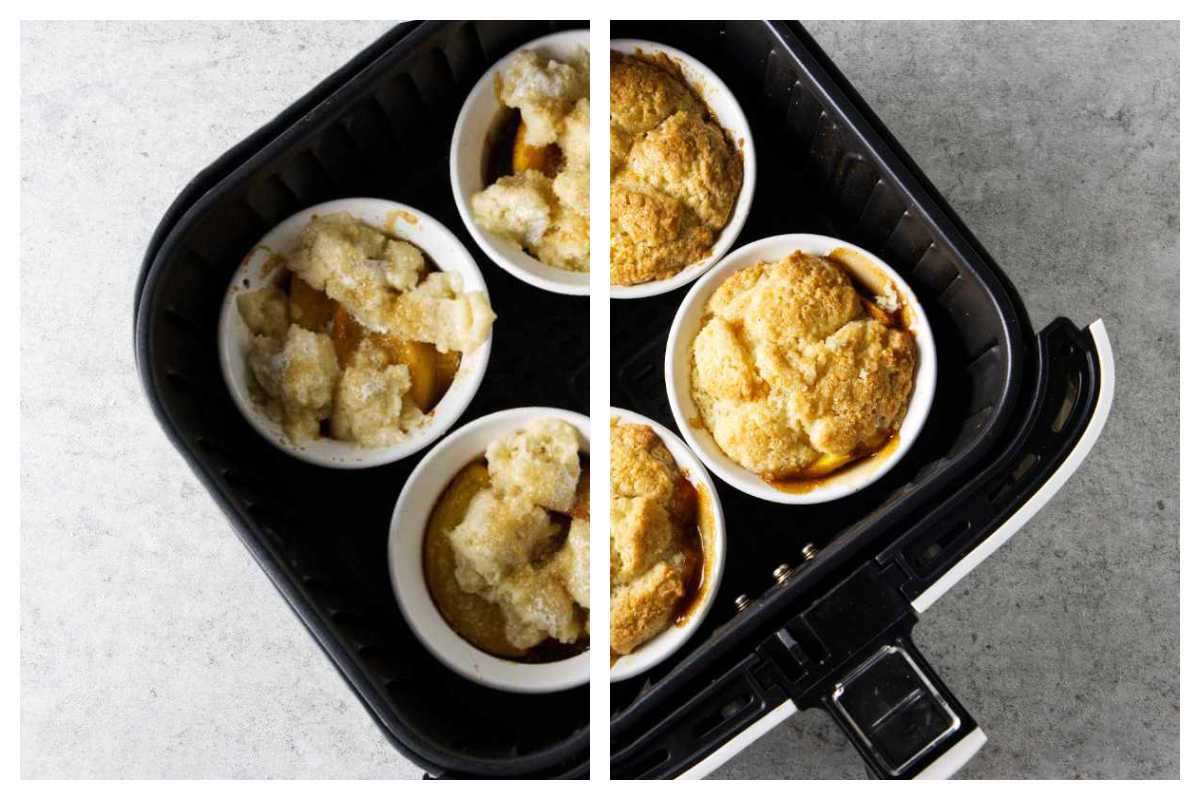 After cooking the cobbler filling, top each ramekin with the biscuit topping and cook again.
😉 Tips For Success
Mix the cornstarch with the sugar and spices first. This will help the sugar distribute the cornstarch evenly, preventing any clumps and lumps.

Prep those peaches properly! If you're using fresh peaches, I recommend removing the skin, as the texture can be unpleasant in a cobbler. If you're using canned, you'll want to drain them. Working with frozen peaches? They need to be thawed, or the sugar mixture won't cling to them properly.

Check the cobbler regularly. Cobbler can quickly burn if you're not careful. I suggest checking the topping a couple of times during cooking to make sure the top isn't browning too quickly. If the biscuit is browning too much, use some foil to cover the cobblers once the biscuit topping has browned enough.

Don't forget to use salt. The salted butter is one thing, but using a pinch of salt in the filling helps to balance that sweetness. Trust me; it really helps to take the cobbler to the next level!

Double–check your air fryer before cooking. Every air fryer is slightly different, so make sure you have the right settings locked in before cooking.

If your cobbler starts to get too dark, use tinfoil around the edges. Loosely covering your cobbler can help avoid overheating and burning.

Don't forget to grease those ramekins. This will prevent sticking that could ruin the look of your cobblers.
❓ FAQ
Why isn't my air fryer peach cobbler crispy?
The air fryer should keep the top of your cobbler crispy. But it's important to remember that it's sitting on top of a juicy filling. The baking powder will help your batter to stay fluffy and crispy instead of sad and soggy!
Do you have to peel peaches for a cobbler?
I prefer to peel my peaches because I don't like the texture of the peach skin in a cobbler. It's not a must, so it's up to you.
What kind of peach is best for a cobbler?
I like using fresh (but not overripe!) peaches for this air fryer peach cobbler as the flavor is unbeatable. But honestly, canned and frozen are great options as well. Canned peaches are sweeter and much softer than frozen peaches. So if you prefer a sweet and tender cobbler, go for canned peaches. If you prefer a slightly more tart cobbler with a bit more structure, use frozen peaches.

Peaches that are juicy and that can be removed easily from the pit are the best varieties to use for cobbler.
How do you make peach cobbler not runny?
The cornstarch is key if you want your cobbler to have a caramel-like consistency that's not too runny.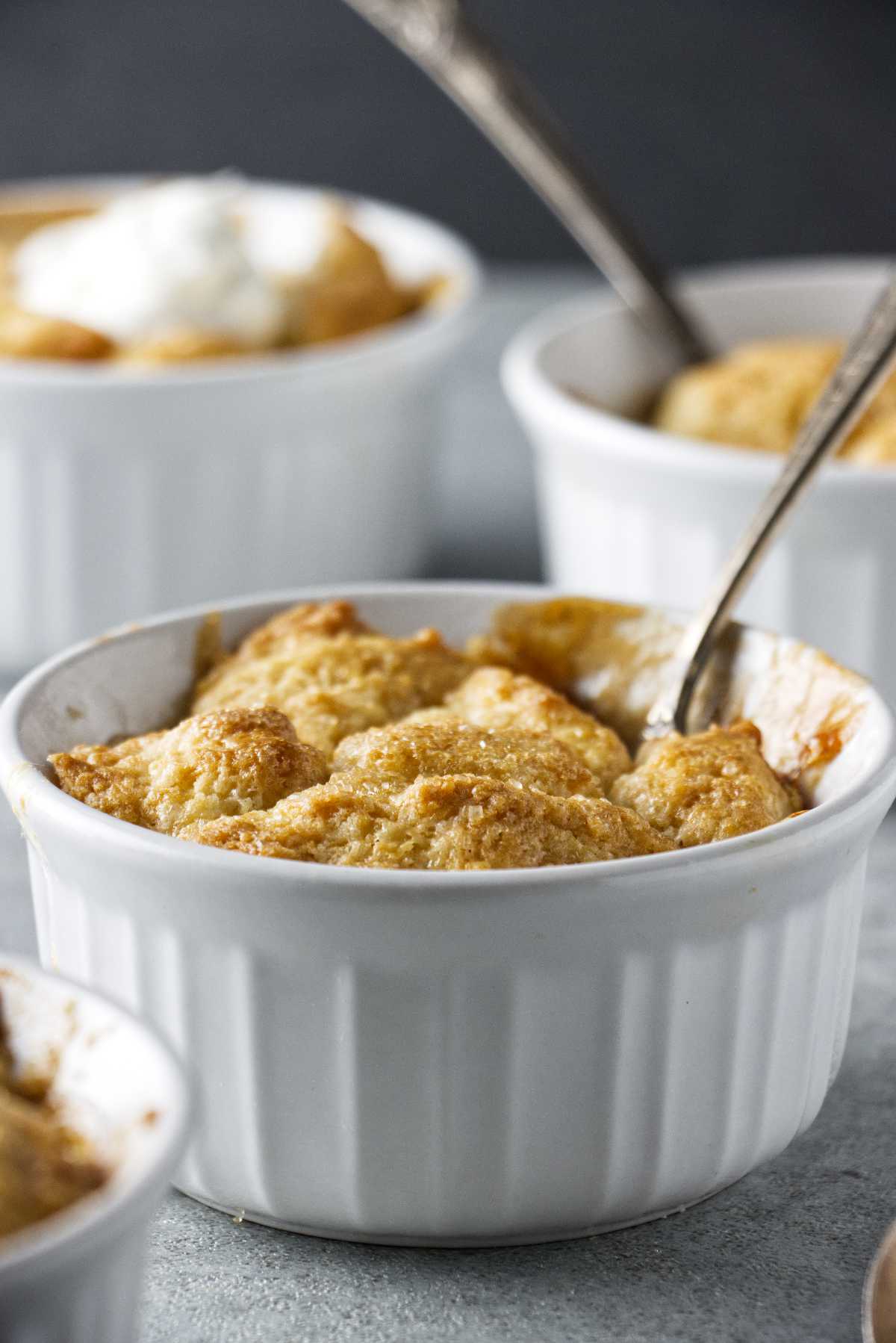 🤔 Substitutions and Variations
If you prefer a runnier cobbler, you'll want to either reduce the cornstarch you use or remove it from the recipe entirely.

You can replace the cornstarch with equal amounts of all-purpose flour or 2-½ teaspoons of quick-cooking tapioca.

If you don't have time to make a biscuit topping from scratch, you can use refrigerator biscuits or a batter made from pancake mix!

You can easily turn these mini ramekin cobblers into a single one using a larger baking dish or a cake pan. Anything goes! Just check the sizes first to make sure they fit in the air fryer.

If you prefer to use this recipe in the oven, use our air fryer calculator to adjust the cooking time for the oven instead. In this case, it is 380°F for 35-40 minutes.

This is technically a peach cobbler, but you can switch it up with everything from apples and berries to rhubarb! Don't be afraid to mix fruits together either – the more, the merrier.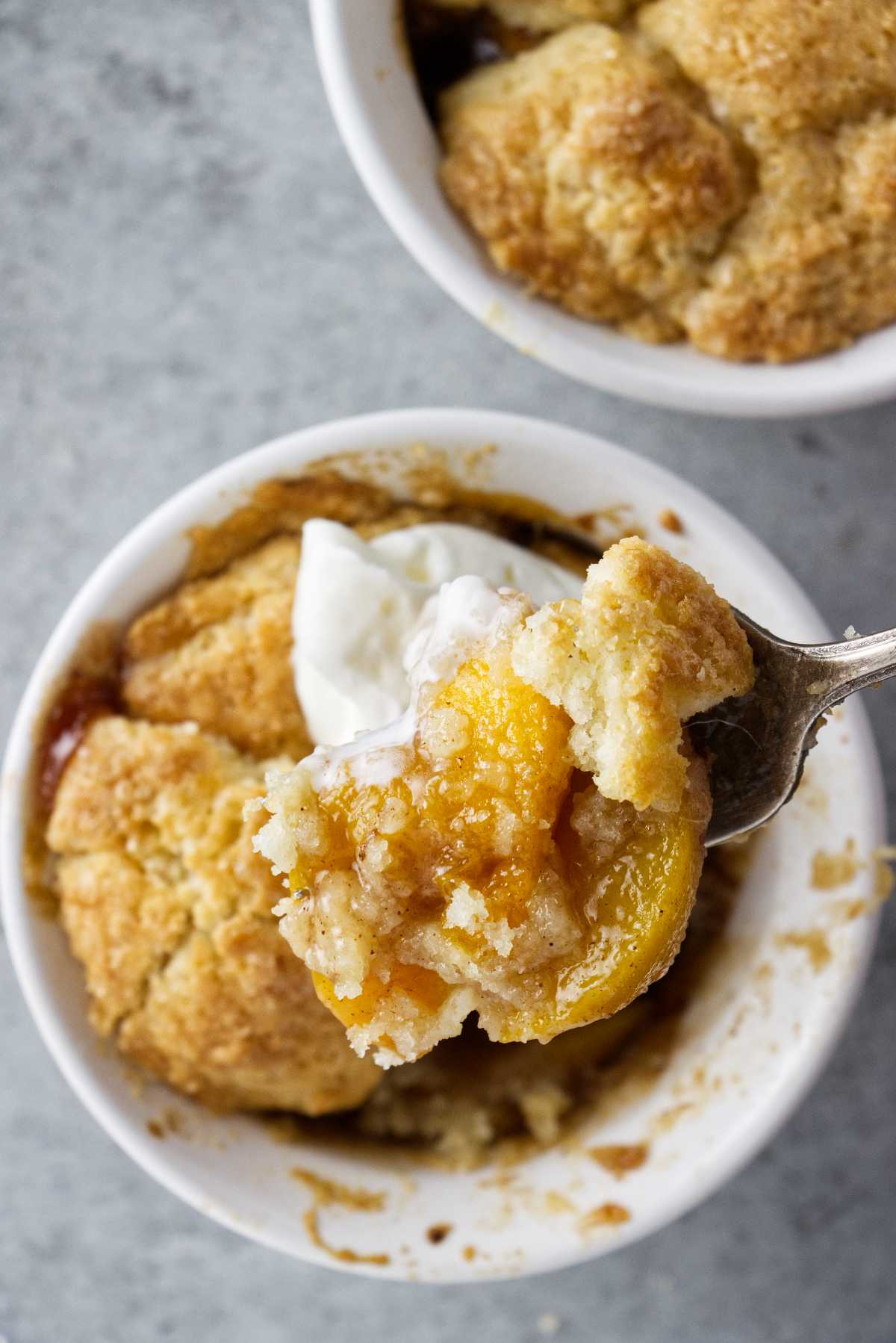 ⏱️ Storage and Reheating
To store your air fryer peach cobbler, wrap the ramekins in plastic wrap and place them in an airtight container in the fridge. They should stay fresh for around 3 or 4 days.
You can put your cobbler in the air fryer to reheat for about 3 minutes. But it works just as well in the microwave for a minute!
If you'd rather freeze your cobbler, put the ramekins in an airtight container in the freezer and eat them within 3 months. When you are ready to eat the cobblers, thaw them in the fridge overnight and reheat them in the air fryer at 340°F for 10-15 minutes.
 🛠 Tools and Equipment
If you click on some of the following affiliate links and buy something, we might get a small commission. You don't pay any extra, but it will help us keep the lights on and our bellies full!
🤤 Other Amazing Dessert Recipes
🎁 Wrap Up
Whether you want a comforting summertime dessert for the family or need an impressive dinner party showstopper, this air fryer peach cobbler has your back. Drizzle it with a salted caramel sauce or a scoop of melty ice cream, and you'll have the ultimate sweet treat on your hands!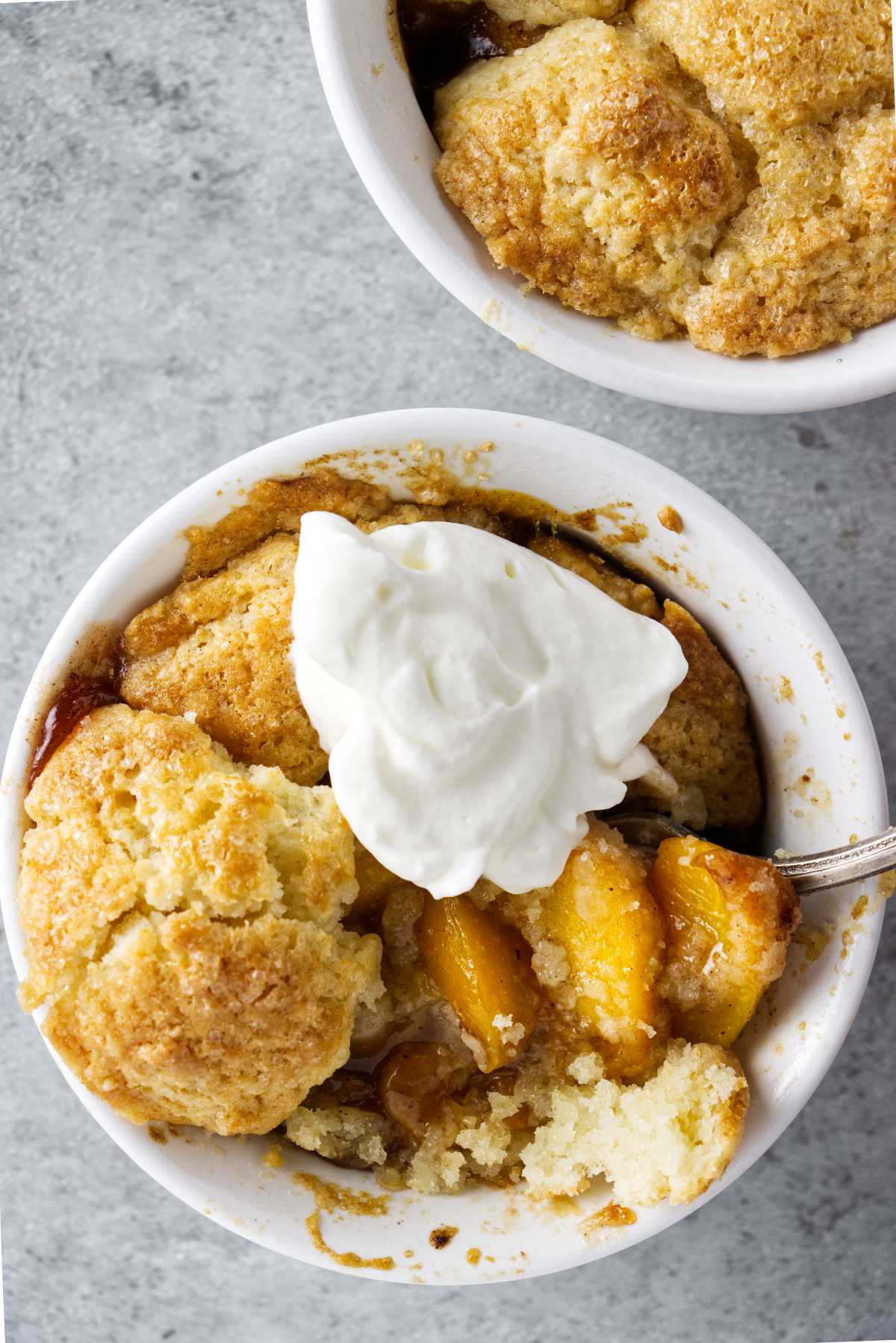 💬 Tell Me What You Think!
Did you try out this recipe? Please leave a comment below and let me know how you liked it. Also, snap a picture and post it to your favorite social platform. Be sure to tag me at @alicensetogrill and let me know how you liked it!
CONNECT WITH A LICENSE TO GRILL!
Be sure to follow us on our social media accounts.
Did you make this recipe? Tell us about it in the comments below!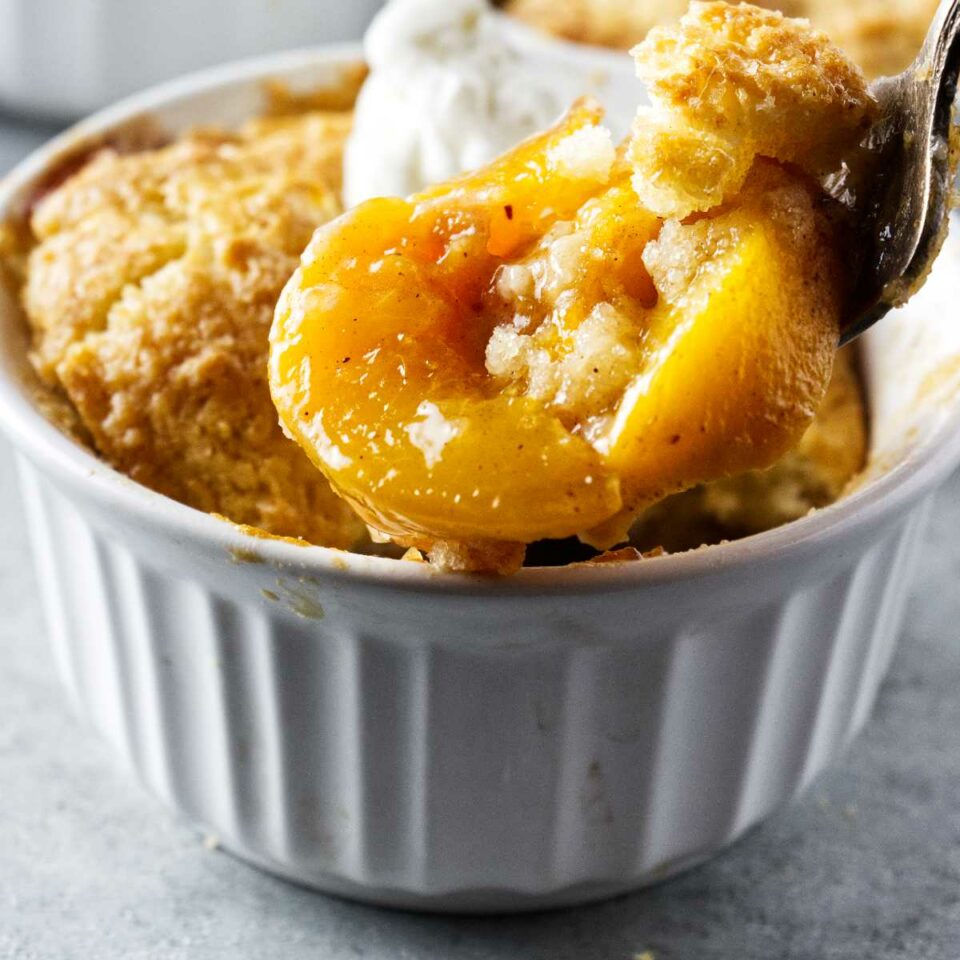 Air Fryer Peach Cobbler
This air fryer peach cobbler is easy to make. You can use fresh, frozen, or canned peaches and enjoy this dessert any time of the year. The sweet, tender biscuit topping makes this cobbler a classic Southern treat. And, because it's cooked in the air fryer, you don't have to worry about turning on the oven or heating up your kitchen. Serve this cobbler with a scoop of ice cream or whipped cream.
Read the notes for alternatives and shortcuts.
Ingredients
For the Peach Cobbler Filling
⅓ cup brown sugar
5 teaspoons cornstarch
½ teaspoon ground cinnamon
¼ teaspoon ground nutmeg
pinch of salt
3 cups sliced peaches (fresh, frozen, or canned**) (16 ounces)
¼ teaspoon almond extract
For the Biscuit Cobbler Topping
¾ cup all-purpose flour
¼ cup granulated sugar
¾ teaspoon baking powder
3 tablespoons salted butter, chilled
5 tablespoons heavy cream
Instructions
Grease four 4-inch ramekins (see notes for other baking dish options).
In a medium-sized bowl, combine the brown sugar, cornstarch, cinnamon, nutmeg, and salt. Stir well to distribute the cornstarch throughout the sugar (this will prevent lumpy clumps of thickener in the cobbler).
Add the peach slices and almond extract. Toss until the peaches are completely coated in the sugar mixture. Set the filling aside for a few minutes while you make the cobbler topping.
Southern Biscuit Cobbler Topping
Combine the flour, sugar, and baking powder in a bowl. Whisk to combine. Slice the butter into small cubes and toss it into the flour mixture. Use your fingers to rub the butter into the flour mixture until it has pea-sized lumps of butter.
Stir in the heavy cream until the dough comes together in a large clump. If the dough seems dry, you can add a couple of teaspoons more cream until it comes together.
Spoon the peach filling into the baking dishes and place them in the air fryer (you will add the topping after the peaches get partially cooked). Set the air fryer to 340°F and cook for 15 minutes.
Drop clumps of the biscuit dough on top of the peach filling. If desired, brush the top of the biscuit dough with cream and sprinkle sugar on top (this will give the biscuits a sweet, crunchy topping).
Return the peach cobblers to the air fryer at 340°F and cook for 12 to 15 minutes or until golden brown.
Notes
Mixing the cornstarch with the sugar and spices before mixing it with the fruit. The sugar will distribute the cornstarch evenly and prevent it from clumping in lumps. 
Using 5 teaspoons of cornstarch will thicken the juices to a jam-like consistency after the cobbler cools. If you prefer a  runny, juicy filling, reduce the cornstarch to 1 teaspoon or omit it entirely. 
You can replace the cornstarch with equal amounts of all-purpose flour or 2-½ teaspoons of quick-cooking tapioca. 
If you are using fresh peaches, you can keep the skin on or peel them. The choice is up to you, but the skin will add a bit of texture that some people may not like. 
If you are using frozen peaches, let them thaw so the sugar mixture clings to them and starts to draw out the juices. The sugar and cornstarch will not mix with or cling to frozen fruit. 
If you are using canned peaches, drain the juice from the cans. 
For a shortcut, you can use a package of refrigerator biscuits instead of the homemade cream biscuits in the recipe. Canned biscuits will only need to be baked for 9 to 10 minutes. 
Another shortcut for the biscuit topping: Combine ¾ cup pancake mix, 3 tablespoons sugar, and 4 to 6 tablespoons of milk or cream. Stir until it forms a thick batter. The pancake batter biscuits will need to be baked for 12 to 15 minutes. 
The ramekins used in the photos are 4 inches in diameter and hold ¾ cup. You can also cook this cobbler in the following baking dishes:
six 3-inch ramekins (½ cup capacity each)
two 5-inch round cake pans
one 8-inch baking dish. 
Recommended Products
As an Amazon Associate and member of other affiliate programs, I earn from qualifying purchases.
Nutrition Information:
Yield:

6
Serving Size:

1
Amount Per Serving:
Calories:

261
Total Fat:

11g
Saturated Fat:

7g
Trans Fat:

0g
Unsaturated Fat:

3g
Cholesterol:

29mg
Sodium:

135mg
Carbohydrates:

40g
Fiber:

2g
Sugar:

25g
Protein:

3g
Nutrition information is a guideline only, is calculated automatically by third party software, and absolute accuracy is not guaranteed.