Orange Chili Steak Marinade
on Dec 02, 2021, Updated Sep 21, 2023
This steak marinade is an easy way to get big, bold flavors on all of your favorite cuts of beef. With the perfect balance between sweet and savory, this marinade tenderizes meat while flavoring it with sweet orange and spicy chili. One recipe will be enough for 4 to 6 steaks, and it only takes a couple of minutes to combine!
If you're looking for a new spin on flavor that can work with any cut or budget, look no further than this phenomenal orange chili steak marinade. Get ready to step up your flavor game!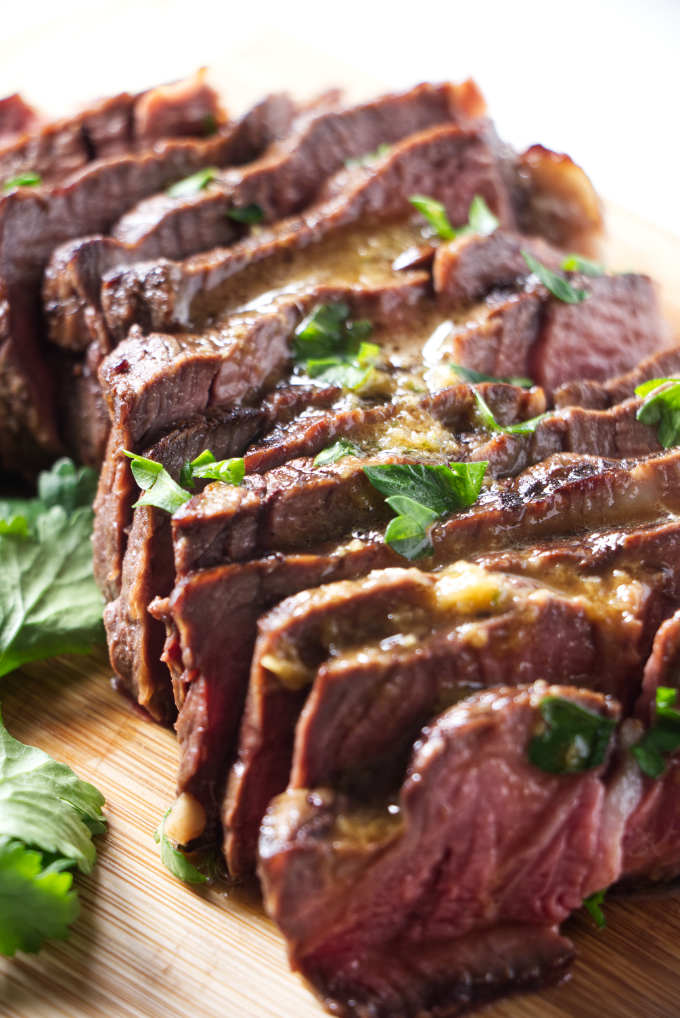 This marinade isn't just for steak and beef. You can use it for chicken, pork, lamb, or wild game like venison. You can even use it to flavor veggies and rice dishes (make sure to follow our food safety tips if you want to reuse the marinade). It is very easy to double or triple the recipe to fit any size meal.
Try this marinade with our stuffed flank steak or our grilled chuck roast. You can even use it to marinate poultry chicken. Try it on our air fryer chicken tenders or turkey wings.
Here is Why This Recipe Works
Steak turns out tender and juicy (even cheap, tough cuts)
Big bold flavors
Simple, convenient ingredients
Versatile. Adjust the chili sauce if you like it spicy
Makes enough to marinate 4 to 6 steaks
The Ingredients
Soy sauce. If you want gluten-free marinade, use Tamari.
Orange juice. For extra orange flavor and sweetness, use frozen concentrated orange juice.
Worcestershire sauce. Worcestershire adds depth and umami flavor.
Red wine vinegar. You can substitute with another vinegar or with lemon juice for a different flavor.
Olive oil. Oil helps the meat retain moisture. You can use a different oil such as canola oil but don't skip the oil.
Chili sauce. We used sambal oelek. It is a paste made from crushed raw chilis and it packs a lot of flavor into this marinade. You can substiture with any chili sauce you have on hand.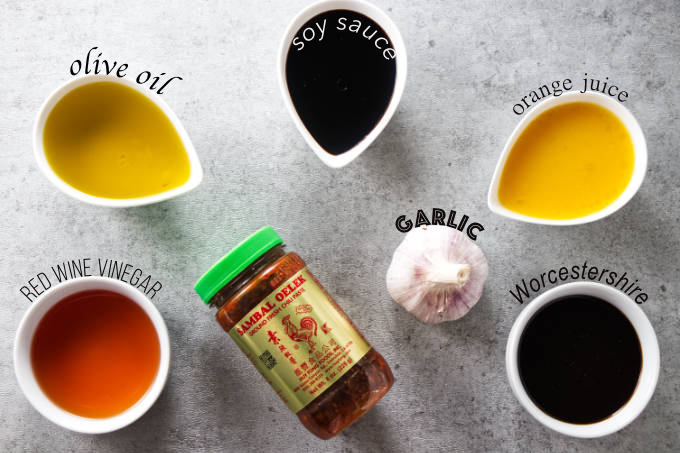 How to Make Steak Marinade
This is the easiest recipe on our site, simply whisk the ingredients together. Read our tips and helpful hints for the best steak.
Combine the ingredients in a bowl or re-sealable bag.
Add the steaks and seal the bag (or cover the bowl).
Place the steaks in the fridge to marinate.
Cook on the grill, stovetop, or oven and enjoy!
That's all there is to it. Now go marinate some flank steak and serve up a great dinner.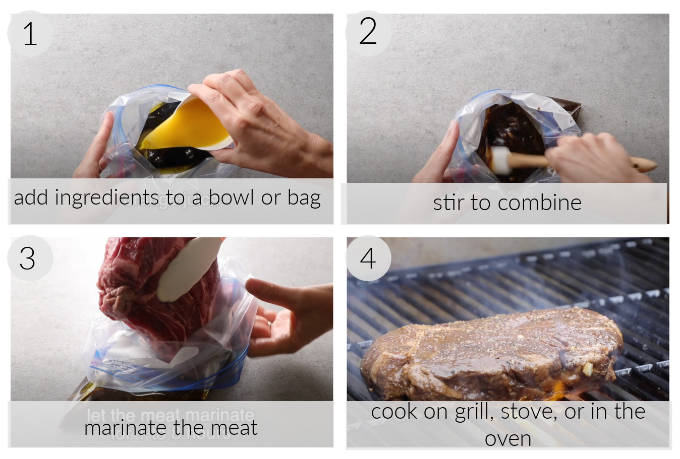 How Long Do You Cook Steak?
The amount of time it takes to cook a steak will vary depending on the heat, thickness of your steak, and the desired doneness. The best way to cook your steak to perfection is to use a meat thermometer. Just find the degree of doneness in the table below and cook your steak to the corresponding temperature.
Chart for Steak Doneness Level
| Steak Doneness Level | Internal Temperature |
| --- | --- |
| Rare | 120°F-130°F |
| Medium-rare | 130°F-135°F |
| Medium | 135°F-145°F |
| Medium-well | 145°F-155°F |
| Well-done | 155°F-160°F |
| VERY well-done | 160°F + |
Doneness Level for Steak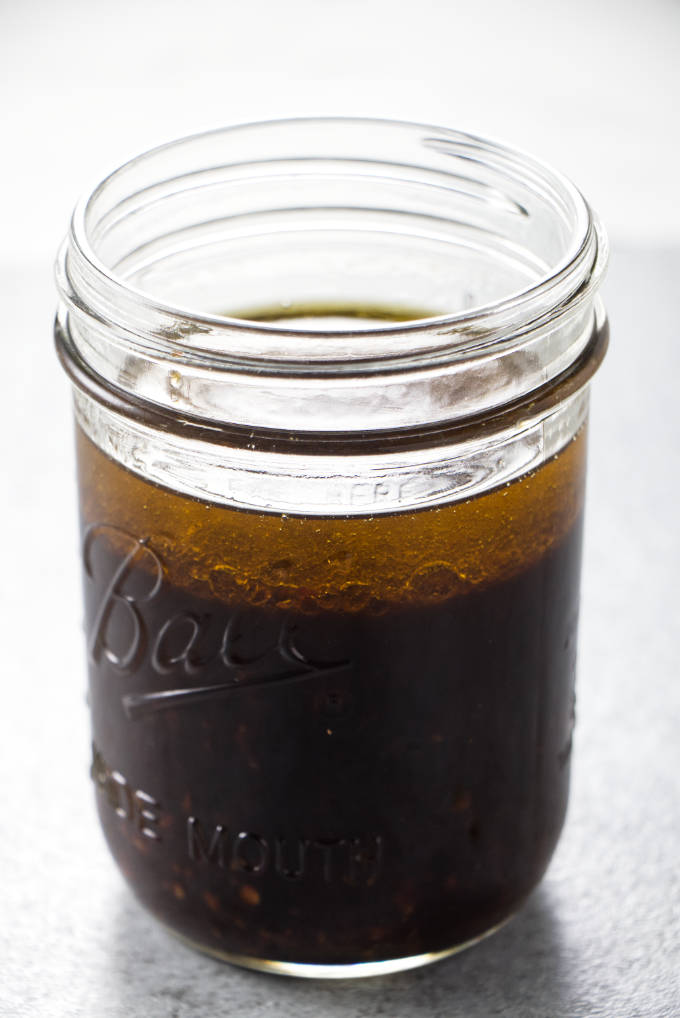 Helpful Tips
Let the steaks marinate for at least 30 minutes (two hours is better if you have the time).
Use frozen concentrated orange juice if you have it on hand. The concentrated juice will add more orange flavor and sweetness to the marinade.
Adjust the heat level by changing the amount of chili paste.
Don't marinate meat for longer than 24 hours. The acid in the marinade will break the tissue down and make your steak mushy.
Cut steak against the grain. When you cut against the grain, it breaks up the long muscle fibers and creates a tender cut.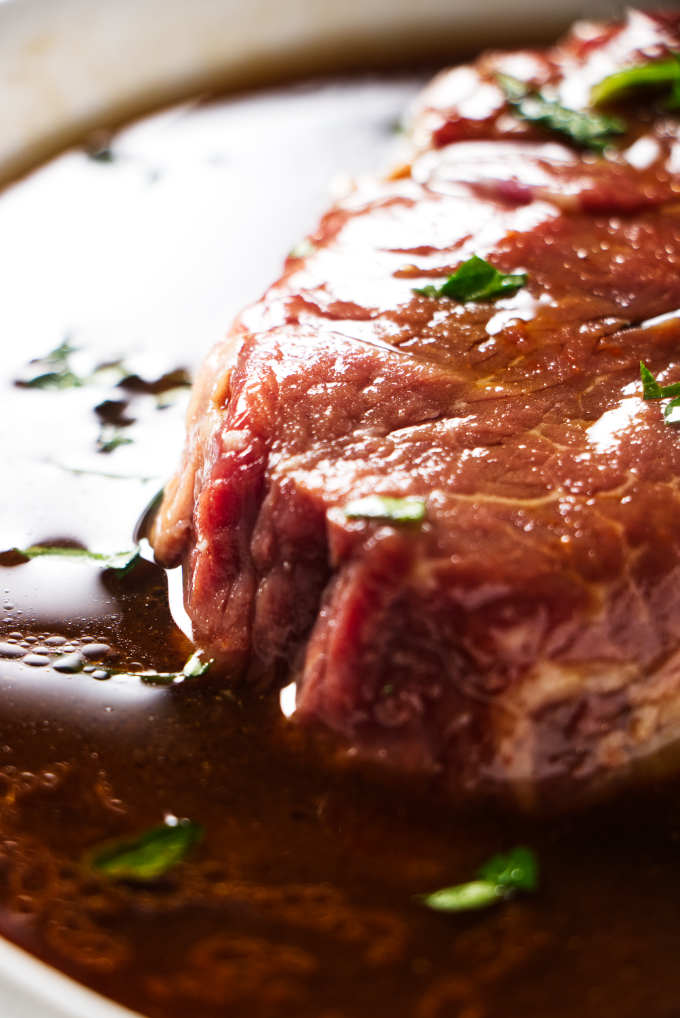 Frequently Asked Questions
What cuts work best for steak marinade?
You can use this marinade on any cut of beef. We recommend using it on cheaper cuts of beef since more expensive cuts tend to be tender and flavorful on their own.
How long do you marinate steak?
You should marinate the steak for at least 30 minutes and up to 24 hours (If you have at least 2 hours, you will infuse plenty of flavor into the meat. Don't marinate expensive cuts for longer than 2 hours, it isn't necessary)
What is the cooking time for steak?
The cooking time depends on how hot the grill or stove is set and how well done you like your steak. See our steak doneness chart in the post.
Use a reliable instant read thermometer or a leave-in thermometer to monitor the cook of your steak.
Can you marinate steak too long?
Yes, the acid in the marinade can break the tissue down and make the steak mushy.
Can you reuse the marinade as a sauce?
Yes, make sure you boil the marinade for 5 minutes. You want to be sure that anything left behind from the meat soaking in the marinade is cooked off before using it as a sauce.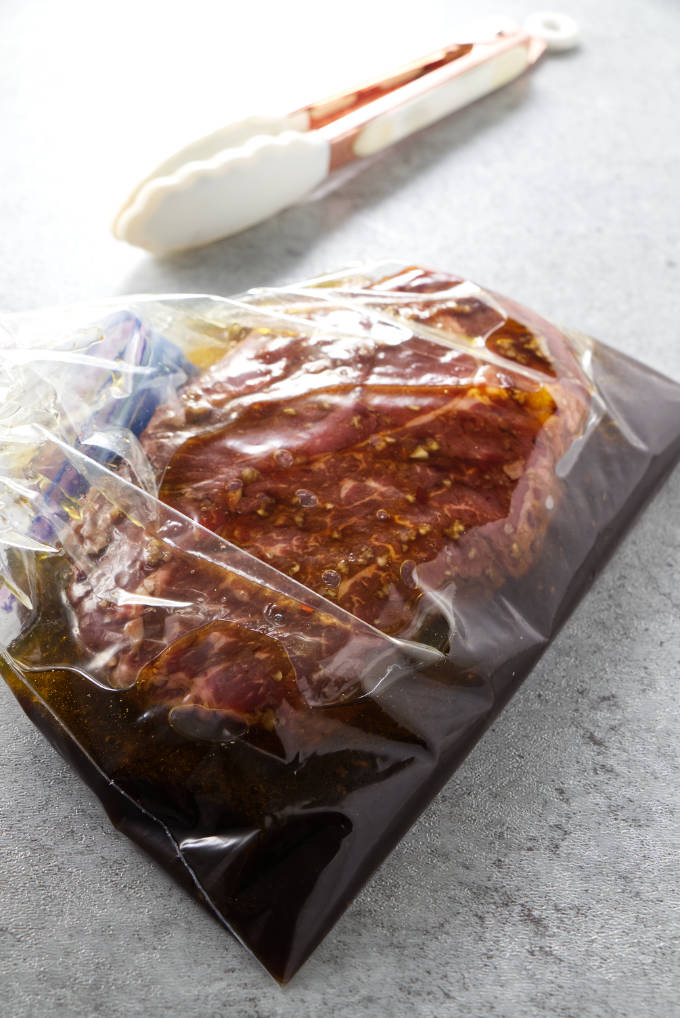 Tools and Equipment
If you click on some of the following affiliate links and buy something, we might get a small commission. You don't pay any extra, but it will help us keep the lights on and our bellies full!
CONNECT WITH A LICENSE TO GRILL!
Be sure to follow us on our social media accounts.
Did you make this recipe? Tell us about it in the comments below!
💬 Tell Me What You Think!
Did you try out this recipe? Please leave a comment below and let me know how you liked it. Also, snap a picture and post it to your favorite social platform. Be sure to tag me at @alicensetogrill and let me know how you liked it!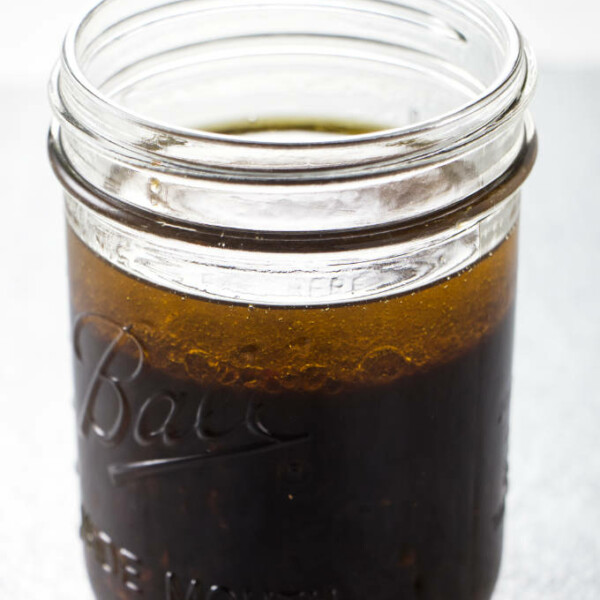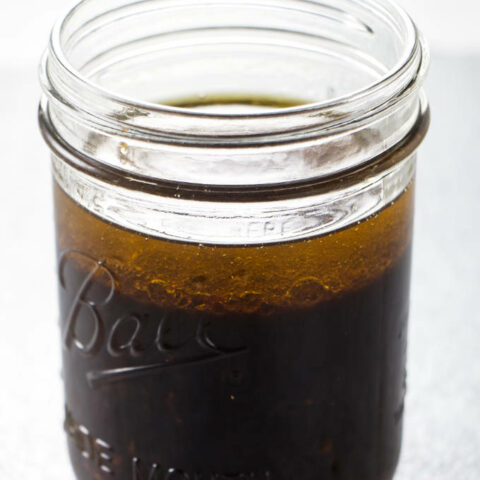 Orange Chili Steak Marinade
An excellent steak marinade is well-rounded and full of flavor. Our marinade is made with sweet orange and a hint of spicy chili. This marinade isn't just for steak, though. Use it for chicken, pork, lamb, and turkey as well as beef. It adds a sweet, spicy, tangy flavor to all your main dishes. Also, you can reserve any leftover marinade for a sauce in fried rice or for your vegetables.
Ingredients
1/3 cup olive oil
1/3 cup orange juice
1/3 cup soy sauce
1/4 cup red wine vinegar
1/4 cup Worcestershire sauce
3 to 6 tablespoons chili paste or hot sauce
4 to 6 garlic cloves, minced
Instructions
Combine all the ingredients in a bowl and whisk well.
To marinade steaks, place the marinade and meat in a dish or sealable bag.
Close the bag (or cover the dish) and refrigerate for 30 minutes and up to 8 hours.
Remove the meat from the marinade. Discard the marinade and cook the steak as desired.
Notes
If you want to reuse the marinade as a sauce or baste, pour it in a saucepan and boil it for 5 minutes.
Do not reuse marinade unless you boil it first to remove harmful bacteria. Optionally, set some marinade aside before you put the meat in it. You can refer to the USDA article for more information.
Recommended Products
As an Amazon Associate and member of other affiliate programs, I earn from qualifying purchases.
Nutrition Information:
Yield:

8
Serving Size:

1/4 cup
Amount Per Serving:
Calories:

143
Total Fat:

9g
Saturated Fat:

1g
Trans Fat:

0g
Unsaturated Fat:

8g
Cholesterol:

0mg
Sodium:

1335mg
Carbohydrates:

14g
Fiber:

0g
Sugar:

9g
Protein:

2g
Nutrition information is a guideline only, is calculated automatically by third party software, and absolute accuracy is not guaranteed.