You won't get a buzz from eating these grilled tequila lime shrimp, but you may catch a buzz from sipping on the ingredients while making the marinade. I mean, you almost have everything you need for a margarita, so why not!? This grilled tequila lime shrimp is absolutely perfect for a nice summer day when the sun is out and your friends are expecting some killer food to munch on!
Tequila has such a unique flavor, and in its clear, Blanco, form in which man created it, it is awful. I mean, I want to enjoy taking well shots of tequila, but I will leave that fun to the college freshmen and those who don't get the most dreadful of hangovers. But, once you find that special tequila that has had time to age and to develop some fantastic flavors, no other will ever be able to meet your expectations. Cooking with yummy tequila, that is where greatness happens!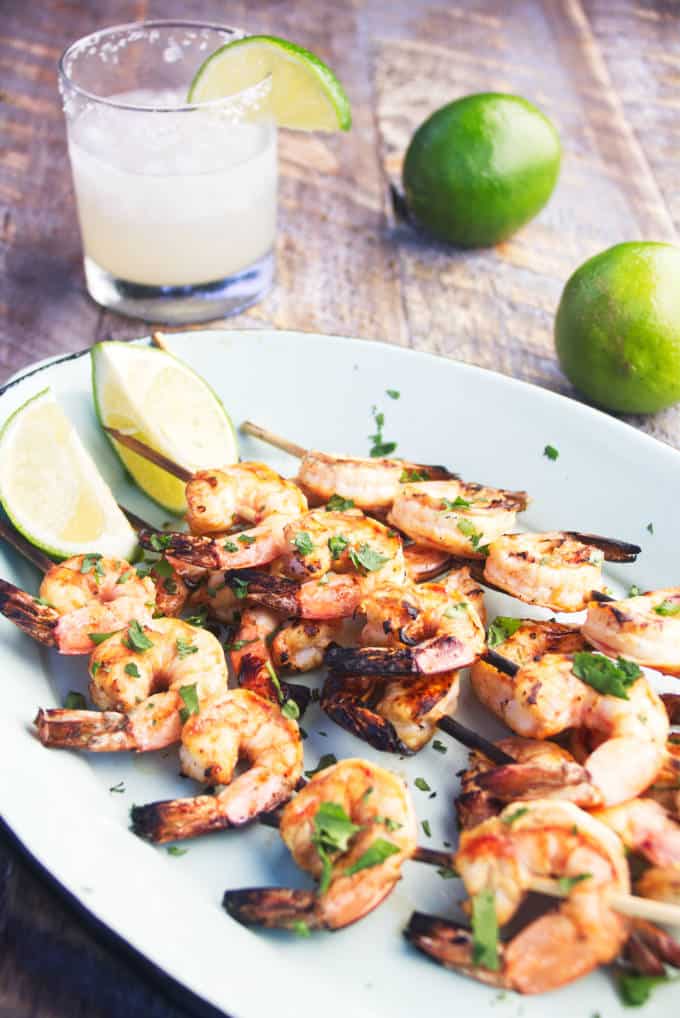 Why this recipe is killer!
Tequila has a very distinct and unique flavor. I very much enjoy cooking with tequila because it can have a very bright, sweet, woody, flavor to it. These shrimp spend several hours in a wonderful marinade made of lime and tequila. There is a bit of ancho chile powder to help deliver a punch of heat. These things scream summer BBQ, and there is nothing better than a margarita and some grilled shrimp in the sun!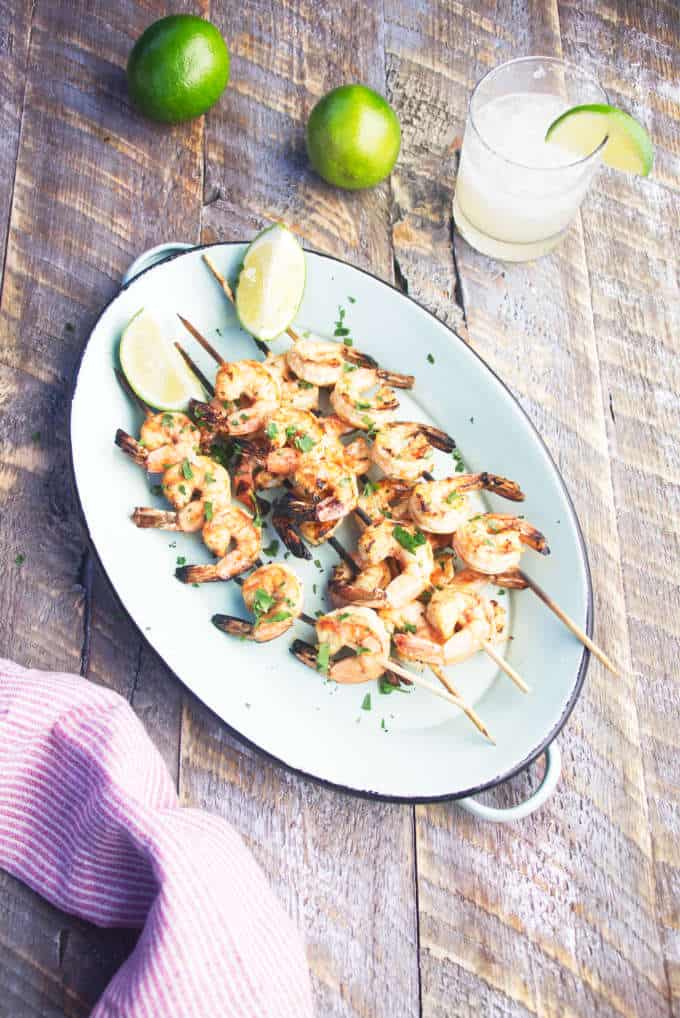 Ingredients for these spiked shrimp
We can all agree, margaritas are delicious in one form or another, so why not mix up a margarita and, while you're at it, make a marinade for the shrimp!? To make these delicious tequila lime shrimp you will need:
Shrimp
Tequila
Lime
Garlic
Ancho Chile Powder (or your favorite chile powder)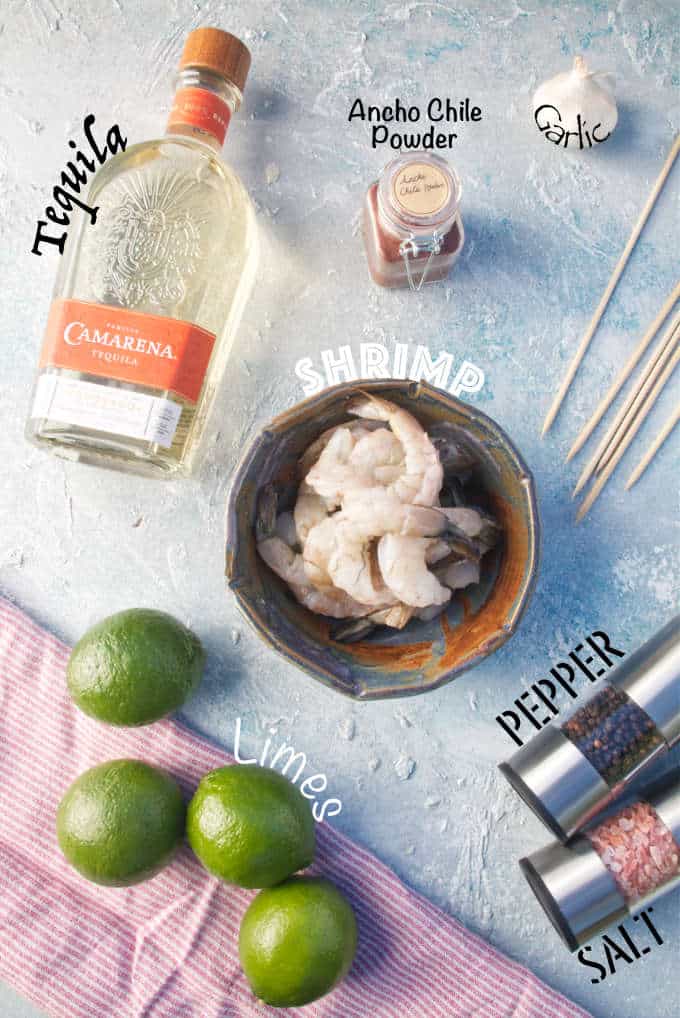 Go on, big spender!
Don't be afraid to use a more expensive, high-end tequila. Think of it like sherry or wine. You only use a small amount to bring an amazing amount of flavor to a dish. Surely, even a spendy bottle of tequila works out to be cheaper than some vanilla or saffron. And a great quality tequila will make the grilled shrimp so much better!
If you simply use a silver tequila, the flavor won't be quite as good. Blanco tequila is not aged and is bottled immediately after the second distillation. This means that the flavors are more immediate, punch you in the face, and take your breath away (not literally, of course). You will still get some tequila flavor, but it will more of an herbaceous or vegetal flavor.
A more expensive tequila, like Añejo, has been aged for at least one year in oak barrels. This takes away some of the vegetal flavors of the agave as the barrel lends its earthy, woody, sweet flavor notes to the tequila. An Añejo tequila will have notes of vanilla, caramel, and butterscotch, all things that will have a killer impact on the flavor of your dish!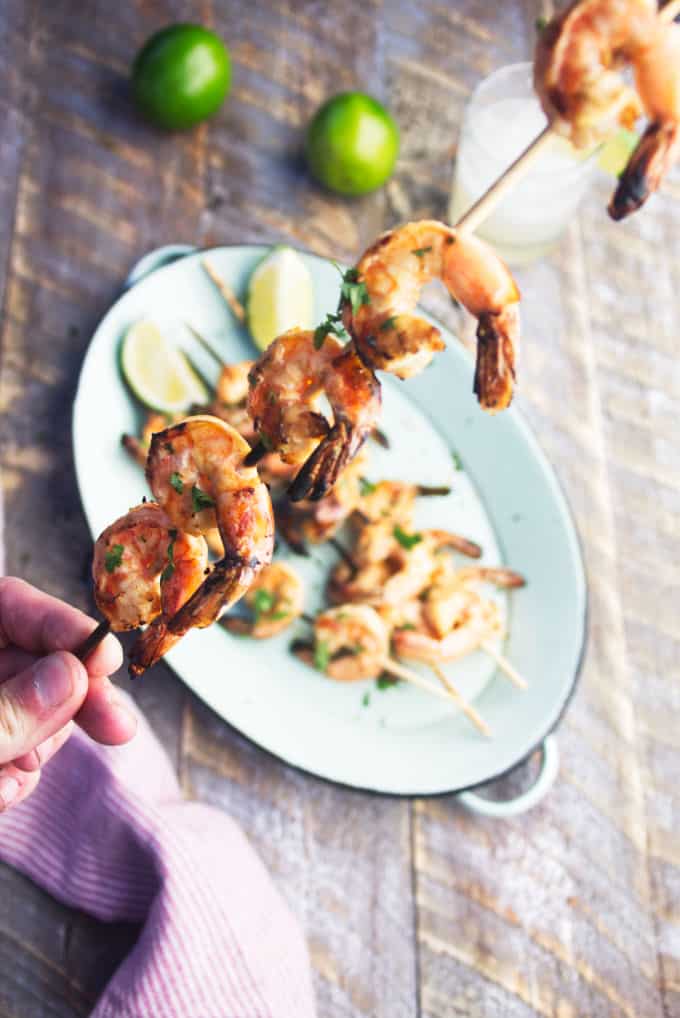 Why cook with tequila?
Mexican cooking has so much depth and it is often overlooked. Unfortunately, when people think of Mexican food, they immediately think of these family Mexican restaurant chains where every dish is a rearrangement of the same ingredients.
Mexican food can be so complex, my favorite example of an extremely amazing dish is Oaxacan mole negro. If you haven't had it, GET YOUR HANDS ON SOME! It will make you realize that the intricate flavors and sophistication that is often reflected in French or Italian cooking, is also existing in Mexican cooking. The use of tequila and lime in this grilled shrimp recipe shows you how you can develop some depth of flavor in an otherwise normal grilled shrimp recipe.
Tequila can be used as a secret weapon in your Mexican dishes to add extra oomph. It will reduce in the cooking juices to add a depth of flavor that you cannot get anywhere else, much like Sherry. The natural smoky-sweet flavor in tequila goes extremely well with seafood like shrimp.
What else is cooking!?
Need an amazing sauce to dip your shrimp in? Then try out this chipotle lime crema. It is packed with amazingness! The chipotle and adobo sauce has such a great flavor and the lime pairs perfectly with seafood. I put this sauce on veggies, nachos, flank steak… the list goes on!
Time for dessert, so why not try out these air fryer chocolate cupcakes?! The air fryer gives them a great texture, slightly crumbly on the outside, but incredible tender and moist on the inside. I like to add whiskey into the buttercream frosting for a unique spin on them!
Tell me what you think!
Did you try out this recipe? Please give it a 5-star review! Also, snap a picture of it and share it with me on Instagram using the hashtag #alicensetogrill.
CONNECT WITH A LICENSE TO GRILL!
Be sure to follow us on our social media accounts
Facebook * Instagram * Pinterest * YouTube * Twitter
Did you make this recipe? Tell us about it in the comments below!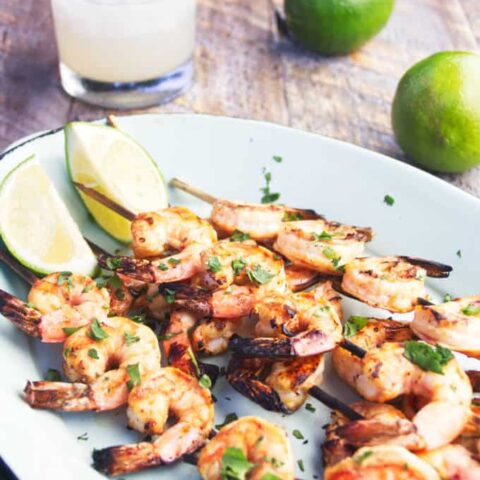 Grilled Tequila Lime Shrimp
Total Time:
4 hours
14 minutes
This grilled tequila lime shrimp is absolutely perfect for a nice summer day when the sun is out and your friends are expecting some killer food to munch on! The tequila adds such an incredible flavor and works with the lime to make these shrimp incredible!
Ingredients
1-1.5 pounds large shrimp, peeled and deveined with tails on
1/4 cup tequila
1/4 cup fresh lime juice
2 tablespoons olive oil
4 cloves garlic, minced
1 tablespoon ancho chile powder
Instructions
Ensure the shrimp are peeled and deveined. I like to keep the tails on for a more finger-food-friendly serving option.
Add the tequila, lime juice, olive oil, garlic, and chile powder to a large bowl. Thoroughly mix to combine all ingredients.
Add your shrimp to the marinade and cover the bowl with plastic wrap. Place it in the fridge for 1-4 hours so the shrimp can marinate and soak up all of the flavors.
Soak some bamboo skewers in water while the shrimp marinates. This prevents them from burning while on the grill (see recipe notes)
Preheat your charcoal grill. You want a grill that is fairly hot with direct heat.
Pierce 4-5 shrimp on each skewer (see recipe notes).
Place the shrimp skewers on the grill and cook for 1-2 minutes on each side. The shrimp will cook very quickly and should form a "C" when fully cooked, not an "O" (see recipe notes).
Notes
Be sure to use either metal skewers or to soak your bamboo skewers in water so they don't burn.
When piercing the shrimp on the skewer, I like to pierce them in two places so that they don't accidentally fall off while cooking. I will pierce them once through the tail and again towards the head of the shrimp.
When shrimp cooks, it will naturally curl and the head of the shrimp will eventually touch the tail. Shrimp are done cooking once they are pink and they curl just slightly, but the head of the shrimp should not touch the tail of the shrimp. This means that they look like the letter "C" when held.
Nutrition Information
Yield

10
Serving Size

1
Amount Per Serving
Calories

173
Total Fat

5g
Saturated Fat

1g
Trans Fat

0g
Unsaturated Fat

3g
Cholesterol

239mg
Sodium

1074mg
Carbohydrates

3g
Fiber

0g
Sugar

0g
Protein

26g
Nutrition information is a guideline only, is calculated automatically by third party software, and absolute accuracy is not guaranteed.