Everything is better with bacon, and this recipe is no exception! These scallops are grilled over charcoal and cherry hardwood with a brush of alder wood smoked maple syrup, which imparts a sweet and subtle smoky flavor to the shellfish. The alder wood smoked maple syrup compliments the cherry smoke from the grill and provides just enough sweetness to not overpower the scallop.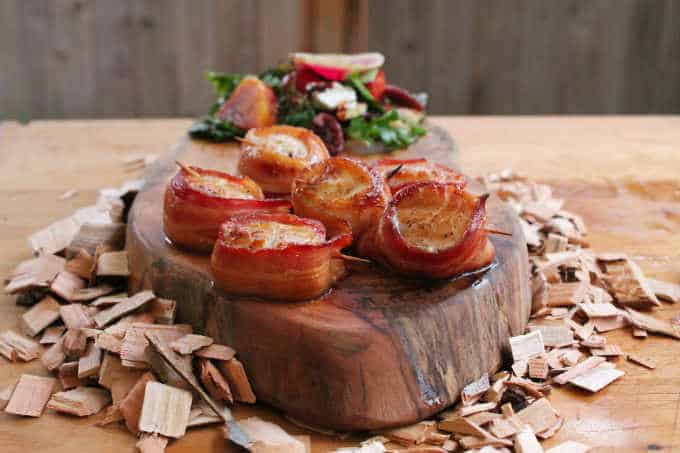 Marshmallows of the Sea
My wife told me that scallops are the marshmallows of the sea and at first glance, they certainly look that way, but there is more to it!
Scallops are tender and delicate and can be eaten raw, although they are always better cooked or seared. On an open flame, their natural sweetness is enhanced and their flavor intensifies. If you cook them too long you will have a disappointment as they will become rubbery and chewy.
Scallops also go well with other foods but too much maple syrup or bacon and you will overpower the scallop and you will lose their flavor, just like too much chocolate on a melted marshmallow.
Is it OK to Eat Under Cooked Scallops? Can you get sick?
Sea scallops are the cleanest shellfish available. When you order scallops you are not eating the entire shellfish, you are only eating their adductor muscles.
Their adductor muscle isn't used to filter the water so they are not susceptible to toxins and other impurities that may be found in clams or oysters. However, keep these points in mind before eating raw/under-cooked shellfish:
Vibrio is a bacteria that thrives in warm and can infect shellfish
Cook the shellfish to avoid getting sick
Never eat a shellfish that doesn't open after cooking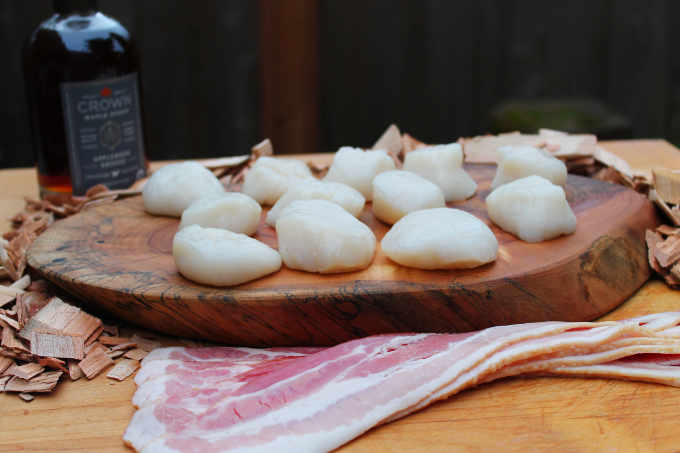 How to Cook Sea Scallops
Sea scallops are a special treasure of the sea. They are delicate and tender with a natural sweetness and creamy texture that melts in your mouth. If you overcook them they will become chewy and rubbery.
Prepare the scallop with salt and pepper and pat dry
Place the scallop on your hot cook surface. This can be directly on the grill, cast iron pan, a baking sheet in the oven, or a fry
Cook the large sea scallops for about 3-4 minutes on each side or a total of 6-8 minutes
Scallops are cooked once they are opaque and no longer translucent
Cooking these on the grill with some fruit hard woods allows them to soak up the smoky flavor but they can also be cooked many other ways, broiled, pan seared, grilled and even deep-fried.
How To Select Sea Scallops
Wet or dry:
Scallops get packaged and sold as either "wet packed" or "dry packed" and are referred to as 'wet' or 'dry'.
Wet scallops are treated with sodium tripolyphosphate (STPP) which preserves them but it also makes the scallops retain more water.
The wet scallops will not caramelize and they have less flavor. Dry scallops are preferred for a more tasty and flavorful scallop. At the market make sure your scallops are dry.
Size matters:
When selecting your sea scallops at the store always look for the larger scallops for this recipe. Bay scallops are quite a bit smaller and get overpowered by the bacon. Plus the bacon strips are too large for the small Bay scallops.
Fresh or frozen sea scallops
If you cannot find any fresh sea scallops then you can always use frozen sea scallops instead. If your scallops are frozen then first thaw them on a wire rack on top of a baking sheet. Place a sheet of parchment paper over them and set in the refrigerator overnight to thaw.
Whether you are using fresh or frozen scallops you will want to ensure that you pat them dry before cooking. The dryer they are, the more they will brown and the better the crust on the surface.
About the bacon
When selecting your bacon for this recipe you will want to look for thinly sliced bacon. If the bacon is too thick it won't cook well over the grill and you will risk overcooking the scallop.
The goal is not to achieve overly crunchy bacon but one that is thoroughly cooked. You will also want to select smoked bacon but be cautious about getting maple-flavored bacon since we will be brushing maple syrup on the scallops and we do not want to overpower them.
How to Wrap Scallops in Bacon
These scallops were wrapped in bacon and secured with a toothpick Be sure to cut the bacon slices in half so they only wrap around the scallop one time. A double layer of bacon will overpower the delicate scallop flavor and may not cook completely.
After wrapping to the scallops, place them on a 400°F grill above a smoke pack made from cherry wood chips. Brush the alder wood smoked maple syrup onto the scallops as they cook.
After 4 minutes flip the scallops and brush the syrup on the other side and cook for another 4 minutes. The scallops will be lightly browned and the bacon will be opaque and sizzling.
How do you know when scallops are done on the grill?
Large scallops only take 3 to 4 minutes per side. If you cook them much longer then they will get rubbery. You will know they are done by their appearance and feel. They will go from a translucent color to opaque and they should have a 'spring' to them when you poke them with your finger.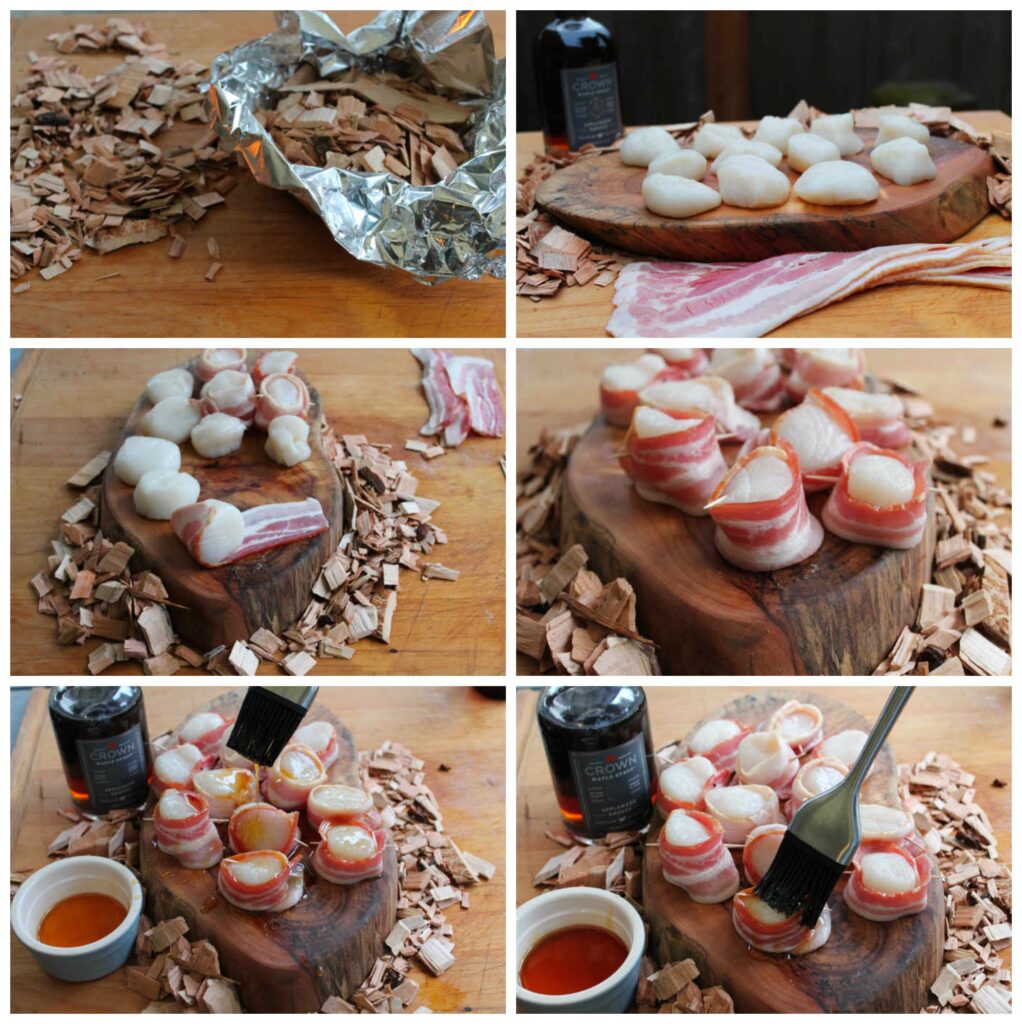 What Goes With Scallops?
Fresh green garden salad
Grilled vegetables such as asparagus, broccoli, or root vegetables
Side dishes such as these cheesy air fryer potatoes
To serve these sweet smoky scallops, remove the toothpick and plate with a fresh garden salad and serve while still warm. They make a great entrée but can also be served at a tapas party or as an appetizer to accompany another dish.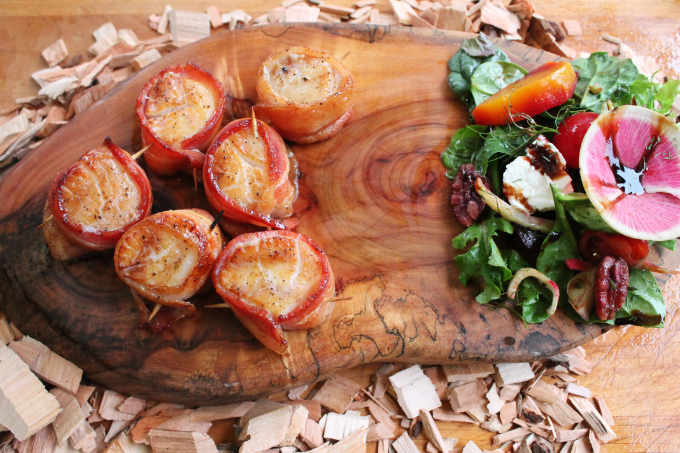 CONNECT WITH A LICENSE TO GRILL!
Be sure to follow us on our social media accounts
Facebook * Instagram * Pinterest * YouTube * Twitter
Did you make this recipe? Tell us about it in the comments below!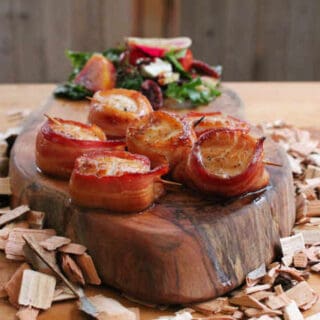 Bacon Wrapped Scallops
These bacon wrapped scallops are cooked over a charcoal
grill with a cherry wood smoke pack to bring a subtle yet sweet smoke character which compliments this delicate seafood. They are tender and flake apart easily while the bacon brings even more smoky and sweet flavors to the table. While grilling, brush on a alder wood smoked maple syrup and you have yourself an amazing grilled creation!
Ingredients
12 large (U-10) dry sea scallops *See Notes
6 strips or 1/3 pound of bacon (thin cut)
Salt
Freshly ground white pepper
4 ounces Alder Wood smoked maple syrup (or regular maple syrup)
Instructions
Begin by preparing the grill. If using a charcoal grill load the chimney starter with charcoal and ignite. Allow the charcoal to burn until all of the charcoal is covered with a layer of fine gray ash, about 20 minutes. Build a thin layer of fire by spreading the coals evenly over the bottom of the grill and allow the grill to heat up to 400°F.
Build a smoke pack using cherry wood chips. Take a small piece of aluminum foil and wrap 2 handfuls of wood chips into a bundle. Pierce the aluminum foil in a couple places and place on top of the charcoal.
If using a gas grill or pellet grill ignite it and allow it to heat up to 400°F.
For frozen scallops, remove them from the package and place them, in one layer, on a wire rack set over a plate or baking sheet, cover with a sheet of parchment paper and transfer to the refrigerator to thaw. When ready to cook, proceed as follows:
For fresh or thawed scallops, place scallops on a large plate that has been lined with a double layer of paper towels. Salt liberally and allow to rest for 5 minutes. Using more paper towels, pat the scallops on all sides as dry as possible. Sprinkle lightly with salt and pepper.
Take the 6 strips of bacon and slice in half. Take each half strip of bacon and wrap the scallops. Use a toothpick to secure the bacon in place so it doesn't unravel.
Brush the alder wood smoked maple syrup onto the scallops.
Place the scallops on the preheated grill and cook for 4 minutes. After 4 minutes, flip the scallops and brush the other side with the alder wood smoked maple syrup and cook for the remaining 4 minutes.
To serve, remove the scallops from the grill and remove the toothpicks. Place on a plate and serve alongside a fresh garden salad.
Notes
Scallops that are sized U-10 means that fewer than 10 scallops add up to 1 pound. Each scallop will weigh about 2 ounces each.
If you are using smaller size scallops, adjust the cooking time to 2-3 minutes on each side.
Nutrition Information
Yield

3
Serving Size

1
Amount Per Serving
Calories

394
Total Fat

18g
Saturated Fat

6g
Trans Fat

0g
Unsaturated Fat

11g
Cholesterol

71mg
Sodium

1404mg
Carbohydrates

31g
Fiber

0g
Sugar

16g
Protein

28g