Dive into this creamy, zesty Avacado Lime Crema, a game-changing sauce perfect for almost anything! The sauce perfectly combines the richness of ripe avocados with the bright punch of fresh lime. It transforms the ordinary into the extraordinary with each spoonful. Whether drizzled over grilled meats, dolloped on tacos, or used as a dip for your favorite snacks, this Avocado Lime Crema is guaranteed to elevate your dishes, infusing them with a uniquely fresh and tangy twist that's both indulgent and refreshing.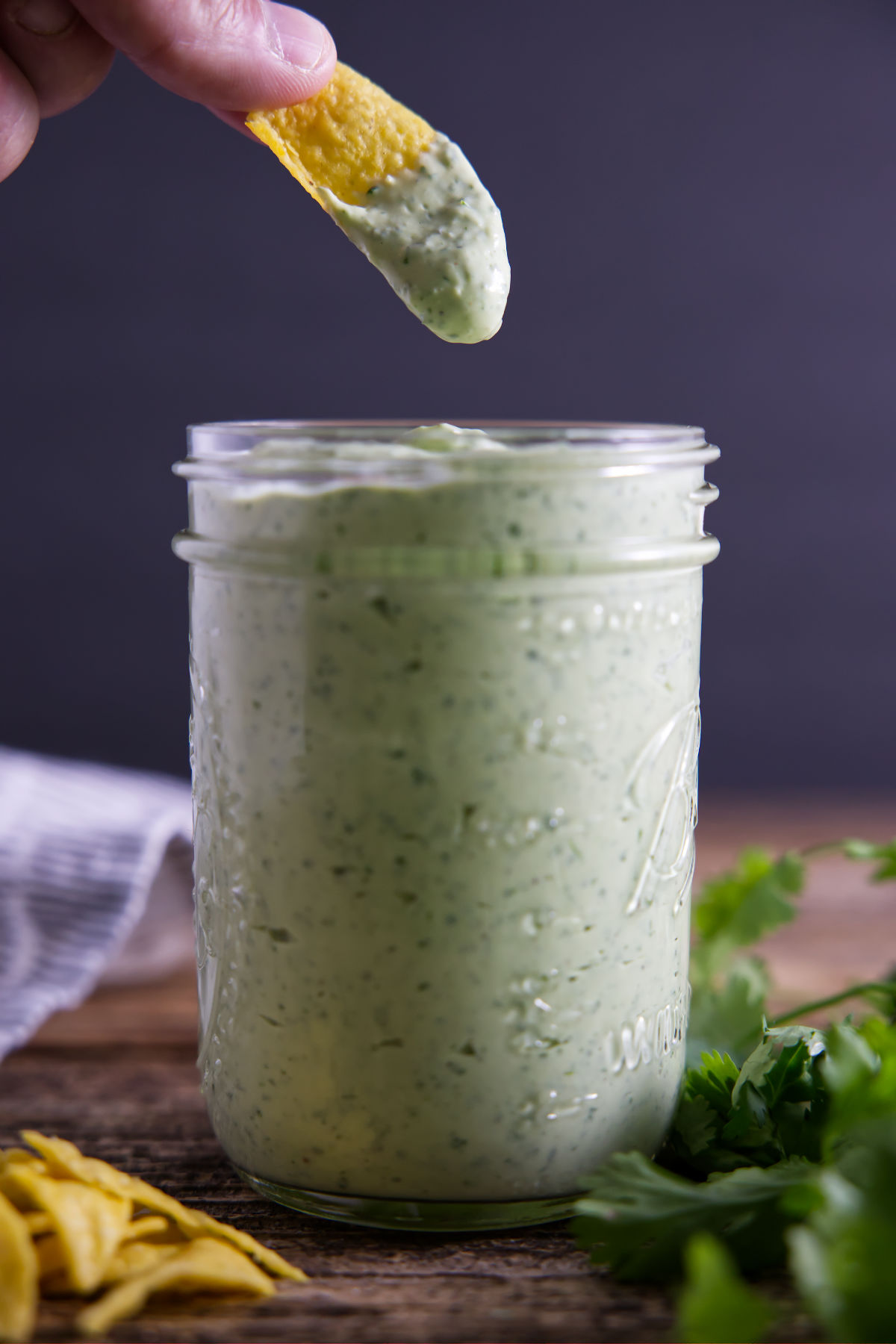 The avocado is the undeniable star of the show here. But the zingy lime juice and herby cilantro are key for adding depth and brightness to this quick and easy recipe. And if you're looking for more, you can even load up your food processor with jalapeños, chili flakes, and extra seasonings. This is a customizable hero that'll be a huge hit at the next party!
Whether you're looking for a veggie-friendly dip or just want a change from old-school guacamole, this flavorful sauce has got your back. Use it to lift up some marinated tri-tip or load it up on your chicken fajitas or tacos to give them a bright, flavorful punch.
🥑 This Avocado Crema Packs a Punch
It's an immensely flavorful and delicious sauce that is incredibly easy to make. Seriously, it's a foolproof recipe!
The avocado lime crema is velvety smooth, and it's versatile enough to work beautifully with tons of different dishes.
It's packed with healthy and fresh ingredients. You can even lighten it up with Greek yogurt!
The lime juice and cilantro add tang and zing that make things taste vibrant and fresh. Cilantro lime anything is delicious!
You can't go wrong bringing it to potlucks or holiday tables, as it's ideal when used as a dip or as a sauce on most dishes! Think chicken and steak or veggie dip. It is perfect for sandwiches!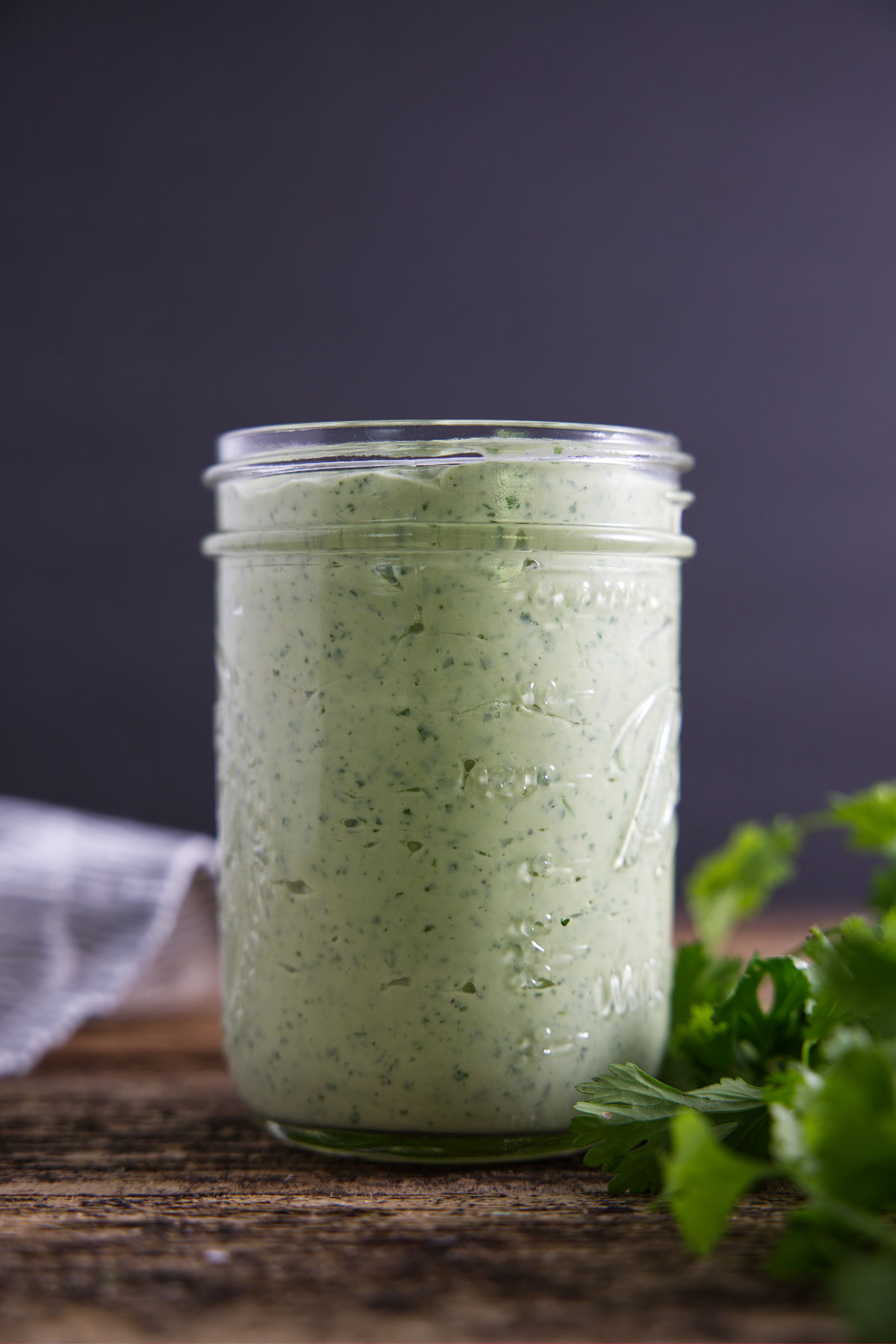 🗒️ Ingredients for this Crema
Avocado. Hass avocados work best as they're creamy, but virtually anything works! Just make sure they're ripe but not mushy.
Sour cream or Greek yogurt. I enjoy using sour cream in this recipe for more depth of flavor. But honestly, Greek yogurt tastes great and is a lighter yet still delicious option. If you're going to switch it out, go for a 5% fat Greek yogurt! Also, it's worth getting a high-quality variation of yogurt or sour cream if you can – you can taste the difference!
Fresh cilantro. Brings a fresh and slightly citrusy taste. It complements the richness of the avocado and the tartness of the lime, creating a well-rounded flavor profile.
Lime juice. It's best to use fresh juice for a more pronounced sour flavor, but concentrated bottled juice works in a pinch.
Garlic. You can adjust the amounts based on how much you love garlic. But this ingredient is key for a glorious, savory flavor!
Salt. It enhances the flavor and is essential for bringing the crema together.
Pepper. A punch of spice.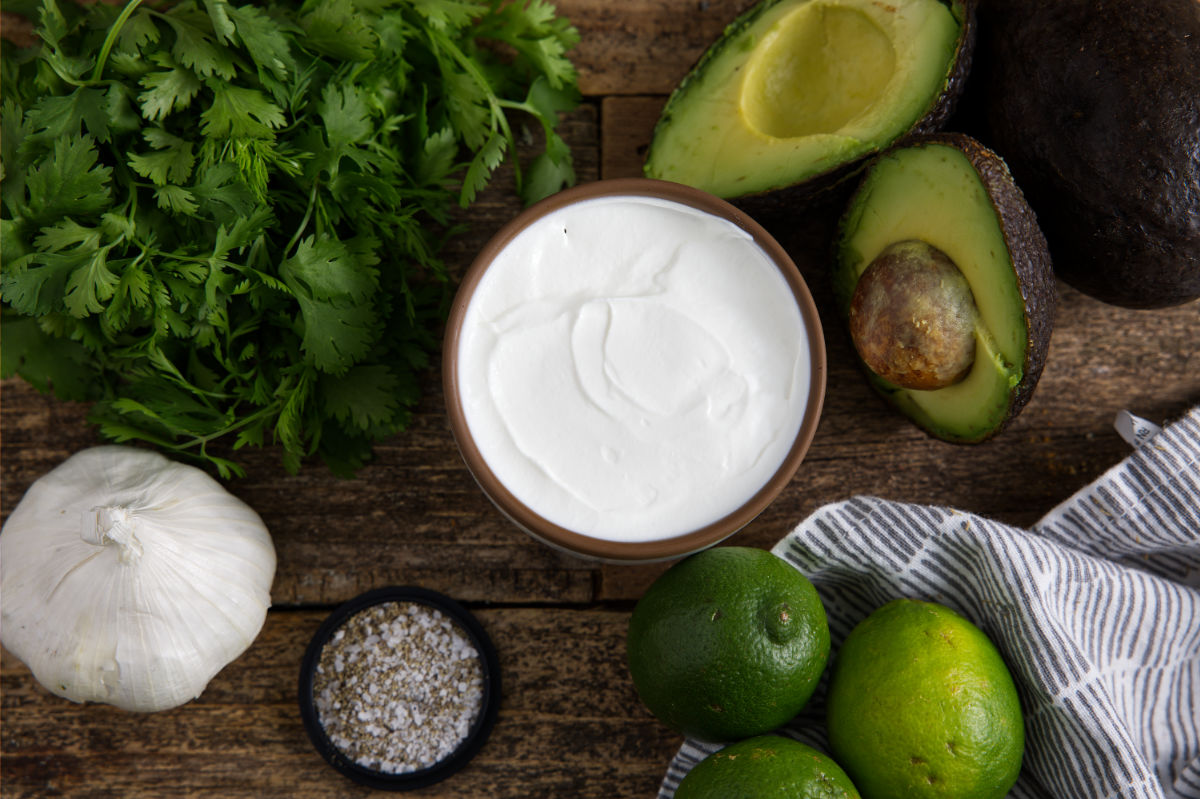 👨‍🍳 How to Make this Avocado Crema
Add all of your ingredients to a food processor.
Blend the ingredients until your crema is smooth and consistent. Scrape down the sides of the processor to ensure it is well combined.
Transfer your avocado lime crema to a mason jar and enjoy immediately, or store in the fridge until ready to use.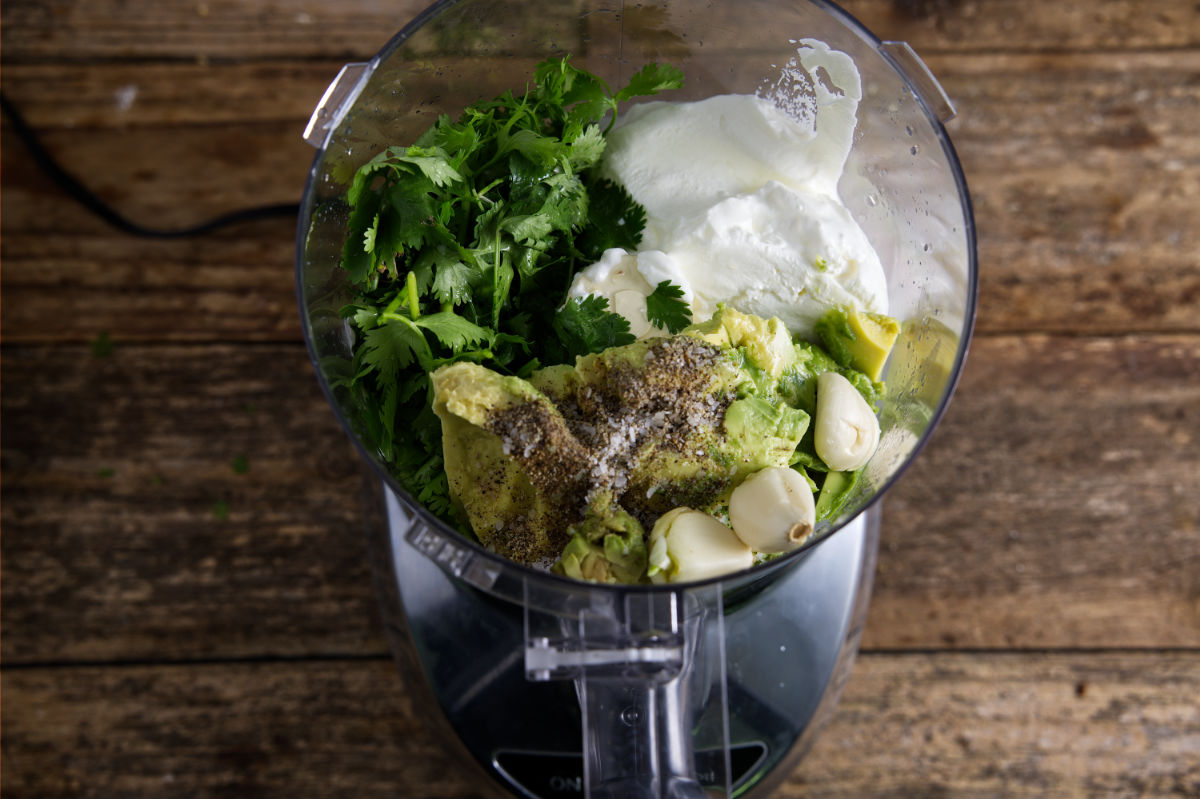 😉 Pro Tips for a Yummy Avocado Crema
Make it thicker. I'm a sucker for a slightly thicker dip. If you're not a fan, you can always add a touch of olive oil, water, or extra lime juice to thin the sauce.
Save time! Keep the stems on the cilantro. To reduce waste, just blend all of your cilantro up (including the stems!). You won't be able to taste or notice the difference.
Use ripe avocado. Test your avocados before using them in this recipe. The best avocados should be slightly squishy but not ridiculously so. Don't try to use unripe avocados, as they'll be bitter and not remotely creamy!
Balancing the acidity. Lime juice is key for its zesty flavor, but it's essential to balance the acidity. Start with the amount stated in the recipe and adjust to taste until the sauce is well balanced.
🤔 Crema Recipe Substitutions & Variations
This avocado lime crema is delightful as-is, but adding half a seeded jalapeño seriously dials up the spice factor. You can even roast the jalapeño in a skillet beforehand, sweat it, and then add it to the food processor. The smokey flavor will be incredibly delicious!
Speaking of spice, you can easily take things up another level by using chili or red pepper flakes as a topping!
You'll need to make sure everything is fully incorporated, but adding some finely grated lime zest to the sauce is a great touch.
The base recipe for this dip is sensational, but a few sprinkles of thyme, paprika, or oregano can instantly lift it! If you don't want the extra herby flavor to clash with the cilantro, just skip it!
Don't like cilantro? No problem! You can substitute parsley, basil, or chives for an awesome and delicious crema.

Parsley: Flat-leaf parsley is a great substitute for cilantro. It offers a fresh, slightly peppery taste. Parsley can complement the creamy avocado and tangy lime without overpowering them.
Basil: Basil can add a sweet, aromatic flavor to the crema. It pairs well with lime and avocado.
Chives: Chives provide a mild, onion-like flavor that can enhance the crema without dominating the taste. They're a good choice if you prefer a more subtle herb note in your sauce.
⏱️ Store this Delicious Sauce
This avocado lime crema tastes best eaten straight out of the food processor, but it stores well in the fridge for up to 4 days.
Just make sure it's safely in an airtight container!
This crema sauce is best eaten fresh or after a few days in the fridge. If you must freeze it, you can, but the textures may change after thawing. Store it in an airtight container in the freezer for up to 6 months.
🛠 Tools to Make this Creamy Avocado Sauce
❓ FAQ
What does avocado lime crema taste like?
Lots of people think avocado lime crema is like guacamole, but it's actually a light and fresh sauce! So, you can drizzle it over meat, pop it on salads, or use it as a tortilla chip dip.
Is avocado lime crema similar to guacamole?
It has similar flavors to guacamole, but it's far thinner than your average bowl of guac, which is typically thick and chunky!
Can you make this dip in advance?
This recipe holds up well for several days in the fridge, meaning you can make it ahead of time. Before serving, just make sure your dip hasn't gone brown.
How can I make my avocados ripe?
A common problem with this recipe is overripe avocados. But if you're dealing with stubborn and unripe avocados, a paper bag and a banana are all you need to fix the issue. Just put your avocado in the bag with the banana and wait for ethylene gas to work its magic over a few hours.
🥗 Recipes Perfect for this Sauce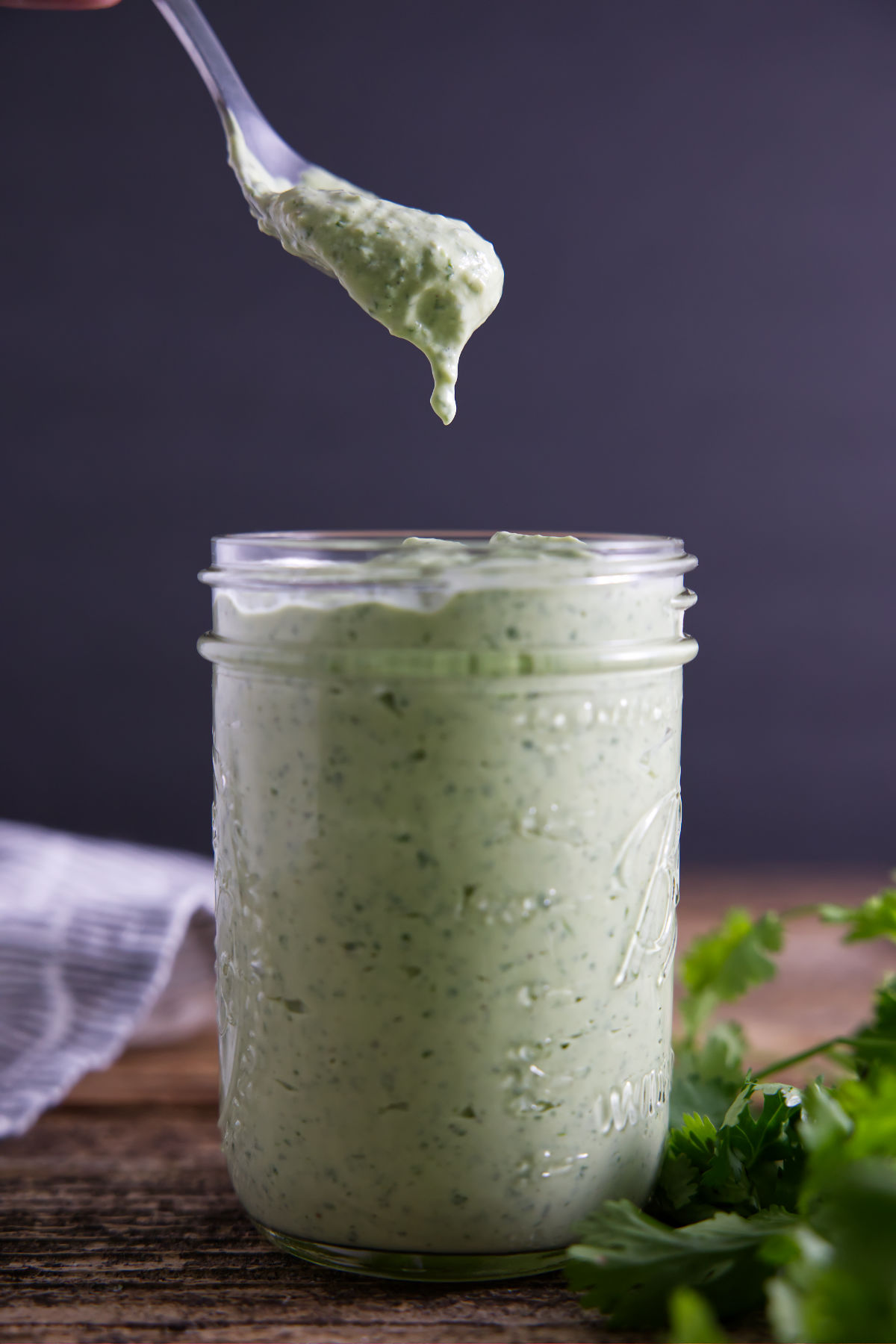 🍨 The Final Scoop
Whether you're gathering with friends for a backyard BBQ or seeking to add a dash of gourmet to a family dinner, this avocado lime crema recipe is your go-to secret. It's a testament to how a few fresh ingredients, blended with a bit of love and creativity, can create something truly amazing. Requiring just a few simple ingredients, this crema sauce will be ready and on the table in mere minutes. Serve it up alongside your favorite recipes, it pairs wonderfully with things like chicken, tacos, fajitas, and steak. The options are limitless!
CONNECT WITH A LICENSE TO GRILL!
Be sure to follow us on our social media accounts.
Did you make this recipe? Tell us about it in the comments below!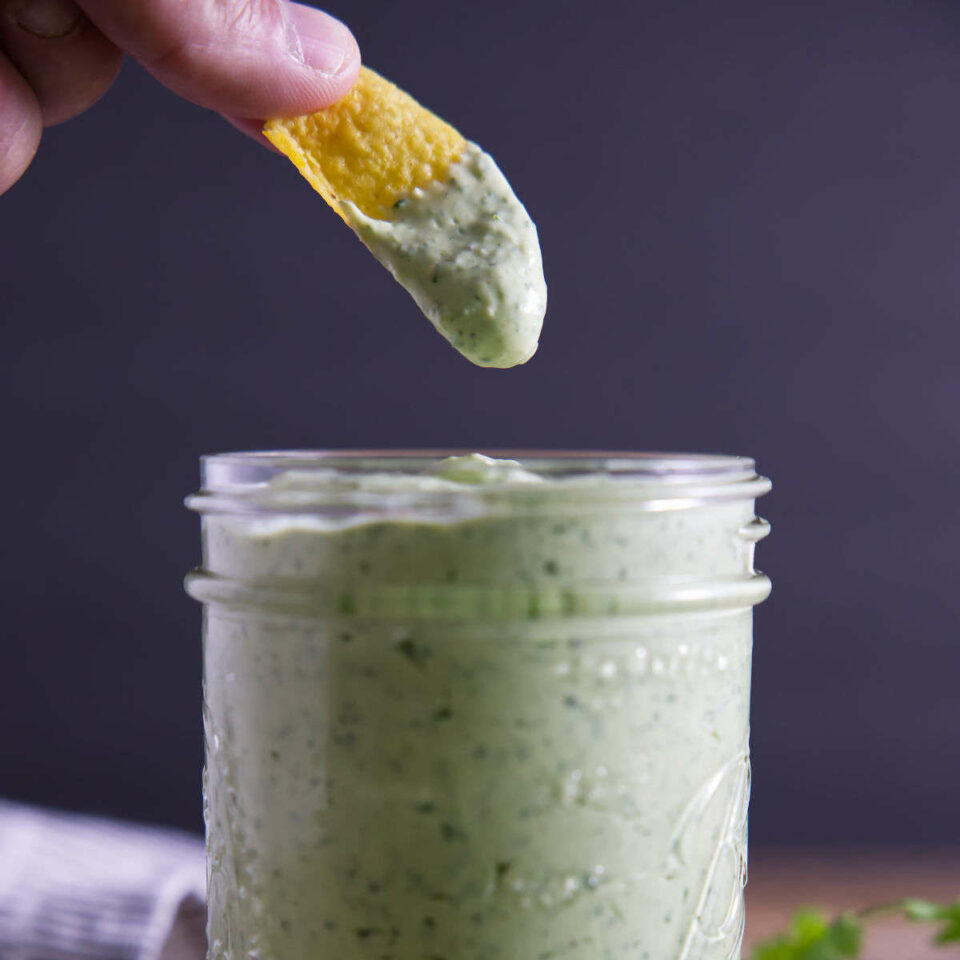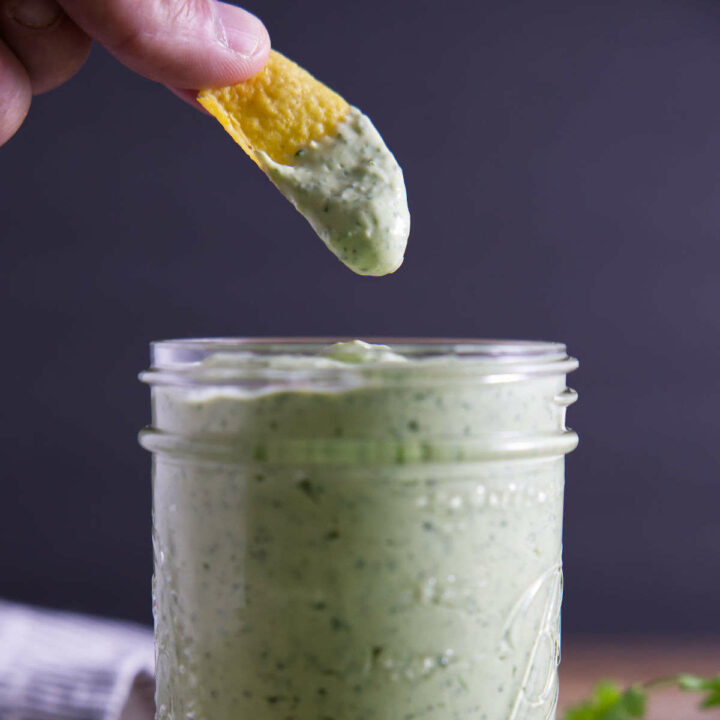 Avocado Lime Crema - Creamy Avocado Sauce
This avocado lime crema is a versatile, zesty, and utterly delicious sauce that's perfect for any occasion! This easy-to-make crema combines the creamy goodness of avocados with the tangy zest of lime, enhanced by the fresh kick of cilantro.
This recipe is incredibly easy but brings a ton of flavor. Ready in under 5 minutes and perfect to make ahead of time and store in the fridge.
Try serving the crema with your favorite recipes like chicken fajitas, tacos, tomahawk or flank steak. Really, the options are unlimited!
Ingredients
2 avocados, pits and skins removed
1 cup sour cream or Greek yogurt
½ cup fresh cilantro
3 tablespoons lime juice
1 teaspoon salt
1 teaspoon pepper
2 cloves garlic
Instructions
Add all of the ingredients to a food processor. Turn on and blend the ingredients together until the crema is smooth and consistent.
Use a spatula to transfer the avocado lime crema to a mason jar or other airtight container. Use immediately or store in the fridge.
Notes
If you prefer a spicy crema, you can add ½ seeded jalapeño.
For a smokiness hit to the sauce, roast the jalapeño in a skillet or under the broiler until it is charred. Place the roasted jalapeño in a bowl and cover to sweat the pepper. Peel the skin off the jalapeño and add it to the food processor when making the sauce.
If you don't like cilantro, you can substitute it with parsley, basil, or chives. Each one brings a unique flavor to the crema.
Recommended Products
As an Amazon Associate and member of other affiliate programs, I earn from qualifying purchases.
Nutrition Information:
Yield:

12
Serving Size:

1
Amount Per Serving:
Calories:

102
Total Fat:

9g
Saturated Fat:

3g
Trans Fat:

0g
Unsaturated Fat:

5g
Cholesterol:

12mg
Sodium:

190mg
Carbohydrates:

5g
Fiber:

2g
Sugar:

1g
Protein:

3g
Nutrition information is a guideline only, is calculated automatically by third party software, and absolute accuracy is not guaranteed.