My ABSOLUTE FAVORITE thing in the world to smoke is brisket, and these smoked brisket burnt ends are spot-on when it comes to deliciousness! Nobody likes a dry brisket, and in order for it to meet the criteria for success in my book, it has to be fall-apart tender. These brisket burnt ends are packed with an intense smoke flavor after cooking over wood for 15 hours. They are caramelized in a sweet, tangy Kansas City-style barbecue sauce. Bring these to your next cookout or BBQ gathering and I guarantee they till be the biggest hit ever!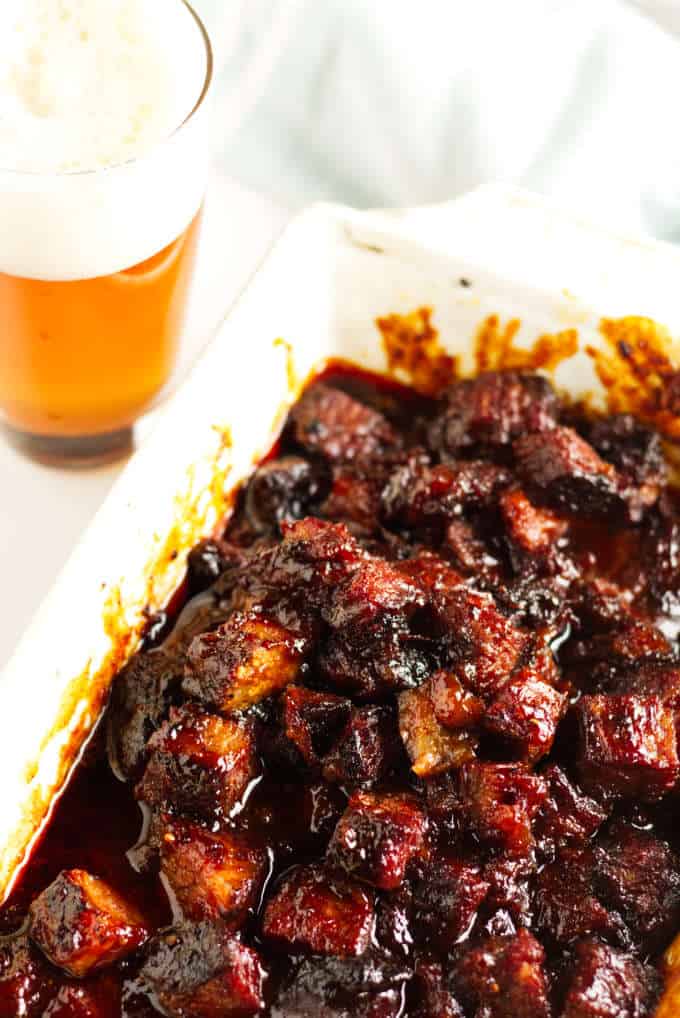 What Are Burnt Ends?
I describe burnt ends as meat candy. They are so delicious that calling them "burnt ends" seems like an insult! In fact, they are not burnt at all. They have an incredibly rich flavor and are usually coated in a sweet-sweet BBQ sauce. Top it off with a bit of brown sugar and BAM! your mouth is in heaven!
Traditional burnt ends are made from the point end of the brisket, which is the thicker portion of a packer brisket. When you buy a packer brisket from the store, it consists of the flat and the point. These two sections are separated by a layer of fat that runs through the middle.
Before smoking the brisket, you will want to separate the point from the flat. After the brisket is smoked, it is cut into small cubes and then cooked again in a bath of BBQ sauce with a sprinkling of brown sugar over the top. These sugars carmelize and give the smoked brisket burnt ends its delicious, thick coating.
How to Break Down A Packer Brisket
You get a lot of meat out of a packer brisket, so I always like to plan ahead and have a plan of attack. I will usually smoke the point for burnt ends and the flat to simply have some delicious slices of smoked brisket. I always end up with extra meat though, as will you, so check out this smoked brisket chili if you are looking for a way to use up some of that brisket!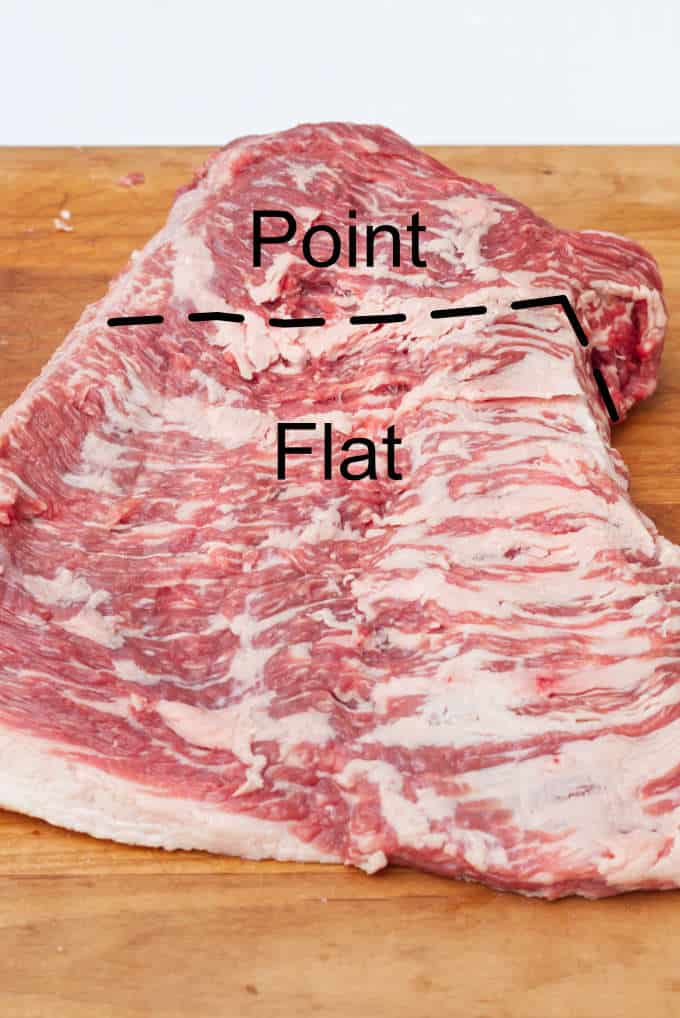 Remove the fat layer between the thicker point and the thinner flat.
Use a knife and run it through the fat layer, slowly separating the point from the flat.
Trim off all of the hard fat from the brisket.
Trim the softer fat cap down to about 1/4″.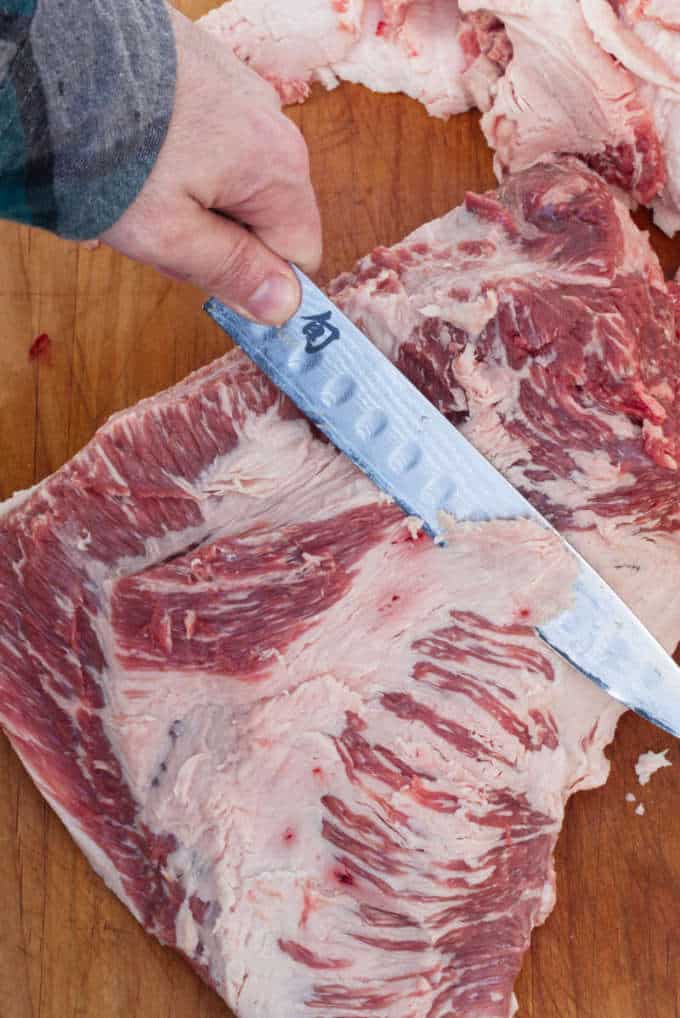 Making The Rub
People will argue about what rub you should put on your brisket. Traditionalists will almost always say that you should only need salt and pepper on your brisket, and I would tend to agree. But for burnt ends, I say let the imagination run wild! I like to bring a bit of sweetness and heat into the equation, and this barbecue spice blend is a perfect combination of spices that takes these smoked burnt ends to the next level!
Here's the ingredients you'll need:
Brown sugar
Smoked paprika
Onion powder
Garlic powder
Oregano
Salt
Black pepper
Cumin
Chili powder
Cayenne pepper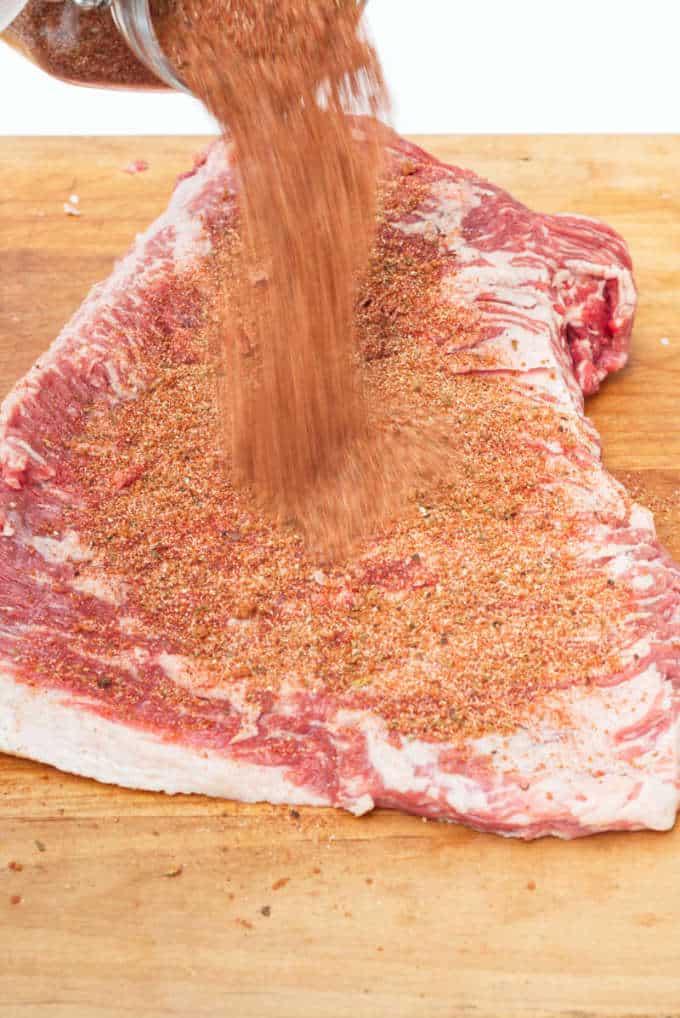 Kansas City-Style BBQ Sauce
I like my burnt ends sweet, and this Kansas City-style BBQ sauce really brings it together but also has a bit of heat. The sauce soaks into the meat and creates a delicious blanket, making the brisket burnt ends the best pieces of meat candy you will ever taste.
The perfect BBQ sauce will have some acidity, some sweetness, a bit of spice, and a smooth texture. You can play around with the recipe and add some additional ingredients to suit your taste buds, but here's what I recommend using.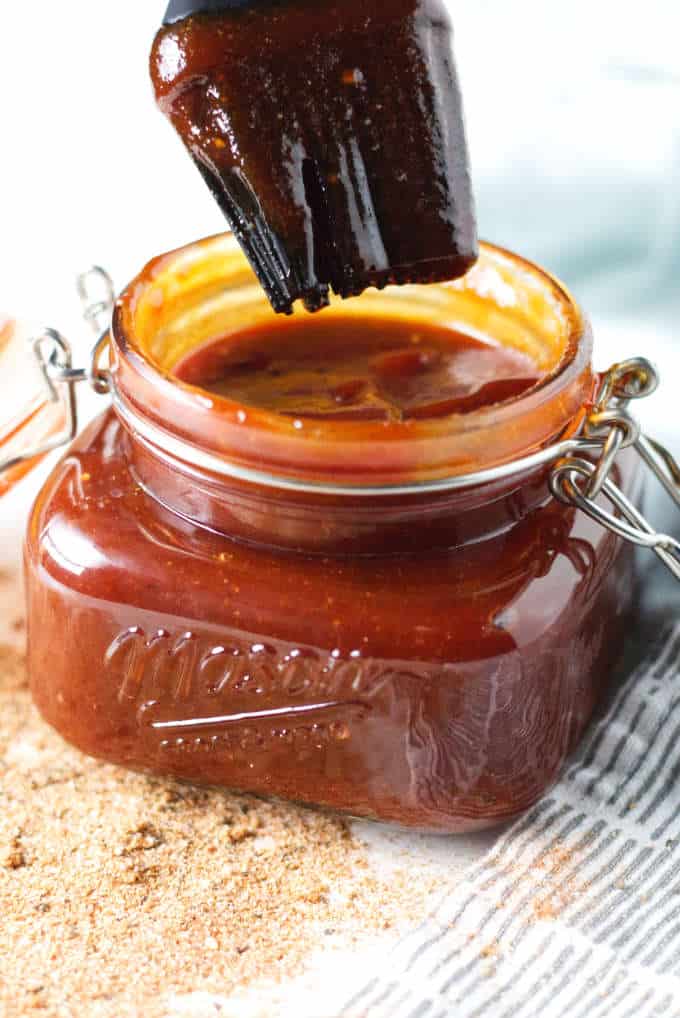 How To Smoke Brisket Burnt Ends
Keep it low and slow, be patient!
For the perfect smoked brisket, you have to be patient. In order for the brisket to be gushing with flavor and fall-apart tender, you will need to cook for quite a long time. So prepare for a lengthy cook, grab a beer (or two!), and get to smoking!
Separate the point and flat before cooking. I like to set my smoker to 225°F and let the brisket cook until it reaches an internal temp of about 203°F. If you want to wrap your brisket, do so when it reaches about 160°F. This will help you push through the stall and it will keep the brisket moister. For the burnt ends, remove the point at about 195°F. Then you will quickly cube it up and transfer to a deep dish along with BBQ sauce and brown sugar. The burnt ends will cook to completion in this dish.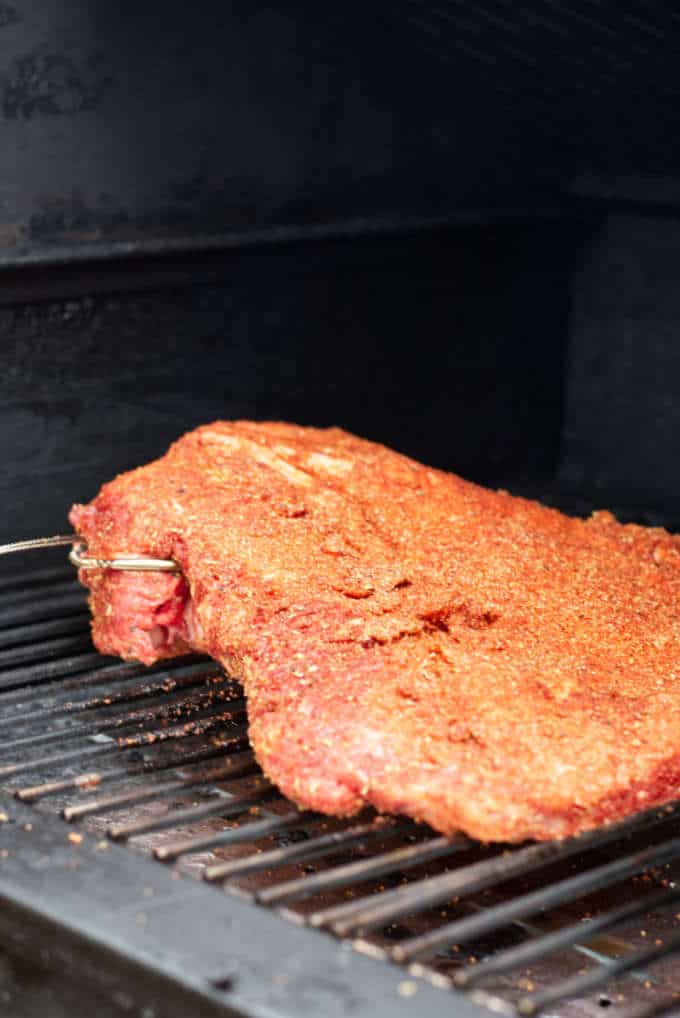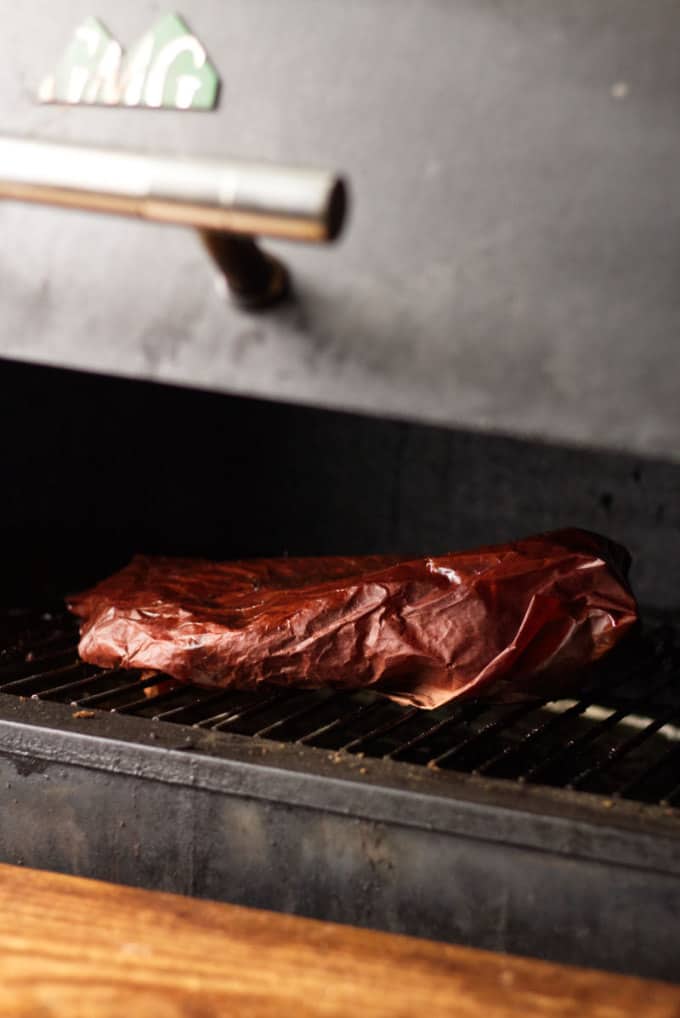 Preheat the smoker to 225°F.
Trim the brisket and separate the point and the flat.
Rub the brisket with spices.
Place the brisket on the smoker, fat side up.
Cook until the brisket reaches the stall, about 8 hours.
Wrap the brisket in butcher paper and smoke for another 4-6 hours.
Cook the brisket flat until 203°F and the point until 195°F.
Remove the brisket point and slice into cubes and place them into a deep dish.
Remove the flat and wrap in a towel and allow to rest for 1-4 hours in a cooler.
Coat the point with sauce and sugar and cook until the sauce caramelizes.
What Is The Stall?
After climbing relentlessly for hours, you will eventually find that the internal temperature of your meat seems to just stop at about 160°F to 165°F.
Maybe you think that you have run out of pellets.
Or your fire must have dwindled.
Oh I know! Your probe is broken!?
Ah yes, the stall. It can really take you on a roller coaster of emotions. I can remember countless times staying up way too late in order to finish smoking a large piece of meat, all because I underestimated the stall.
The stall occurs due to evaporative cooling. As the meat increases in temperature, the moisture in the meat will begin to evaporate and actually cool the meat during the cook. The cooling will begin to counteract the heat in the grill and cause the internal temperature of the meat to plateau.
This plateau can last for several hours until enough moisture has been released from the meat so that the cooling effect dissipates. You will find that the stall occurs around 150°F to 170°F. Just be patient and allow the meat to work its magic!
How To Combat The Stall
There are some tricks to help make the stall a bit less agonizing, however, if you're smoking low and slow there is not a quick workaround. You just have to be patient and plan ahead for the stall.
Use The Texas Crutch
A popular method is to wrap the brisket tightly in aluminum foil. The aluminum foil traps in moisture as it evaporates. This will minimize the cooling effect and trap in more moisture. This will help save some time.
However, aluminum foil does not breathe… at all. So all of that moisture will be trapped in and you won't be able to develop a thick bark on the brisket. Some people love to have a crispy, firm bark on their brisket so they may opt to not wrap in aluminum foil. For burnt ends, I don't think a bark is necessary, so why not wrap?!
Wrap In Butcher Paper (Peach Paper)
Wrapping the brisket in parchment paper is my favorite method for beating the stall. Parchment paper breathes a bit better than aluminum foil. This means that you will still retain a lot of moisture, but the smoke will also be able to penetrate. You can still develop a decent bark on the brisket when wrapping in butcher paper, so this is a good middle-of-the-road solution.
Whatever method you choose is fine! Just prepare for the stall and make sure your fridge is well stocked with some delicious beer!
Just trust the process and ride the stall out. In the end, you will still have a delicious piece of meat if you cook it low and slow!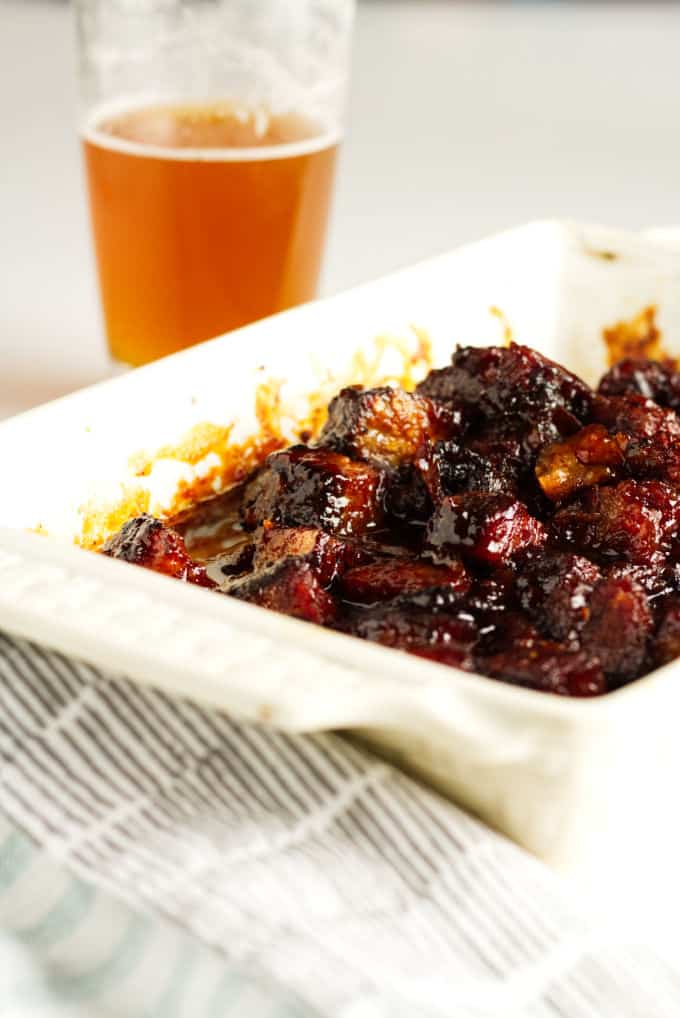 Expert Smoking Tips
Trimming a brisket isn't difficult, just remove the fat layer between the thicker point and the thinner flat.
Remove any hard sections of fat and trim the softer fat cap down to about 1/4″ thick.
You can rub your meat with spices the night before to intensify the dry brine. Let the brisket sit in your fridge overnight.
Smoke with the fat side up.
What Else Is Cooking Over Here?
One of the best sides in barbecue ever invented on earth is macaroni and cheese! This smoked jalapeño popper mac and cheese is crazy creamy and has over 3 pounds of cheese packed into it! It also spent some time on the smoker, so it soaked up some amazing flavors.
There is something about a creamy macaroni and cheese that hits the spot and calls my name for multiple servings, and I am not ashamed to let you know that I always end up eating several portions…
While your smoker is busy cooking up some brisket, go ahead and put your air fryer to use! These air fryer baked sweet potatoes are so delicious and incredibly easy to put together. Bonus points for adding sliced brisket inside the potato with some melted cheese!
Time to be healthy? Well here are some delicious air fryer brussels sprouts with bacon! Soggy Brussels sprouts suck so over here we are making them crispy in the air fryer. Of course, there is bacon in these as well, maybe you are noticing a theme here today.
These things are delicious!
Tell me what you think!
Did you try out this recipe? Please give it a 5-star review! Also, snap a picture of it and share it with me on Instagram using the hashtag #alicensetogrill.
CONNECT WITH A LICENSE TO GRILL!
Be sure to follow us on our social media accounts
Facebook * Instagram * Pinterest * YouTube * Twitter
Did you make this recipe? Tell us about it in the comments below!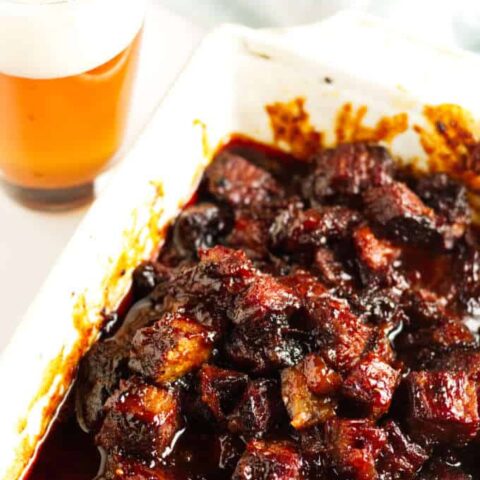 Smoked Brisket Burnt Ends
Total Time:
14 hours
30 minutes
Burnt ends are typically made from the thicker portion of the brisket, which makes for some flavorful and super tender burnt ends. These things are packed with an intense smoke flavor after cooking over wood for 15 hours. Then they are caramelized in a tangy, sweet Kansas City-style barbecue sauce.
Ingredients
1 brisket point
1 cup barbecue spice blend
2 cups Kansas City-style BBQ sauce
Instructions
Preheat your smoker to 225°F using your favorite wood. I use a competition blend by Pit Boss.
Separate the point from the flat by running your knife between the two muscles.
Trim any hard fat and tough pieces from the brisket and remove any silver skin.
Trim the soft fat, called the fat cap, down to about 1/4" thick.
Put the barbecue spice blend rub on the brisket and coat it entirely all the around.
Place the brisket on the smoker and cook until the internal temperature reaches 160°F. This should take about 6-10 hours.
Optional: spritz with about 1 cup of apple cider vinegar or apple juice every hour.
When the internal temperature reaches 160°F, wrap tightly in peach butcher paper and smoke until the internal temperature reaches 195°F. This will take another 2-3 hours.
Remove the brisket and unwrap the butcher paper, being sure to catch the juices into an aluminum baking pan. Cut the brisket into 1" cubes.
Place the cubed brisket into the aluminum pan and toss it with the Kansas City-style BBQ sauce. Sprinkle the brown sugar on top. Be sure to work quickly to prevent the brisket from cooling too much.
Set the uncovered pan on the smoker at 225°F for another 1-2 hours or until the juices are caramelized.
Remove from the smoker and enjoy. Cheers!
Notes
Trimming a brisket isn't difficult, just remove the fat layer between the thicker point and the thinner flat and remove any hard pieces of fat.
Adding the rub and letting it sit overnight, covered in the refrigerator, will help to intensify the flavor of the meat.
Smoke with the fat side up.
To help minimize the stall, either wrap the brisket in aluminum foil or parchment paper.
Click here for the barbecue spice blend recipe
Click here for the Kansas City-style BBQ sauce recipe
Nutrition Information
Yield

10
Serving Size

1
Amount Per Serving
Calories

164
Total Fat

3g
Saturated Fat

1g
Trans Fat

0g
Unsaturated Fat

1g
Cholesterol

18mg
Sodium

750mg
Carbohydrates

28g
Fiber

1g
Sugar

23g
Protein

6g
Nutrition information is a guideline only, is calculated automatically by third party software, and absolute accuracy is not guaranteed.