Grilled Chuck Roast
on Nov 13, 2021, Updated Sep 21, 2023
Forget the slow cooker; this grilled chuck roast is bursting with flavor after marinating overnight in a sweet and tangy marinade. The marinade keeps the chuck roast steak moist and juicy while searing on a scorching hot grill to get the beautiful grill marks and charred crust. Then, top it off with a slice of delicious blue cheese compound butter and dig in!
The secret to achieving a tender grilled chuck roast is cooking it over indirect heat. You only want to sear the chuck roast over high heat for a short period. Move the chuck roast to a lower-temperature portion of the grill once you have the sear marks and crust you are looking for.
You can grill this chuck roast using your charcoal kettle grill, propane grill, or pellet grill. I prefer to use my Traeger to help get a bit of smokiness into the meat. Slice up the chuck roast and serve it with some delicious sides like these air fryer green beans with bacon or these grilled potato wedges.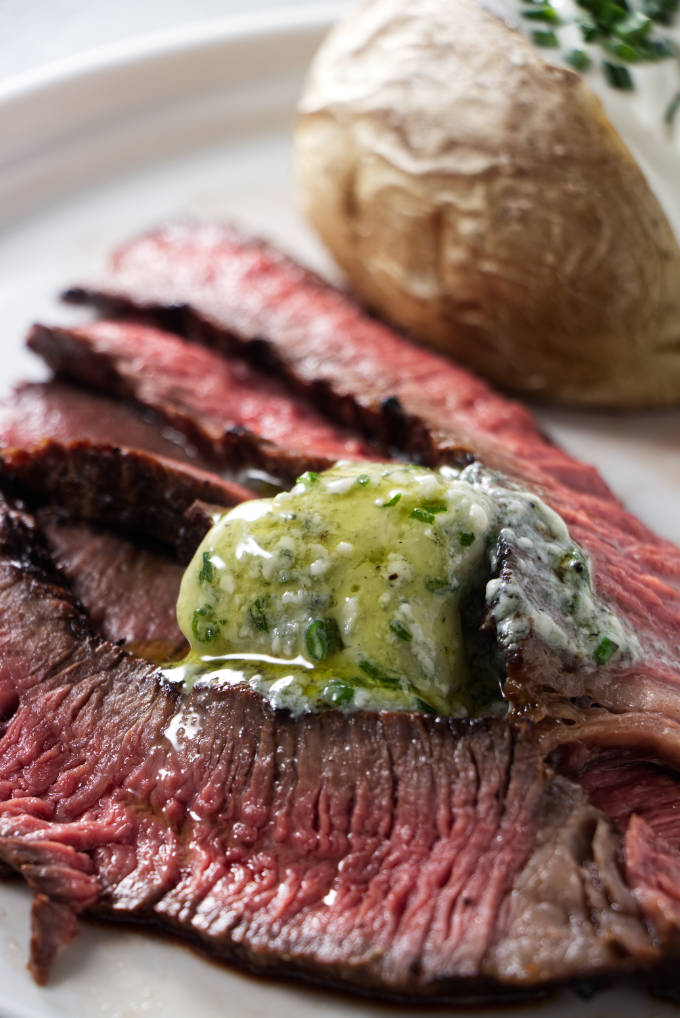 Why This Recipe Slaps
Rich and beefy flavor
Seared crust on the exterior with a juicy interior
Flavorful marinade that packs a punch
The blue cheese compound butter on top adds a sharp and salty flavor
The Ingredients
The star in this recipe is the chuck roast steak. You can find a whole chuck roast at your butcher, or they may have chuck roast steaks already cut up for you to purchase. This article from Livestrong shows you how to break down your chuck roast into steaks.
Chuck roast steak
Butter
Blue cheese
C

hives

Black pepper
Salt
Olive oil
Orange juice
Soy sauce
Worcestershire sauce
Chili paste or hot sauce
Garlic cloves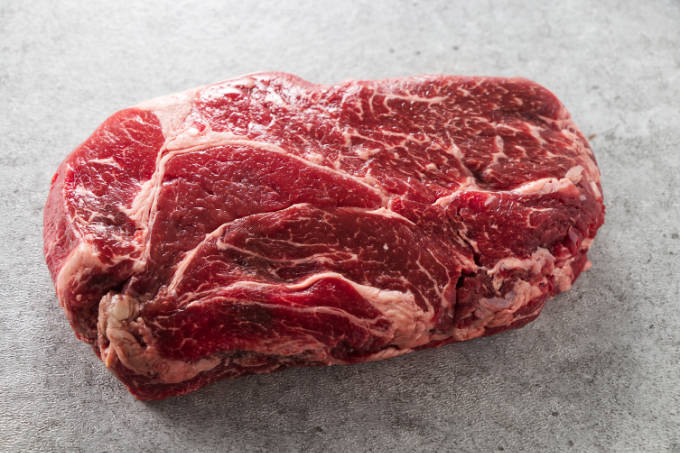 How to Grill Chuck Roast
Here is a quick overview of the process so you can grill up the best chuck roast! In addition, there is a printable recipe card below with more detailed steps.
Marinate the chuck roast overnight. Combine all of the ingredients for the marinade in a ziploc bag. Submerge the roast completely and let it soak for maximum flavor.

Season the chuck roast. After removing it from the marinade, blot it dry with some paper towels. Coat the chuck roast in oil and sprinkle it with the seasoning. I like to use salt and pepper, but you can use whatever seasoning you like. Try out this Black & Bleu Rub from Spiecology, it pairs perfectly with the blue cheese compound butter!

Sear the chuck roast on both sides to get grill marks and form a crust.

Grill on lower, indirect heat until the chuck roast steak reaches your desired doneness. Use a trusty ThermoWorks thermometer to monitor the internal temperature.

Let it rest under a piece of aluminum foil or butcher paper before slicing. There will be carryover cooking while it rests, so pull the chuck roast off the grill 5°F before your desired temperature.

Slice the grilled chuck roast across the grain. Serve it with a slice of blue cheese compound butter melted on top. Enjoy!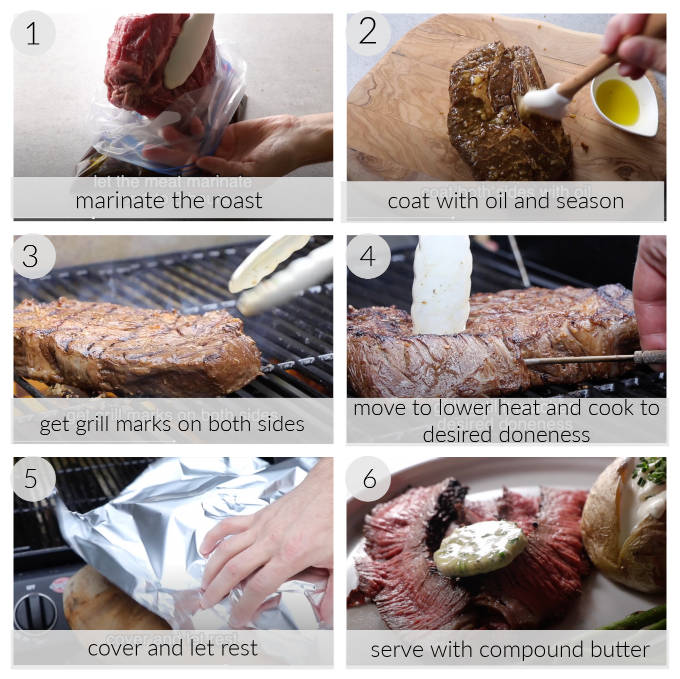 Tips For Success
When searing your chuck roast steak, get the grill very hot. We only want to kiss both sides of the steak for a couple minutes to achieve the sear marks. Searing will help to lock in the flavors and juices.
Grill the meat at a lower temeparture after searing. This will help to ensure that the chuck roast remains juicy and tender.
Experiment with different seasonings and rubs. Try out this smoky honey habanero rub or this raspberry chipotle rub. They are both delicious and add a great smoky-sweet flavor to the steak!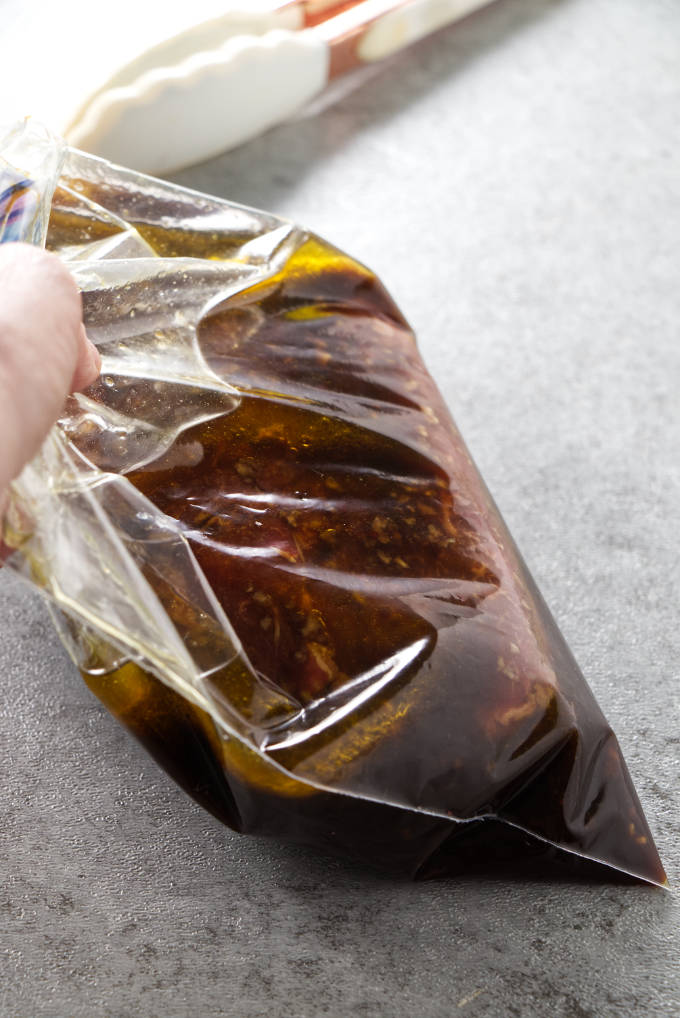 More Recipes You Will Love
Since we are on the subject of awesome grilled meat, this easy grilled marinated flank steak is another must-have recipe in your repertoire. The marinade is so simple but makes a huge difference! Since flank steak is so thin, it takes on the flavor from the marinade very well, and it helps to tenderize this otherwise tough cut of steak.
This Traeger smoked prime rib is absolutely to die for! It is smoked low and slow, and the fresh herb seasoning forms a delicious crust on the exterior of the prime rib as it cooks to perfection. Slice it up and serve the prime rib with your favorite holiday sides and some gold ole' horseradish!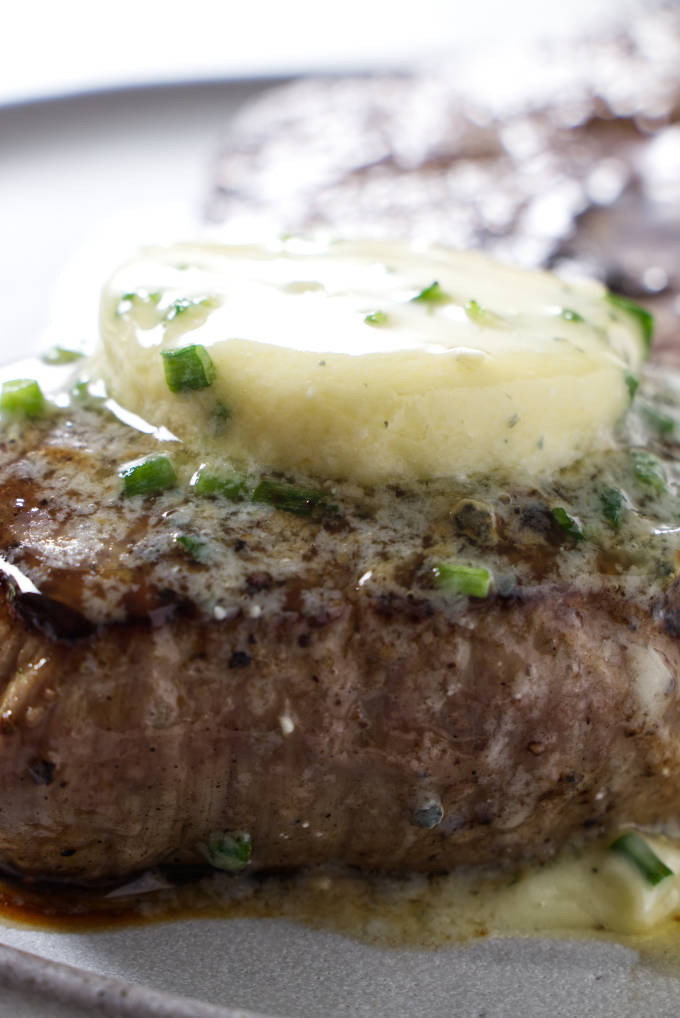 Tools and Equipment
If you click on some of the following affiliate links and buy something, we might get a small commission. Of course, you don't pay any extra, but it will help us keep our bellies full!
Everyone needs to have at least one grill. The Traeger Pro 780 is perfectly sized to feed a small family or a large crowd. It will get hot enough to sear your steak, and you can quickly turn the heat down to get that delicious smoky flavor! Be sure to grab some pellets! These Traeger Signature Blend pellets are well-rounded for anything that you throw on your Traeger.
I love my trusty ThermoWorks thermometers. I use this handy wireless leave-in thermometer for long cooks and this instant-read thermometer to ensure perfection before removing my food from the grill.
CONNECT WITH A LICENSE TO GRILL!
Be sure to follow us on our social media accounts.
Did you make this recipe? Tell us about it in the comments below!
💬 Tell Me What You Think!
Did you try out this recipe? Please leave a comment below and let me know how you liked it. Also, snap a picture and post it to your favorite social platform. Be sure to tag me at @alicensetogrill and let me know how you liked it!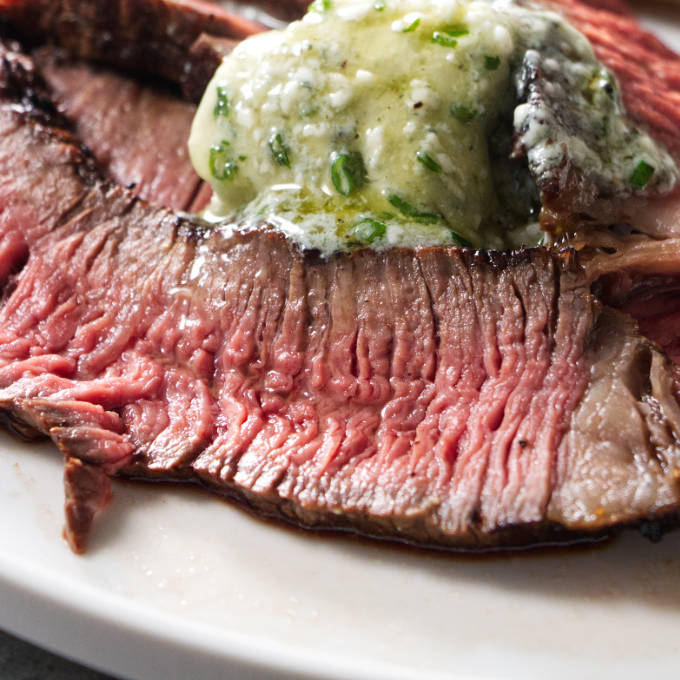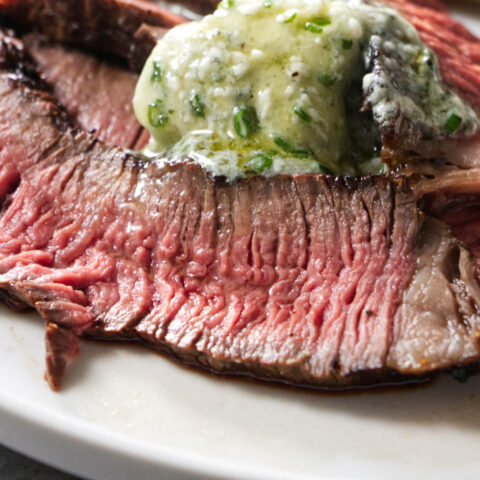 Grilled Chuck Roast
Additional Time:
4 minutes
Forget the slow cooker! This grilled chuck roast is perfect! The chuck roast is a versatile cut of meat and an inexpensive way to serve beef. It has a vibrant, beefy flavor. The citrus soy marinade tenderizes the roast and infuses it with flavor. Top it off with a blue cheese compound butter for a gourmet dinner.
Ingredients
Blue Cheese Compound Butter
8 tablespoons butter, softened
1/4 cup crumbled blue cheese
1 tablespoon chopped fresh chives
1/4 teaspoon black pepper
salt
Marinade
1/3 cup olive oil
1/3 cup orange juice
1/3 cup soy sauce
1/4 cup Worcestershire sauce
1 teaspoon chili paste or hot sauce
4 garlic cloves, minced
Chuck Steak or roast
1 boneless beef chuck steak, 2 to 3 pounds
2 tablespoons cooking oil
salt and pepper
Instructions
Make the Compound Butter
Combine the butter, blue cheese, chives, and pepper in a dish. Mash the butter mixture with a fork.
Transfer the butter mixture to a 12-inch long sheet of plastic wrap or wax paper.
Roll the butter into a log and twist the ends of the wrapper. Chill in the refrigerator for 1 to 2 hours or until firm.
Marinate the Roast
Combine all the marinade ingredients in a resealable bag.
Add the steak and seal the bag. Refrigerate for 4 to 6 hours or overnight.
Grill the Roast
Prepare the grill with two zones. One zone should be at high heat, and the other zone should be medium heat. Skip the two-zone step if you have a pellet grill, as you will simply turn the heat down when it is time.
When the grill is hot, remove the steak from the marinade and toss the marinade out.
Pat the roast dry with a paper towel. Brush both sides with oil and season it with salt and pepper.
Place the roast on the hot grill over direct heat. Grill for 3 to 4 minutes per side until there is a brown char on each side.
Transfer the roast to the medium heat zone (or turn your pellet grill down to medium heat).
Cover the grill and cook for an additional 10 to 20 minutes. Flip halfway through the grill time.
Grill the chuck roast until it reaches your desired doneness. Medium-rare is 130°F, medium is 135°F, medium-well is 140°F, well-done is 145°F to 147°F.
When the roast reaches your desired doneness, remove it from the grill, cover it with a sheet of aluminum foil and let it rest for about 5 minutes.
Serve the roast with slices of blue cheese compound butter and allow the butter to melt on top of the roast.
Notes
This recipe is for a chuck roast, not to be confused with a chuck steak. Chuck steaks and chuck roasts come from the same cut of meat, but the chuck steak is thinner and will not need as much time on the grill. Adjust your cook accordingly based on the thickness of your chuck roast or chuck roast steaks.
Grill time will vary based on the thickness of your roast, the temperature of the grill, and your desired doneness.
The best way to know when your roast is done cooking is to use a reliable leave-in meat thermometer or an instant-read thermometer. Our chuck roast steak was 1-1/2 inches thick and was cooked to a medium-rare. It took less than 20 minutes of total grill time. If you use a pellet grill, you may not be able to get the initial sear quite as hot which can extend the cooking time.
Explore different flavors and check out these excellent rubs from Spiceology. The Cowboy Crust and Black & Bleu are some of my favorites.
Recommended Products
As an Amazon Associate and member of other affiliate programs, I earn from qualifying purchases.
Nutrition Information:
Yield:

8
Serving Size:

1
Amount Per Serving:
Calories:

278
Total Fat:

27g
Saturated Fat:

10g
Trans Fat:

1g
Unsaturated Fat:

15g
Cholesterol:

44mg
Sodium:

956mg
Carbohydrates:

5g
Fiber:

0g
Sugar:

2g
Protein:

5g
Nutrition information is a guideline only, is calculated automatically by third party software, and absolute accuracy is not guaranteed.