Air Fryer Chicken Tenders (No Breading)
on Aug 30, 2021, Updated Sep 21, 2023
Sometimes the best things in life are simple! These air fryer chicken tenders are simply delicious, and they have no breading making them a healthy alternative to breaded tenders. I can promise you that you won't even miss the breading on these chicken tenders. They are that good!
Made with pantry ingredients, you'll be whipping up this crowd favorite in no time. They are begging to be dunked in your favorite dipping sauce.
The dry rub seasoning on these chicken tenders really is perfect and is the main reason they are such a hit in our house. The air fryer does its magic to cook them to perfection while keeping the chicken super moist and tender.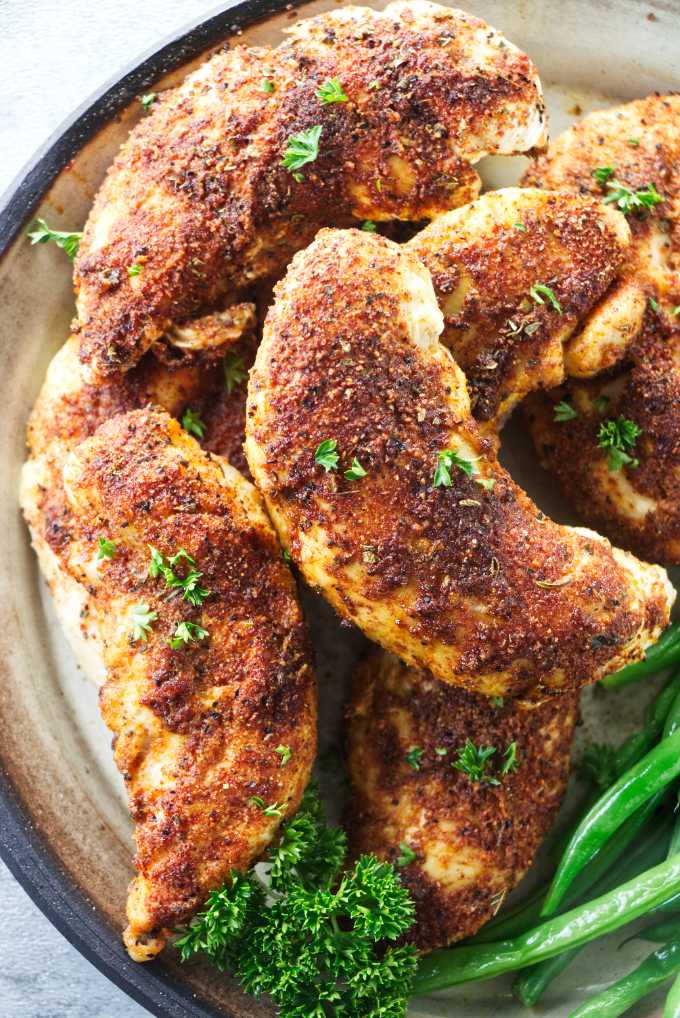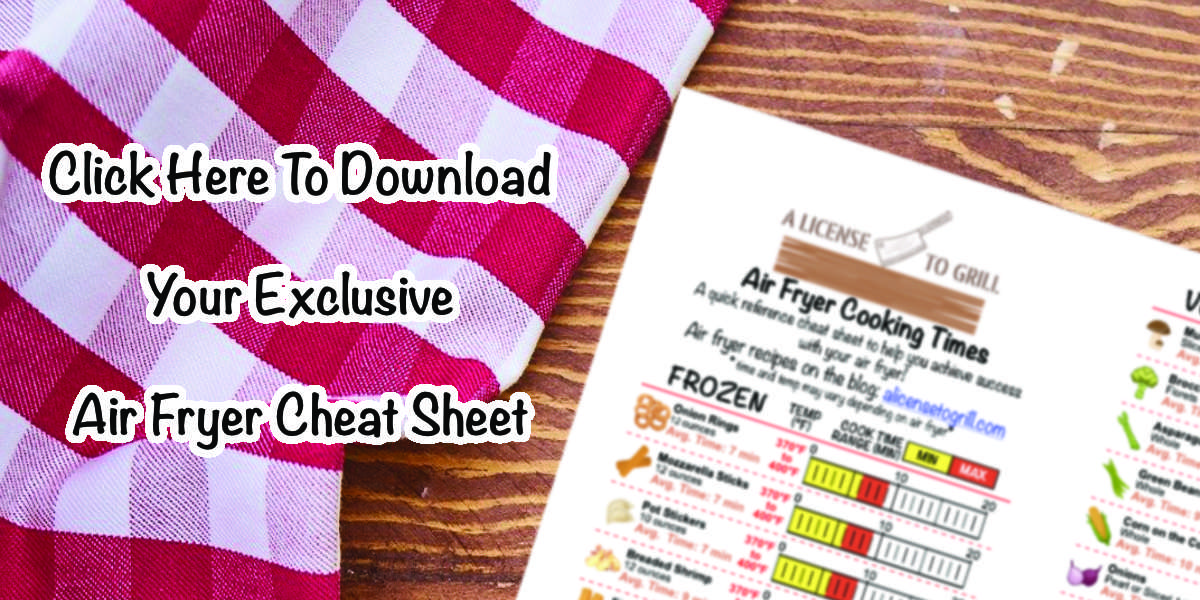 Why You Need Air Fryer Chicken Tenders (No Breading) in Your Life
Still not convinced? Here is everything amazing about this recipe:
Ready from start to finish in 15 minutes
Zero carbs
Gluten-free
Low fat
Kid-friendly (you can adjust the spice of the dry rub seasoning as needed)
Crispy deep-fried taste without the artery-clogging (pull out that air fryer)
It's ridiculously easy to make this recipe.
Ingredients
Chicken tenders
Olive oil or your favorite oil spray
That's it! Only three ingredients plus an air fryer and you'll be making delicious homemade chicken tenders better than anything you could buy at the store and way healthier since there is no breading. And with only five minutes of prep time and ten minutes of cooking, dinner will be ready in a flash.
You can use any chicken seasoning that you like, but if you want to make your own multi-purpose chicken rub, here are some of the spices you'll need. I prefer to use my barbecue seasoning or cajun seasoning for these chicken tenders.
Smoked paprika
Garlic power
Onion powder
Oregano
Brown sugar
Cumin powder
Mix the seasoning together, and you have a delicious low-carb flavoring. Make some extra seasoning, so you always have some on hand for quick, super flavor.
Tip: Make the chicken seasoning ahead of time and store it in these airtight containers so you always have it on hand.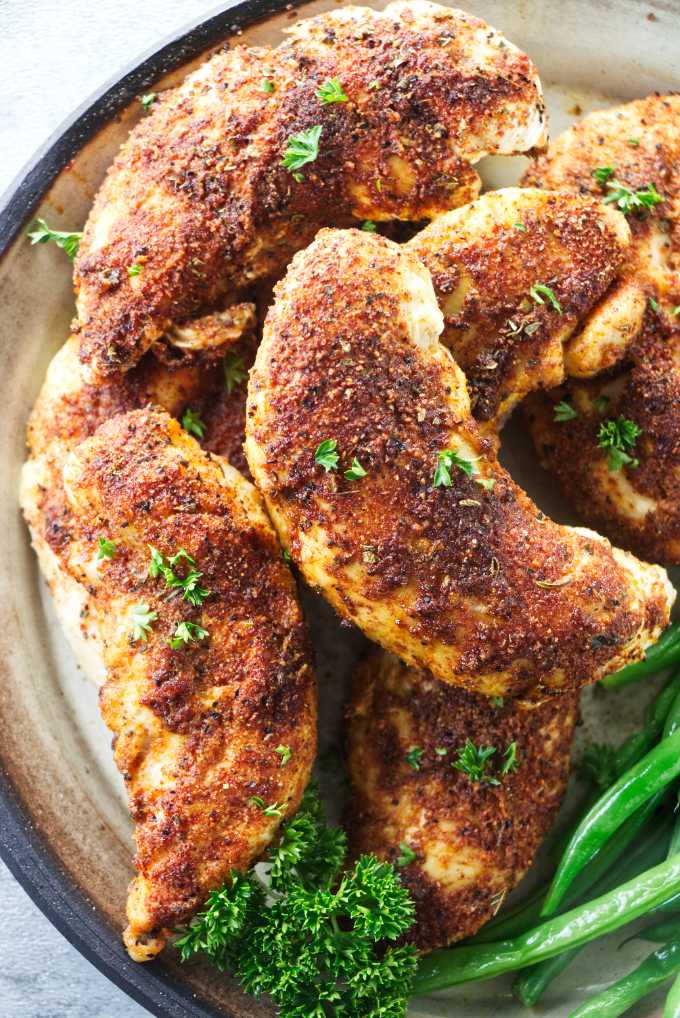 How to Make Air Fryer Chicken Tenders
Now that you have all the ingredients (see how easy that was?) let's make this!
Step 1: preheat the air fryer
Preheat the air fryer to 370°F and coat the basket with non-stick spray. I like to use this avocado oil spray since it has a high smoke point and neutral flavor. You can use any oil that you like. Just add it to this oil sprayer so you can easily coat the basket.
Step 2: prepare the chicken tenders
Dry the chicken tenders with a paper towel and rub or spray oil on the chicken to coat it evenly. Sprinkle the seasoning mix all over the chicken. Be sure that every crevice is coated in seasoning, so you end up with flavorful chicken tenders.
Step 3 arrange the chicken tenders in the air fryer
Place the tenders one layer thick in the air fryer. Try to arrange them so that they are not touching each other so that they cook evenly.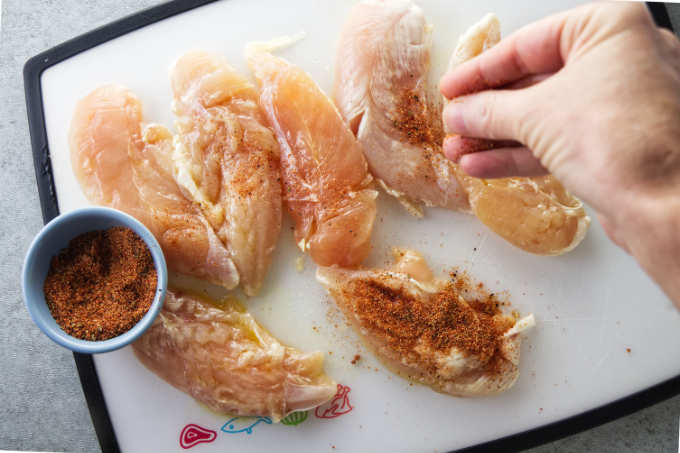 Step 4: get to cooking!
Cook in the air fryer at 370°F for 10 minutes, or until the internal temperature of the chicken tenders reach 160°F to 165°F. Allow them to cool for 3-5 minutes before serving.
You're done! Now serve with brown rice and green vegetables for a delicious healthy weekday meal. Or throw them into a salad or roll them into a wrap. The possibilities are endless. If you are feeling adventurous, try out a delicious sauce.
Tips and Tricks
Don't skip drying the chicken before cooking
Patting the extra moisture off the chicken before coating it will ensure even browning and a crispier coating. The drier the chicken is, the crispier the coating will be.
Using oil spray is a necessary replacement
Instead of flour, eggs, or bread crumbs in this recipe, we will rely on the oil to provide flavor and moisture to the chicken. The oil will ensure that the seasoning evenly sticks to the chicken, giving an even, crispy exterior that you crave when you make chicken tenders.
Cook the chicken tenders in batches if you have a small air fryer
You may need to adjust cooking times. Smaller air fryers may cook quicker, but it depends on your make and model. Check for clear juices when cut open or an internal temperature of 160°F to 165°F. Since there isn't any breading on these chicken tenders, you will have no worries about them sticking together in your air fryer, but you should still space them out so they can cook evenly.
Butcher your own chicken tenders
If you cannot find chicken tenders at the store, you can make your own. Purchase boneless skinless chicken breasts and cut them into thin, even strips. Whatever size you desire for your tenders is possible!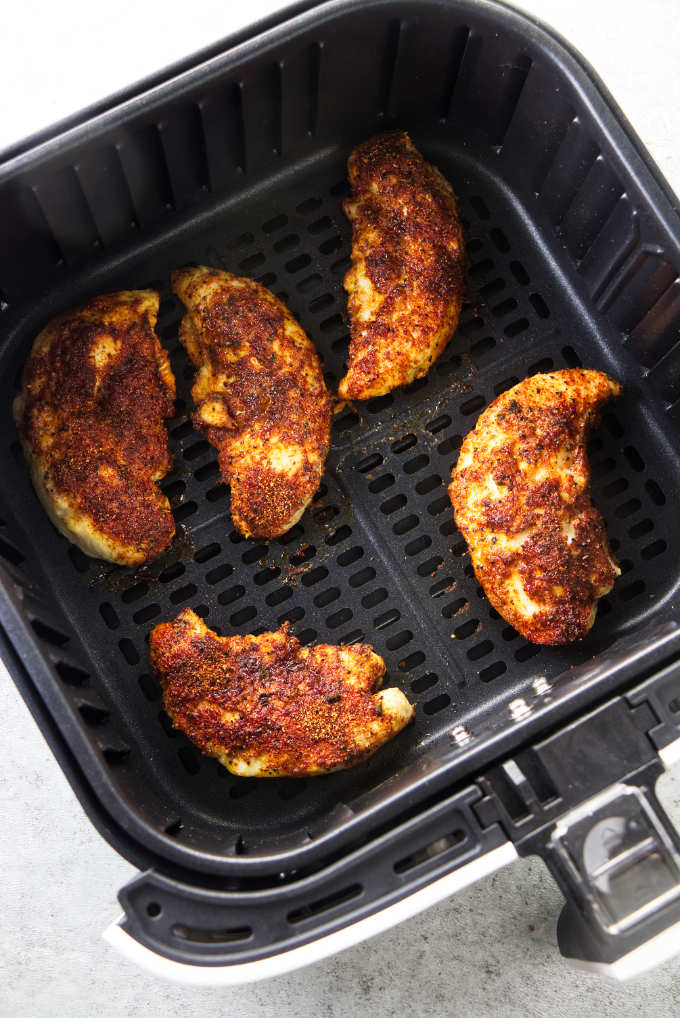 Frequently Asked Questions
Is it safe to put raw chicken in the air fryer?
Yes, it is safe. You will adjust for time – an air fryer cooks faster than an oven. But an air fryer is a safe and delicious way to cook meat.
Can you freeze air fryer chicken tenders after cooking?
Yes, but ensure the tenders are entirely cool. Then place them in an air-tight bag or container and freeze for up to 6 months. When you want a quick snack or meal, you can simply throw the frozen chicken tenders in the air fryer at 360°F for 8-10 minutes. If the chicken tenders are thawed first, you can heat them up at 370°F for 3-5 minutes.
Can you put pre-cooked chicken tenders in an air fryer?
You sure can! No need to even defrost the meat before. Slightly defrost the chicken tenders in the air fryer for three minutes at 370°F. Open the air fryer and spray the tenders with oil and sprinkle with seasoning. Cook as usual for another 10 minutes at 370°F.
Does air fryer chicken taste deep-fried?
Although you may not get quite the level of oily depth of flavor of conventional methods, many people prefer the taste of the air fryer. It gives you extra-crispy food that you can't achieve from the oven without the heaviness of oil-fried food.
How spicy is the dry rub seasoning?
The dry rub seasoning is not especially spicy, but it depends on the spices you choose to use. For most people and kids, it will not be hot at all.
Most smoked paprika in the US provides a mild smoky flavor with a slightly earthy, peppery taste when cooked. Cumin is similar to paprika as it has a mild spice flavor and is objectively low on the heat index. In epicenter ratings, it is ranked as a 3, and cayenne peppers are rated at a 9. So, unless you are especially sensitive, the dry rub seasoning is a good crowd-pleaser.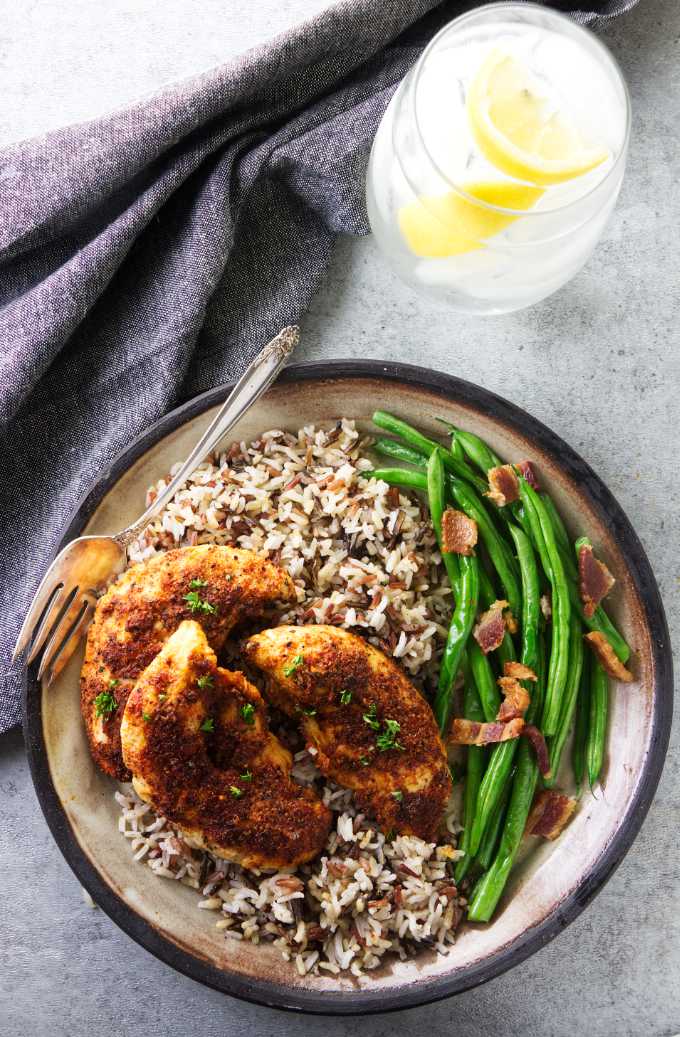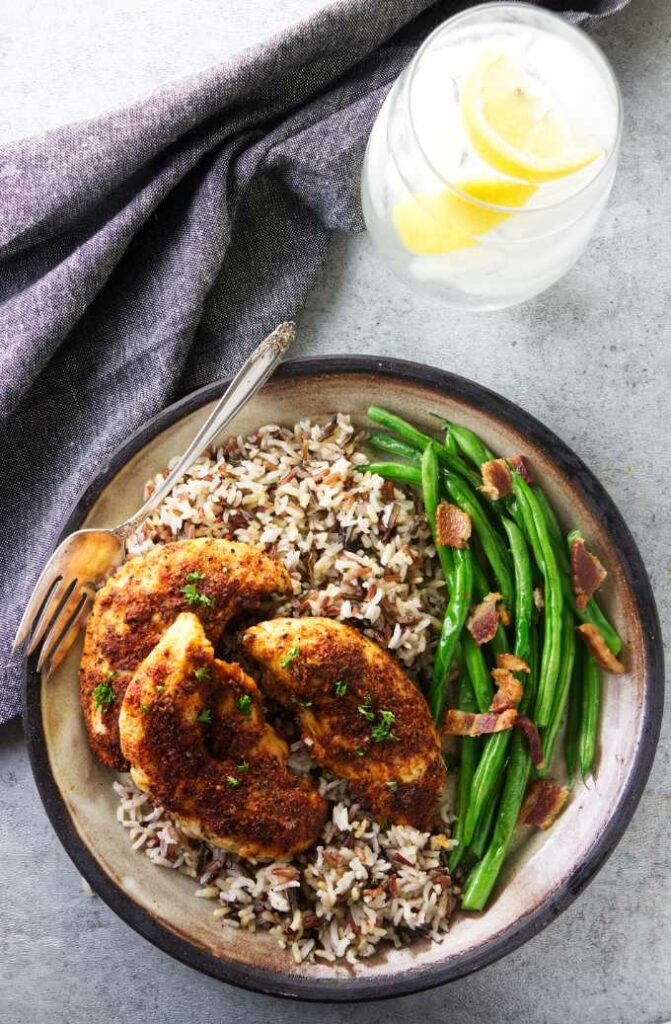 CONNECT WITH A LICENSE TO GRILL!
Be sure to follow us on our social media accounts.
Did you make this recipe? Tell us about it in the comments below!
💬 Tell Me What You Think!
Did you try out this recipe? Please leave a comment below and let me know how you liked it. Also, snap a picture and post it to your favorite social platform. Be sure to tag me at @alicensetogrill and let me know how you liked it!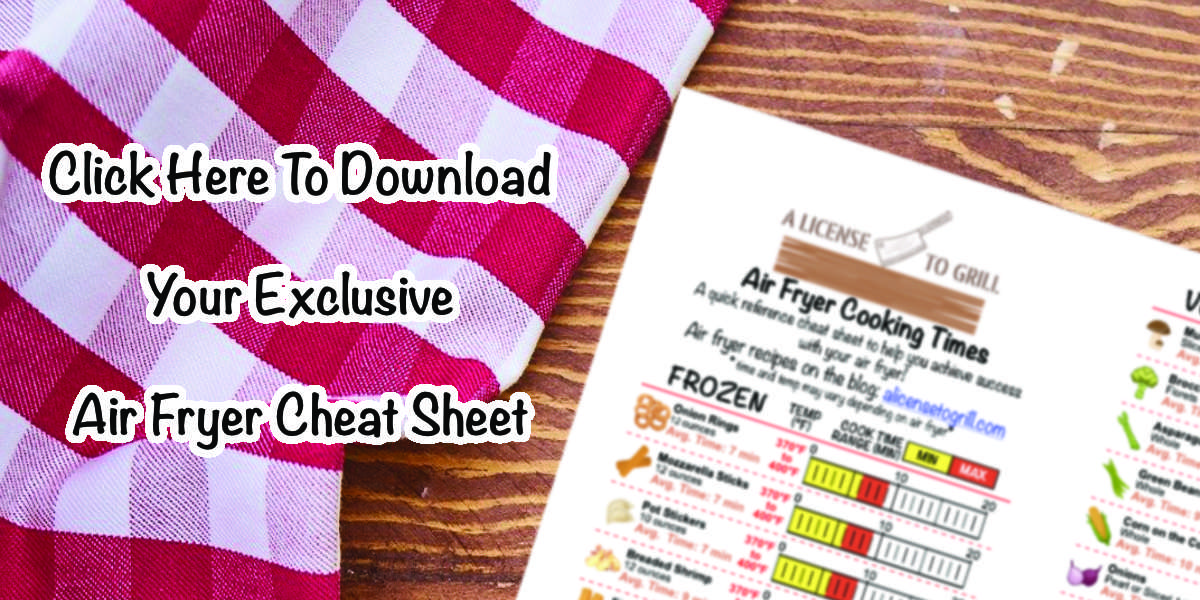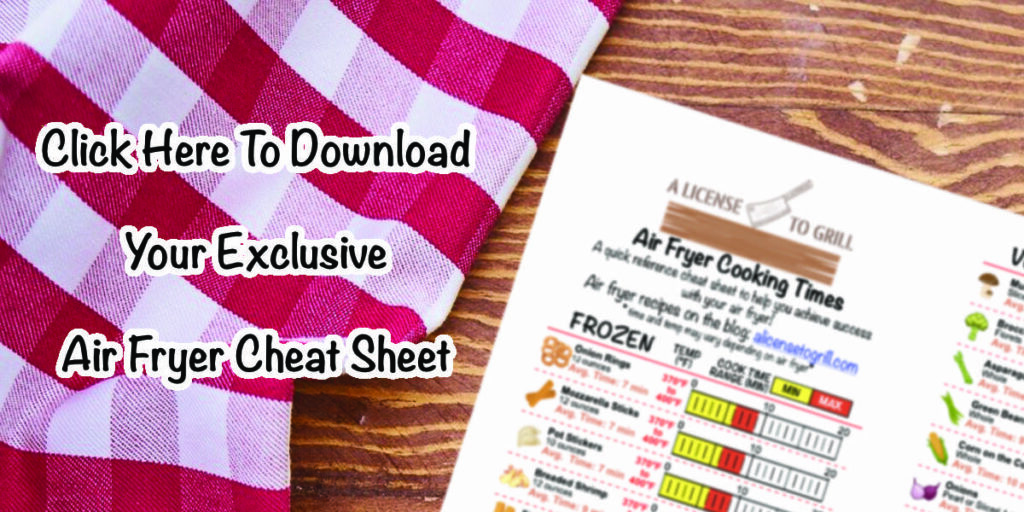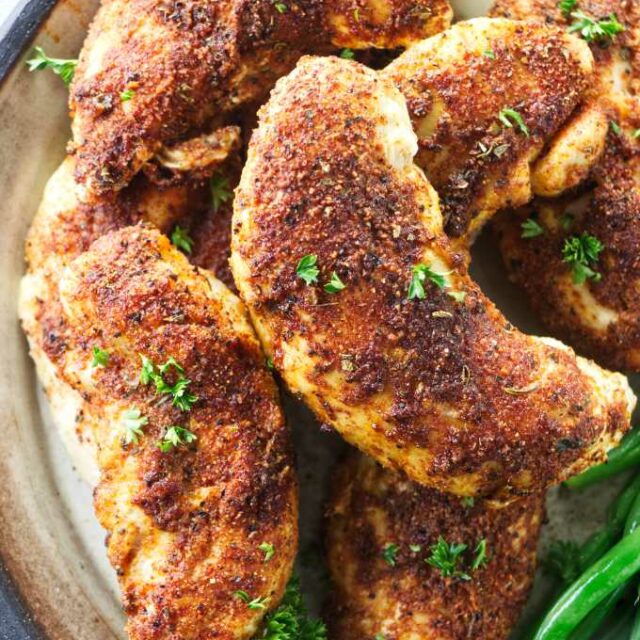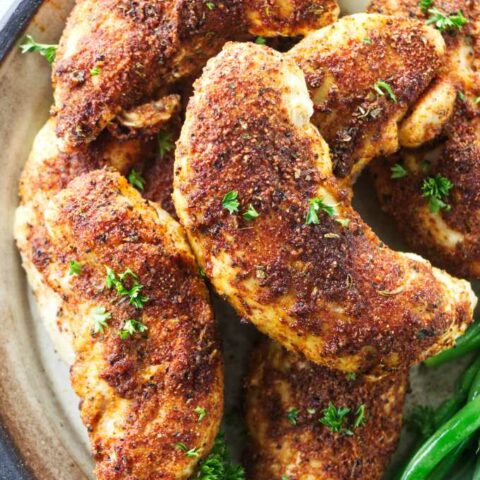 Air Fryer Chicken Tenders (No Breading)
These chicken tenders cook quickly in the air fryer, and the recipe is made with common pantry ingredients. It is healthy, low carb, and perfect for busy nights. Even though these tenders don't have any breading, they are still incredibly delicious. You won't even miss the breading!
If you are starting with frozen chicken tenders, check the notes for special instructions.
Ingredients
1 pound chicken tenders (about 6 to 7 tenderloins)
1 tablespoon olive oil or a few sprays of vegetable spray
3 tablespoons dry rub seasoning (see notes)
Instructions
Preheat the air fryer to 370°F.
Spray the inside of the air fryer basket with non-stick spray.
Pat the chicken tenderloins dry and rub or spray the oil to lightly coat the chicken,
Sprinkle the seasoning all over the tenderloins. Make sure you season the front and back. See the notes below for an easy seasoning mix, or you can follow my recipe for a cajun seasoning or barbecue seasoning dry rub.
Place the tenderloins in a single layer in the air fryer (cook in batches if they don't all fit in a single layer).
Cook at 370°F for 10 minutes. Check for doneness (see notes). Allow the tenders to cool for 3-5 minutes and serve them with your favorite dipping sauce. I like this delicious honey mustard sauce.
Notes
Larger chicken tenders may need an additional 2 to 5 minutes. Add more time in 1 to 2-minute increments if needed.
If you have smaller tenderloins (less than 3 ounces each), decrease the cooking time to 7 or 8 minutes and check for doneness before adding more time. 
There are a couple of ways to check for the doneness of your chicken tenders. You can slice into one of the tenderloins. If the juices are clear, it is done cooking. You can also use a meat thermometer. If the thermometer registers 165°F, the chicken is done. 
For a multi-purpose chicken rub:
2 teaspoons smoked paprika
2 teaspoons garlic powder
2 teaspoons onion powder
1 teaspoon oregano 
1 teaspoon brown sugar
1 teaspoon cumin powder
Starting from frozen?
Place the frozen chicken tenders in the air fryer and cook for 3 minutes at 370°F. Open the air fryer, spray the chicken with oil and sprinkle with the seasoning rub. Cook them for an additional 10 minutes. 
Recommended Products
As an Amazon Associate and member of other affiliate programs, I earn from qualifying purchases.
Nutrition Information:
Yield:

8
Serving Size:

1 tenderloin
Amount Per Serving:
Calories:

176
Total Fat:

10g
Saturated Fat:

2g
Trans Fat:

0g
Unsaturated Fat:

7g
Cholesterol:

26mg
Sodium:

718mg
Carbohydrates:

11g
Fiber:

1g
Sugar:

0g
Protein:

11g
Nutrition information is a guideline only, is calculated automatically by third party software, and absolute accuracy is not guaranteed.