If you've always wanted to create a foolproof sweet or savory pie without endless kneading and rolling, I have just the solution with this Crisco pie crust. This crust requires just a handful of ingredients and always comes out tender, flaky, and utterly delicious. Better yet, most of the work takes place in a food processor. You know what that means – cleanup is minimal and you can rely on the pulsing blades to get the job done!
With this pie crust as your base, you can create rich fruit pies, delectable savory pies, and seasonal favorites that'll impress the entire family. Between you and me, this simple crust has become the go-to base for my famous Traeger smoked apple pie. Throw in the hint of vodka that adds a distinctive flaky moistness to the crust, and you'll see why this recipe is always in my back pocket for special occasions.
Trust me when I say you'll be using this recipe several times throughout the year. So, be sure to bookmark this page or pin it for later so you can whip up one of these crusts in a pinch! Be sure to also check out this Thanksgiving favorite, a Traeger smoked bourbon pumpkin pie!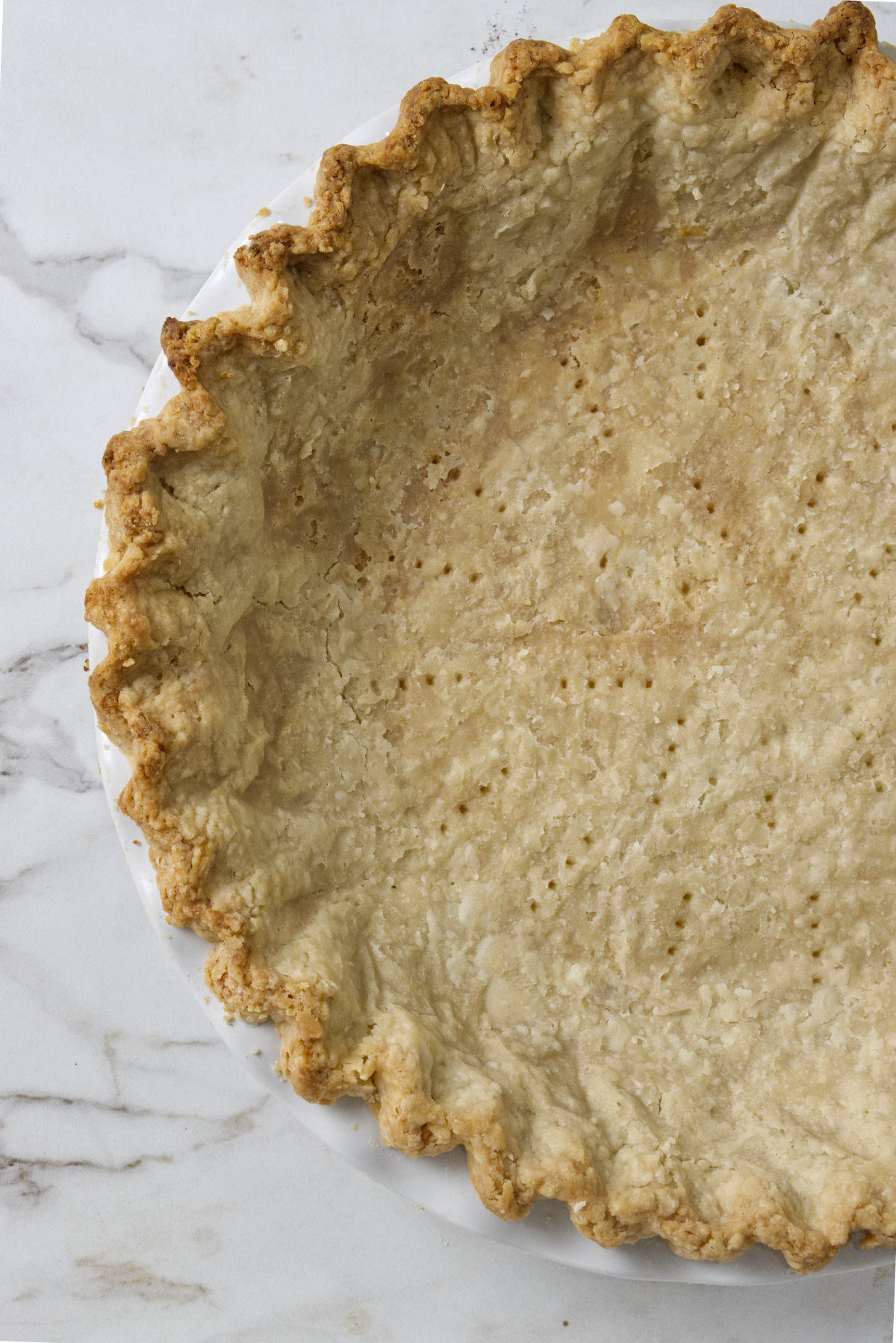 Why This Recipe Works
The use of vodka inhibits gluten formation and creates an uber-tender and flaky crust.

Crisco shortening is incredibly easy to work with, making this pie crust recipe ideal for beginners.

The food processor makes things so easy to combine and keeps the recipe relatively mess-free.

It's quick to prepare and is basically foolproof.

It requires just a few ingredients, so you can easily produce this pie on a budget.

You can get the kids involved with this one!
Ingredients
Below you'll find a list of ingredients that you'll need to bring this recipe to life. Scroll down to the printable recipe card for all the details.
Crisco vegetable shortening. Crisco is the star ingredient and makes for a flaky, tender, and delicious pie crust.

Flour. Helps you form a workable dough with a great bite. It also keeps your dough from sticking to the surface when you roll it out!

Sugar. Sugar interferes with gluten development for a tender result. It also helps the crust to retain moisture.

Salt. Enhances the flavors.

Vodka. The ethanol in vodka stops the gluten from binding, making your crust moist, flaky, and delicious. It does not add any additional flavor to the pie crust and the alcohol bakes out.

Ice water. Keeps the fat in the pastry cold and prevents it from melting so that you can have an extra flaky crust. It also helps you avoid over-hydrated and over-processed dough.
How To Make It
For detailed step-by-step instructions for this recipe, scroll down to the printable recipe card.
Place the shortening and vodka in the freezer to cool it down.

Place flour, sugar, and salt in the food processor and pulse.

Add the Crisco shortening and pulse.

Sprinkle the cold vodka and water over the resulting mixture and pulse.

Add more ice water as needed.

Form the dough into a ball.

Flatten the dough into round disks and refrigerate.

Bring dough to room temperature, roll, and bake.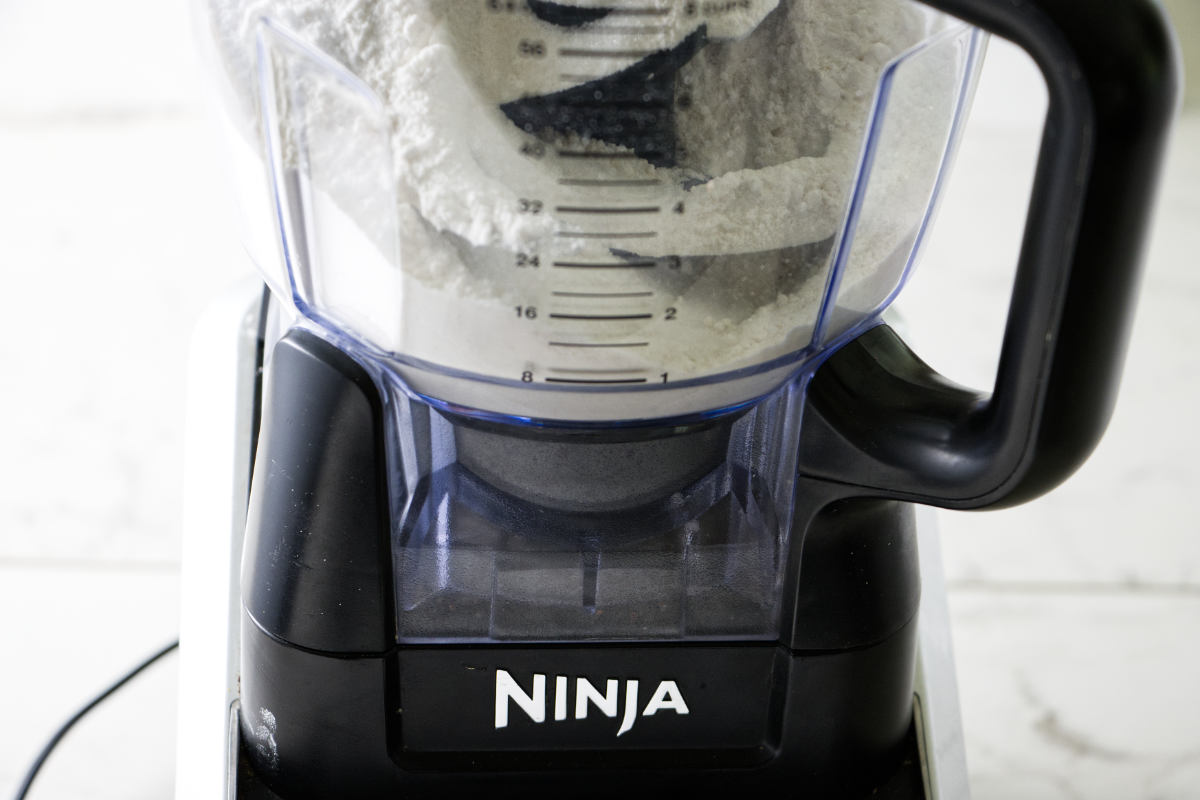 Blend the dry ingredients in the food processor.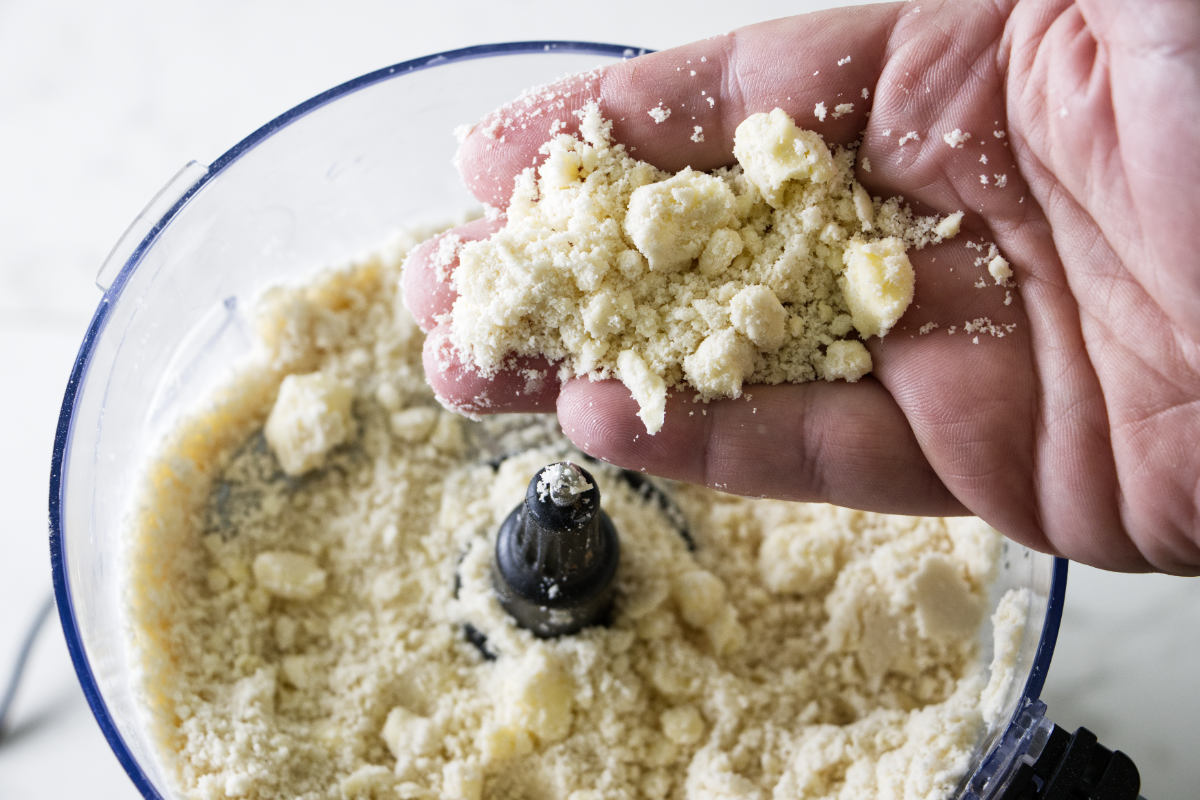 Add the vegetable shortening and pulse until the mixture looks like coarse cornmeal with pea-sized lumps mixed throughout.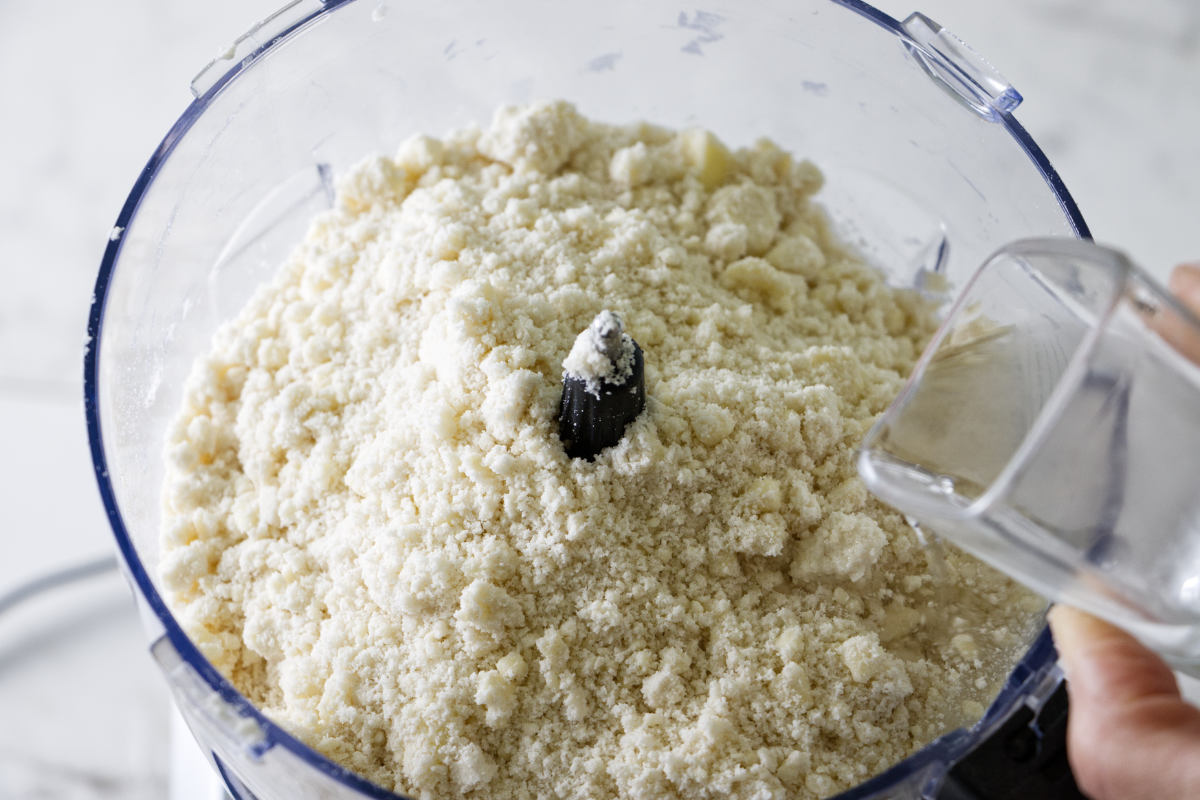 Sprinkle the vodka over the mixture and pulse 3 to 4 times.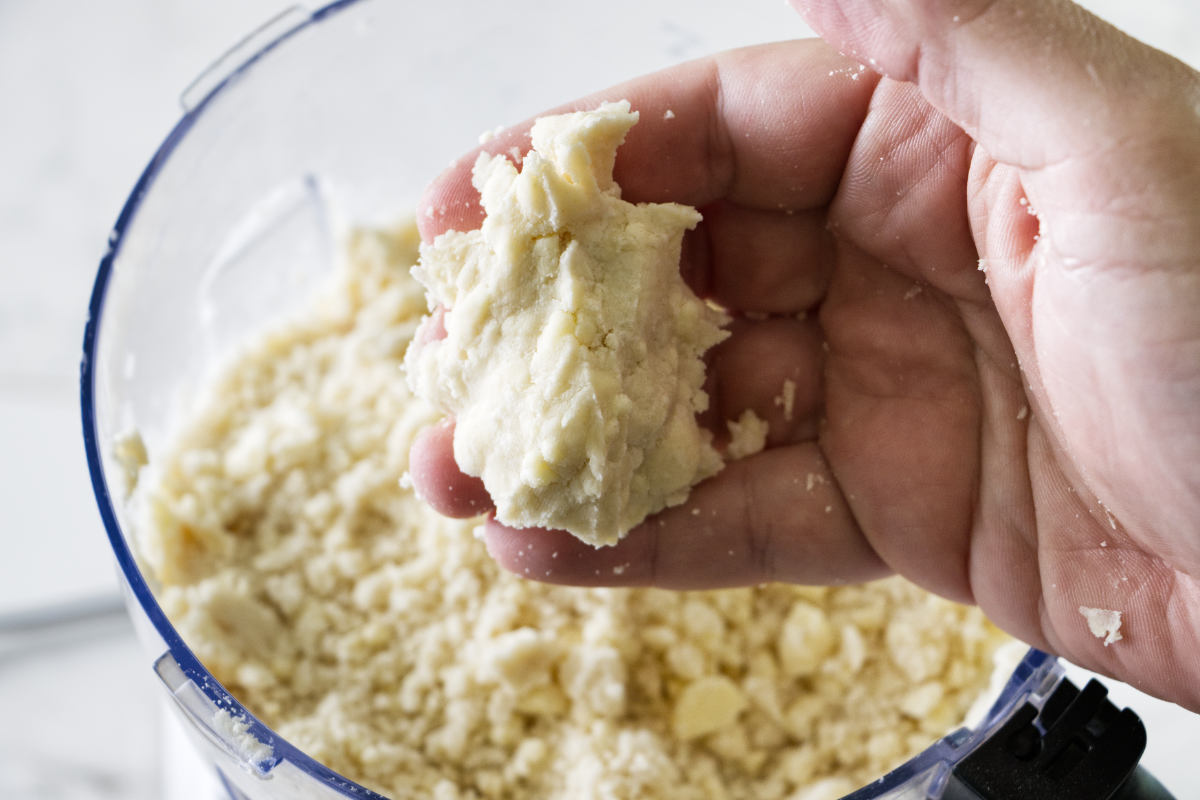 The dough should look dry and crumbly, but if you squeeze some of it in your hand it should hold together. If it doesn't, add some more water, 1 tablespoon at a time until it holds together when squeezed.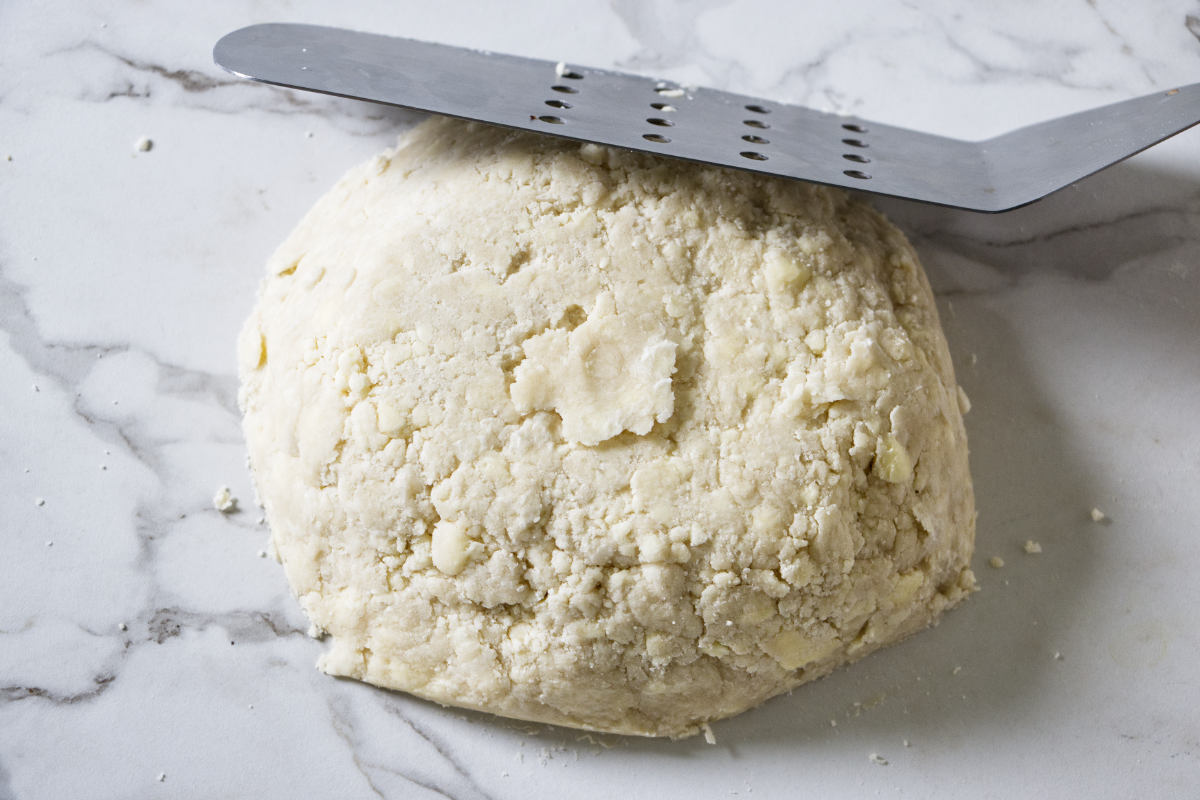 Dump the dough on the counter, crumbs and all. Push all the loose crumbs together and press them until you form a ball.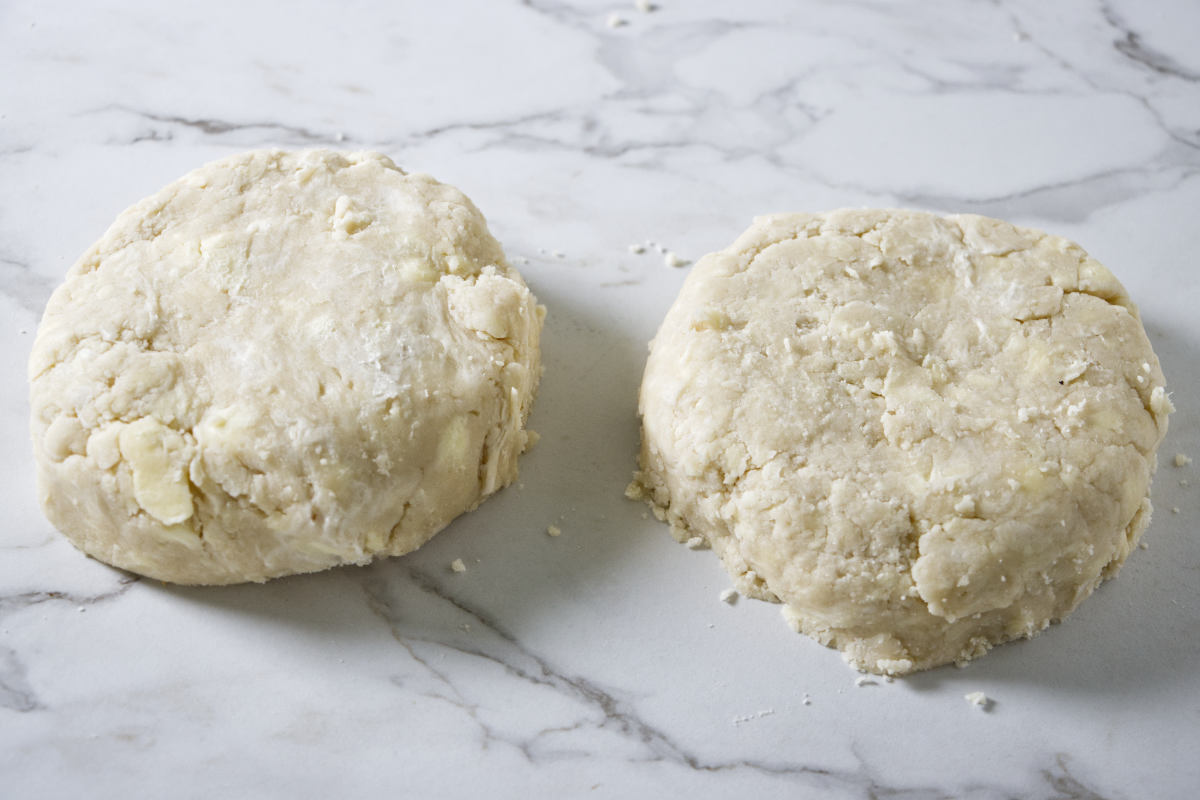 Divide the dough into two equal portions and shape them into disks. Wrap them in plastic wrap and place them in the fridge to chill.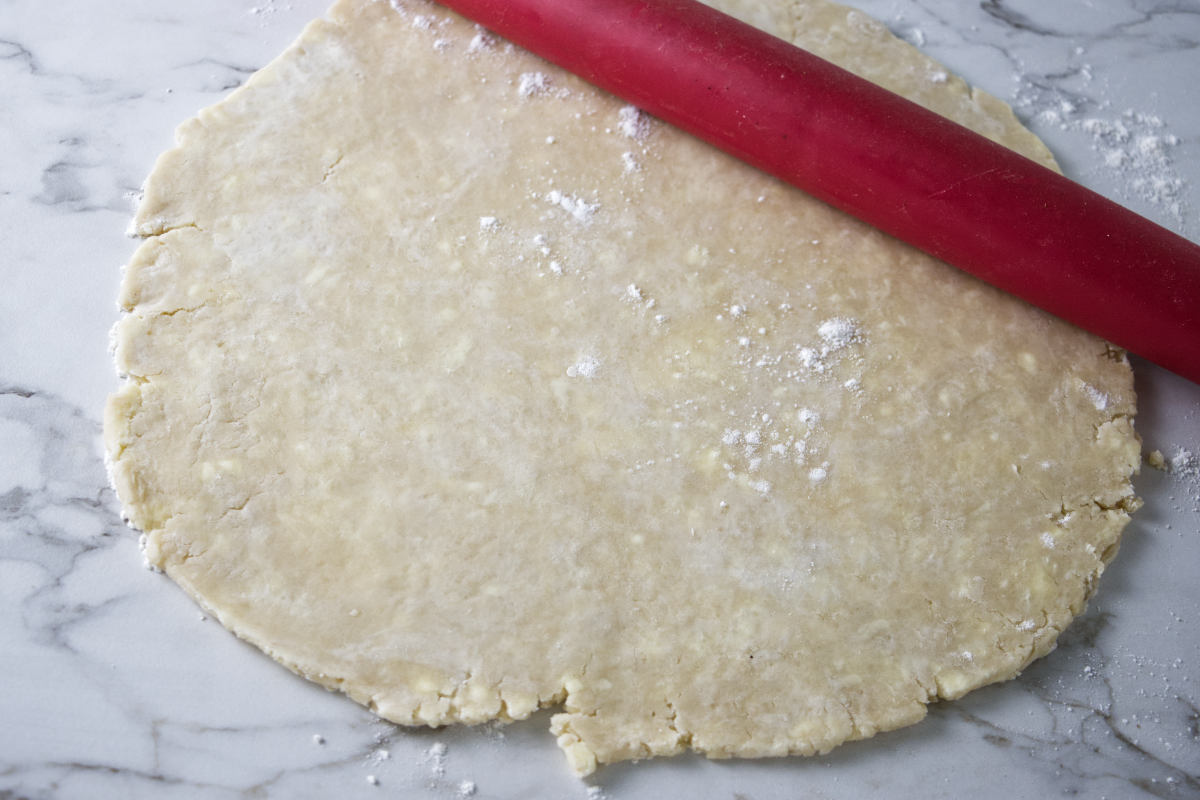 Roll the dough out and transfer it to a pie plate.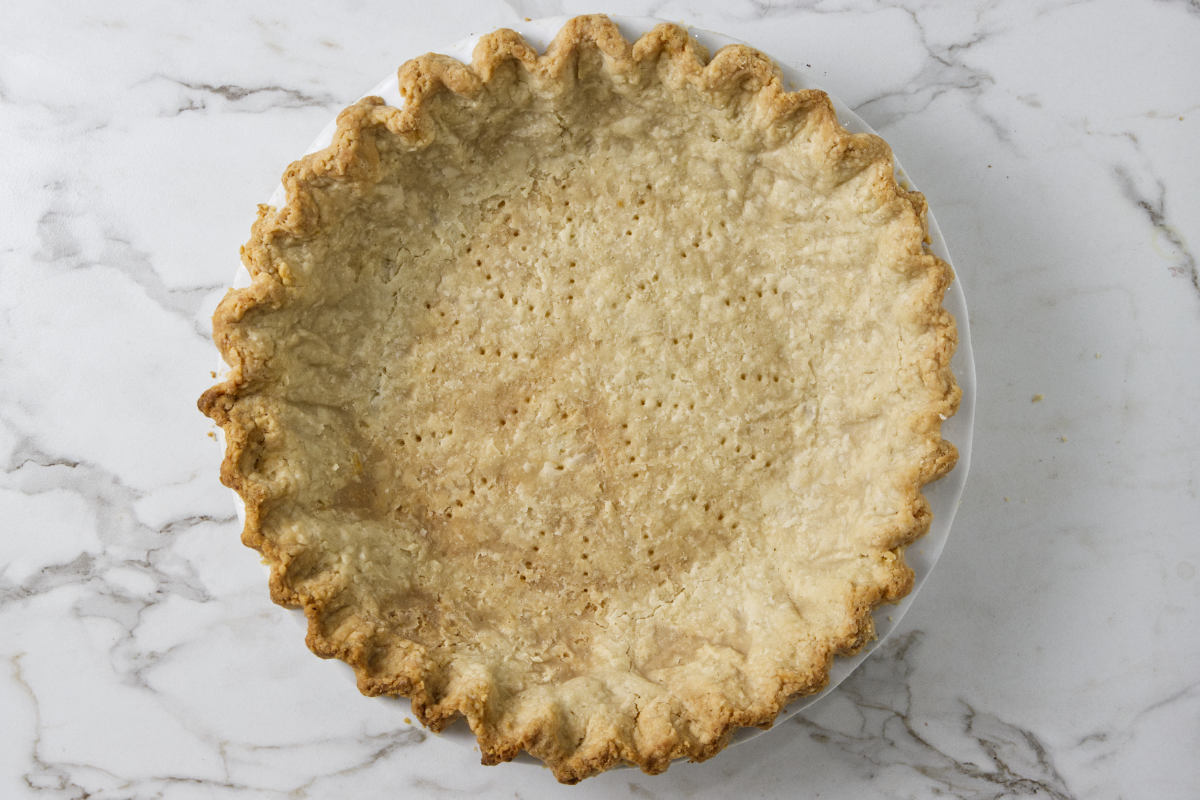 If you want to pre-bake the pie crust, poke some holes in the bottom. Line the pie crust with parchment paper and fill it with pie weights.
Tips For Success
Make sure you're using the pulse setting on your food processor. You don't want to blast your shortening on a strong setting as it may not combine well when you roll it out. Slow and steady wins the race here.

Keep the shortening cold. Cold Crisco shortening creates natural gaps in your pastry which leads to those wonderful flaky layers in the pie crust. This is where the ice water and cold vodka come in as well!

Don't overwork the dough. The vodka acts as a gluten-inhibiting ingredient but overworking the pastry (or touching it too much with your hands!) will encourage gluten to develop.

Don't forget to prick the bottom of your pie with a fork if you're pre-baking to vent steam and avoid that 'puffy' pie look. You will also want to use ceramic pie weights if you blind-bake the pie crust so that it stays flat when pre-baking.

If you don't have a large food processor, split the recipe in half to make a single pie crust and repeat if necessary.
FAQ
Why do you put vodka in a pie crust?
Vodka inhibits gluten formation, so it helps you to create an extra tender and flaky crust. If you're worried about tasting vodka – don't be! It all evaporates during the baking process and doesn't add any flavor to this Crisco pie crust.
Why is my bottom pie crust tough?
You've probably overworked the dough or added too much water. Although this isn't ideal, you can fix it by making a sweet pie. You should be able to salvage the toughness with pouring cream or a scoop of ice cream!
Should you chill the pie crust before baking?
Yes. Chilling is crucial for hardening the fat in your dough which helps it maintain its structure. By leaving it out for a few minutes before baking, you'll also prevent a tough crust by relaxing the gluten slightly after rolling it out.
What is the secret to making the perfect crimp for your pie crust?
You'll want to cut the excess pastry from around your crust before gently folding the edges to create a wonderful crimp. To support your crust, hold the edge of the pie dish as you pinch and crimp your way around.
Why do you use ice water for pie crust?
It keeps the fat cold and prevents it from melting before it gets to the oven. If the fat isn't cold, you'll lose that flaky and tender crust that you're striving for.
Can a Crisco pie crust be made ahead of time?
Absolutely. Simply keep your crusts covered in the refrigerator until you're ready to use them.
Other Recipes You Need to Try
I always have a sweet tooth, and this Traeger s'mores dip always hits the spot. It is a fun dessert for the kids to help with. Bring the campfire experience to the patio. Be sure to have your favorite dipping substrates on hand. I like to dip strawberries and cookies!

These air fryer cinnamon rolls are super easy and quick to cook. And cleanup is a breeze since it is all prepared in a single pan in the air fryer.

You will want to try these air fryer deep dish cookie bowls. Throw a scoop of ice cream on top and enjoy!
Tools and Equipment
Wrap Up
Whether you want a solid base for a glorious meat pie or a moreish fruit dessert, this Crisco pie crust has got you covered. If you're willing to be patient with your pulses, this recipe will reward you with an incredibly flaky crust that will have your guests clamoring for seconds. The addition of vodka as the secret ingredient helps you to have the most tender and flaky crust, sure to impress even your most critical of guests. Just don't blame me when there are no leftovers!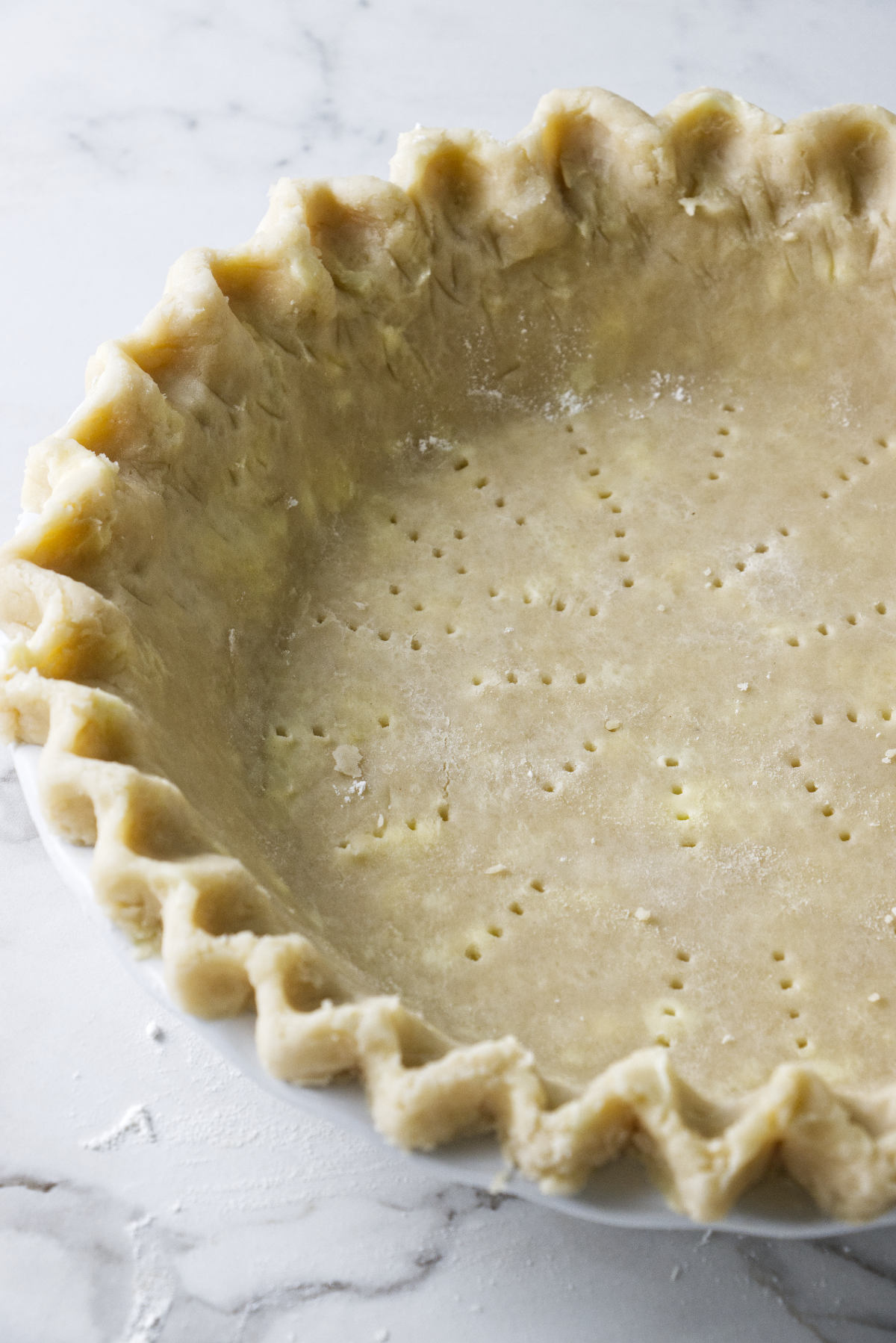 💬Tell Me What You Think!
Did you try out this recipe? Please leave a comment below and let me know how you liked it. Also, snap a picture and post it to your favorite social platform. Be sure to tag me at @alicensetogrill and let me know how you liked it!
CONNECT WITH A LICENSE TO GRILL!
Be sure to follow us on our social media accounts.
Facebook * Instagram * Pinterest * YouTube * Twitter
Did you make this recipe? Tell us about it in the comments below!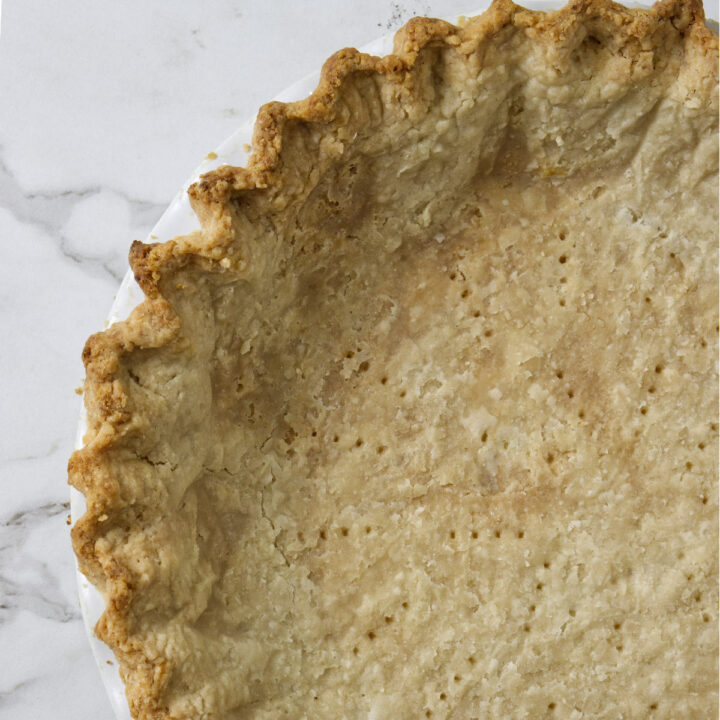 Crisco Pie Crust
Additional Time:
30 minutes
Total Time:
1 hour
10 minutes
We used our Ninja food processor to mix this double-crust Crisco pie dough. Any food processor will work as long as it has at least a 6-cup capacity. If you have a smaller food processor, cut the recipe in half and make a single crust.
An all Crisco pie crust is easy to work with and makes a no-fail pie dough.
Some of the water in this recipe is replaced with vodka. Since vodka inhibits gluten formation, it helps the pie crust turn out extra tender and flaky. The vodka will evaporate when the pie crust bakes, so there will not be any alcoholic flavor.
Ingredients
1 cup chilled Crisco vegetable shortening
2-2/3 cups flour
1 tablespoon sugar
1-1/4 teaspoons salt
1/4 cup cold vodka
3 to 6 tablespoons ice water
Instructions
Place the shortening in the freezer for 15 to 20 minutes to get it extra cold. Stick the vodka in the freezer while you're at it.
Fit the food processor with the chopping blade. Place the flour, sugar, and salt in the bowl of a food processor and pulse to combine.
Add the shortening to the food processor and pulse 4 to 5 times or until it looks like coarse cornmeal with pea-size lumps mixed throughout.
Sprinkle the cold vodka and 2 tablespoons of water over the mixture and pulse 3 to 4 times. Test the dough by squeezing it in your hands. If it holds together easily, move on to the next step. If it doesn't clump together when you squeeze the dough, add the ice water 1 tablespoon at a time. Pulse in between additions and test the dough to see if it holds together. It is important that you don't add too much water. The dough will look loose and crumbly, but it is ready if it holds together when you squeeze it in your hands.
When the dough holds together, dump it out on the counter and push it together in a ball.
Divide the dough into two equal pieces and flatten them into round disks. Wrap them in plastic wrap and chill them in the fridge for 30 minutes.
When you are ready to make your pie, let the pie dough sit on the counter at room temperature for 20 to 30 minutes until it is soft enough to roll.
If you want to pre-bake the pie crust, poke some holes in the bottom. Line the pie crust with parchment paper and fill it with pie weights. Place the pie shell in a 400°F preheated oven and bake for 15 to 20 minutes.
Notes
Be sure not to over-pulse the dough in the food processor. This will make for a tough pie crust.
The dough should look crumbly after mixing it in the food processor. If you add too much water, it will be tough. After mixing, ensure that it still looks crumbly. Grab a handful of dough and form a ball. It should clump together when squeezed into a ball, but it should have a crumbly texture otherwise.
If you are blind-baking the pie crust, poke some holes with a fork or knife in the bottom of the crust to allow for venting while it bakes.
You will also want to use ceramic pie weights when blind-baking the crust. This will help to keep the pie crust flat when baking. If you don't have pie weights, you can use dried beans instead.
Recommended Products
As an Amazon Associate and member of other affiliate programs, I earn from qualifying purchases.
Nutrition Information:
Yield:

18
Serving Size:

1
Amount Per Serving:
Calories:

264
Total Fat:

12g
Saturated Fat:

5g
Trans Fat:

0g
Unsaturated Fat:

7g
Cholesterol:

6mg
Sodium:

471mg
Carbohydrates:

33g
Fiber:

1g
Sugar:

1g
Protein:

4g
Nutrition information is a guideline only, is calculated automatically by third party software, and absolute accuracy is not guaranteed.