The best bacon is crispy bacon and the air fryer makes the most delicious, crispiest bacon ever! Plus, it is an air fryer so it is healthy, right? Who cares, its bacon and everything is healthy in moderation… So grab your favorite bacon and your handy air fryer and scroll down for the recipe!
We go through a lot of bacon around here. Omelets, quiches, salads, sandwiches… bacon literally goes on anything! Even dessert, have you had candied bacon!? However, the worst part about bacon is cooking it. Usually the bacon fat splatters all over the stove and if you put it in the oven then you have an unwieldy baking sheet filled with scolding hot bacon grease. Enter the air fryer, the easy bacon cooker which keeps your kitchen clean and bacon grease handling safe and easy. Read below for some tips and tricks for using your air fryer for bacon.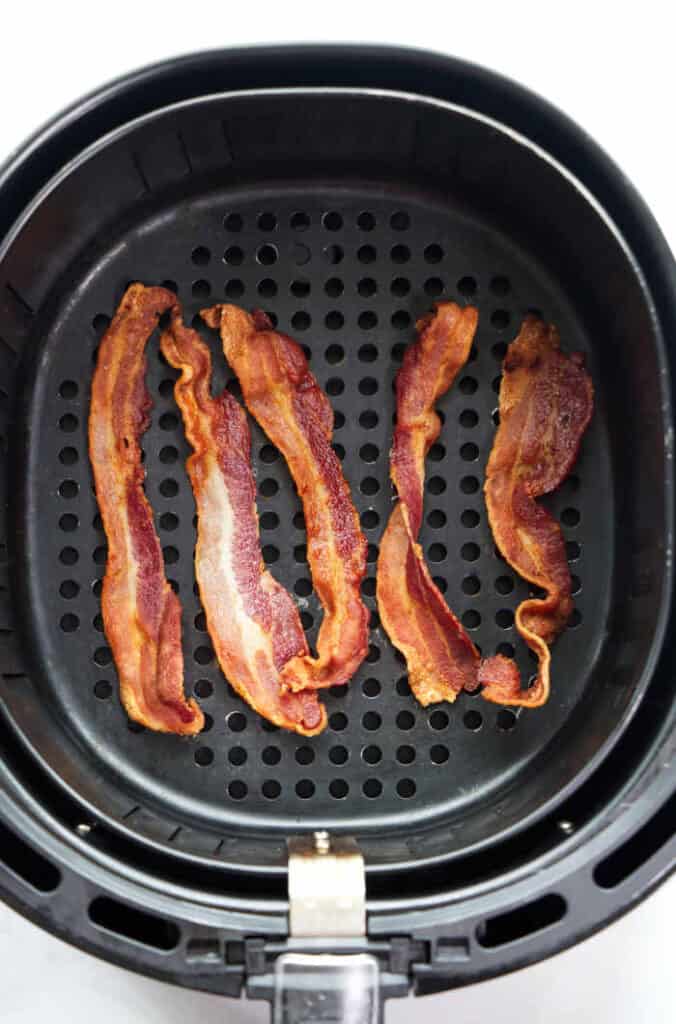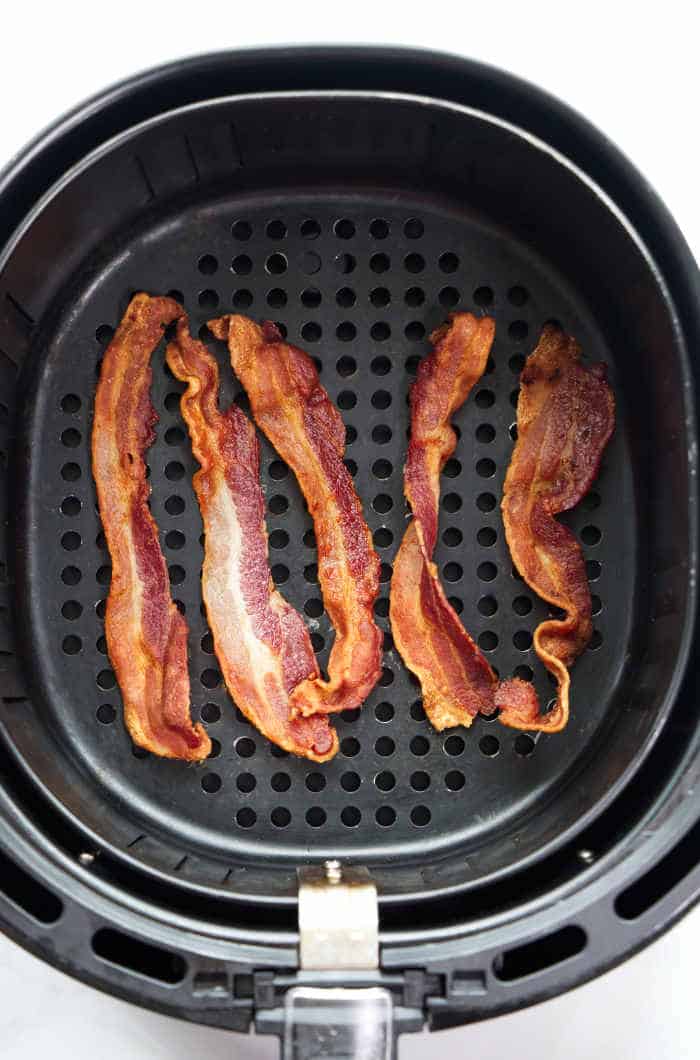 How to Cook with an Air Fryer
No oil needed, line the basket with parchment paper to keep food from sticking
You can use oil if you prefer
Preheat the air fryer to the desired temperature
Arrange the food in the basket without over crowding
Cook for the desired time and optionally you can flip the food half way through the cook time in order to achieve a crust on both sides
For this recipe, I did not coat the basket with parchment paper since bacon has so much fat. I relied on the fat in the bacon to keep the basket coated in grease in order to prevent the bacon from sticking.
Can you cook frozen bacon?
Yes! It may take about 50% longer, but it can be done. Simply place your frozen bacon in the air fryer. Of course, they will be stuck together into a bacon brick. Set the air fryer to 370°F and cook for 5 minutes. Once the bacon begins to thaw then you can separate the bacon into individual pieces. Try to arrange only enough pieces so that they are well spaced, you will want plenty of space around each piece in order to achieve ultimate crisp levels.
If you are using an oven instead, you can also defrost the bacon in the oven. Similar to the air fryer, place your frozen bacon on the baking sheet. Begin cooking the bacon at 370°F-400°F for 5 minutes or until the frozen brick of bacon has begun to defrost. Then you can separate the pieces of bacon on the baking sheet and continue cooking.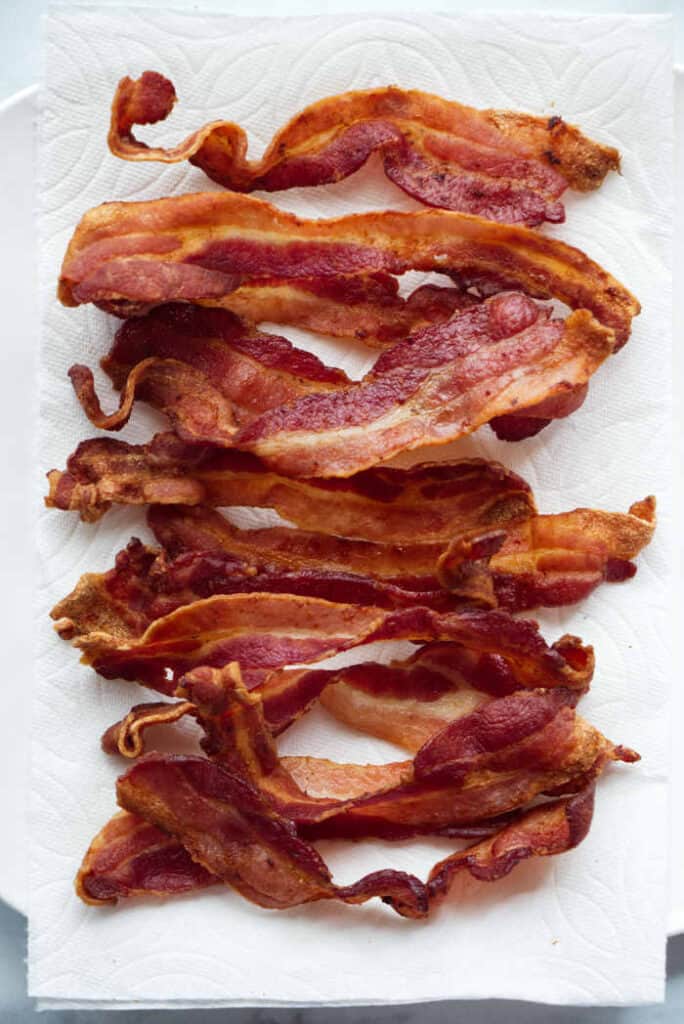 Air Fryer tips and tricks
Help, why is my air fryer smoking?
When cooking high fat foods in the air fryer, you may experience a cloud of white smoke develop in the device. Don't panic, this can be managed. And there are even some tips which can help prevent this from happening.
To prevent smoke in your air fryer you can add a couple of tablespoons of water to the bottom of the basket. If you are cooking especially greasy foods, like bacon in this recipe, you can also put a piece of bread in the bottom of the basket, just take out the removable rack at the bottom of the basket and place a piece of bread down there and replace the rack. The bread will soak up the excess grease and prevent the air fryer from smoking.
Evenly cook your food by preheating
The air fryer can cook quickly, but you also want even and thoroughly cooked food. I would suggest preheating your air fryer for the best results. Some air fryers do not have a preheat setting. If yours doesn't have a preheat setting then you can set your temperature and run the air fryer for 2-5 minutes to bring it up to temperature before adding your food to the basket. The smaller your air fryer, the less time you will need to preheat it.
Should you use oil in your air fryer?
I almost always use oil in my air fryer, but you don't have to! Oil coats your food and allows the seasoning to stick to it. It also prevents your food from sticking to your air fryer basket. However, if you want to cook low fat and leave the oil out of the recipe you can always use parchment paper to prevent sticking. And, if you are cooking high-fat foods, like bacon, you will not need to include oil in your air fryer.
Leave space in your air fryer basket. Space it out, man!
Air fryers work by circulating air around the basket and as it circulates, oils and fats are also circulated and deposited onto the food. If you overcrowd your basket then you will have disappointingly un-crispy food. Space everything out in your air fryer basket and you will have a much crispier result.
Flip and shake the basket
Similar to the tip for leaving plenty of space for your food to achieve a good crisp, you will also want to shake the basket periodically or flip the food halfway through cooking. This will allow the food to cook well on both sides and you will have a crispy result.
How to modify a recipe for an air fryer
Air fryers are often much more efficient at cooking foods. Since the air is circulating air, similar to a convection oven, I always recommend setting your air fryer to a lower temperature and monitoring the cooking progress throughout the cooking time. Even at lower temperatures, your items may finish cooking sooner than expected. As a rule of thumb, adjust the cooking temperature about 10% lower and the cooking time about 25% shorter.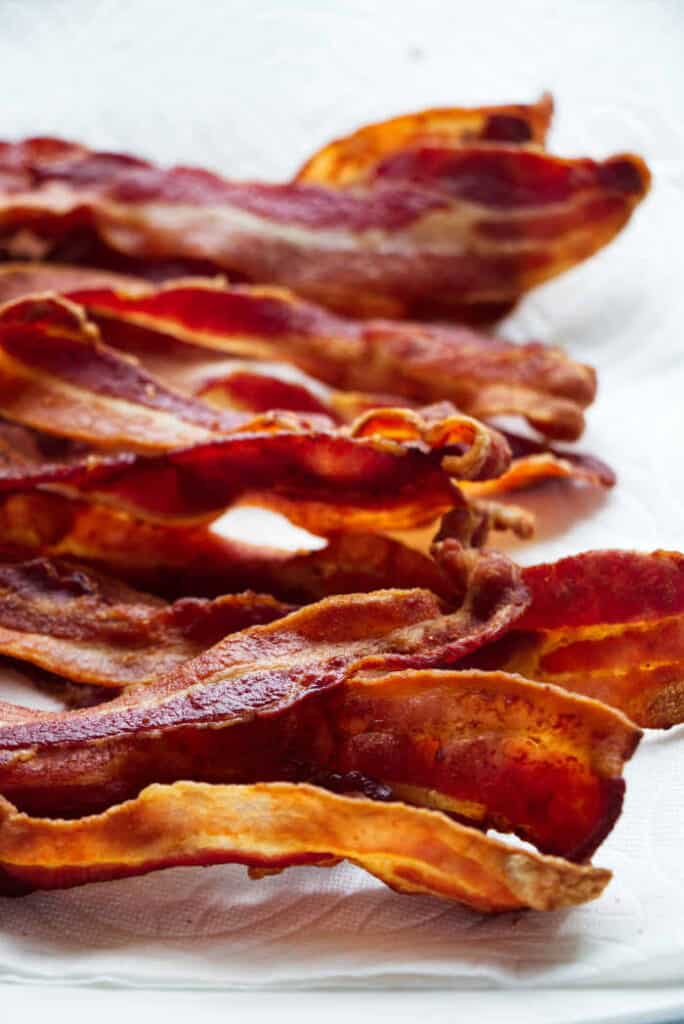 CONNECT WITH A LICENSE TO GRILL!
Be sure to follow us on our social media accounts
Facebook * Instagram * Pinterest * YouTube * Twitter
Did you make this recipe? Tell us about it in the comments below!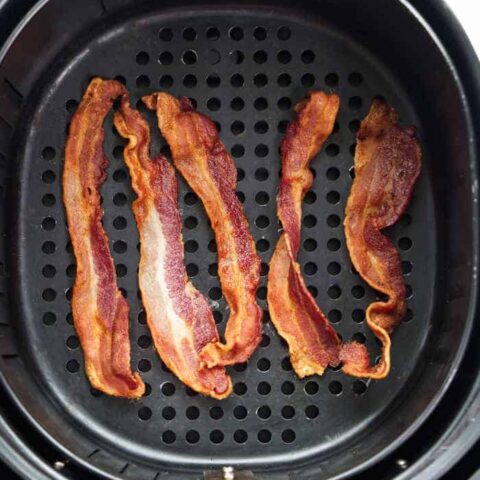 Air Fryer Bacon
Yield:
4 to 16 slices of bacon
This is how to cook bacon in an air fryer without any mess or smoke to set off your smoke alarm.
Instructions
Remove the air fryer basket from the basket holder and pour 1/2 cup of water into the basket drawer then replace the basket.
Place 4 to 5 strips of bacon in the basket. Keep them in a single layer.
Air fry the bacon at 370°F for 8 to 12 minutes depending on your desired level of crispiness.
Flip the bacon over and rotate them halfway through the cooking time.
Repeat with the rest of the bacon until you cook all of the strips.
Notes
Adding water to the bottom of the air fryer basket holder is optional but will reduce smoke as the bacon cooks. It will also make the air fryer easier to clean when you finish cooking.
You can add a piece of bread to the bottom of the air fryer in order prevent smoke also.
Even with water under the basket, there will still be some smoke as the bacon grease cooks. Make sure your air fryer is in a well-ventilated area to reduce the risk of smoke setting off your smoke alarm.
Thick cut bacon will need more time. We cook thick-cut strips of bacon for 15 to 16 minutes to get them nice and crisp.
The less bacon you put in the air fryer, the faster it will cook because more air is able to circulate around the bacon strips. If you use less bacon check on it a couple of minutes sooner.
If your air fryer is smaller then you may need to cut the bacon strips in half or use fewer strips per batch.
Thin cut bacon will curl more in the air fryer while thick-cut bacon will keep its shape better.
If your air fryer doesn't program to 370°F then set it to the nearest setting under or over 370°F.
Nutrition Information
Yield

1 slice of bacon
Serving Size

1
Amount Per Serving
Calories

54
Total Fat

4g
Saturated Fat

1g
Trans Fat

0g
Unsaturated Fat

2g
Cholesterol

11mg
Sodium

194mg
Carbohydrates

0g
Fiber

0g
Sugar

0g
Protein

4g
Nutrition information is a guideline only, is calculated automatically by third party software, and absolute accuracy is not guaranteed.