Pork Butt Injection – How to Inject Pork Boston Butt
The secret to juicy pulled pork is having a delicious pork butt injection marinade. This recipe is poised to transform your pulled pork game, and it will have your friends asking for the recipe.
We provide detailed steps to achieve a juicy, flavor-packed Boston butt. Scroll down to the variations section to find some additional suggestions for different marinades to inject into your pork butt. Whether you're in the mood for something sweet, spicy, or a blend that's entirely distinct, we've curated a variation just for you. Dive into this guide and make your next pulled pork a memorable feast.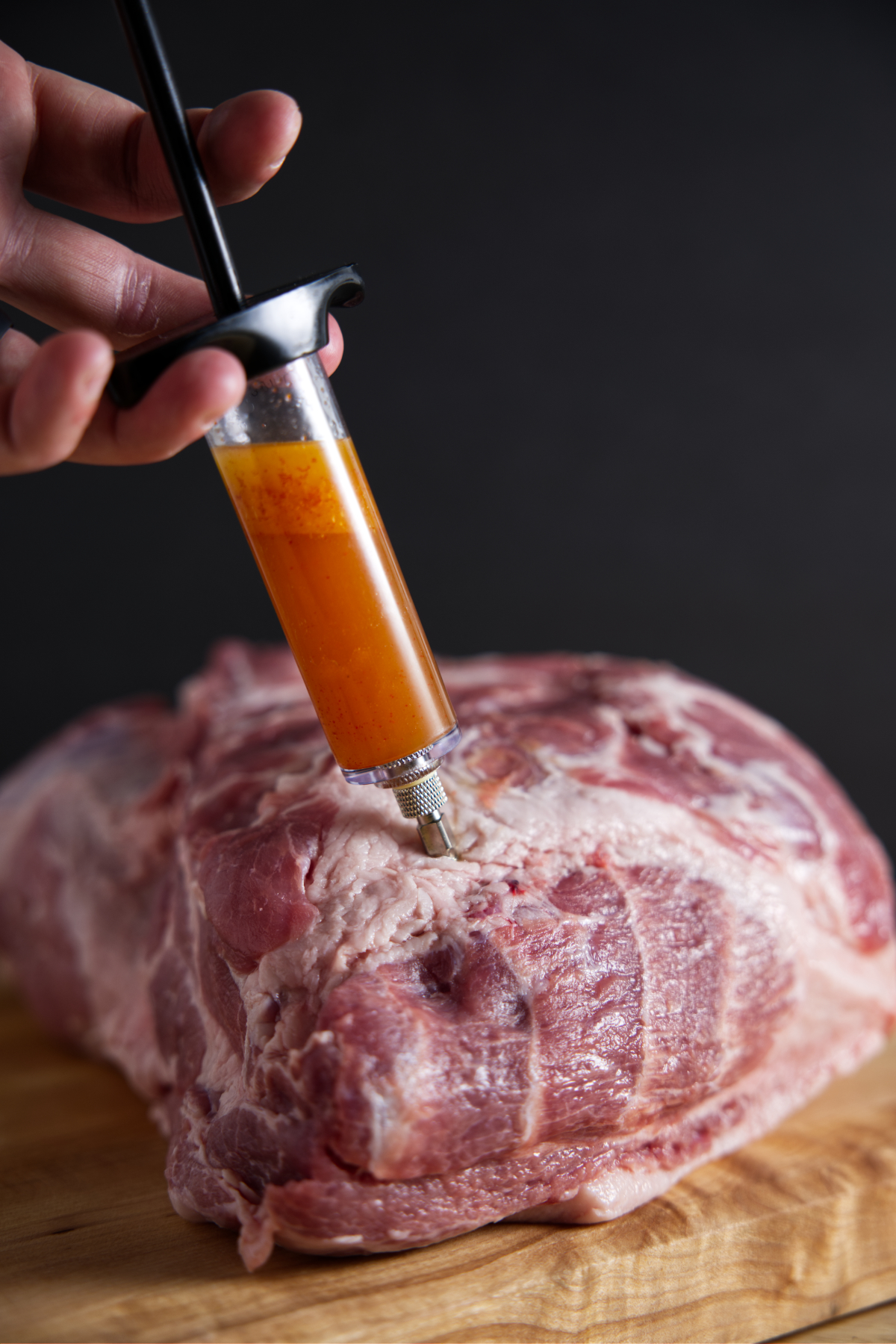 🤘 Why This Pork Butt Injection Rocks!
Infusing the pork butt. Injecting the pork butt in a grid-like pattern ensures even distribution across the Boston butt. This guarantees that every section of the meat is marinated to perfection.
Apple flavor fusion. The melding of apple juice's natural sweetness with the tang of apple cider vinegar ensures each bite of pork is as delicious as the last.
Buttery brilliance. Adding melted butter gives the pork butt a rich flavor and a texture that makes the pulled pork melt in your mouth.
Versatility to match your preference. The variations section below provides alternatives to the recipe so you can tailor the marinade to your preference.
🗒️ Ingredients for the Marinade
Making this injection is quite easy and uses simple ingredients that you likely already have. You can vary it up a bit to put your spin on it. Check out the recipe variations below!
Apple juice. This gives the marinade a fruity flavor. And we all know apples go great with pork!
Pork butt rub. Our pork butt rub is phenomenal! You should always have some in your pantry.
Water. You can also use chicken broth.
Apple cider vinegar. Every marinade needs an acid.
Butter. More butter, more better! The fat brings moisture and flavor to the marinade.
Worcestershire sauce. Umami is a welcomed addition here.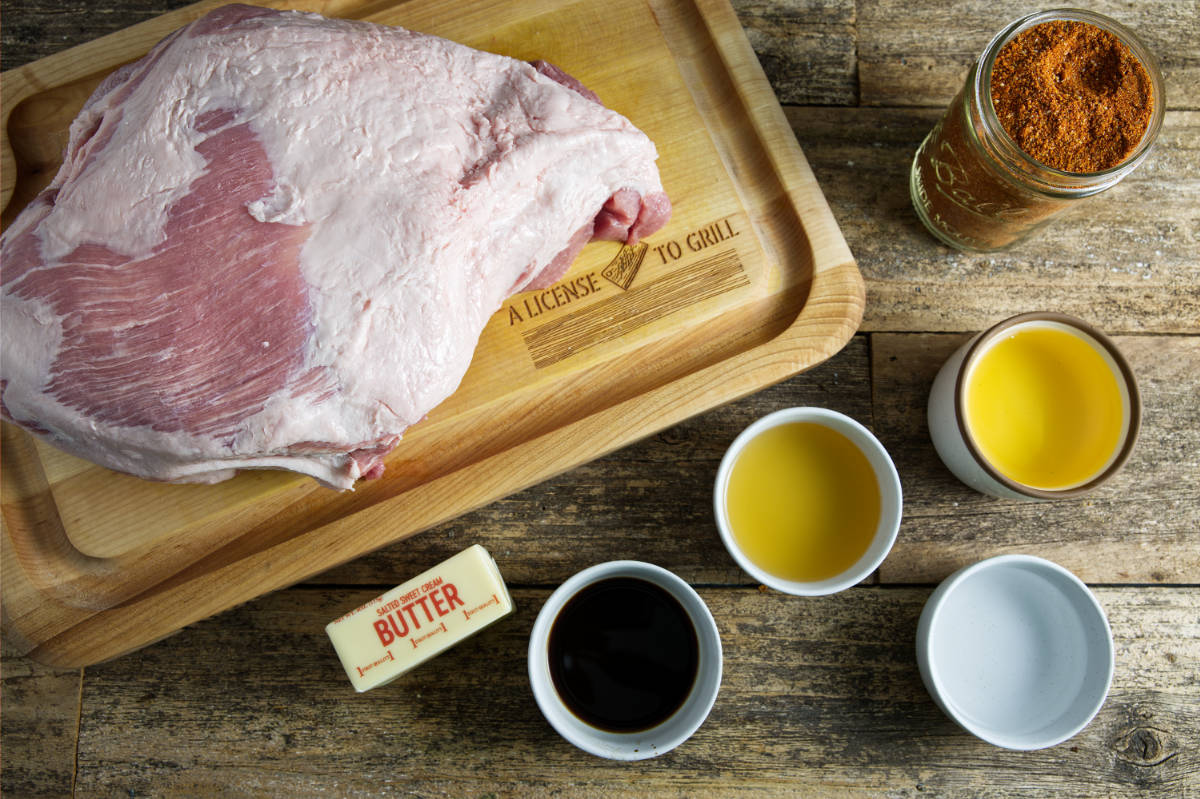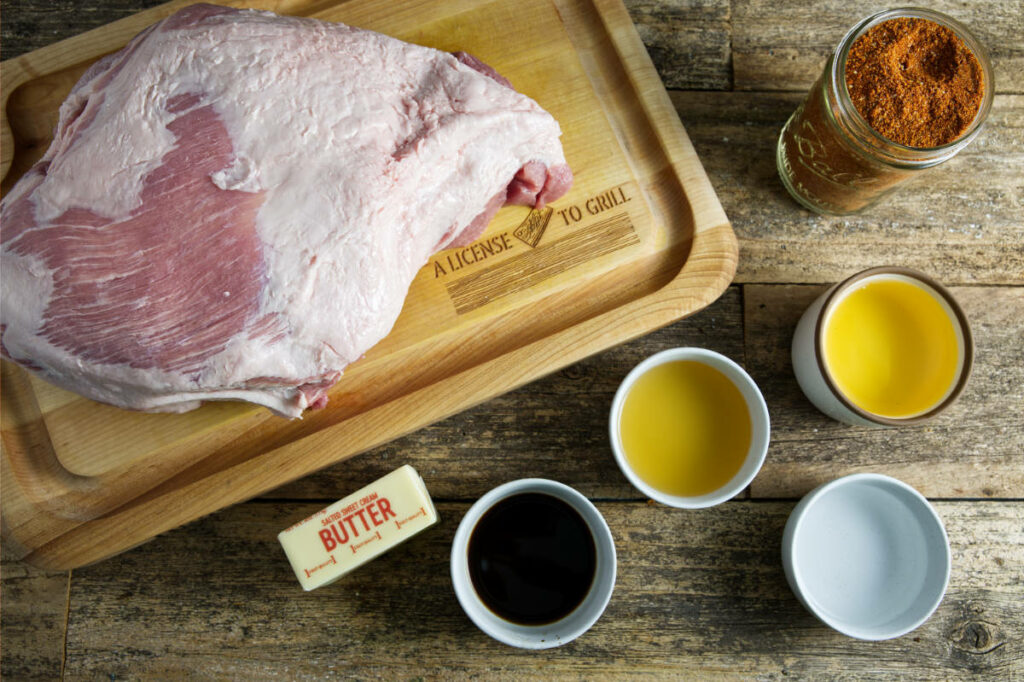 💉 How to Inject Marinade into Pork
The best way is to work in a grid-like pattern and inject every inch of the pork butt to ensure it can soak up all that flavor! You can do the pork shoulder injection either before or after you season the meat.
Start on one side of the pork butt and insert the injector needle halfway into the meat.
Inject the marinade until it seeps out of the meat.
Move on to the next point, about 1 inch from the previous spot.
Repeat the injection procedure until the pork butt is plump.
Check out the video in the recipe to see how I inject my smoked pork shoulder.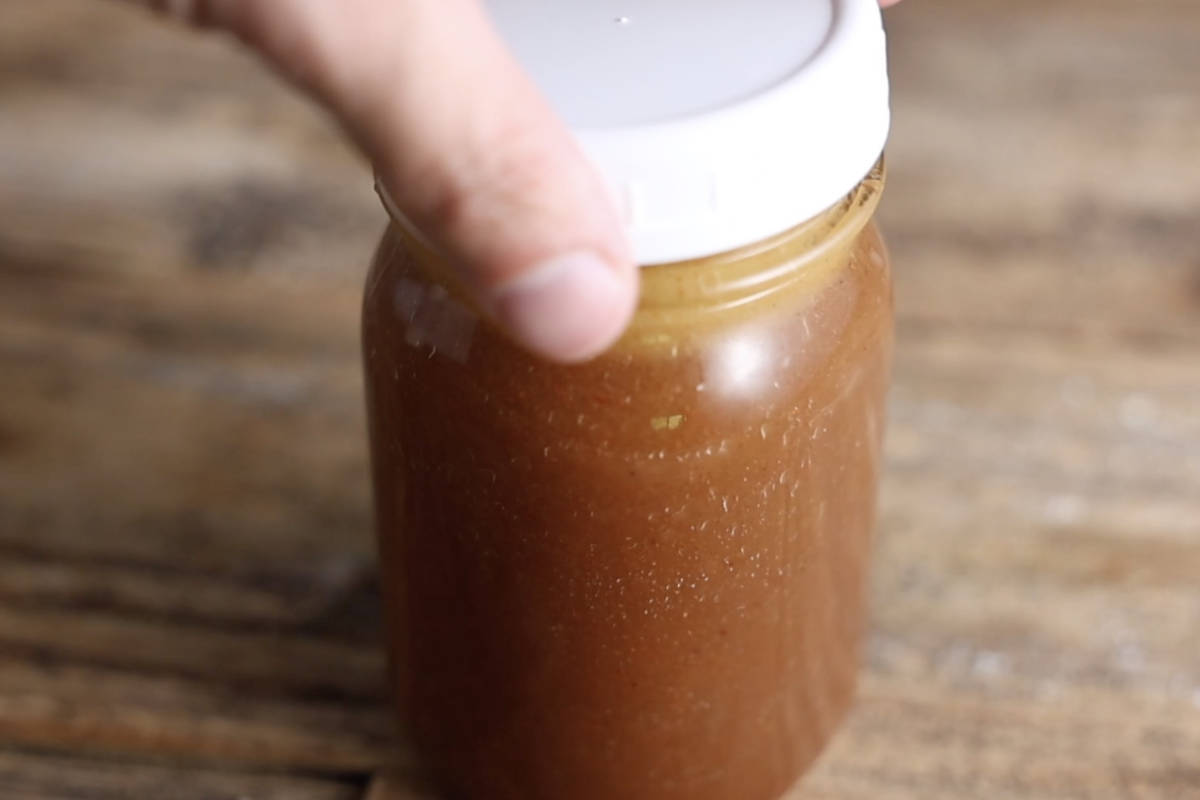 🐖 Pulled Pork Injection Pro Tips
Marinade consistency. Ensure your marinade is well-emulsified and free of lumps to prevent the injector from clogging. A fine mesh strainer can help remove any particles or clumps.
Temperature matters. If you've stored your marinade in the fridge, allow it to come to room temperature before injecting.
Injection technique. For even flavor distribution, aim to inject the marinade into the meat at multiple angles and depths.
Resting time. After injecting, let the pork butt rest for at least an hour before smoking. This allows the marinade to permeate the butt, leading to a more flavorful result.
🤔 Substitutions and Variations
Switch up the juice. Try using pear juice or white grape juice instead.
Use your favorite rub or seasoning. Our pork butt rub is simple and easy, but if you have a favorite seasoning, feel free to use it here!
If apple cider vinegar isn't your thing, lemon juice will provide the acidity and introduce some citrus flavor.
For complete recipe overhauls, try out these variations.
Spicy Cajun Pulled Pork
1 cup water (or chicken broth)
1 tablespoon Cajun seasoning
¼ teaspoon cayenne pepper
¼ cup apple cider vinegar
2 tablespoons hot sauce (like Tabasco or your preference)
2 tablespoons Worcestershire sauce
Smokey Bourbon Boston Butt Injection
1 cup apple juice (or apple cider)
¼ cup bourbon
¼ cup lemon juice
2 tablespoons butter, melted
1 tablespoon molasses
1 tablespoon Worcestershire sauce
🫙 Storing Pork Butt Injection
Store the marinade in an airtight container like a Mason jar. It will keep in the fridge for 3-4 days.
When you are ready to use the injection marinade, remove it from the jar and let it warm up on the counter for about an hour before injecting the butt. Inject every inch of the meat when you are ready!
🎁 Now Go BBQ a Pork Shoulder!
This pork butt marinade injection truly elevates your pulled pork, infusing every bite with a medley of flavors. Grab your Boston butt and give it a try, and let the richness of the marinade transform your next barbecue masterpiece!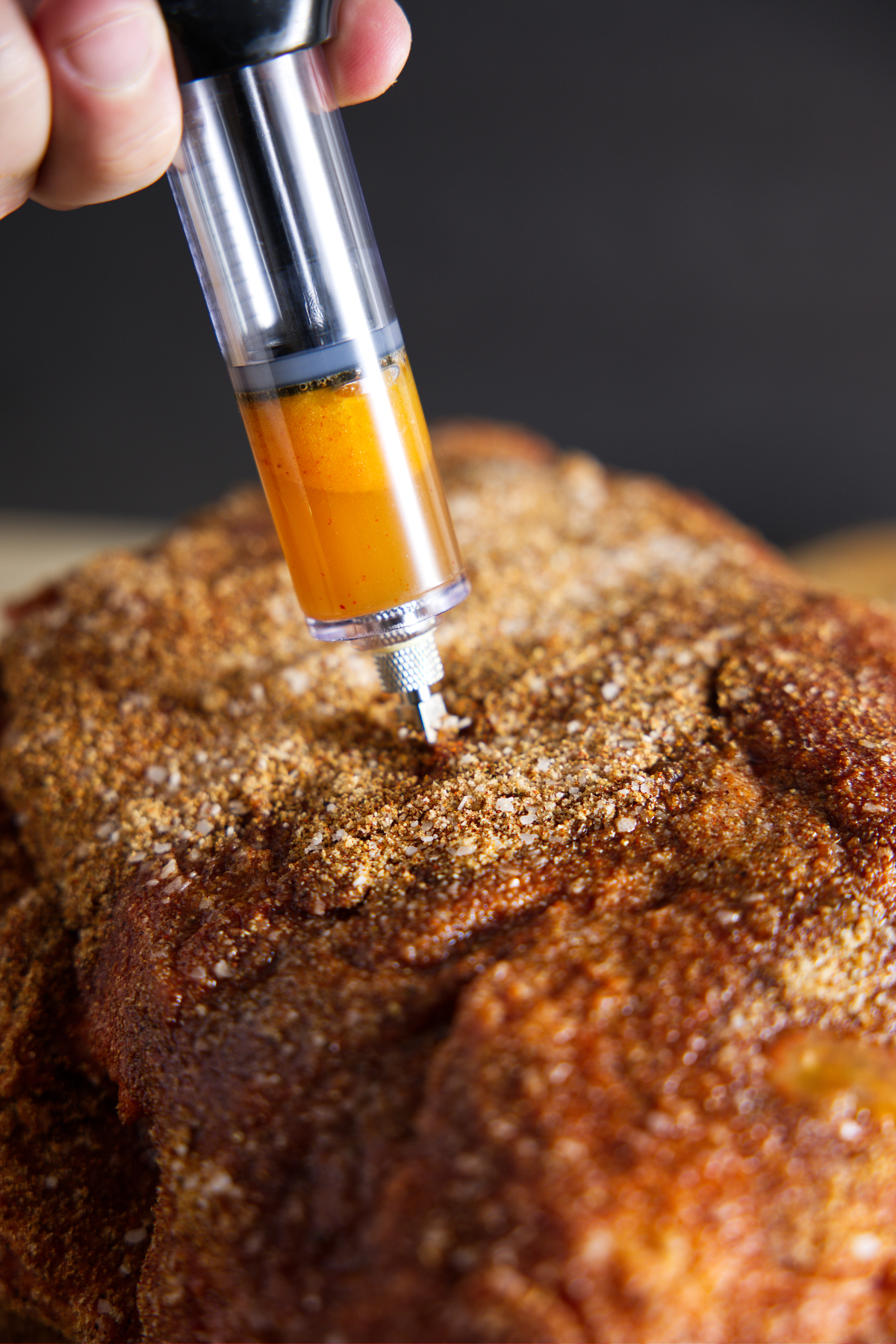 💬 Tell Me What You Think!
Did you try out this recipe? Please leave a comment below and let me know how you liked it. Also, snap a picture and post it to your favorite social platform. Be sure to tag me at @alicensetogrill and let me know how you liked it!
CONNECT WITH A LICENSE TO GRILL!
Be sure to follow us on our social media accounts.
Did you make this recipe? Tell us about it in the comments below!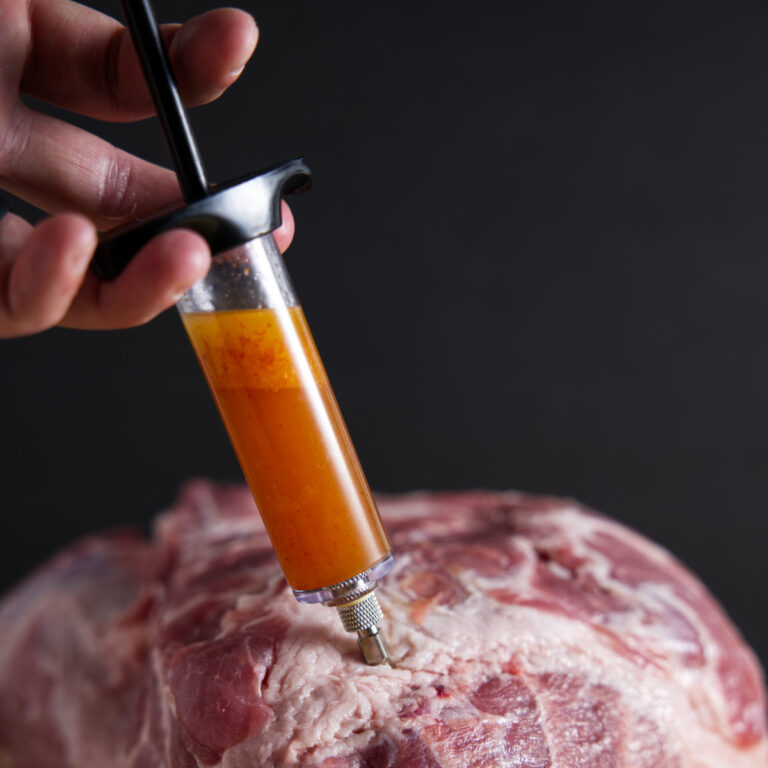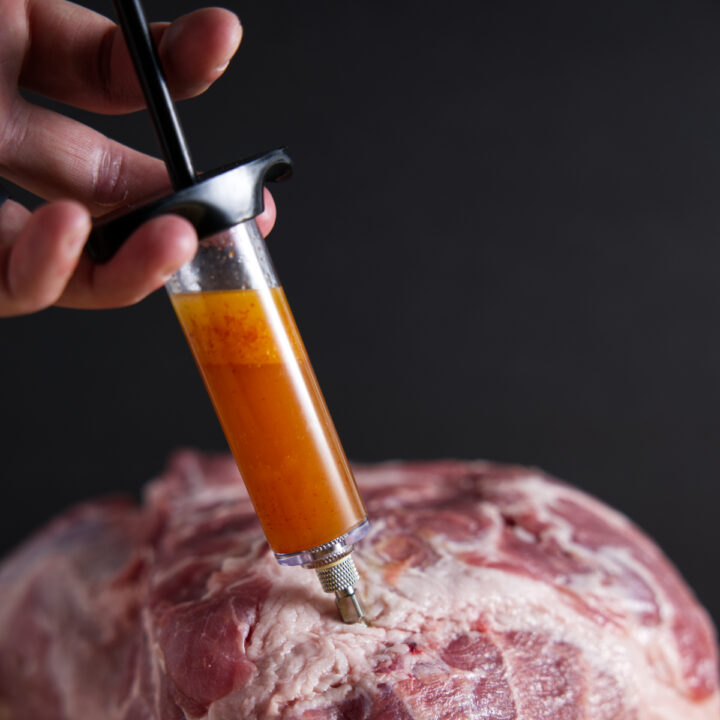 Pork Butt Marinade Injection
Discover the secret to tender, flavor-infused pulled pork with this outstanding pork butt marinade injection. Combining the sweetness of apple juice, the tang of vinegar, and a rich, buttery finish, this marinade ensures your meat is both delectable and memorable. The key to flavorful and juicy pork is in the injection marinade method.
Ingredients
1 cup apple juice (or cider)
1 tablespoon pork butt rub
1/4 cup water
1/4 cup apple cider vinegar
1/4 cup butter, melted
2 tablespoons Worcestershire sauce
Instructions
In a medium-sized bowl, combine the ingredients for the injection marinade. Use a whisk or fork to incorporate all of the ingredients.
Store the marinade in an air-tight container in the fridge for 3-4 days, or use right away. If you store it in the fridge, let it warm to room temperature before injecting it into the pork butt.
If you are using it now, follow our recipe for smoked pork butt for the easiest and tastiest pulled pork. When injecting the pork, inject it in a grid-like pattern. inject the marinade in several spots all around the pork butt until the marinade flows out.
Notes
Variations: see the recipe variations section in the post for ideas on how to change the flavors and put a spin on the recipe.
Mix the ingredients well to ensure that there are no clumps of seasoning in the marinade. Clumps may cause your injector to clog.
Grid pattern: when injecting the pork butt, inject the pork in a grid-like pattern in 1-inch spacing intervals. Be sure to inject every location the pork butt and insert the needle about 2-3 inches deep. Inject until the marinade flows out from the meat.
Recommended Products
As an Amazon Associate and member of other affiliate programs, I earn from qualifying purchases.
Nutrition Information:
Yield:

20
Serving Size:

1
Amount Per Serving:
Calories:

28
Total Fat:

2g
Saturated Fat:

1g
Trans Fat:

0g
Unsaturated Fat:

1g
Cholesterol:

6mg
Sodium:

36mg
Carbohydrates:

2g
Fiber:

0g
Sugar:

1g
Protein:

0g
Nutrition information is a guideline only, is calculated automatically by third party software, and absolute accuracy is not guaranteed.