Is it Wing Wednesday yet!? Actually, it doesn't matter what day it is! I love these honey mustard chicken wings any day of the week and with an air fryer, they are easy to cook even when I am feeling especially lazy or uninspired to cook. The air fryer makes the BEST chicken wings which are always crispy and juicy, and with a honey mustard sauce they are a bit spicy and a bit sweet. You won't risk overcooking them using an air fryer and trying to get that crip you desire. Keep reading below to get the down-low on how to make them extra crispy!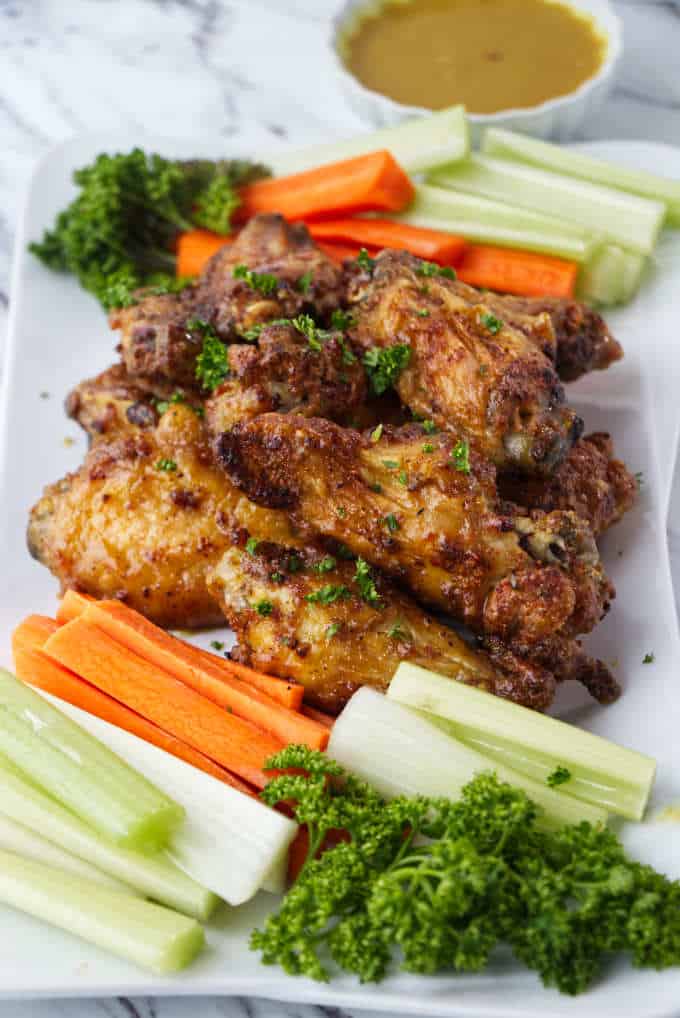 How long to cook chicken wings in the air fryer
Fresh chicken wings cook very fast in the air fryer. Place the chicken wings with space between and cook at 400°F for 10 minutes. Shake the basket or flip the wings and cook for another 10 minutes until crispy.
How to get that
extra crispy

chicken skin

Baking powder is the secret sauce, or powder, to make your chicken super crispy. Before cooking the chicken, I coat it with a blend of spices and baking powder. The baking powder works its magic by helping to break down the proteins in the chicken more efficiently and allowing for the most brown and crispy chicken you have ever had.

If you want to take your crisp adventure to another level, you can store the chicken uncovered on a wire rack and baking sheet in the fridge overnight after coating it in baking powder. This will help to dry the skin out even more and cause the skin to become airier and lighter. You may even see what looks like air bubbles in the skin.
Can you make crispy chicken wings in the oven?
YES! You will definitely need to coat your chicken wings in baking powder and allow them to sit on a wire rack on a baking sheet in the fridge overnight. This will allow the skin to dry out and the proteins in the chicken skin to breakdown. I would also recommend cooking the wings on a wire rack to keep the juices form making the wings soggy as they cook.
Simply place in the oven at 400°F for 25 minutes, but be sure to flip the wings halfway through.
The best sauces for you air fryer chicken wings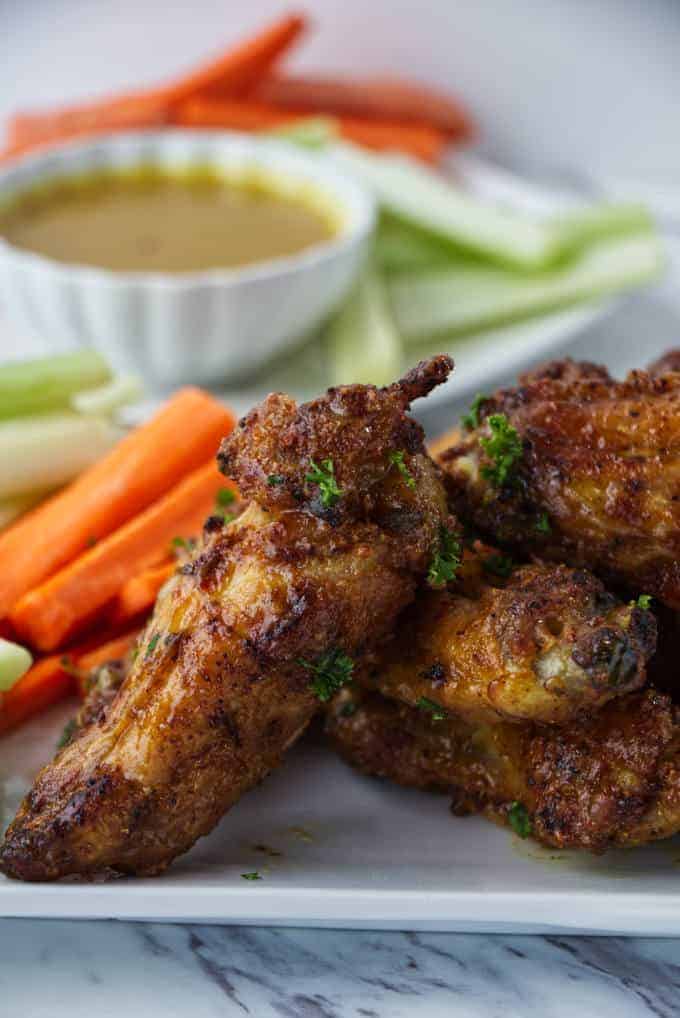 Air Fryer tips and tricks
Help, why is my air fryer smoking?
When cooking high fat foods in the air fryer, you may experience a cloud of white smoke develop in the device. Don't panic, this can be managed. And there are even some tips which can help prevent this from happening.
To prevent smoke in your air fryer you can add a couple of tablespoons of water to the bottom of the basket. If you are cooking especially greasy foods, like bacon, you can also put a piece of bread in the bottom of the basket, just take out the removable rack at the bottom of the basket and place a piece of bread down there and replace the rack. The bread will soak up the excess grease and prevent the air fryer from smoking.
Evenly cook your food by preheating the air fryer
The air fryer can cook quickly, but you also want even and thoroughly cooked food. I would suggest preheating your air fryer for the best results. Some air fryers do not have a preheat setting. If yours doesn't have a preheat setting then you can set your temperature and run the air fryer for 2-5 minutes to bring it up to temperature before adding your food to the basket. The smaller your air fryer, the less time you will need to preheat it.
Should you use oil in your air fryer?
I almost always use oil in my air fryer, but you don't have to! Oil coats your food and allows the seasoning to stick to it. It also prevents your food from sticking to your air fryer basket. However, if you want to cook low fat and leave the oil out of the recipe you can always use parchment paper to prevent sticking. And, if you are cooking high-fat foods, like bacon, you will not need to include oil in your air fryer.
Leave space in your air fryer basket. Space it out, man!
Air fryers work by circulating air around the basket and as it circulates, oils and fats are also circulated and deposited onto the food. If you overcrowd your basket then you will have disappointingly un-crispy food. Space everything out in your air fryer basket and you will have a much crispier result.
Flip and shake the air fryer basket
Similar to the tip for leaving plenty of space for your food to achieve a good crisp, you will also want to shake the basket periodically or flip the food halfway through cooking. This will allow the food to cook well on both sides and you will have a crispy result.
How to modify a recipe for an air fryer
Air fryers are often much more efficient at cooking foods. Since the air is circulating air, similar to a convection oven, I always recommend setting your air fryer to a lower temperature and monitoring the cooking progress throughout the cooking time. Even at lower temperatures, your items may finish cooking sooner than expected. As a rule of thumb, adjust the cooking temperature about 10% lower and the cooking time about 25% shorter.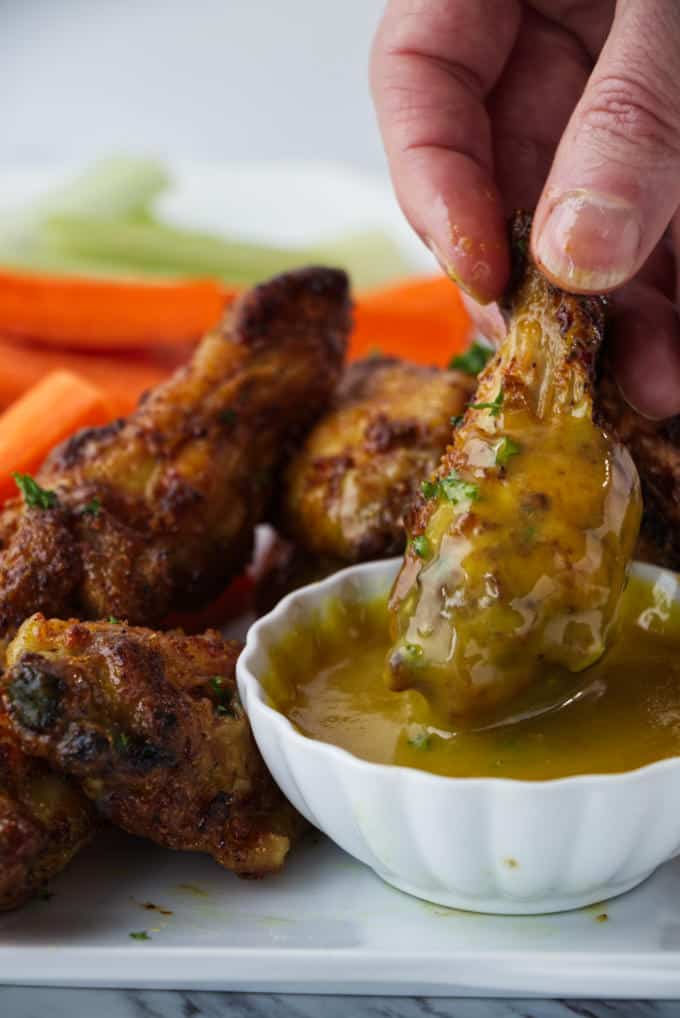 CONNECT WITH A LICENSE TO GRILL!
Be sure to follow us on our social media accounts
Facebook * Instagram * Pinterest * YouTube * Twitter
Did you make this recipe? Tell us about it in the comments below!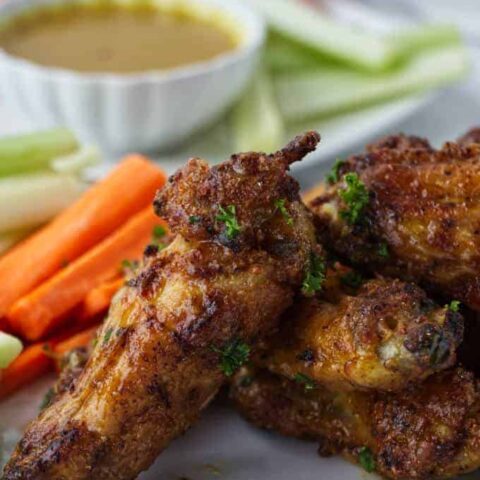 Air Fryer Honey Mustard Chicken Wings
The air fryer makes the most crispy chicken wings and they are extra crispy because of the addition of baking powder to the spice rub. You will be wanting to make these all of the time and since they are so simple, you will! Every day is wing Wednesday with an air fryer, so grab a beer and relax while chowing down on some wings!
Ingredients
1-1/2 pounds chicken wings
1 tablespoon avocado oil
1 tablespoon baking powder
2 teaspoons onion powder
2 teaspoons garlic powder
1 teaspoon salt
Honey mustard sauce (recipe below)
Instructions
Cut the wings apart into separate pieces, drummettes and wingettes.
Spray the air fryer basket with non-stick spray or cooking oil.
Spray the chicken wings with avocado oil (or use drizzle olive oil)
Combine the baking powder, onion powder, garlic powder, and salt.
Toss the chicken wings with the seasoning and place them in the air fryer.
Set the air fryer to 360°F and cook for 10 minutes.
Open the air fryer and stir the chicken wings, be sure to keep space between them after flipping
Increase the temperature to 400°F and cook for 10 more minutes.
Toss the chicken wings in the honey mustard sauce.
Notes
We used a larger air fryer. If you have a smaller air fryer then cook the chicken wings in batches.
Chicken wings are naturally fatty and release the fat as they cook. We still recommend spraying the air fryer with non-stick cooking oil because they can still stick to the basket without the oil
Nutrition Information
Yield

4
Serving Size

1
Amount Per Serving
Calories

273
Total Fat

21g
Saturated Fat

7g
Trans Fat

0g
Unsaturated Fat

12g
Cholesterol

63mg
Sodium

609mg
Carbohydrates

9g
Fiber

0g
Sugar

1g
Protein

13g
Nutrition information is a guideline only, is calculated automatically by third party software, and absolute accuracy is not guaranteed.