Smoked Wild Turkey Legs
on Nov 02, 2020, Updated Sep 21, 2023
It isn't very often that I get the chance to eat wild turkey, but after every hunting season, you can bet that I will be smoking up some wild turkey legs! These meaty turkey legs are brined overnight in a fragrant, salty brine so that they soak up lots of flavors and are fall-off-the-bone tender. The wild turkey legs are such major muscles on the bird, so they need to be smoked low and slow in order to be super tender. If you get your hands on some wild turkey, you will need to try this recipe for smoked turkey legs!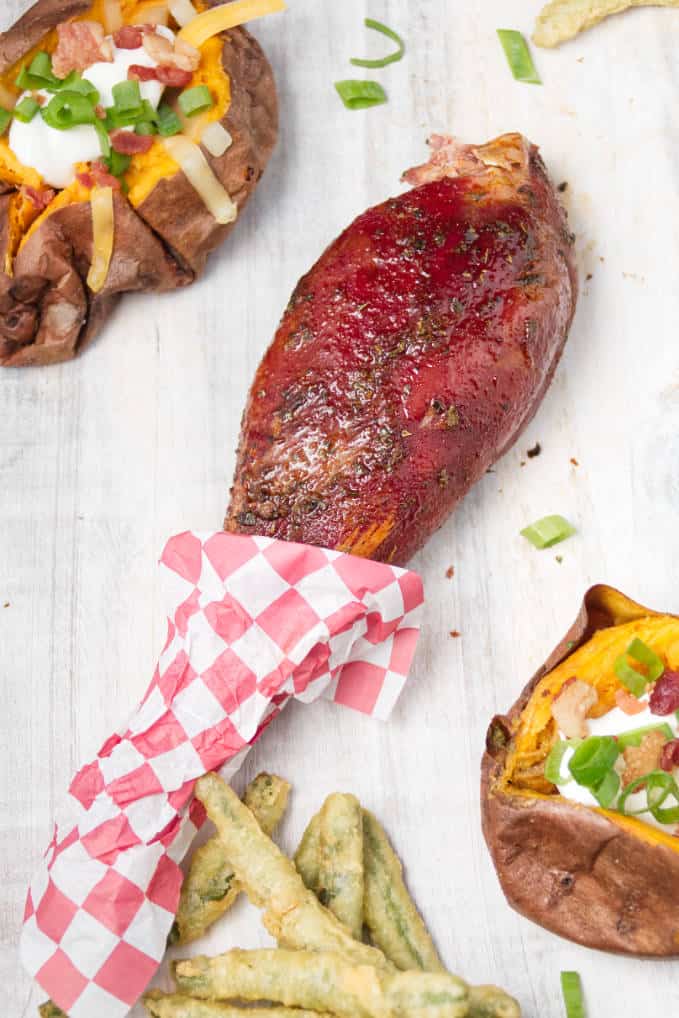 Ingredients
Wild turkey is a very lean meat. The leg of a wild turkey is especially lean and muscular, I mean, it is the main working muscle in the bird. The secret to making the turkey leg moist is all in the brine. A brine works by denaturing the meat's proteins and allowing it to retain more moisture throughout the cooking process.
1 large wild turkey leg
1/4 cup cajun dry rub seasoning (or your favorite dry rub)
1/4 cup kosher salt
2 tablespoons brown sugar
2 cups hot water
2 cups ice
Optional aromatics for the brine

Crushed black peppercorn
Orange slices
Lemon slices
Minced garlic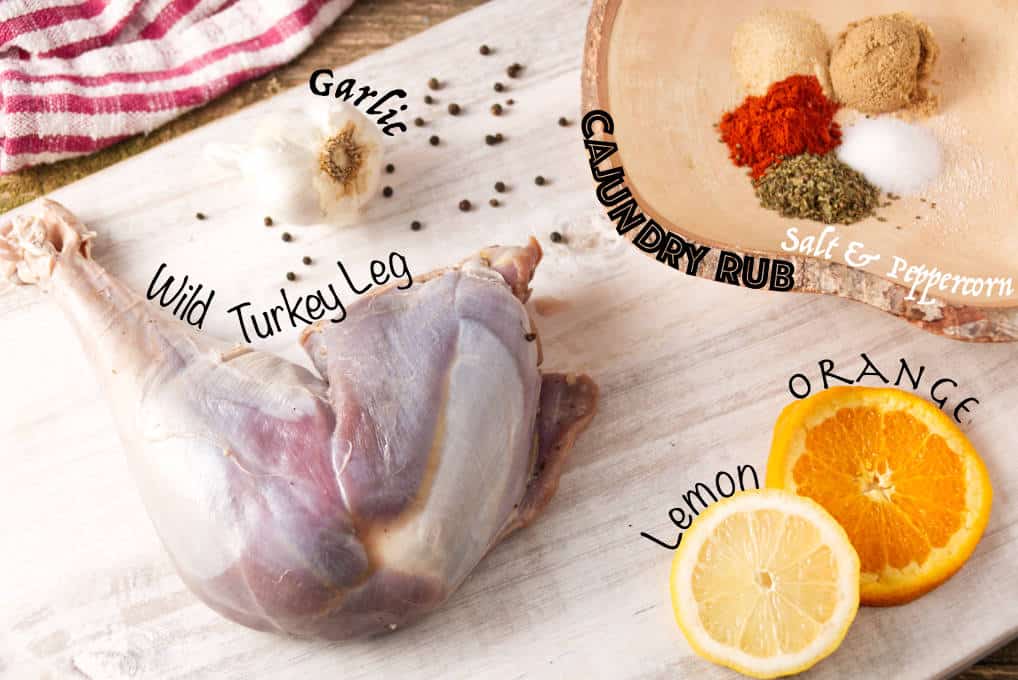 This post may contain affiliate links. Please read our
disclosure policy
.
How to smoke wild turkey legs
Step 1: Prepare the brine
In a large mixing bowl, combine the kosher salt, brown sugar, and hot water and mix until fully dissolved. Then you can add your favorite aromatics. In this recipe, I used crushed black peppercorn, orange slices, lemon slices, and minced garlic.
Once the aromatics are added, dump in the ice cubes in order to cool down the brine.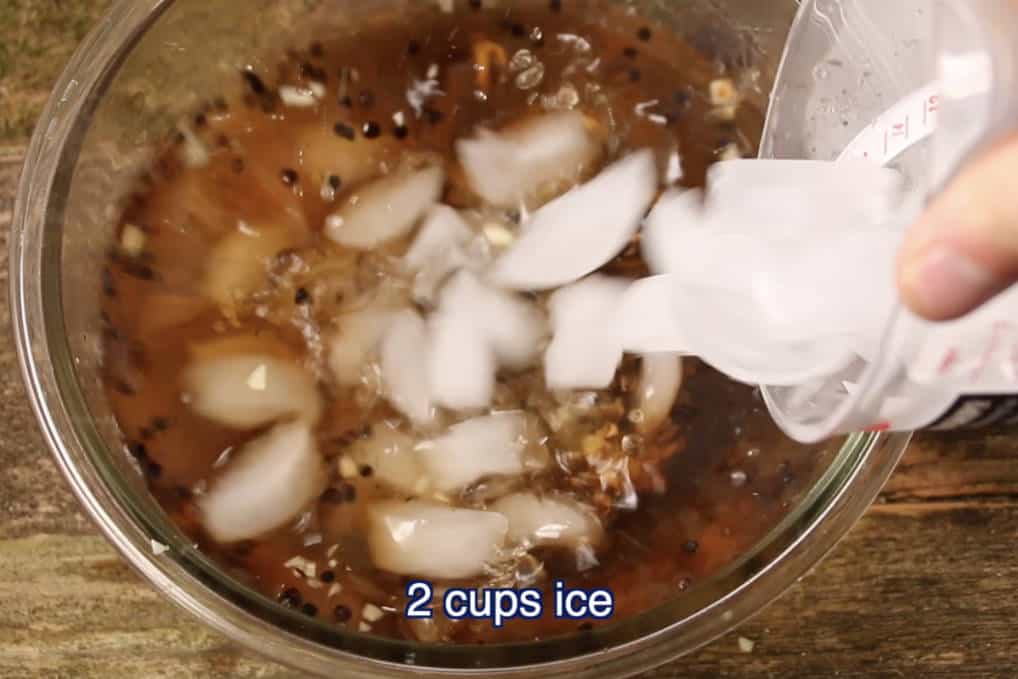 Step 2: Brine the turkey legs
Once the ice is melted and the brine is cool, place the turkey leg in a container that is large enough to hold enough brine and fully submerge the turkey leg. Dump the brine in and make sure it is fully covering the turkey leg. If it is not fully submerged, add 1 cup of cool water at a time until it is fully covered. Wrap the container in plastic wrap and place it in the fridge for 2-24 hours.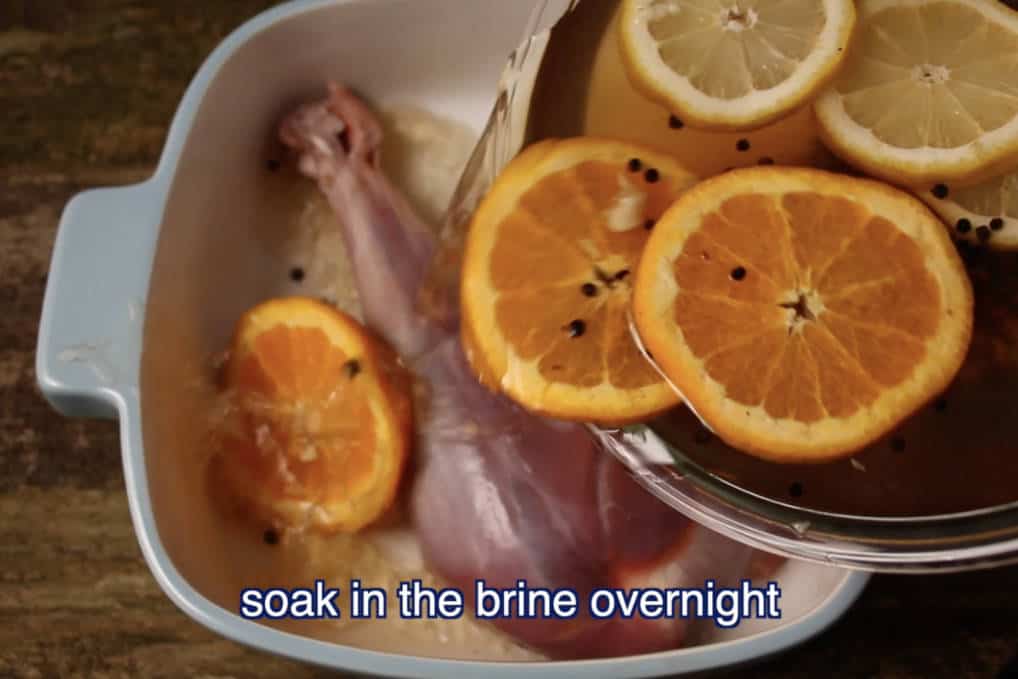 Step 3: Dry rub
Remove the wild turkey leg from the brine and pat it dry. Coat it with the cajun seasoning dry rub and ensure the entire turkey leg is covered.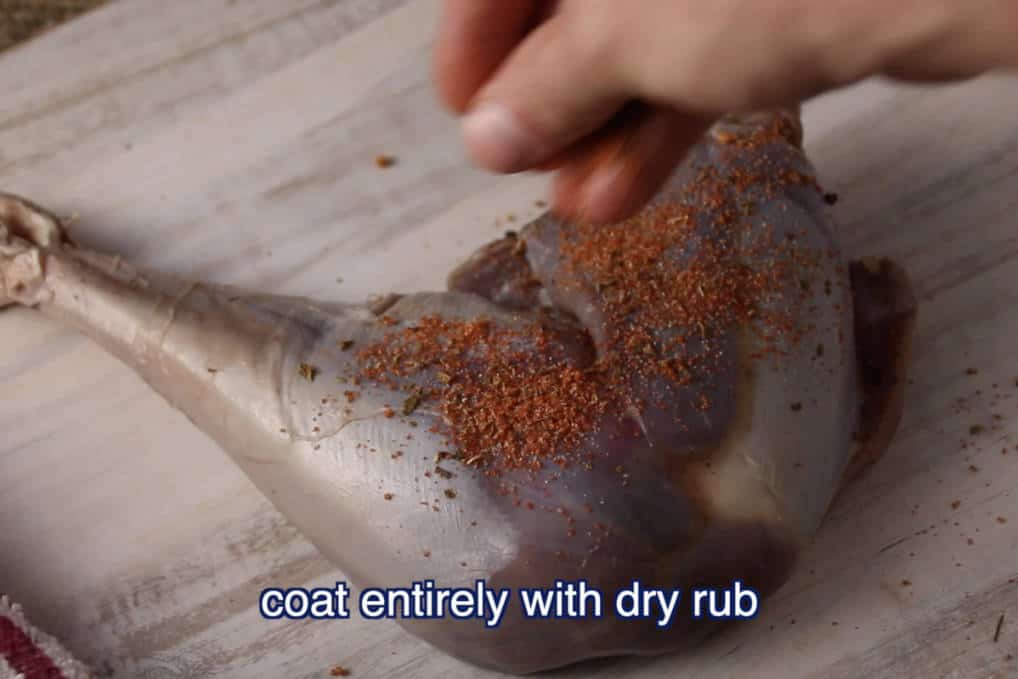 Step 4: Smoke the turkey leg
Preheat your smoker to 225°F with your favorite wood. I like to use a blend of maple, hickory, and cherry woods. Smoke the turkey leg for 2-3 hours or until it reaches an internal temperature of 150°F. You will know it is smoked to perfection once the turkey has a deep red, vibrant color. If your turkey leg has some of the hock remaining, you can chop the hock off once it is fully cooked.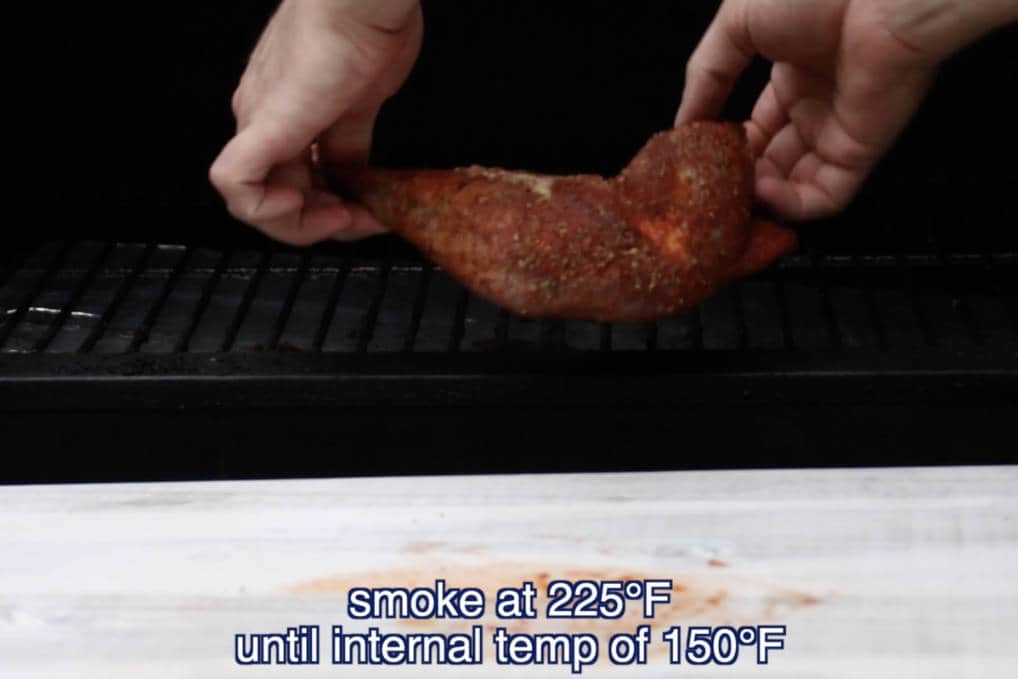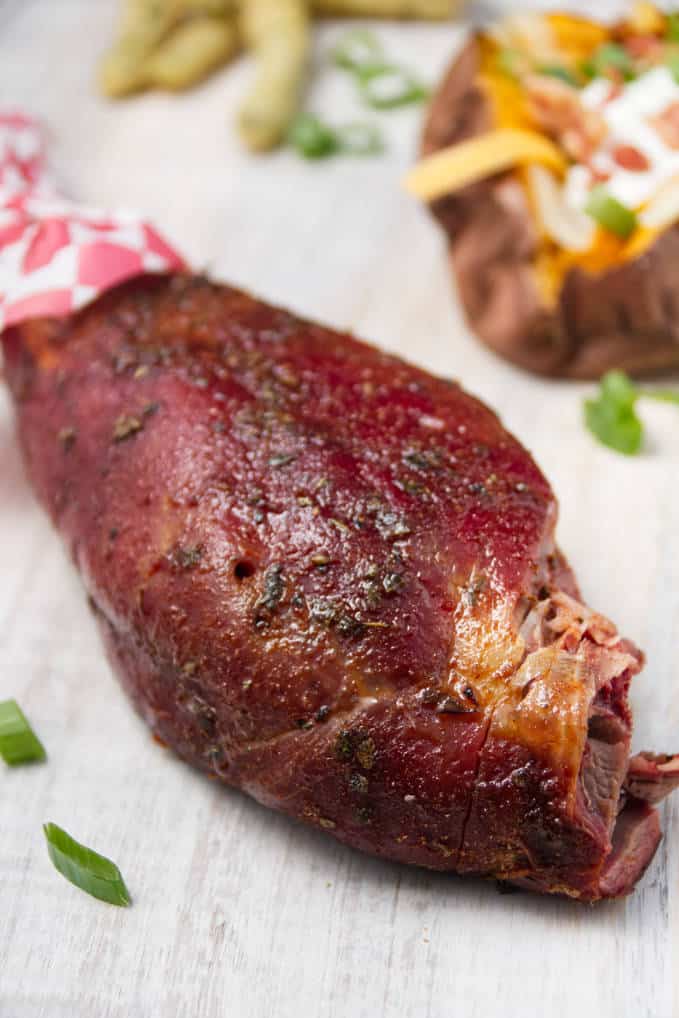 Where to buy wild turkey legs
It can be more difficult to get your hands on some wild turkey. If you are lucky enough to have a friend who hunts, maybe you will be gifted some wild turkey legs, but that isn't always the case. Luckily, there are some places to buy wild turkey. You may also be able to source some wild turkey at your local butcher shop. Give them a call and maybe they can point you in the right direction.
How to butcher and trim a turkey leg
When you get your turkey leg, you may have a chunk of meat hanging off the end of the turkey leg. This is called the hock and is the portion of the turkey directly above the turkey leg.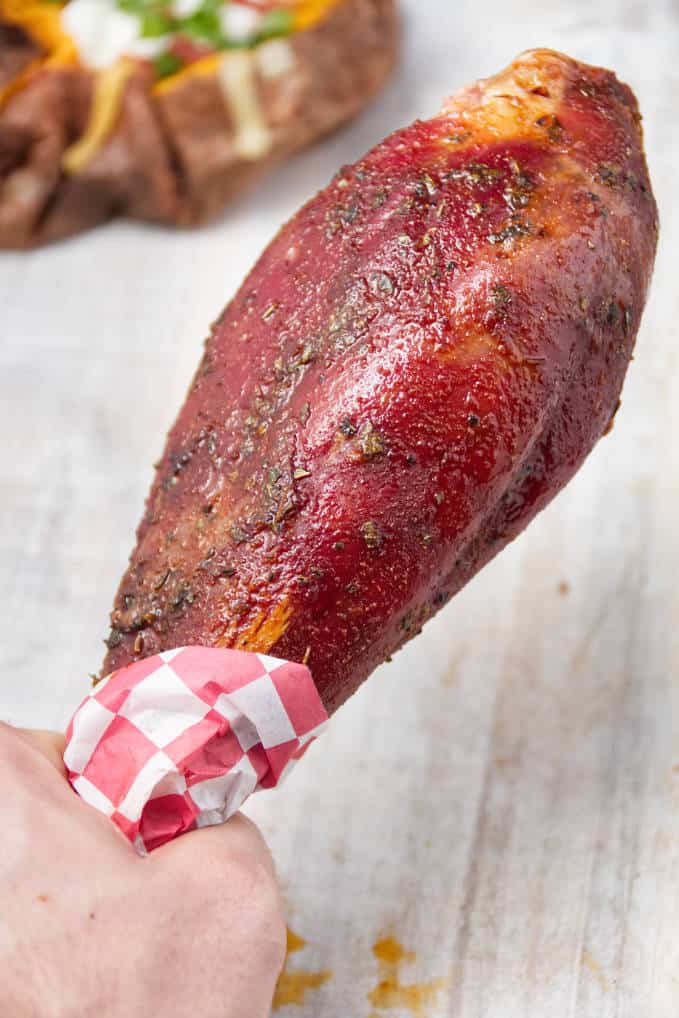 The perfect internal temperature for turkey
The USDA recommends cooking turkey to 165°F in order to kill any potentially harmful bacteria, but you can get a much more tender piece of turkey if you take it off the grill a bit earlier. I always take my turkey off once it reaches 150°F. I know, that sounds sketchy, but keep reading, I will explain my logic!
Does turkey need to be cooked to 165°F?
Nope! I will say that if you want to be absolutely safe, follow the USDA guideline for cooking until 165°F. However, the USDA also says that at 150°F, salmonella and other pathogens are killed in just under 4 minutes. Therefore, I usually will smoke my wild turkey legs until they reach an internal temperature of 150°F and then wait 4 minutes before taking them off the grill. With any piece of meat, there is always carryover cooking. When you take the turkey legs off of the grill, the internal temperature will continue to hold and even increase as the meat rest. Then I can be confident that the meat is safe to eat, but also have a much more tender turkey leg.
Why take the turkey off at 150°F?
Once the turkey legs reach an internal temperature of 150°F, the protein fibers begin to tighten up and expel moisture. At this point, the more you cook the turkey, the drier it will become. This is especially noticeable for leaner pieces of meat, like wild turkey.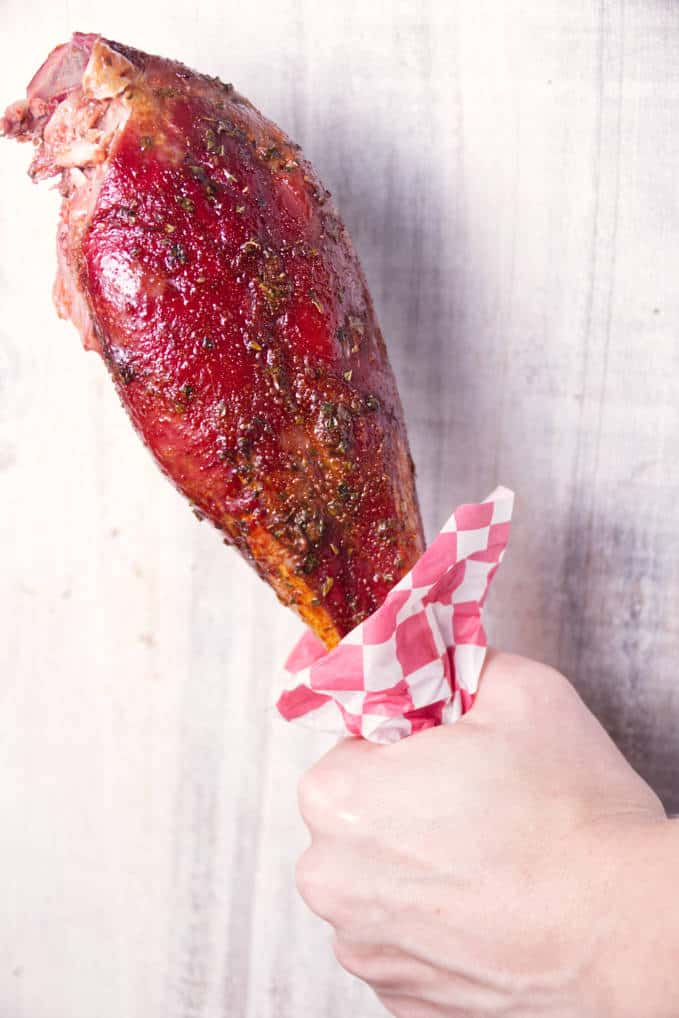 What else am I cooking up?
Speaking of wild turkey, check out this smoked wild turkey breast. It is packed full of flavor and has a delicious orange lemon butter sauce drizzled on top (I could put this sauce on anything!).
If you need to feed a hungry mob of people quickly, then check out these awesome air fryer parmesan chicken tenders. The cheese coating gives them a delicious and satisfying crunch that will impress even the most snobby chicken nugget fans out there!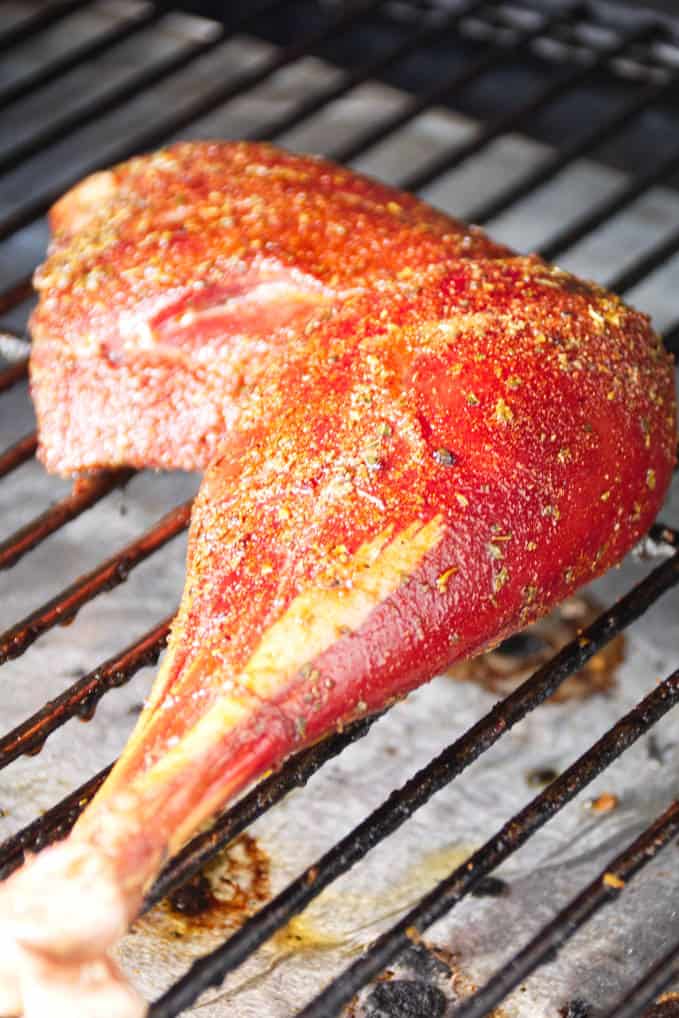 💬 Tell Me What You Think!
Did you try out this recipe? Please leave a comment below and let me know how you liked it. Also, snap a picture and post it to your favorite social platform. Be sure to tag me at @alicensetogrill and let me know how you liked it!
CONNECT WITH A LICENSE TO GRILL!
Be sure to follow us on our social media accounts.
Did you make this recipe? Tell us about it in the comments below!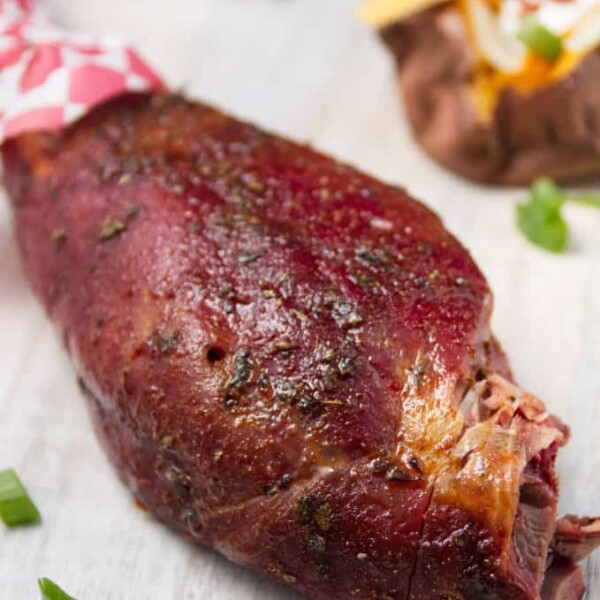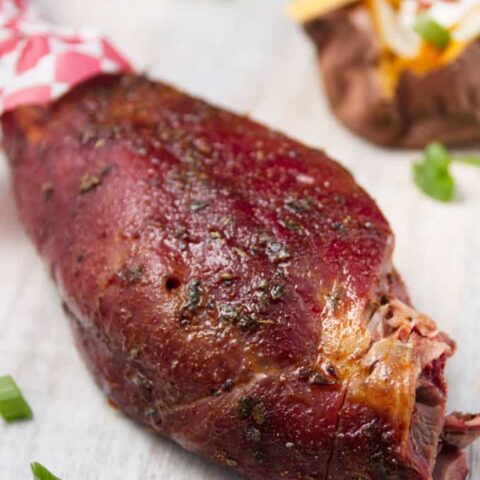 Smoked Wild Turkey Legs
Total Time:
1 day
2 hours
15 minutes
I am always excited to smoke up some wild turkey after hunting season every year. These meaty turkey legs get their flavor and tenderness from an overnight brine along with some aromatics. In this recipe, I use garlic, black pepper, and citrus fruit to pump it full of flavor. In order to ensure they are fall-off-the-bone tender, you will want to smoke these low and slow and to perfection. If you get your hands on some wild turkey, you will need to try this recipe.
Ingredients
ingredients 
1 wild turkey leg
1/4 cup Cajun seasoning dry rub
wet brine
1/4 cup kosher salt (or 3 tablespoons table salt)
2 tablespoons brown sugar
2 cups hot water
2 cups ice or cold water
optional aromatics for the brine:
1-2 tablespoons peppercorns
Sliced lemons, oranges, onions, or 2-3 minced garlic cloves
Fresh rosemary, bay leaves, or sage (a few sprigs of each)
Instructions
Brine the turkey
Mix the salt, sugar, and hot water in a large mixing bowl until fully dissolved. Add in your aromatics and allow them to steep in the warm water and impart their flavors. Add in the ice or cold water to cool the brine down.
Get a container that is large enough to hold the wild turkey leg. Pour the brine over the turkey leg and ensure it is fully submerged in the brine.
If needed, top off the container with the cold water to ensure the turkey is fully covered by the brine. Cover with a lid or plastic wrap and refrigerate for 2-24 hours (or overnight).
prepare the pellet grill
Prepare your pellet smoker. Turn the power switch on and set the dial to smoke. Wait 4-5 minutes until the fire starts.
When the fire starts, set the temperature to 225°F and close the lid. Let the pellet grill preheat for 15 minutes.
smoke the turkey
Remove the turkey leg from the brine. Pat it dry with a towel. To get a nice crispy skin, you want the turkey leg to be dry.
Season with the cajun seasoning mix dry rub, or your favorite seasoning.
When the pellet grill is hot, place the turkey leg on the grill and stick a leave-in thermometer into the thickest part of the meat. Close the lid.
Smoke the wild turkey leg until it reaches an internal temperature of 150°F (see notes).
Remove the turkey leg from the smoker and cover with aluminum foil or butcher paper and allow it to rest for 10 minutes.
Use a paper towel or butcher paper to wrap the bone of the turkey leg and pick it up to eat. Or you can slice the meat from the bone and serve.
Notes
The hot water doesn't need to be boiling hot, it just needs to be hot enough for the salt to dissolve easier.
If it takes more water to cover the turkey, then make more brine solution at a ratio of ¼ cup of kosher salt (or 3 tablespoons table salt) to 1 quart of water.
Remember to wash your sink well after you rinse the brined turkey to avoid cross-contamination.
The FDA recommends cooking turkey to an internal temperature of 165°F. I remove the turkey when it reaches 150°F - 160°F. The carry-over cooking allows the temperatures to be sustained long enough to kill salmonella. I recommend you follow FDA guidelines.
Recommended Products
As an Amazon Associate and member of other affiliate programs, I earn from qualifying purchases.
Nutrition Information:
Yield:

2
Serving Size:

1
Amount Per Serving:
Calories:

426
Total Fat:

14g
Saturated Fat:

3g
Trans Fat:

0g
Unsaturated Fat:

9g
Cholesterol:

165mg
Sodium:

20821mg
Carbohydrates:

39g
Fiber:

7g
Sugar:

20g
Protein:

42g
Nutrition information is a guideline only, is calculated automatically by third party software, and absolute accuracy is not guaranteed.