Smoked Wild Turkey Breast
on Sep 25, 2020, Updated Sep 21, 2023
Sure, you have had smoked turkey breast, but have you ever had smoked wild turkey breast? Well, here it is! Whether you hunted the turkey yourself or got it from a butcher or friend, you have got to try this recipe out! Keep reading below to find out my secret to getting a perfectly cooked and super moist turkey breast. Of course, this brined turkey breast recipe is also delicious if all you have is a domestic turkey breast.
This turkey spent a day soaking in an aromatic brine so that it would be moist and flavorful when taken off the smoker. The sage, rosemary, and black peppercorn are perfect accompaniments to the mild flavor of wild turkey. Smoked with cajun seasoning dry rub and served with an orange lemon butter sauce drizzle, this smoked wild turkey breast is sure to be a family pleaser!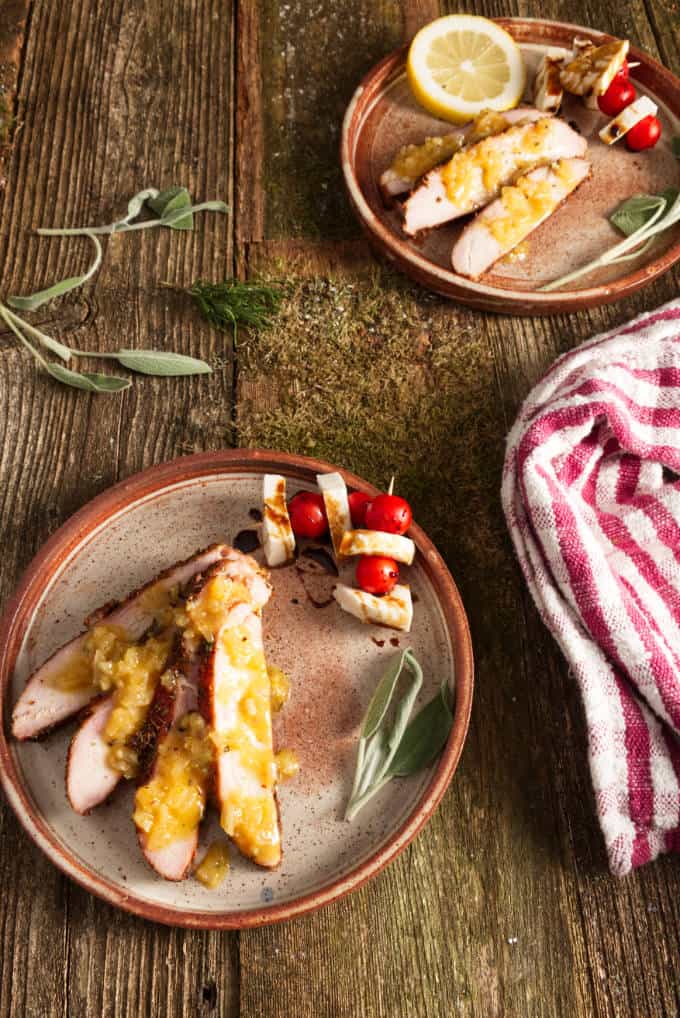 Why this recipe is so great
When it comes to smoked turkey breast, the recipe should be simple. We don't want to overpower the delicate flavor of the turkey. I love this recipe because it is so easy to put together and it comes out perfect every time!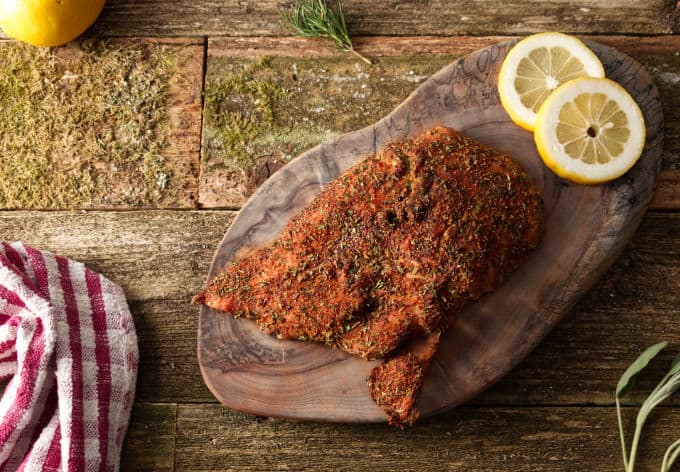 How to get a moist turkey breast
Everyone has memories of sitting down to Thanksgiving dinner and grabbing a slice of turkey, only to regret taking such a large serving because of how dry it was.
Turkey breast is one of my favorite meats to smoke, but it can also dry out fairly easily. Cooking a turkey that resembles cardboard must be a rite of passage, everyone has done it. I have ruined my fair share of turkey and it is so frustrating. But there is a secret to moist turkey breast!
Does turkey breast need to be cooked to 165°F?
No, definitely not. The USDA recommends cooking turkey to 165°F in order to kill salmonella. However, you can also kill salmonella at lower temperatures, and that, my friends, is how we cheat the system so that we can get moist turkey and not die!
The USDA says that at 165°F, salmonella is killed in just a few seconds but at 150°F, it is killed in just under 4 minutes. As with any large piece of meat, there is always carry-over cooking where the internal temperature of the meat increases even when it is taken off the grill. So my advice, and the secret to getting that juicy smoked wild turkey breast, is to pull it off at 150°F, wrap it in butcher paper or foil, and let it rest for 10 minutes.
Go ahead and continue to monitor the temperature to ensure it spends 4 minutes at 150°F while resting.
If the idea of pulling your turkey off the grill at 150°F freaks you out, then once the turkey reaches that point, set a timer for 4 minutes and then remove the turkey. Then we can be assured that it is safe to eat.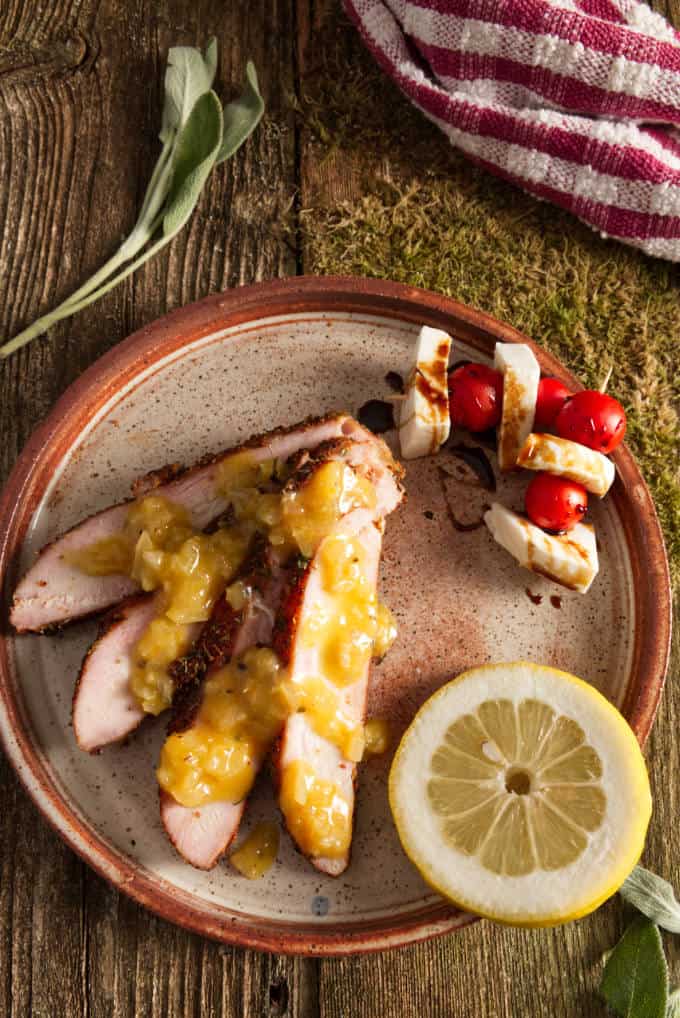 Gather these ingredients
Wild turkey breast
Cajun spice dry rub
Orange lemon butter sauce
Kosher salt
Brown sugar
Water
Optional aromatics
Aromatics for the brine
Get creative with the brine! You can really add anything, but these ingredients below are fail-safe options.
Peppercorns
Sliced lemons or oranges
Garlic cloves
Fresh rosemary, bay leaves, sage, or other herbs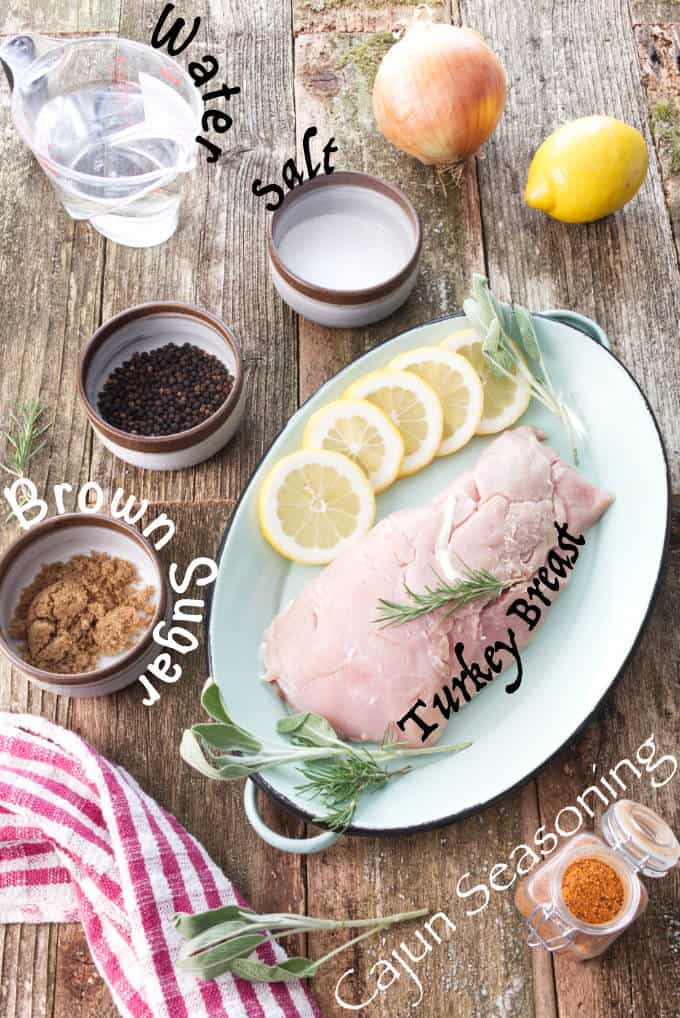 Tip: When wrapping your meat, use aluminum foil or some peach butcher paper.
Get that wild turkey breast smoked!
Step 1: Prepare the turkey
Begin by removing the silver skin and any membrane from the turkey. If your turkey breast has skin on it, you can choose to leave it or remove it. In my case, I did not have the skin.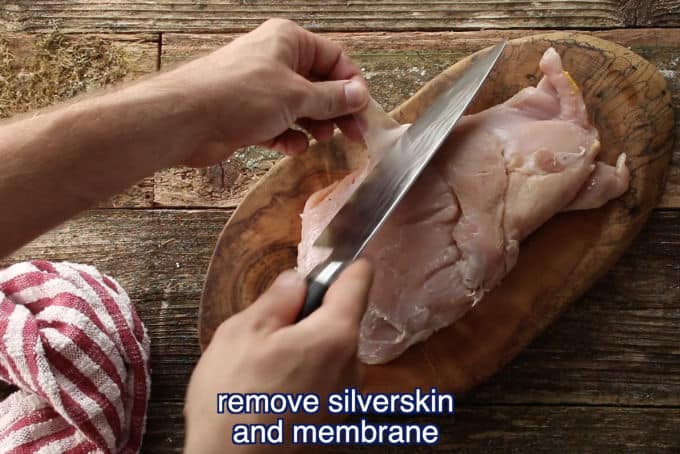 Step 2: brine the turkey
First, you will need to make the brine for the turkey breast. In a pan or bowl large enough to fit the entire turkey breast, dump the hot water in with the salt and brown sugar. Stir it until it is completely dissolved in the water.
Then while it is still warm, add your aromatics. In this case I used 1 tablespoon of black peppercorn, some fresh rosemary and sage, and some slices of lemon. Give it a good stir and allow those aromatics to steep for a few minutes in the warm water.
Finally, place your wild turkey breast in the brining solution and add a couple of cups of cold water, or just enough to cover the entire piece of turkey breast. Cover it and allow it to brine for at least 2 hours or, preferably, overnight for 24 hours.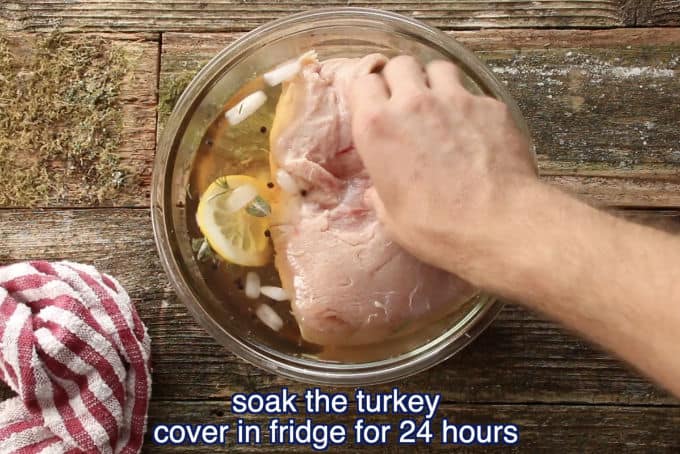 Step 3: rub the turkey
After the turkey is finished brining, remove it and pat it dry. Then sprinkle on some of the cajun dry rub (or your favorite poultry dry rub) and be sure it coats the entire breast.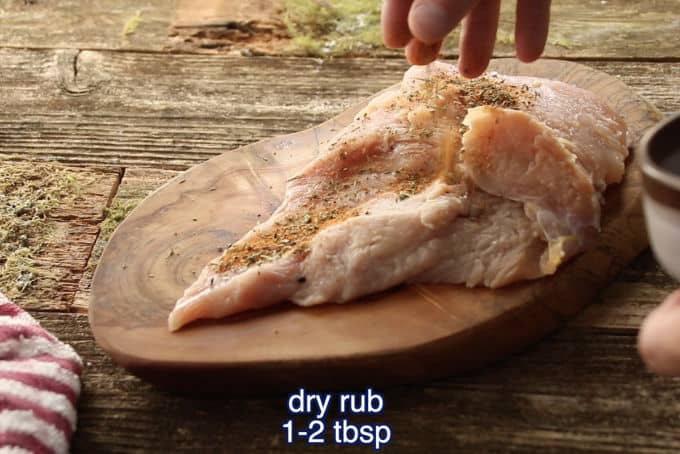 Step 4: smoke the turkey
Place the breast in the smoker at 225°F. I like to use more mild and sweet hardwoods like maple or cherry, but it really is your preference here. I often times use the competition blend pellets from Pit Boss.
Let the turkey smoke for about 2 hours, or until the internal temperature of the turkey reaches 150°F. Remove the turkey from the smoker and wrap it in butcher paper or aluminum foil. Allow it to rest for 10-20 minutes.
I always trust this ThermoWorks Signals WiFi thermometer to tell me when I am done cooking. The Signals thermometer has 4 probes, so you can monitor multiple items, all from the comfort of the couch using the ThermoWorks App on your phone.
For super fast temperature checks, this ThermoWorks ONE Thermapen gives you an accurate reading in only one second! Now you will not have any more excuses for not hitting perfection!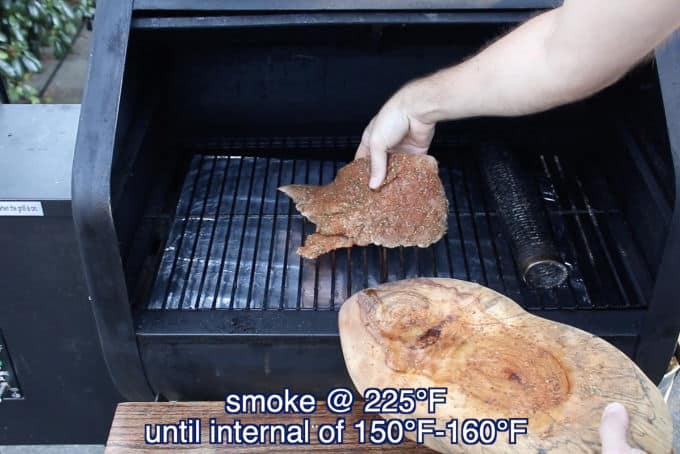 Step 5: slice the turkey
Slice the turkey up! Be sure to slice against the grain, perpendicular to the meat fibers in the breast. This will help make the turkey breast even more tender.
Drizzle on some of the orange-lemon butter sauce and enjoy!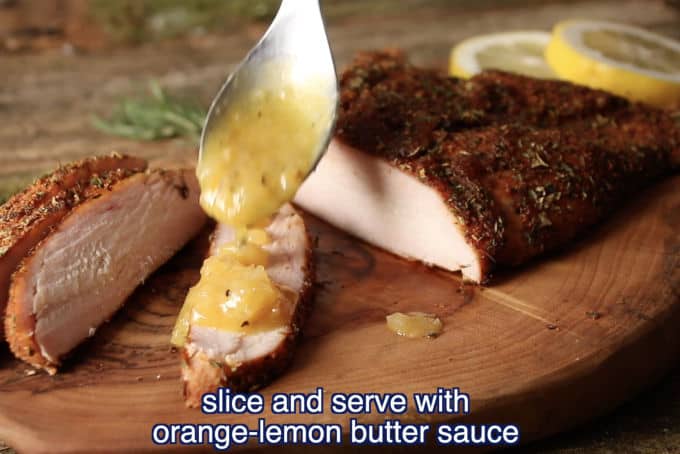 What else is cooking over here?
My favorite recipe for fish tacos is this air fryer tilapia fish tacos recipe! I am always a sucker for fish tacos and look for any excuse to make Taco Tuesday happen on any day of the week. They are super easy and the air fryer puts a perfect crisp on them. Pile on the jalapeño lime-cilantro slaw and get ready for a flavor explosion!
Speaking of incredible flavors, this tequila lime shrimp stuffed flank steak is to die for! It is smoked on the grill for a couple of hours and packed full of shrimp which has marinated overnight in a tequila lime marinade. Oh, and it is oozing with melty Oaxaca cheese!
💬 Tell Me What You Think!
Did you try out this recipe? Please leave a comment below and let me know how you liked it. Also, snap a picture and post it to your favorite social platform. Be sure to tag me at @alicensetogrill and let me know how you liked it!
CONNECT WITH A LICENSE TO GRILL!
Be sure to follow us on our social media accounts.
Did you make this recipe? Tell us about it in the comments below!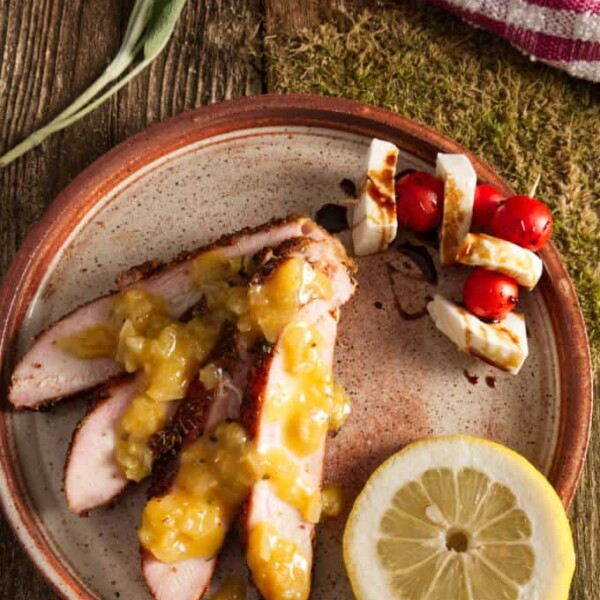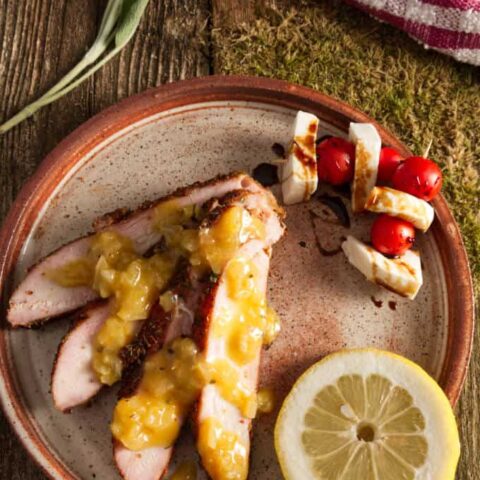 Smoked Wild Turkey Breast
Total Time:
4 hours
10 minutes
Turkey breast is one of my favorite meats to smoke. This time, we use wild turkey breast and brine it overnight to keep it super moist. The sage, rosemary, and black peppercorn aromatics really make this wild turkey breast stand out! The secret here is to ensure that you do not overcook your turkey breast. This recipe is great because you will get a flavorful and super moist turkey breast, every time! Make it extra and drizzle some orange butter sauce over the top.
Ingredients
3-pound wild turkey breast
1 tablespoon cajun seasoning mix
1 cup orange lemon butter sauce
wet brine
1/4 cup kosher salt (or 3/4 cup table salt)
2 tablespoons brown sugar
2 cups hot water
2 cups ice
optional aromatics for the brine:
1-2 tablespoons peppercorns
sliced lemons, oranges, onions, or 2-3 minced garlic cloves
Fresh rosemary, bay leaves, or sage (a few sprigs of each)
Instructions
brine the turkey
Get a container that is large enough to hold the wild turkey breast and enough water to cover the turkey. Mix the salt, sugar, and hot water until dissolved. Add cold water or ice to cool the brine down.
Place the turkey in the container and add the brining liquid. If you want to add additional aromatics like peppercorns, sliced onions, lemons, and bay leaves, do that as well.
Top the container with the cold water. Make sure the turkey breast is completely submerged. Cover and refrigerate overnight.
prepare the pellet grill
Open the grill lid. Turn the power switch on and set the dial to smoke. Wait 4 to 5 minutes until the fire starts.
When the fire starts, set the temperature to 225°F and close the lid. Let the pellet grill preheat for 15 minutes.
smoke the turkey
Remove the turkey breast from the brine. Pat the turkey breast dry with a towel.
Season with the cajun seasoning mix dry rub, or your favorite seasoning.
When the pellet grill is hot, place it on the grill and stick a leave-in thermometer into the thickest part of the breast. Close the lid.
Smoke the turkey breast until it reaches an internal temperature of 150°F (see notes).
Remove the turkey breast from the smoker and cover with aluminum foil or butcher paper and allow it to rest for 10 minutes.
Slice and serve with a drizzle of the orange lemon butter sauce.
Notes
Use a trusty meat thermometer so you can monitor the cook and ensure the best results. I like to use the ThermoWorks Signals as a leave-in thermometer or an instant-read like the ThermoWorks ONE.
The hot water doesn't need to be boiling hot, it just needs to be hot enough for the salt to dissolve easier.
If it takes more water to cover the turkey, then make more brine solution at a ratio of ¼ cup of kosher salt (or 3 tablespoons table salt) to 1 quart of water.
Remember to wash your sink well after you rinse the brined turkey to avoid cross-contamination.
The FDA recommends cooking turkey to an internal temperature of 165°F. I remove the turkey when it reaches 150°F - 160°F. The carry-over cooking allows the temperatures to be sustained long enough to kill salmonella. I recommend you follow FDA guidelines.
Nutrition Information:
Yield:

10
Serving Size:

1
Amount Per Serving:
Calories:

244
Total Fat:

4g
Saturated Fat:

1g
Trans Fat:

0g
Unsaturated Fat:

2g
Cholesterol:

111mg
Sodium:

3303mg
Carbohydrates:

9g
Fiber:

2g
Sugar:

5g
Protein:

42g
Nutrition information is a guideline only, is calculated automatically by third party software, and absolute accuracy is not guaranteed.