This maple bourbon smash is really a slight variation to an old fashioned. It is a very simple cocktail with only a few ingredients so that the bourbon can shine and not be overpowered. I used a bourbon barrel-aged maple syrup which complemented the Woodinville Whiskey Co. straight bourbon and added just a touch of sweetness. The citrus brought just a bit of tang and sourness to the party and the bubbly seltzer water topped it off and gave it the crisp refreshing kick I needed! I love this maple bourbon smash and I hope you do too!
I prefer to use fresh citrus, the flavors are always way more bright. Plus the satisfaction of enjoying a tasty cocktail that you built from scratch is way more pleasing. The citrus complements the sweet nature of the bourbon very well. Since bourbon is a little sweet on its own, it makes a delightful entry point for those who are new to whiskey or who typically need very sweet cocktails to mask the flavor of their chosen spirit.
I love bourbon because it has a very complex flavor. I enjoy the smokiness from the barrel aging process and the vanilla, caramel flavors that tend to jump onto your palette. Keep reading below to get the recipe for this cocktail and take a shallow dive into the delicious background of bourbon whiskey!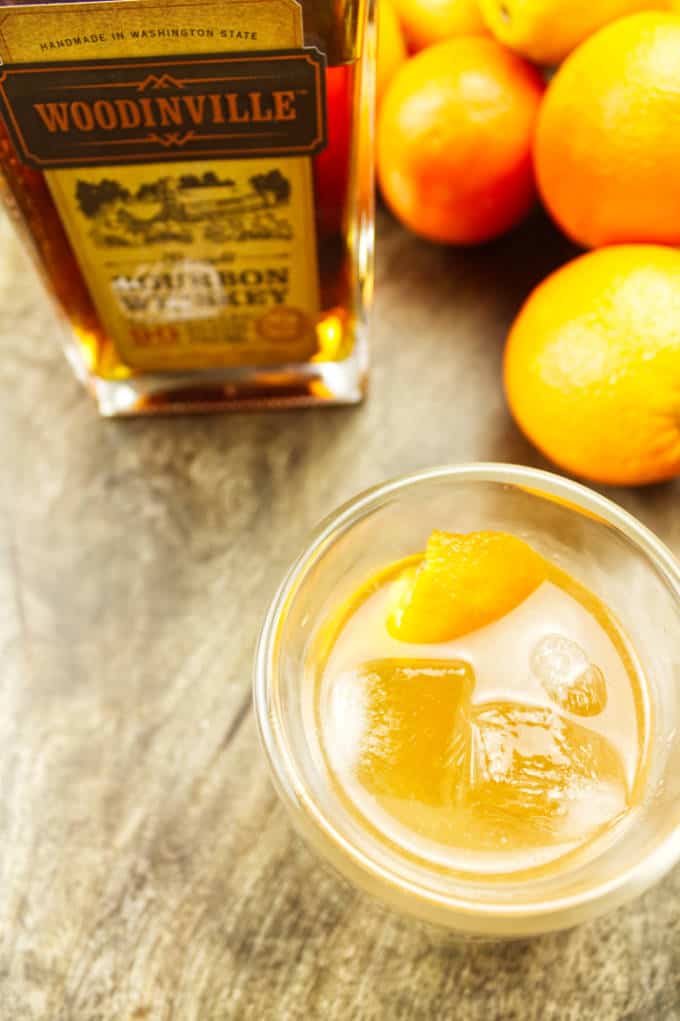 What are the different types of whiskey?
American

Bourbon Whiskey
Rye Whiskey
Tennessee Whiskey
Wheat Whiskey
Corn Whiskey
Blended Whiskey

Scotch
Irish
Canadian
Japanese
Bourbon Whiskey
Bourbon is the most popular type of whiskey in America and has its roots in Kentucky all the way back in 1783. Although the exact date is sometimes disputed and the history is a bit hazy, maybe due to the symptoms of enjoying the spirit?! Bourbon must be made with at least 51% corn and the other 49% can come from some combination of other grains, which may be malted barley and rye or wheat.
Bourbon is always aged in new oak barrels that are charred to a particular level. This aging process imparts flavors of vanilla, spices, wood, and smokiness. The bourbon has a natural sweetness from the grains and the aging process which makes it a delicious entry point to those who are new to whiskey.
My favorite bourbon is actually by Woodinville Whiskey Co. straight bourbon and it is so delicious to sip on but is also great in cocktails. Check out their website and grab some for your next party!
What is a smash cocktail?
A smash cocktail is a concoction of spirits, sugar, and herbs or fruit. Generally, you will "smash" the herbs or fruit by muddling them together. The great thing about a smash is that you can explore with ingredients and make some crazy and fresh drinks based on your inspirations. There is no true-to-style rule, just combine your favorite liquor, add some syrup or sugars, and then some herbs or fruits, muddle and then enjoy!
What is good to mix with bourbon?
Orange juice
Lemon juice
Sour mix
Soda water
Cola
Bitters
Ginger ale or ginger beer
Or keep it simple with an ice cube or two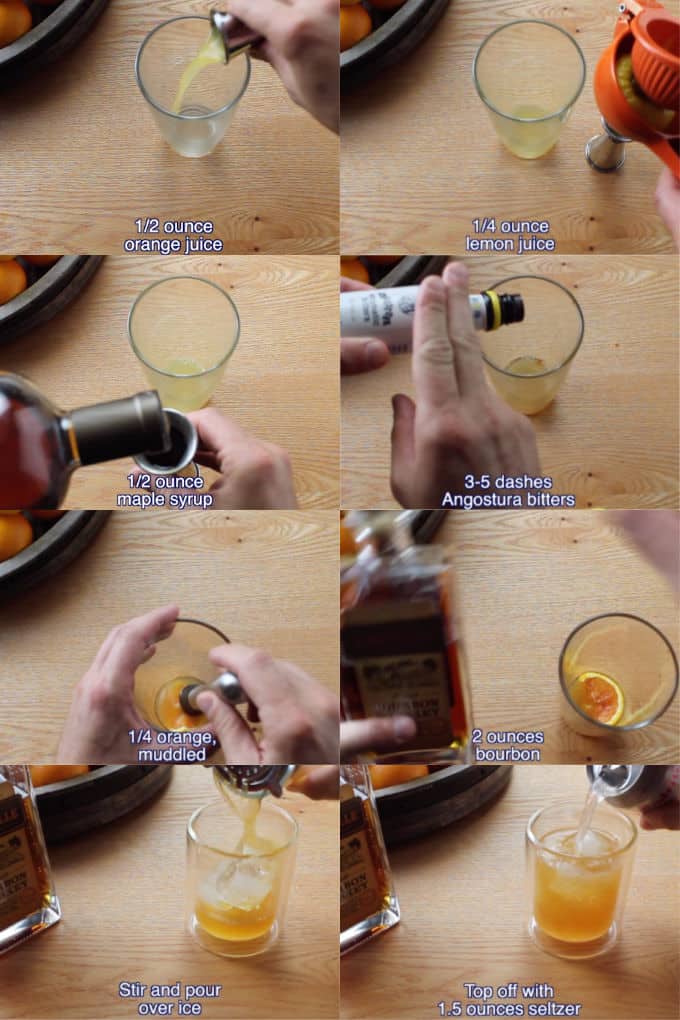 Delicious food to go along with your cocktail!
Sometimes a cocktail is good all on its own, but other times, you need some food to go along with it. Check out these delicious recipes on the blog to accompany your crafty drink.
These grilled bacon wrapped scallops pair nicely with a bourbon cocktail. The smokiness of the scallops and bacon on the grill pair nicely with the sweet and smokey bourbon. Scallops might be my favorite treat from the ocean, they are so tender! Plus wrapped in bacon and flavored from the smoke on the BBQ, YUM!
WINGS! Of course, messy fingers may hinder your ability to grip the glass, but if you don't mind getting messy then these wings are out of this world! Try out these air fryer buffalo chicken wings – from frozen, or these air fryer honey mustard chicken wings.
CONNECT WITH A LICENSE TO GRILL!
Be sure to follow us on our social media accounts
Facebook * Instagram * Pinterest * YouTube * Twitter
Did you make this recipe? Tell us about it in the comments below!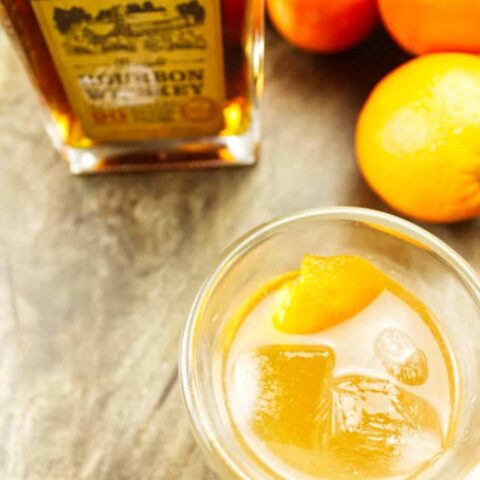 Maple Bourbon Smash
A light and refreshing bourbon smash to kick off the weekend without weighing you down too much before the fun starts! The slight kick of maple syrup sweetens things up and the fresh citrus complements the vanilla notes from the bourbon. Cheers!
Ingredients
2 ounces bourbon
1/2 ounce orange juice
1/4 ounce lemon juice
1/2 ounce maple syrup
3-5 dashes of Angostura bitters
1/4 orange wedge
Ice
1-1/2 ounces chilled seltzer
Instructions
Slice fresh oranges and lemons and press the juices into separate bowls
Combine the bourbon, orange and lemon juices, maple syrup, bitters, and stir
Place the orange wedge into the cocktail and muddle the orange until most of the juice has been extracted and there is some pulp in the glass
Pour the cocktail through a cocktail strainer into a rocks glass over ice
Top off the cocktail with 1-1/2 ounces of seltzer water and an orange curl
Cheers!
Notes
To create the orange curl, slice a sliver of the orange rind using a knife or potato peeler and roll into a curl
After rolling the orange curl, rub it on the rim of the glass for extra lingering citrus aroma and flavor
I use flavored seltzer water (grapefruit) to add a bit more citrus flavor. Experiment with different flavors for slight variations to the recipe.
Nutrition Information
Yield

1
Serving Size

1
Amount Per Serving
Calories

199
Total Fat

0g
Saturated Fat

0g
Trans Fat

0g
Unsaturated Fat

0g
Cholesterol

0mg
Sodium

6mg
Carbohydrates

16g
Fiber

1g
Sugar

13g
Protein

0g
Nutrition information is a guideline only, is calculated automatically by third party software, and absolute accuracy is not guaranteed.