The great thing about Cornish games hens is you get to eat an ENTIRE chicken in one sitting! These air fryer Cornish game hens are juicy and packed with flavor, and best of all, they are incredibly easy to prepare. The air fryer works its magic on this chicken, along with the barbecue dry rub, to build up a deliciously crispy skin. Grab your appetite and dive into this super easy 6-step recipe!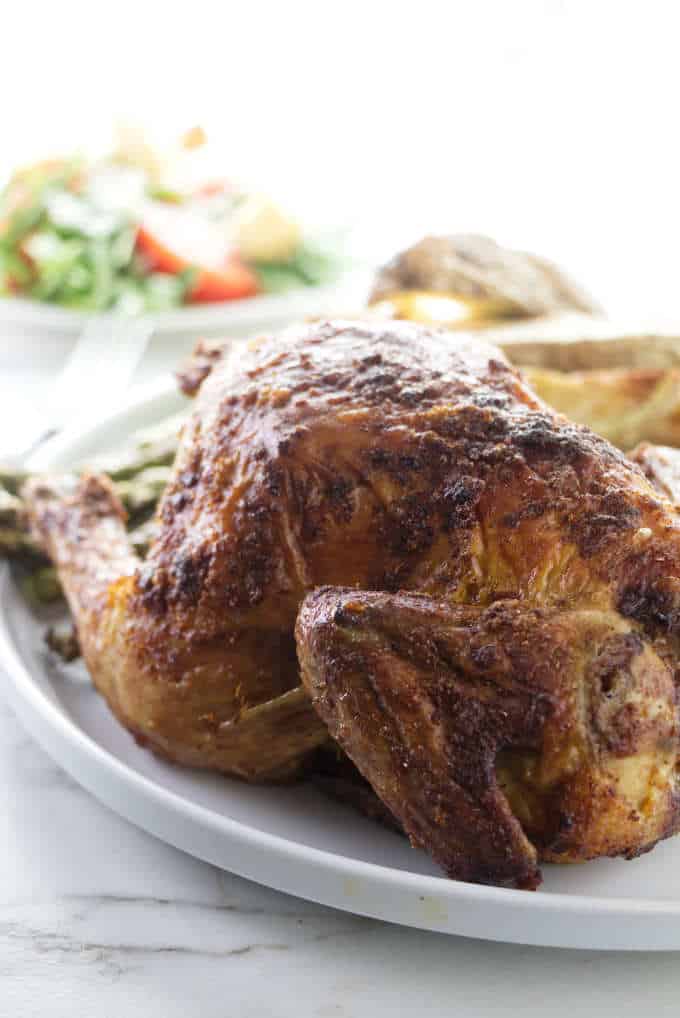 What is a Cornish Game Hen?
When I think of a game hen, I immediately think of a game bird like a pheasant or a quail. However, contrary to their name, Cornish game hens are neither game birds nor female chickens. They are actually either female or male broiler chickens.
More specifically, the Cornish game hen is a variety of broiler chickens, meaning they are bred specifically for their meat. This broiler chicken is a cross between Cornish and White Plymouth Rock chickens. Usually, Cornish game hens weigh less than two pounds after they have paid their visit to the butcher.
Legend has it, these birds were originally bred during WWII when food was scarce and there was a need for farmers to produce meat very quickly. Cornish game hens are unique because they develop very large breasts in just a short period of time.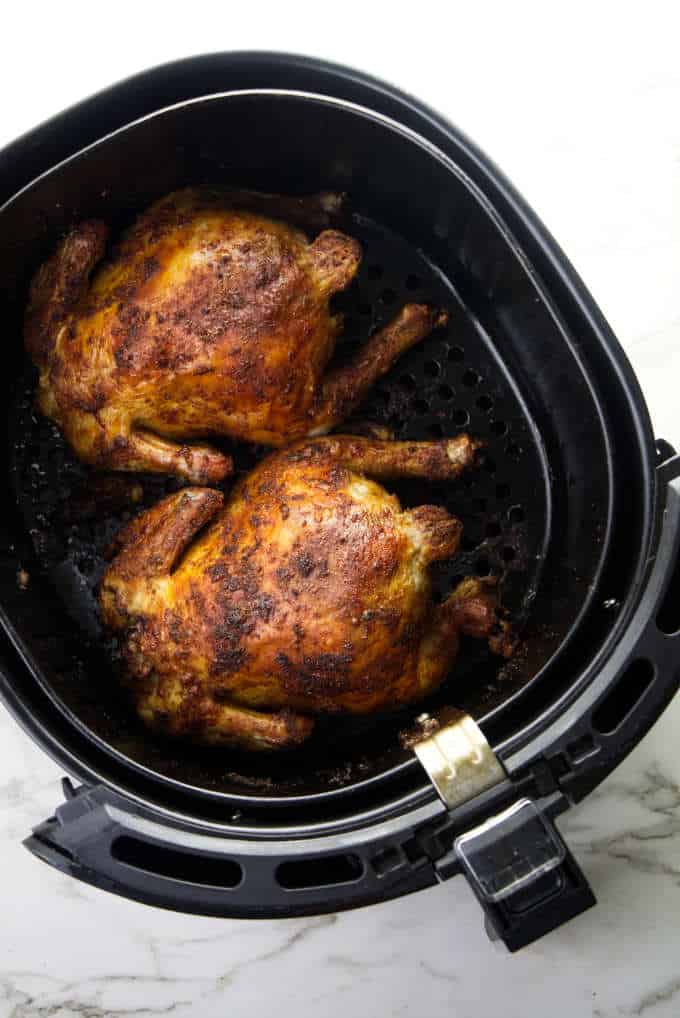 Ingredients you need for Cornish game hens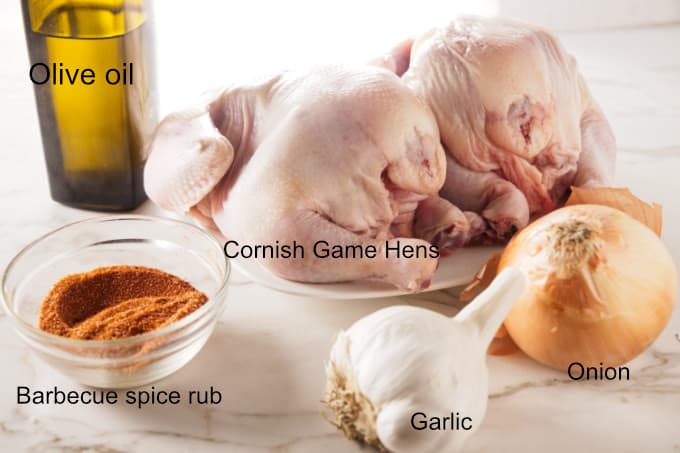 With only 5 ingredients and 6 simple steps, these air fryer Cornish game hen chickens are easy and quick to throw together. The olive oil coats the skin of the bird and keeps the dry rub coated to the surface while cooking. This makes for that crispy skin that we all enjoy, so don't skip the oil! The garlic and onion are both stuffed into the cavity of the Cornish game hens to allow these flavors to seep into the meat from the inside.
Why this recipe is so great!
Cornish game hens have an attractive presentation on the plate and always spark conversation at the dinner table.
Your guests will love how juicy the large portions of breast meat are and they will enjoy the crispy skin formed in the air fryer. The barbecue seasoning dry rub adds some great flavor, it is spicy and sweet and delivers a BBQ flavor without firing up the grill.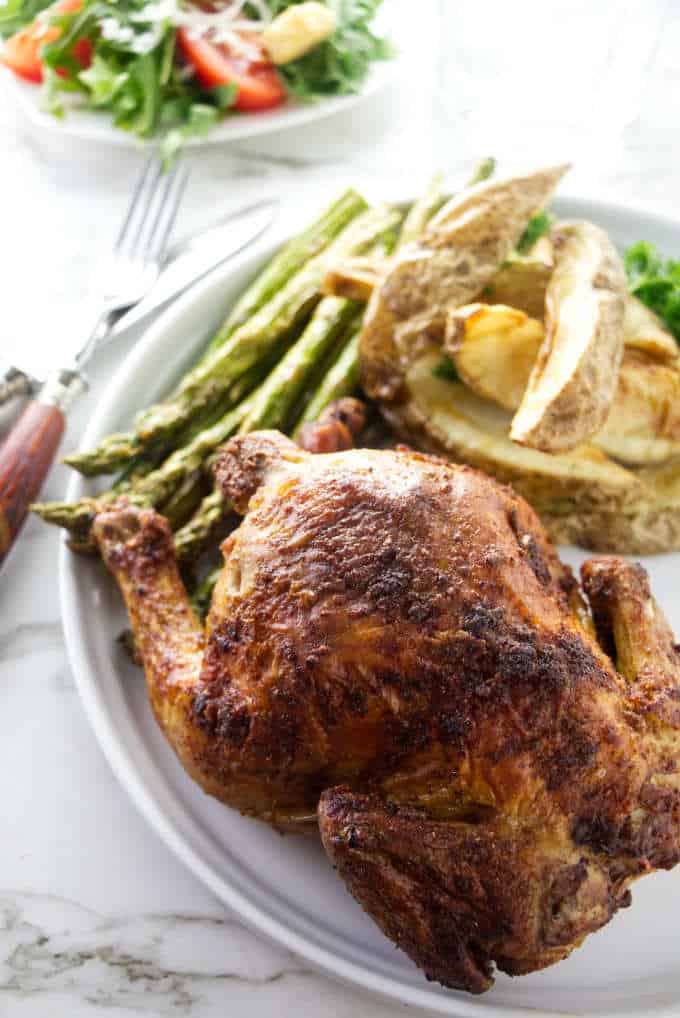 Now, what?! 6 quick steps!
Preheat your air fryer to 370°F. Preheating the air fryer helps your food to cook evenly. If you don't have a preheat setting, just run your air fryer for about 5 minutes at 370°F before putting the chicken in.
Stuff the cavities. Place the onion wedges and crushed garlic into the cavities of the Cornish game hens.
Dry rub. Rub the skin of the birds with olive oil and sprinkle on the barbecue spice blend.
Place in the air fryer. Cook the birds in the air fryer for about 30 minutes, flipping halfway through the cooking time.
Crisp the skin. Flip the birds one more time and increase the temperature to 400°F to get the skin extra crispy.
Rest and eat up! Remove the birds from the air fryer and let them rest for 10 minutes before digging in.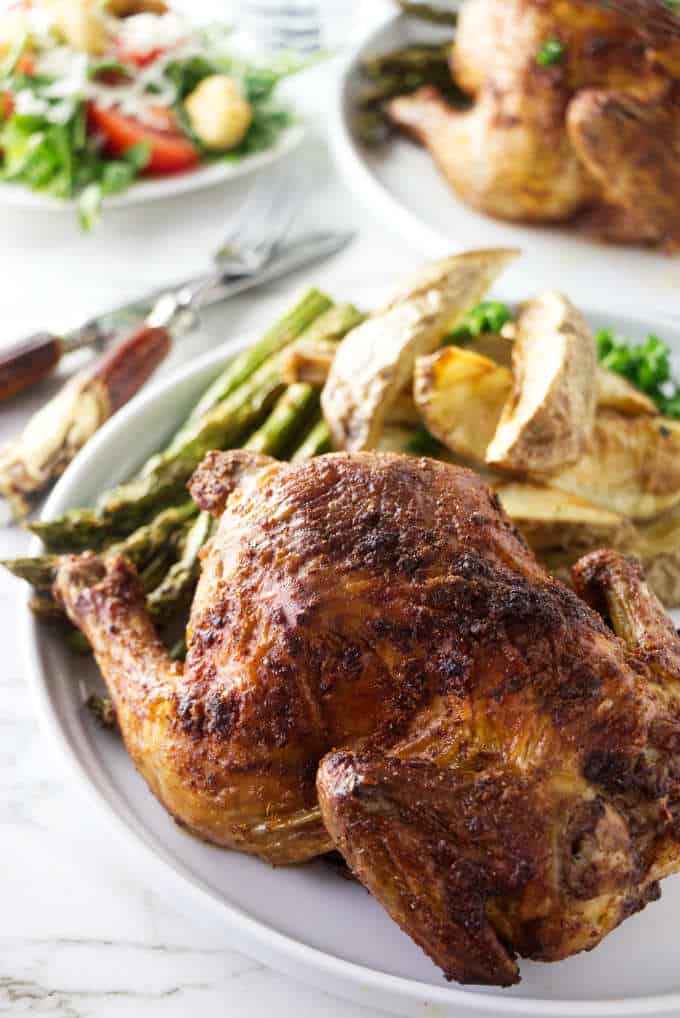 What else is cooking?
I usually like barbecue sauce with my chicken, even if it isn't cooked by traditional BBQ methods. This honey mustard sauce is tangy-sweet and perfect for chicken. If you are a fan of traditional BBQ sauce, check out this Kansas City-style BBQ sauce. Whatever direction you decide to go, your taste buds will thank you!
Right now, I need this smoked jalapeño popper mac and cheese in my life! I swear to all things BBQ and delicious, this is the best macaroni and cheese, ever! It has over 2 pounds of cheese in it and tastes just like a jalpeño popper.
Tell me what you think!
Did you try out this recipe? Please give it a 5-star review! Also, snap a picture of it and share it with us on Instagram using the hashtag #alicensetogrill and #savorthebest.
CONNECT WITH SAVOR THE BEST!
Be sure to follow Savor the Best on their social media accounts.
Facebook * Instagram * Pinterest * Twitter * Youtube
Did you make this recipe? We would love to hear from you. Drop us a comment below.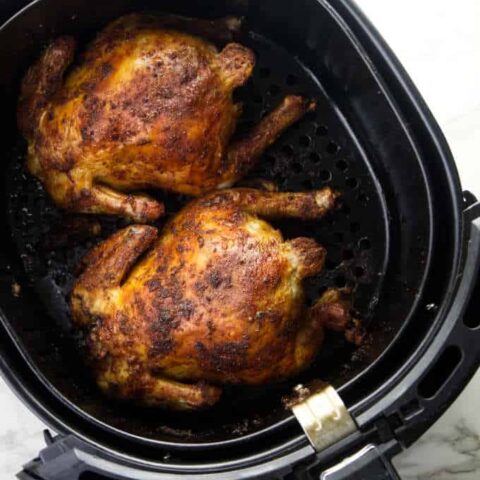 Air Fryer Cornish Game Hens
Yield: 2 Cornish Game Hens
Prep Time: 10 minutes
Cook Time: 35 minutes
Total Time: 45 minutes
Don't let their small size fool you, Cornish game hens have a lot of meat. Known for their high proportion of breast meat, they make for a delicious meal and typically served whole. These little birds make a big statement on the dinner table and they are easy to cook in the air fryer. Coat these with a barbecue dry rub or use your favorite seasoning blend. This is my favorite way to cook Cornish game hens because of how crispy the skin gets in the air fryer!
Ingredients
1 to 2 Cornish Game Hens
1 small onion, sliced into small wedges
6 garlic cloves, smashed or minced
1 tablespoon olive oil
2 tablespoons barbecue seasoning blend (or your favorite dry rub)
Instructions
Preheat the air fryer to 370°F.
Stuff the cavities of the Cornish game hens with the onion wedges and smashed garlic.
Rub olive oil all over the birds, then sprinkle with the barbecue spice blend.
Place the birds in the air fryer and cook for 30 minutes, flipping halfway through the cooking time.
After 30 minutes, increase the temperature to 400°F and flip the birds again. Cook for 5 more minutes to get the skin crispy.
Let the Cornish game hens rest for 10 minutes before cutting into them. Enjoy!
Notes
If you have a smaller air fryer then only cook one Cornish game hen at a time.
Different air fryer brands cook at slightly different rates. Check the Cornish game hens for doneness and add cooking time if necessary.
Use an instant-read thermometer to check the internal temperature of the Cornish game hens. They should read 165°F.
Nutrition Information:
Yield: 4
Serving Size: 1
Amount Per Serving:
Calories: 389
Total Fat: 27g
Saturated Fat: 7g
Trans Fat: 0g
Unsaturated Fat: 18g
Cholesterol: 171mg
Sodium: 230mg
Carbohydrates: 5g
Fiber: 0g
Sugar: 2g
Protein: 30g
Nutrition information is a guideline only, is calculated automatically by third party software, and absolute accuracy is not guaranteed.