How to cut chicken wings
on Feb 03, 2020, Updated Oct 31, 2021
I used to always buy my chicken wings in the freezer section because I didn't know how easy it was to cut proper chicken wings from fresh chicken. I think fresh chicken always makes better tasting and more juicy chicken wings so in this post I will share with you how to cut chicken wings into wingettes and drumettes. And trust me, it is super easy! Now you too can have chicken wings that taste as good, or better, than your favorite wing restaurant. Once you learn how to cut chicken wings you will be exploring ways to cook them. I typically like to air fry mine because it is so easy but I also enjoy my wings smoked, baked, or even fried.
Sections of the chicken wing
When you buy fresh chicken wings from the grocery store, they will come in a large unwieldy pieces. The chicken wings can be broken down into three pieces the wingette, the drumette, and the wing tip. Some people prefer to keep the wing tip attached to the wingette and you may notice restaurants like Hooters will also keep the wing tip on their wings when you order them. There isn't a whole lot of meat on the wing tip so I usually just cut it off, but if you enjoy crispy sauce drenched wings then leave the wing tip on and you will have a bit extra skin to enjoy while eating.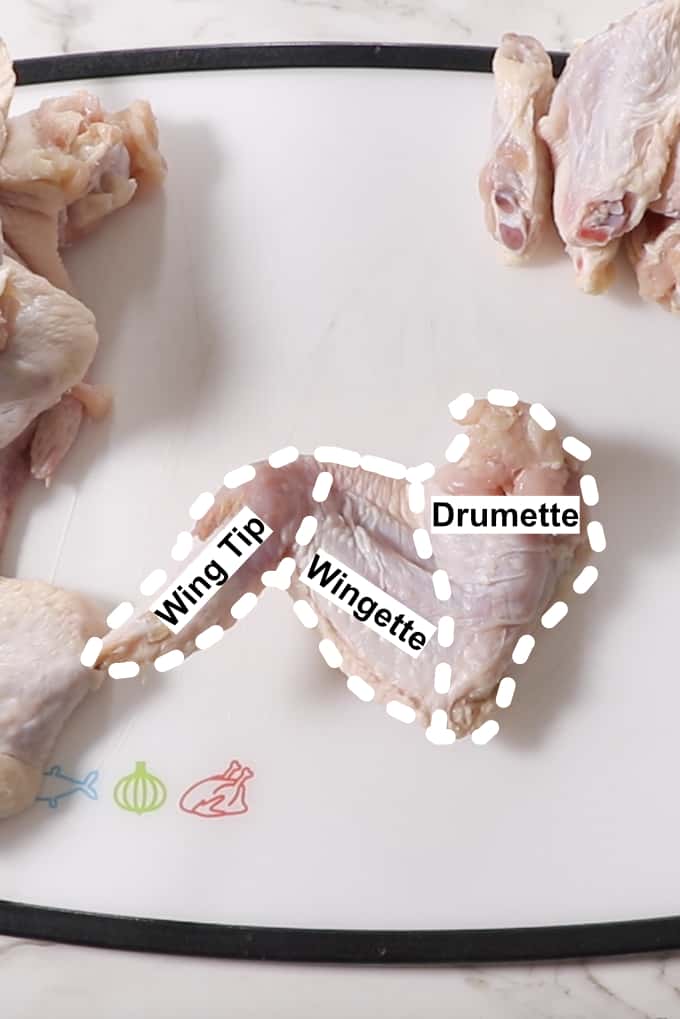 Wing Tip
This is the smallest portion of the wing and has very little meat. It is distinguished by the pointy section of the chicken wing. Some people refer to the wing tip as the flapper. I usually discard the wing tip but some people consider it a delicacy. If you want, you can save the wing tips and make chicken stock from them.
Wingette
The middle joint of the chicken wing and also referred to as the flat. When eating the wingette you will know since there are two parallel bones that run through the wingette and are usually separated in order to get the meat out of the middle. This is the messiest part of the wing!
Drumette
The drumette is my favorite part of the wing! It is the meatiest section of the chicken wing and usually juicier than the wingette. The drumette looks a lot like a miniature chicken drumstick or leg.
Do you have to cut chicken wings?
I prefer to cut my chicken wings and break them down into smaller pieces. When the wings are all sauced up they can be quite messy and handling a whole chicken wing isn't as enjoyable for me. The process for breaking the wing down is really quite simple and only takes a few seconds for each wing.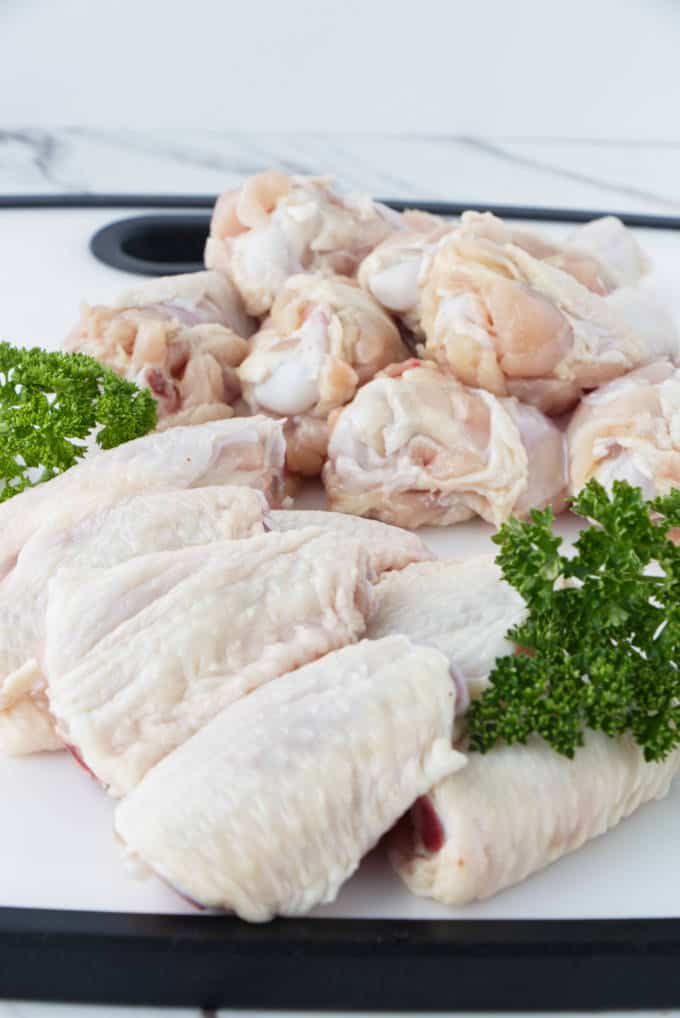 How to separate a chicken wing
When you first handle the chicken wing, bend and move the joints. You will be able to feel each joint move independently and get an idea of where you will need to cut. As you flex and bend the wings, feel the outside of the joint and look for a bump or ball. The joint is where the cartilage is between the bones and the easiest place to slice through the wings with a sharp knife or scissors. When I cut through the joint you will want to use the heel of your knife and cut down carefully but with plenty of force.
I will usually discard the wing tips, but if you like you can save them for the next time you make chicken stock. Save the wing tips in the freezer inside of a freezer-safe container for several months until you have enough to make a stock.
How do you know when chicken wings are cooked
An internal temperature of 165°F
Crispy skin on the outside
Juicy and tender on the inside
Use a meat thermometer to ensure doneness
I always trust this ThermoWorks Signals WiFi thermometer to tell me when I am done cooking. The Signals thermometer has 4 probes, so you can monitor multiple items, all from the comfort of the couch using the ThermoWorks App on your phone.
For super fast temperature checks, this ThermoWorks ONE Thermapen gives you an accurate reading in only one second! Now you will not have any more excuses for not hitting perfection!
No matter how you decide to cook your wings, you will want to make sure the internal temperature of the chicken reaches 165°F. Check the largest drumette with a meat thermometer, being sure to avoid contact with the bone, in order to see if the batch of wings is done.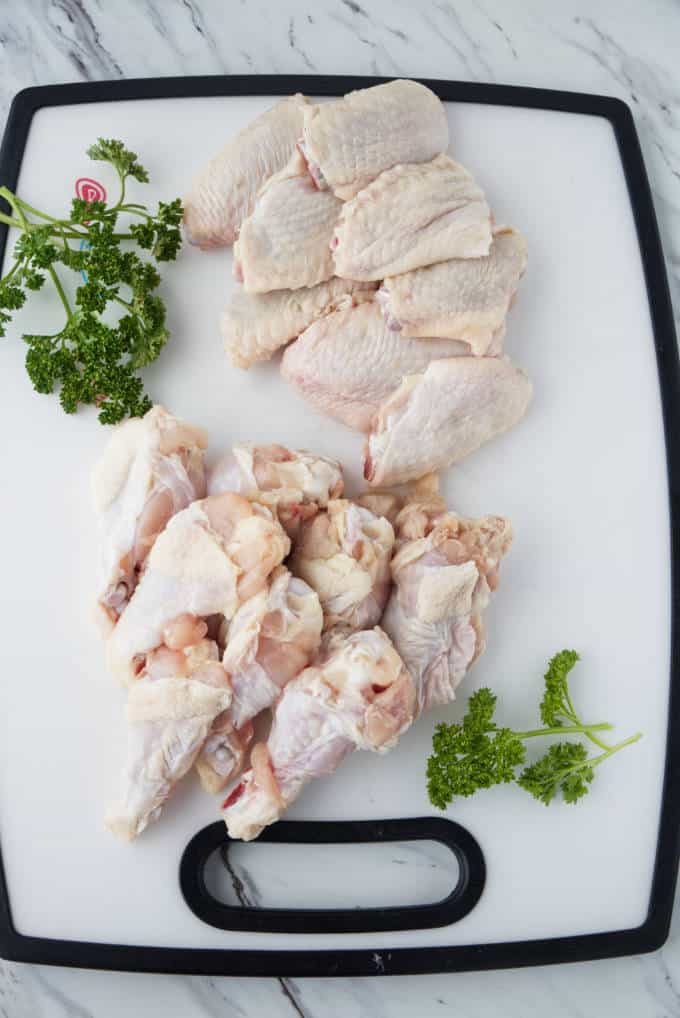 What hot sauce to use
My favorite sauces are either spicy (enjoyable spice, not death fire mouth spice!) or sweet and tangy sauces. I always make my own sauce since I like to build my flavors from the ground up, but you can always play around with a store-bought sauce and add your own twist to it. Check out these recipes for your next chicken wing cookout!
This honey mustard sauce is tangy and a bit sweet making for the perfect sauce for anyone to enjoy, not too spicy nor too sweet.
I love a good buffalo hot wing and this sauce is great and easy to make! Grabe the recipe for my favorite buffalo sauce here!
Wing recipes for you to try
These air fryer honey mustard chicken wings are crispy, tender, and moist. I love to use my air fryer to get the perfect wing!
If you have frozen wings and don't feel like cutting fresh chicken wings apart, check out this recipe for air fryer chicken wings – from frozen.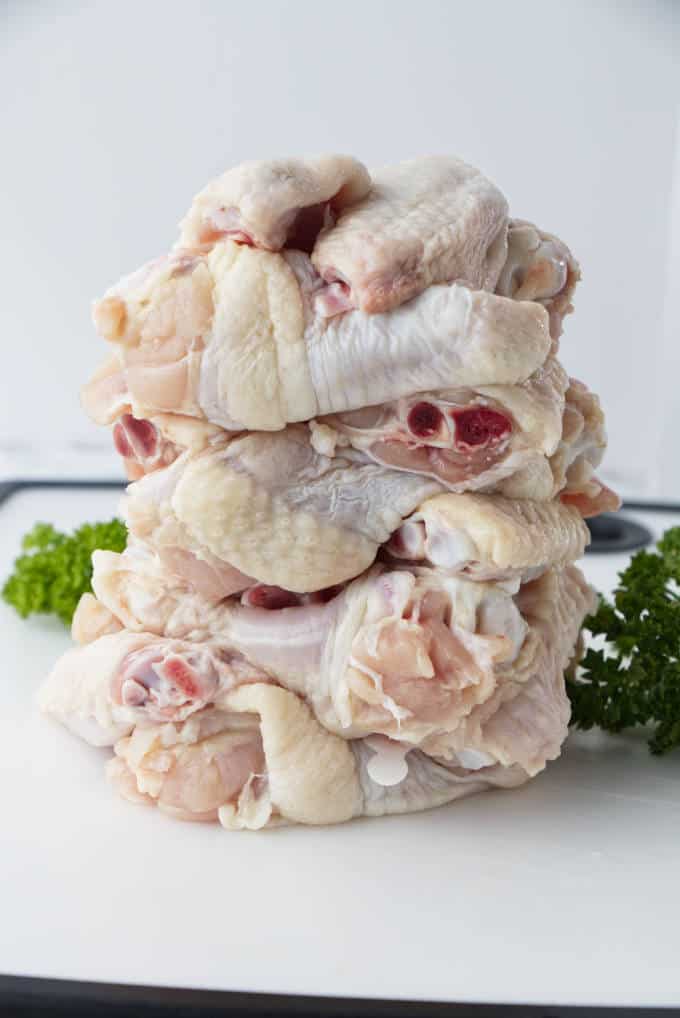 CONNECT WITH A LICENSE TO GRILL!
Be sure to follow us on our social media accounts.
Did you make this recipe? Tell us about it in the comments below!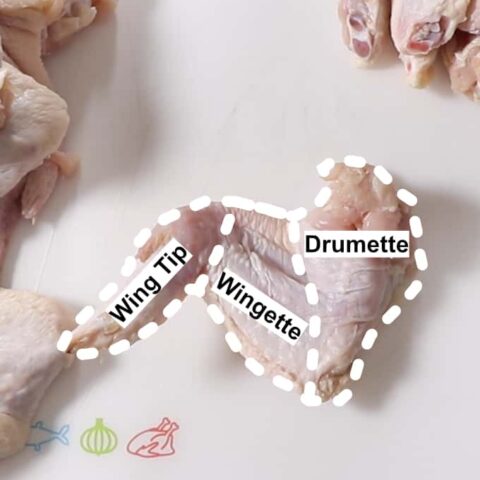 How to cut chicken wings
To get that restaurant-style chicken wing, I always prefer to use fresh chicken wings as opposed to frozen chicken wings. Plus this way you can be sure you are getting quality chicken rather than surprise chicken out of a plastic bag in the freezer section. Breaking down your own chicken wings into drumettes and wingettes is very simple and only takes a couple of minutes. Follow these steps and check out the video to see how and where to cut for success!
Materials
1.5 pounds fresh chicken wings
Tools
Chef knife or clever
Scissors
Cutting board
Instructions
Pat dry the chicken wings with a paper towel.
Flex the larger joint of the chicken wing and feel for the area where the drumette and wingette are connected, this is the cartilage and the easiest place to cut.
Cut at the joint with your knife or scissors with plenty of force.
Now find the joint between the wing tip and the wingette and cut through there as well.
Start cooking using your favorite wing recipe!
Notes
The joint of the chicken wing is mostly cartilage and relatively easy to cut through.
You may find that you need quite some force to cut through the joint so the palm of your non-dominant hand to push on the spine of the knife.