You have to try these air fryer pizza rolls! The flaky and tender puff pastry makes the perfect crust, crispy on the outside and soft on the inside. These pizza rolls are pinwheels with all the pizza goodies nestled in between layers of puff pastry. Every bite is filled with pepperoni, sausage, pizza sauce, and cheese. They basically melt in your mouth, so don't be surprised if you end up eating all of them…they are that good!
Why this recipe works
I always have puff pastry on hand in my freezer to quickly throw together a snack when I have company over. The puff pastry is really what makes these air fryer pizza rolls stand out.
Puff pastry is tender and flaky
Every bite is filled with pepperoni, sausage, and cheese
Perfect as a light snack or as an appetizer on game day
It is a reimagined way to eat pizza
Make the pizza rolls ahead of time, and air fry them the next day when the craving hits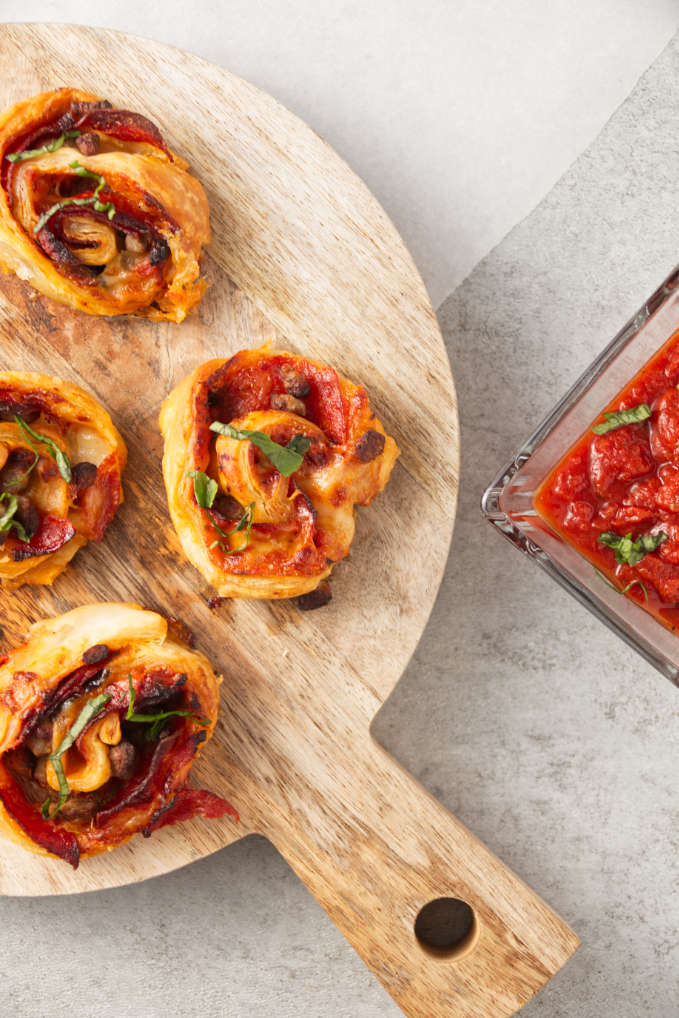 Ingredients
For this recipe, I used puff pastry because I wanted a flaky, delicate crust. If you don't have puff pastry on hand, you can use pizza dough as well. Just roll it out thin to about the same thickness as puff pastry, or about 1/8″ thick.
Grab your favorite pizza toppings. I used pepperoni and sausage for these pizza rolls.
Puff pastry
Pizza sauce
Your favorite pizza toppings (pepperoni, sausage, etc.)
Mozzarella cheese
Oil spray (or melted butter)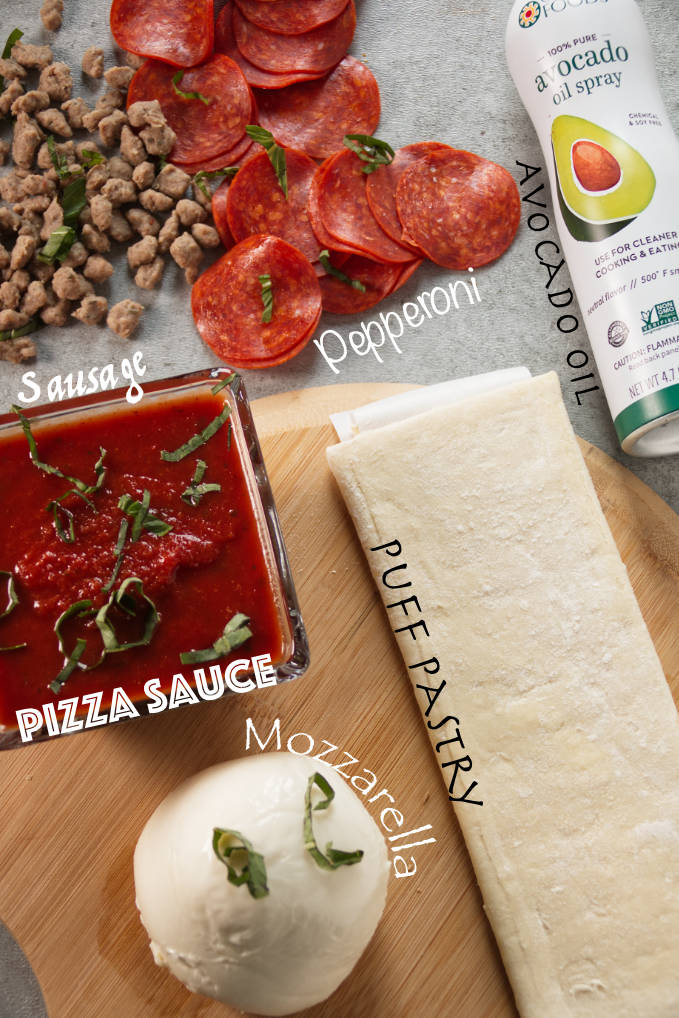 How to make air fryer pizza rolls
Step 1: prepare the puff pastry
Preheat the air fryer to 375°F by turning it on for a couple of minutes or using the preheat function if you have it. Lightly coat your work surface with a dusting of flour. This will help to prevent the puff pastry from sticking when rolling it out. Roll both sheets of puff pastry out to about 1/8″ thick.
Step 2: toppings
Evenly spread some pizza sauce on each of the puff pastries. Be sure to reserve some pizza sauce for dipping once the pizza rolls are cooked. Layer on your favorite pizza toppings. In this recipe, I used pepperoni, crumbled sausage, and fresh mozzarella cheese.
Step 3: roll it up
Carefully roll up the puff pastry into a log. Start on one of the longer sides of the sheet and roll it towards you being sure to tuck in the pizza toppings as your roll. Once you have formed the pizza into a log, cut it into pinwheels. Each pinwheel should be about 1-2″ thick, or about 2 fingers thick.
Step 4: air fry them
Spray your air fryer basket with some oil to prevent sticking. Arrange your pizza rolls in the air fryer basket. Be sure to give them plenty of space so that they don't stick together as the cheese melts and the puff pastry rises. Also, spray the pizza rolls with a quick spritz of oil or brush them with melted butter. This will help the pizza rolls develop a beautiful brown crust.
Set your air fryer to 375°F for 7 minutes. Check on the pizza rolls to ensure they are not sticking together and rearrange them if needed. Cook them for a final 3 minutes at 400°F or until golden brown and crispy. Before removing them from the air fryer basket, let them cool down for a couple of minutes. This will allow the cheese to solidify slightly and hold the pizza rolls together while removing. Serve them with a side of pizza sauce for dipping and enjoy!
Tip: use an oil with a high smoke point. My favorite cooking oil spray is this avocado oil spray from Chosen Foods. The only ingredient is avocado oil!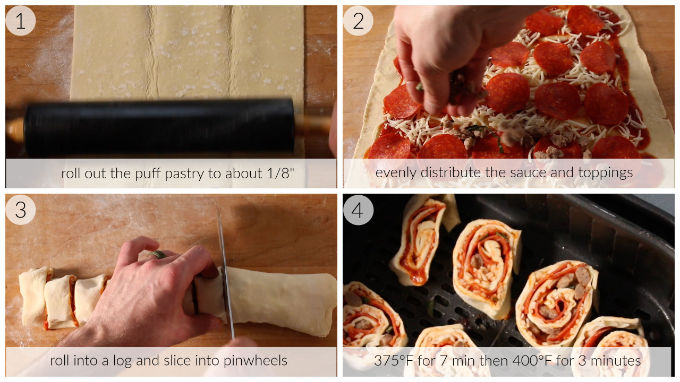 FAQ
How do you thaw puff pastry?
If you plan ahead, you can pull your puff pastry from the freezer and keep it in your fridge for about 4 hours, or overnight. To help make this process quicker, you can unpack the individual sheets of puff pastry from the box and place them on a plate in the fridge.
If you are like me and the craving for pizza hits, there is no time to wait for the puff pastry to thaw in the fridge. You can thaw the puff pastry on the counter at room temperature. Unwrap the puff pastry and place it on a plate on the counter. Keep an eye on it and check it every half hour by gently pressing on it. Once the puff pastry is soft, it is good to go! You want to be able to unfold the puff pastry without it cracking, so it shouldn't be too hard and stiff.
How do you make crispy pizza rolls?
To get a perfectly crisp crust on your pizza rolls, brush some melted butter or cooking oil on the pizza rolls. This will help the crust to get a golden brown crisp. Also, use an air fryer to help get crispy pizza rolls by cooking them at 400°F for the final few minutes.
Can you freeze these pizza rolls?
Yes! Make these pizza rolls ahead of time and put them in the freezer. When you are ready to cook them, remove them from the freezer and put them in the fridge for 3-4 hours or on the counter for 1-2 hours to thaw fully before throwing them in the air fryer.
More pizza rolls
This recipe was inspired by these air fryer frozen pizza rolls. The store-bought frozen pizza rolls need a bit of extra help to elevate them to something that doesn't resemble a soggy pizza-flavored ravioli.
What else is cooking?
These cowboy baked beans are AMAZING! The dish is loaded with 6 different types of beans, which provide various flavors and textures. The beans are baked with a generous mixture of sweet and tangy barbecue sauce and packed with tons of bacon and ground beef. This is the perfect side dish for your next barbecue gathering!
Speaking of barbecue, you have gotta try these Traeger smoked beef back ribs. Beef ribs have so much flavor and these are no exception. They are smoked for several hours until they are just tender enough to tear from the bone easily and packed with the smoky goodness from the Traeger.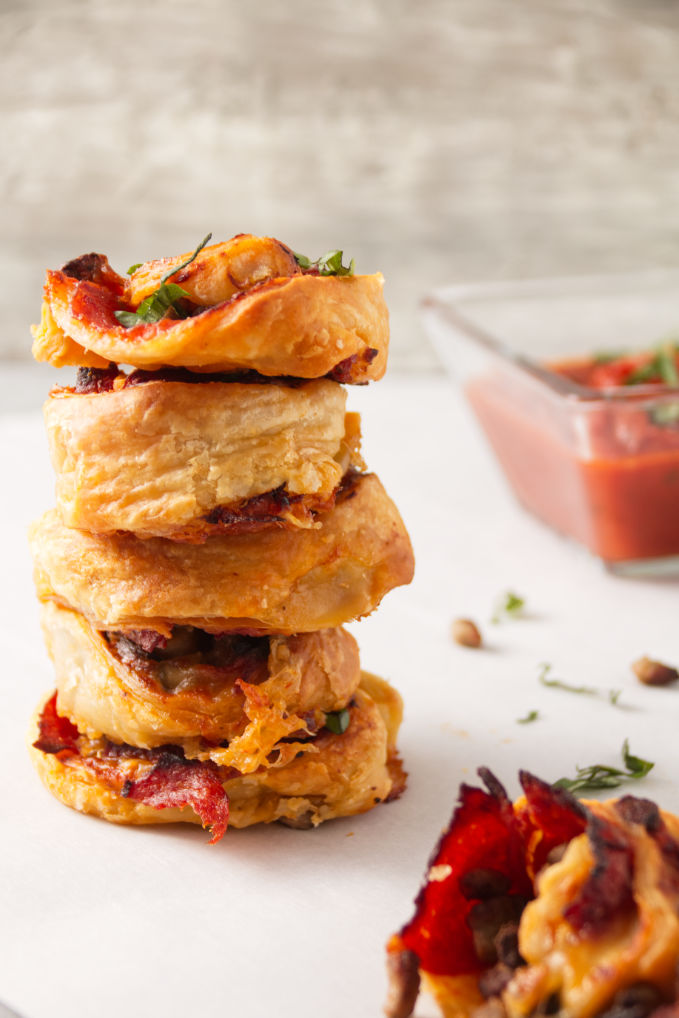 CONNECT WITH A LICENSE TO GRILL!
Be sure to follow us on our social media accounts
Facebook * Instagram * Pinterest * YouTube * Twitter
Did you make this recipe? Tell us about it in the comments below!
Tell me what you think!
Did you try out this recipe? Please leave a comment below and let me know how you liked it. Also, snap a picture and post it to your favorite social platform. Be sure to tag me at @alicensetogrill and let me know how you liked it!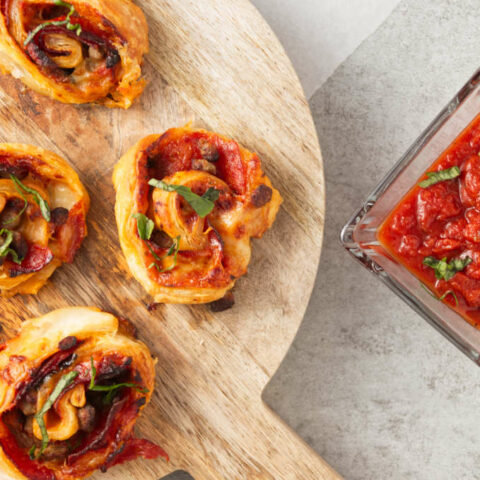 Homemade Air Fryer Pizza Rolls
These air fryer pizza rolls are incredible! The flaky puff pastry makes for the perfect crust. The outside gets fried to a crisp, and the inside is moist and gooey from the cheese. Since the pizza rolls are pinwheels, every bite is filled with pepperoni, sausage, pizza sauce, and cheese. These basically melt in your mouth, so don't be surprised if you eat all of them!
Ingredients
1 package puff pastry (2 sheets)
16 ounces pizza sauce
2 cups mozzarella cheese, shredded
1 cup pepperoni
1 cup cooked sausage, crumbled
Spritz of avocado oil (or your favorite oil)
Instructions
Preheat your air fryer to 375°F.
Lightly coat your countertop with flour. Place the puff pastry on the coated surface and roll both sheets out to about 1/8" thick.
Spread 3/4 cup of the pizza sauce over the top of each puff pastry, coating it from edge to edge. Reserve the remaining pizza sauce for dipping the cooked pizza rolls in later.
Lay out the pepperoni in overlapping rows on top of the pizza sauce and sprinkle on the crumbled sausage to form a uniform coating.
Sprinkle the shredded mozzarella cheese over the top of everything, being sure every portion of the pizza roll is covered in cheese.
Carefully roll up the puff pastry starting from the longer edge and being sure to tuck all of the pizza toppings into the puff pastry as your roll it tight. Cut each log into 1-2" thick slices, or about 2 fingers thick.
Spray the air fryer basket with oil to prevent them from sticking. Lay your sliced pizza rolls into the preheated air fryer basket. Allow for plenty of space between pizza rolls. Quickly spritz the top of the pizza rolls with oil.
Cook at 375°F for 7 minutes and then cook for another 3 minutes at 400°F.
Open the air fryer and allow the pizza rolls to cool down for 5 minutes before removing them and eating. Use the reserved pizza sauce for dipping. Enjoy!
Notes
Allow the pizza rolls to cool down before removing them from the basket. When the cheese cools, it helps to solidify the pizza rolls and prevents them from falling apart.
Allow your puff pastry to fully thaw before using it. You can place it in the fridge and allow them to thaw overnight before using.
Recommended Products
As an Amazon Associate and member of other affiliate programs, I earn from qualifying purchases.
Nutrition Information
Yield

6
Serving Size

1
Amount Per Serving
Calories

437
Total Fat

35g
Saturated Fat

13g
Trans Fat

0g
Unsaturated Fat

18g
Cholesterol

75mg
Sodium

1215mg
Carbohydrates

11g
Fiber

2g
Sugar

4g
Protein

19g
Nutrition information is a guideline only, is calculated automatically by third party software, and absolute accuracy is not guaranteed.